According to REAL RVers, here is everything you need to bring in your RV to survive a long road trip and to keep you comfortable, safe, and SANE…
Taking a long road trip in your RV (or any vehicle, for that matter) certainly has its challenges. Sure, taking an RV means you have more amenities everywhere you go, but it also means there's more to consider and take care of.
The following is a long list of things you need to survive a long road trip in your RV. These suggestions come from REAL RVers in our RV Lifestyle Facebook group in response to a post.
Cynthia posted: "For those of you that do long trips, what are the top 3 things you are glad you have?"
Cynthia's post received over 300 comments with practical, funny, and less tangible things (i.e. patience) to take along.
We use affiliate links and may receive a small commission on purchases at no added cost to you. Thank you for your support. You can read our full affiliate disclosure here.
30 Things You Need to Survive a Long Road Trip
Overall, the Facebook post is filled with useful information for any RVer getting ready to go on a long road trip. We've compiled it for you here.
We also include lots of related resources, so it's easy for you to take all these things with you. (Psst! #12 is the most important.)
1. Zip Ties, Bungee Cords & Duct Tape
On a long road trip, everything in your RV shakes like driving through an endless earthquake. Some things may come loose or the rattling might start to drive you crazy.
That's where zip ties, bungee cords, and duct tape come in! Sometimes you just need good ol' redneck ingenuity to get you down the road.
2. Water Jugs
Water jugs save space and money in lieu of water bottles. Plus, you'll have extra water in case of an emergency or if you're boondocking.
In addition to at least one water jug, we recommend getting one of the best water filters according to RVers. You may also wish to read What happens when my RV runs out of fresh water? and Answers to Top 10 RV Water Pressure Regulator Questions.
3. Portable Ice Maker
An ice maker was mentioned several times in the comments as a must-have amenity. It'll save you several trips to the gas station and camp store for ice. Not to mention save you from lugging around those bags of ice.
With one of the best ice makers for camping, you can fill your glass and top off your ice chest whenever you like. Oh, and speaking of ice chest, you can go through a lot less ice with coolers like YETI but cheaper.
4. TPMS
At the very least, every RVer needs to carry a tire pressure gauge, but a TPMS really is the best way to go. A Tire Pressure Monitoring System (TPMS) monitors your tire pressure at all times.
A TPMS can (& likely will) save you from getting stuck on the side of the road. Or, worse, from a tire blowout.
The TST 507 is the best Tire Pressure Monitoring System (TPMS) on the market, and the only one that includes a color monitor. The flow thru sensor is very popular for those that want the convenience to air up tires without taking the sensor off the valve stem.
Be sure to read the following before your long RV trip, too:
5. Outdoor Rug
An outdoor rug will make a BIG difference in keeping the inside of your RV clean on a long trip. Plus, it'll keep your outdoor gear and patio setup much cleaner.
We have a list of RV Outdoor Rugs & Patio Mats worth checking out.
6. Cordless Vacuum
Speaking of cleanliness, an RV vacuum makes cleaning easy. It only takes a few minutes to run it through your RV, leaving your RV (& you) feeling refreshed.
We also recommend these 10 Great RV Shoe Storage Ideas to Minimize Dirt & Odor!
7. A Dog
LOTS of RVers listed their dog or furry friend as their top 3 things to take on a long trip. We agree! We don't go anywhere without our dog, Bo.
We have SO MANY resources about taking a pet with you camping, which we've compiled into an RVing with Dogs ULTIMATE Resource Guide.
Are you a cat person instead? Check out 10 Purrfect Cat Travel Accessories and Tips for Including Cats in the RV Lifestyle. Shoot, you can even take chickens camping with you…
8. Comfortable Bedding
A couple people mentioned replacing RV mattresses and many more mentioned comfortable bedding. As people who RV 3/4 of the year, we've done our research on RV bedding!
The above video shows our review of the 3 best RV bedding solutions. We also have Practical Bedding Storage Ideas for your long trip.
9. Electric Heater or Fan
Depending on the season, you'll want to take a portable heater or fan with you. These small appliances can make a world of difference in your comfort!
Check out the 5 Best Electric Heaters for RVs and Best Camping Fans to Keep Cool.
10. Knowledge of Basic RV Maintenance & Repairs
Things break when camping, and learning basic RV maintenance and repairs can mean the difference between a great RV trip and a ruined one.
When we started RVing, I learned this the hard way. I was not a particularly handy guy, but that has changed with experience.
These days, you can take an online RV Tech course that teaches you basic RV repair and maintenance. We highly recommend it, especially before a long RV trip.
Get the Home Study Course today and worry about the road, not the repairs!
Every time you move your RV it's like driving through a hurricane during an earthquake. Parts break and many items need to be maintained, this program will show you how you can save time and money by gaining the confidence to take on the majority of the issues you'll come across. Don't get caught with your RV in the shop! Learn how you can maintain and repair your RV at your own pace and at the most convenient time for you! This course is produced by the National RV Training Academy.
11. Step Stool
A simple step stool really comes in handy on an RV road trip! It's one of the 35 Little Things to Remember to Pack for Your Big RV Trip.
It'll help you access your overhead storage cabinets, your awning, and even comes in handy when using campground showers.
12. Quality Tires (Less Than 5 Years Old)
Out of everything on this list, quality tires are perhaps the MOST IMPORTANT thing to have on a long road trip. You need to understand the danger of underinflated RV tires and know when to replace RV tires.
We recently received an email from a reader saying that our article on when to replace RV tires may have saved his and his wife's life. Based on what he read in the article, he got his RV tires checked, and they discovered a bulge in his tires that would've almost certainly resulted in a blowout.
So, please make sure you have quality tires that have been properly maintained! Please also read How to Survive an RV Tire Blowout.
13. Patience
This is one of those intangible things that is vital on a long road trip. Maintaining it is challenging, but we have some practical advice to help.
First, adopt the 330 rule: "stop when you have driven 330 miles or it's 3:30 in the afternoon." We also recommend reading 10 Unwritten Rules to Survive RVing with Your Spouse. Many of those unwritten rules will help ANY travel companions, not just spouses.
14. Backup Camera
Save yourself from backing into something or, at the very least, from yelling back and forth to your travel companion.
Check out the 5 Best RV Backup Cameras for RV & Trailer and check out this "Backing Up an RV" Learner's Kit: Everything You Need.
15. Games & Entertainment
We have so many resources when it comes to games and entertainment, so I'm just going to list a bunch for you real quick:
16. Portable Grill
Many RVers recommended bringing a portable grill, and we agree. We have a list of portable grills for camping and check out these portable camping fire pits.
Also be sure to check out our new sister website, CampingFoodRecipes.com!! It has easy-to-make recipes for the grill, RV oven, campfire, and more!
---
Mike and Jennifer's Summer T-Shirts for your next adventure

---
17. Your Spouse or Travel Companion
More than anything else, people listed their spouse as a "must have" to bring. Their comments ranged from the very sweet to very funny, including taking their spouse to push the RV in case it breaks down.
Again, we recommend reading 10 Unwritten Rules to Survive RVing with Your Spouse.
18. Coffee Pot
Coffee was mentioned a lot, too! So, if you're a coffee drinker, be sure to bring one of the Best Coffee Makers for RV Travel.
You may also want to read Barista style coffee while camping. And, hey, just for fun, check out these 10 Coffee Table Books for Your RV Picnic Table.
19. Extra Cash
RVers recommend keeping some cash on you at all times. You never know when you'll encounter a place that doesn't accept cards and you don't want to be left hanging.
Many commentators also said that you'll need a lot of money in general for a long road trip. To help with that, read How to Budget for RV Travel to National Parks and How to Get Better Gas Mileage.
20. Roadside Assistance
If heaven forbid, your RV breaks down or you get into an accident, you'll be happy to have RV roadside assistance. Since regular roadside assistance often can't help with large RVs, RV roadside assistance is the way to go.
And speaking of things going wrong…
21. Insurance
You can't prevent some things from going wrong, and that's when RV insurance becomes invaluable. Be sure to read these articles:
22. Roadside Emergency Kit
On that same note, you want to make sure you have your roadside emergency kit ready to go. You can buy a complete, ready-made kit or make your own. We even have a stand-alone Amazon Shop called RV Safety Essentials
This article will help: 5 Emergency Roadside Kit & Products for Your RV
23. First Aid & Safety Items
Speaking of emergencies, we have compiled a big resource on LIFE-SAVING RV Emergency Preparedness. It contains LOTS of valuable information and helpful links to our many articles on the different emergencies, medical, and healthcare issues you might encounter.
It's definitely a resource worth checking out. Better to be safe than sorry!
24. Portable Washer & Dryer
Several commentators listed a washer and dryer as a must-have. This may seem like a luxury when camping… and it is, but it's a luxury worth having even more on a long camping trip.
If you don't have a washer & dryer in your RV, you can actually buy a small portable washing machine. Many RVers keep them in their RV bathroom or shower.
If you don't have the room or need for this luxury, be sure to brush up on your campground laundry etiquette tips & tricks.
25. Road Atlas
You should never rely solely on your GPS to get you safely to your destination (here's why). As a backup, you should always carry a road atlas in your RV.
We recommend the NATIONAL GEOGRAPHIC ROAD ATLAS and RAND MCNALLY LARGE SCALE ROAD ATLAS.
You may also be interested in checking out the 21 Best Travel Guides for RVers.
26. America the Beautiful Pass
Hands down, the best value in the RVing world is the National Parks Senior Pass, officially known as the America the Beautiful Pass.
All US citizens and permanent residents are eligible for this pass, which will greatly reduce your expenditures for visiting and camping in National Parks and federal land – more than 2,000 locations in all.
If you're a senior citizen, this is a must-have. As a senior, you may want to check these out, too:
27. Comfy Camping Chairs
Just like a comfy bed, comfy camping chairs are a must! You want to be sure to enjoy your time lounging outside and around the campfire.
We recommend these 5 Best Camping Chairs and 7 Best Camping Chairs for Big Guys and Gals.
And, while you're sitting around the campfire, try making these Easy Loaded Campfire Nachos and All-American S'mores!
28. Generator
Several RVers listed a generator as their top 3 must-have items for a long road trip. We have several articles on generators that can help you. Here are a few…
29. Solar, Lithium Batteries & Inverter
Quite a few people (primarily boondockers) mentioned these top 3 energy components: solar, lithium batteries, and inverter. These items keep you powered wherever you are.
These aren't items you can simply buy and install in one day. They do take some research and time to install in your RV. But here is some information to get you started…
30. Sense of Humor
Last but not least, you need a sense of humor to survive a long road trip! Things inevitably go wrong on an RV trip, and you'll encounter frustrations and obstacles along the way.
So, you have to be ready to shake it off and, better yet, laugh it off. Once you've got it sorted and gotten past your initial frustration, take a deep breath and let out a chuckle.
We promise it'll become a funny story to tell people later. Just ask all of these RVers who made the 43 Dumbest RV Camping Mistakes!
At the top of every RVers bucket list, it is a place so majestic, so wild, and so big that it calls us to return, to explore, to get to know the diversity of its land and animals over and over again.
Everywhere you look are waterfalls, fast-moving rivers, geysers, sheer rock faces, towering lodgepole pines, all framed by mountains under the bright blue cloudless sky.
It's spectacular for those who love the wilderness and getting up close and personal with it. Enjoy Yellowstone for RV travel.
---
---
---
---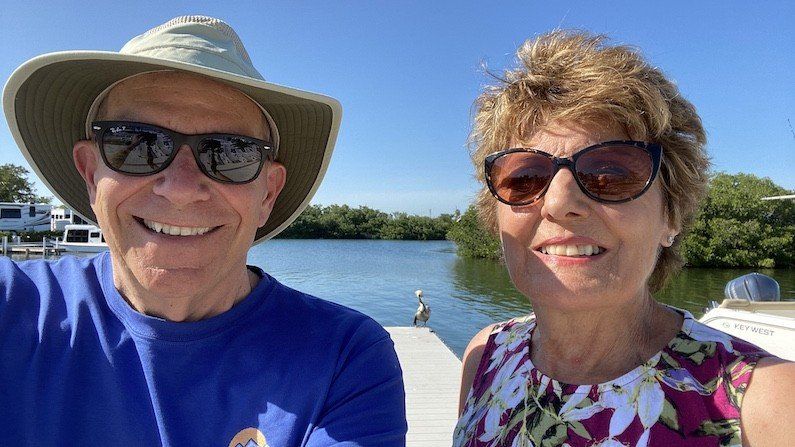 Curious about the gear, gadgets, accessories, and RV products Mike & Jennifer use and recommend?
On this RV Lifestyle Travel blog, our RV Podcast and our RV Lifestyle YouTube Channel, we mention all sorts of RV-related products and gear that we use, So we created a special page that links to them. We update this all the time.  CLICK HERE to go to it directly.
---