Here's a list of little things to remember that make a big difference on the road…
Packing for an RV road trip can be both exciting and overwhelming. With limited space, it's important to prioritize what items to bring along. And while it's easy to focus on the big-ticket items, it's the small things that can often make the biggest difference.
One such example is a tool kit. It may not seem like a glamorous item, but having the right tools on hand can make all the difference in a pinch. Whether it's a loose screw or a minor repair, having a tool kit can save you time and money by allowing you to quickly fix the issue without needing to visit a repair shop.
Another important item to consider is a water filter. While most RVs come equipped with a water filtration system, it's always a good idea to have a backup. A portable water filter can ensure that you have access to clean, safe drinking water no matter where you are on your journey. Plus, it's a more sustainable option than buying bottled water along the way.
In summary, it's important not to overlook the small things when packing for an RV road trip. A tool kit, water filter, and portable speaker may seem like insignificant items, but they can make all the difference in ensuring a smooth and enjoyable journey.
There are at least 35 little things that can make a big difference in your next RV trip!
We use affiliate links and may receive a small commission on purchases at no added cost to you. Thank you for your support. You can read our full affiliate disclosure here.
35 Little Things to Remember Before You Hit the Road
In the RV Lifestyle Facebook group, one of our followers is completing an RV build to take a great family trip soon. He asked our RV Lifestyle Facebook group on the "little things" he should take with him on the trip.
He received a lot of great input, and I thought it would make for a very useful post. We also had another recent FB post asking what RVers forgot on their first RV trip. Learn from their mistakes, and don't forget to pack these little things!
I have written in the past about 7 must-haves for your first RV trip. However, I am expanding on that post to include these other "small things" the group recommended.
Just because something is small does not mean it is not important. In order to remember all the things you need for your next camping excursion, you may want to keep a checklist.
The following are important items that you can add to your list!
1. Basic Tool Box
It is always a good idea to have a small tool kit on hand in your RV. You never know when you might need a screwdriver or wrench or to hit something with a hammer! What are the little things to remember to put in your RV toolbox?
This is definitely one of those things you'll kick yourself for not having if you end up needing it.
2. RV Surge Protector
Protect your RV from electrical threats with a surge protector. That way a power surge or low voltage issues will not cause harm to your rig's electrical system.
This small investment can save your whole electrical system! We recommend reading Does a Surge Protector Provide Enough Protection? to learn more.
Our RV has a surge protector built-in. If yours doesn't, I recommend you get one to go between the power cord and the pedestal. In older campgrounds, there are a lot of pedestals with bad connections that can damage tur RV's electrical system and your appliances.
We recommend the 30 Amp Surge Guard or 50 Amp Surge Guard. You can get 5% off either of those surge protectors (or any TechnoRV products) with the coupon code RVLIFESTYLE5.
When you plug in the other end of the cord to the shore connector on the RV, lock it in place. With ours, it's a turn to the right. We also have a locking wheel on the plug to make it seven more secure.
See this video for an example.
3. Water Pressure Regulator
You do not want your RV's water system to get damaged or spring a leak! That is why you want to look into a good water pressure regulator for your RV.
It's an $8 part that will save your plumbing system. Read Answers to Top 10 RV Water Pressure Regulator Questions.
4. Water Filter
Having an RV water filter ensures that you have clean, safe drinking water. A water filtration system cleans out the gross gunk in many campground water hookup systems.
5. Foldable Rake
This little item can be very useful. You never know what the ground cover will be like when camping. Use a rake to even it out.
You can also use a foldable rake to put out a fire, clear out a sitting area, or make your trailer more level.
6. Portable Air Compressor
The last thing you want is to be stranded somewhere with a flat tire, especially if you are going to be far away from services!
A portable air compressor can pump up your tires if needed to get you out of a jam. It can also help keep your tires properly inflated to ensure they have a longer life.
A nifty trick is to use your air compressor to "dust off" picnic tables, BBQs, and other campground fixtures.
7. Portable Speaker
Okay, a portable speaker might not be a "must-have." But it sure can make your trip better! If you like music, that is.
Some portable speakers are small enough to fit in the palm of your hand. But they still produce a great (and loud!) sound.
If you enjoy listening to music when traveling, I highly recommend bringing along a small speaker that does not take up a lot of space.
While it is always excellent to hear the sounds of nature, it is also great to hear some good tunes once in a while.
Just be sure to respect your neighbors!
---
Mike and Jennifer's Summer T-Shirts for your next adventure

---
8. Road Atlas: Digital or Non-Digital
We always recommend keeping a hardcopy road atlas in your RV in case your GPS fails. However, most GPS systems and apps allow you to look up routes ahead of time and download them to your phone. That way, you can still access them even when you do not have cell service.
In addition, you may want to consider getting a Low Clearance Early Detection System. This is especially helpful (and safer!) for large RVs. It helps you navigate around bridges and other hazards that are too low for your vehicle to clear.
9. White Noise Machine
I know this may seem like an odd item to add to the list. But it can be very helpful to some folks!
When camping, it may be hard to fall asleep at night or take an afternoon nap. That is because you hear unique noises, and are in a different environment than you are used to, especially if you are traveling around a lot!
A white noise machine can help you drown out foreign noises and lull you to sleep. It can also help keep you asleep once you finally nod off.
If you are a light sleeper, a white noise machine may be worth considering for your next trip.
10. Long Jumper Cables
Do not risk being stranded with a dead battery and no jumper cables. Or ones that are too short to reach your RV's engine.
Another thing to consider is a jumper starter that can jump-start a rig without needing another vehicle. This may be a good idea for you boondockers out there!
So, make sure to include jumper cables in your Emergency Roadside Kit.
11. Emergency Radio
An emergency radio can help you stay in touch with the NOAA Emergency Radio Station in the event of a natural disaster or emergency. They can help you identify fire danger or recovery information for other natural disasters.
All in all, it can help keep you and your family safe.
12. Folding Step Stool
Whether you need to fix your awning or clean up a spill in a high cabinet, this little step stool saves the day.
The best part about this stool is that it folds up flat for easy storage. It can easily be stored in an outdoor storage hatch or utility closet inside. It can even be tucked away under a couch or bed if they are elevated above the floor.
13. Welding Gloves
Welding gloves can be used in a number of camping situations. They come in handy by the campfire for moving wood around. They're also great for handling your generator.
In addition to protecting your hands from heat, they can protect your fingers while clearing your site of debris or carrying things with sharp edges.
14. Truck & RV Fuel Stations App
There are lots of helpful apps for RVers, including ones to find propane and fuel stations when out on the road. It provides the address and freeway exit of each fuel station.
That way you can determine when and where to stop.
15. Duct Tape
You probably already know that duct tape can come in very handy around the home. It is no different when you are in your RV! As one person in our community said, "If it moves and it shouldn't, use duct tape."
Use it to temporarily repair frayed wires, holes or leaks, or hang up holiday decorations. The uses are endless with good ol' duct tape!
16. Space Heater
Space heaters are great for warming up an RV. Even though they are small, they are mighty.
A small electric space heater can quickly warm your RV, keeping you toasty in chilly camping conditions. They are simple to use since all you need is a plug.
You can check out The 5 Best Electric Heaters for RVs.
17. Fan
Just like a heater, having one of the 3 Best Camping Fans to Keep Cool can be make camping that much more enjoyable. Fans are great for cooling you when it is not hot enough to warrant using the air conditioner.
18. Small Electric Washing Machine
Okay, this isn't quite a small item, but it is relatively small compared to standard washers. We decided to include it because one of our RV Lifestyle members, Justin, raves about his. He says it fits perfectly in their bathroom.
A portable washing machine is excellent for folks doing a lot of traveling or all full-time RVers. While they have a small capacity, they can be perfect for small loads.
19. Travel Foot Massager Tool
I never thought about taking a foot massager tool with me in my RV. But what a great idea! What could be better to relieve the aches and pains from a long hike or attending an event?
20. Rain Gear
Another small thing to keep on hand is rain gear. That way, you can be prepared for any unforeseen downfalls.
Keep a poncho and rain boots in a closet for rainy days. Here me out on this one… Another great tip is to purchase plastic disposable shower caps to wear over your socks inside your shoes. They can help keep your feet from getting soaked!
21. COMFORTABLE Pillow & Bedding
Like what you see in these videos? We'd appreciate it if you would Subscribe to our YouTube Channel (easy to do right here) and consider "ringing the bell icon" to be notified of any new video from us. 🙂 Thanks!
Comfort is key to a successful camping trip, and that includes a super comfortable pillow. Instead of just grabbing a spare pillow from your house, invest in a good one specifically for your RV.
We also have recommendations on How to Stay Comfortable on a Road Trip and The 3 Best RV Bedding Solutions [REVIEW and VIDEO].
22. Fly Swatter
A fly swatter makes a great addition to your RV. You can quickly rid your space of annoying flying insects.
We like these compact telescopic fly swatters.
23. Mosquito & Fly Repellent
One downside of being in nature is being around unwanted bugs. While many folks love all of nature's creatures, most do not want mosquitos and flies "bugging" them.
We have The Ultimate 'Bug Off!' Shopping List for Your RV you should definitely check out.
24. Silverware
This one might seem funny to some folks! It was certainly amusing to one of our RV lifestyle members. She forgot to pack silverware on one of her RV trips!
25. Stabilizers
One small item you do not want to go without is stabilizers for your rig! These small pads can help keep your rig level, making your camping experience much more enjoyable.
We recommend Choosing an RV Leveling System or RV Stabilizers.
26. Comfy Camping Chairs
Sitting back and relaxing on a trip is one of the main reasons people RV! Camping chairs are an absolute must. If you are unsure what chair to get, check out the 5 Best Camping Chairs for Your RV!
27. Spare Keys / Hidden Key
It's a VERY GOOD IDEA to make an extra copy of your key and hide it on the outside of your rig using a magnetic hide-a-key. We also recommend leaving a spare with a family member that can ship it to you, just in case.
Of course, make sure you hide it in a clever place that won't easily be discovered by no-do-gooders.
28. Zip Ties
Zip ties are convenient, especially while camping. Zip ties are handy to tie up a cord or attach something inside your rig.
29. Matches or Lighter
Nothing is worse than trying to light your stove only to realize you do not have matches or a lighter. Even if you just want some ambiance by lighting a candle, you do not want to learn too late that you cannot burn it.
30. Paper Towels
Camping is messy, and paper towels can help keep you and your rig tidier. Paper towels help clean up spills at home and in your RV. They also make great napkins for those messy BBQ nights when camping.
31. Can Opener
You'd be surprised by how many people forget to pack a can opener! It's not something you really think about until you stare dumbly at a can and wonder how the heck you will open it.
32. Pot Holders
Same as can openers, people often overlook packing pot holders. And, trust me, a double-upped towel doesn't work as well. Especially if you're using cast iron!
Do your hands a favor, and don't forget pot holders!
33. Large Trash Bags
Inside my rig, I use small trash bags or grocery store bags to line my trash cans. But having large trash bags for all the outside debris is really useful.
The 13-gallon trash bags do not always cut, so I pick up the large black trash bags from Costco and bring a handful along.
34. Corkscrew
We all know how catastrophic forgetting a corkscrew can be to some people's camping trip. Settling in for the evening with a nice glass of wine is a common RVer indulgence.
But what do you do if you forget a corkscrew? Well, you sure earn that glass of wine as a McGyver wannabe!
35. Dog Poop Bags
Last, but not least, bring along some dog poop bags. That is, if you travel with a dog, of course.
In addition, these little bags can be handy for other items too. Put raw meat or strong-smelling foods in them before throwing the food in your trash. It can help keep your trash fresher for longer!
We highly recommend using biodegradable dog poop bags They're only a couple more bucks and make all the difference to Mother Nature.
Speaking of dogs, we also recommend reading the 7 UNWRITTEN Rules of Camping with a Dog.
Add to the Conversation! What are your little things to remember?
There are lots of little things to remember and I know we didn't cover them all. So please share your suggestions in the comments below.
---
Looking for exciting RV trip ideas and travel suggestions?
We've written a library of RV Travel books that lay out guided RV explorations of scenic areas of the US that we''ve explored and think would make an excellent RV trip for you.
In each location, we provide a suggested route and itinerary (7 stops in each guide, one for each day of a week trip!) as well as links to multiple campgrounds and boondocking spots, local tips, and interesting things to do at each location.
You can hit everything in seven days, do a whirlwind weekend tour, or you can take your time and explore the area over a 2+ week period.
Planning an RV trip can be very time-consuming so that's why we've done the research for you! Just take our guides and use them. We're sure you'll have an RV trip for the ages! Instant download. CLICK HERE for information on our RV Travel Guides
---
---
Official RV Lifestyle QUICK Links to the Destination eBooks
You can see ALL our eBooks here, or use the following Quick Links to go straight to what you need!
● Arizona
● Colorado
And MANY of these are BUNDLED together: 
Ultimate Michigan and Great Lakes Bundle – 3 ebooks –
Upper Peninsula, Lower Peninsula, and the Great Lakes Tour
Michigan Bundle
Upper Peninsula, Lower Peninsula
The Great Lakes Adventure Guide Bundle
The Great Lake Shoreline Tour & JUST the Upper Peninsula Guide
Florida Adventure Guide Bundle
Gulf Coast, Atlantic Coast, Keys
Southwest Adventure Guide Bundle
Arizona, Colorado, Southern Utah)
Ultimate 7-Day RV Adventure Guide Bundle
Collection 1- our first 10 ebooks (does NOT contain Great Lakes Shoreline or Natchez Trace)
We also have a nice collection of ebooks that will help you navigate the RV Lifestyle.
Like these:
The Beginner's Guide to Boondocking
The Ultimate Guide to Cheap or FREE RV Camping Sites
Boondocking and Free RV Camping EBOOK Bundle
The Beginner's Guide to Boondocking ebook and Ultimate Guide to Free Camping Sites
And ONE PRINT book 🙂 and yes, before you ask, we have plans for MANY more print books.
The Complete Guide to Boondocking – PRINT VERSION
This is the same as the ebook titled The Beginner's Guide to Boondocking but in print.
And while you are exploring all our ebooks – check out the hoodies, T-shirts, Stickers, and mugs in our MERCH Store! You can get to it directly by just going here – SHOP!
---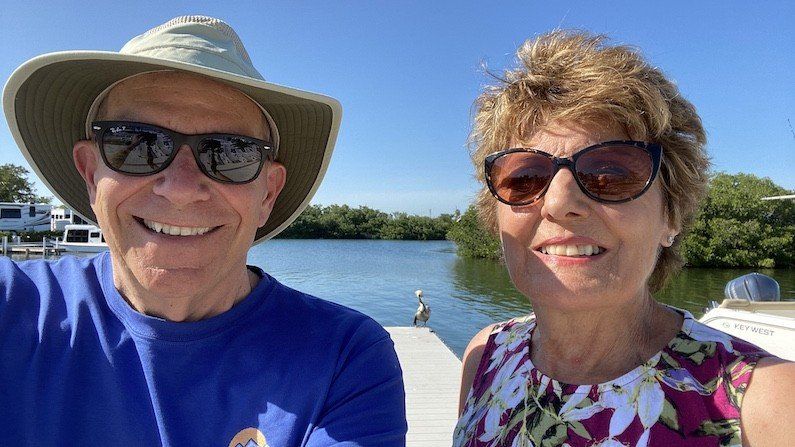 Curious about the gear, gadgets, accessories, and RV products Mike & Jennifer use and recommend?
On this RV Lifestyle Travel blog, our RV Podcast and our RV Lifestyle YouTube Channel, we mention all sorts of RV-related products and gear that we use, So we created a special page that links to them. We update this all the time.  CLICK HERE to go to it directly.
---