Battle Born Batteries live up to their name as game changers in the world of RV upgrades. We have been using Battle Born Batteries for years, and don't hesitate to recommend them. Here's why…
If you are a boondocker or just want to increase your off-grid RVing capability, you should really consider Battle Born Batteries.
Jennifer and I have been RVing and boondocking near-full-time for over a decade, and we readily recommend these batteries. They are, in our confident opinion, an RV upgrade that's well worth the cost.
I've made 3 helpful videos in the recent past that help explain why lithium batteries (and Battle Born Batteries) have greatly improved off-grid RVing for us. I'm going to share those videos with you and summarize the information they provide.
Then, you can decide if upgrading your RV battery system is as great a decision for you as it was for us.
We use affiliate links and may receive a small commission on purchases at no added cost to you. Thank you for your support. You can read our full affiliate disclosure here.
We First Upgraded to Battle Born Batteries in 2019
Like what you see in these videos? We'd appreciate it if you would Subscribe to our YouTube Channel (easy to do right here) and consider "ringing the bell icon" to be notified of any new video from us. 🙂 Thanks!
In 2019, we bought a new Leisure Travel Van Unity FX, which we loved. However, we weren't very happy with the standard AGM battery system that came with the campervan. The system used lead acid batteries known as "wet cells."
There are several different types of RV batteries. Wet cell batteries are okay for RVers who connect to electric hookups wherever they travel. However, as boondockers, for extended use, these wet cell batteries just don't cut it for off-grid travel, in our opinion. We needed lithium batteries.
Jennifer and I were among the very first RVers to try out lithium batteries, going back several years before Battle Born in 2019. We got to test a prototype back in 2014 and then got a production system in 2015 for our then Class B Roadtrek motorhomes. We were able to do a lot more comfortable boondocking because of it.
We were spoiled with lithium batteries before purchasing the Unity FX, and so even the upgraded AGM battery system we had on that new RV couldn't live up to our boondocking expectations from our previous experience with lithium.
Battle Born Batteries to the Rescue
So, when we had a chance to partner with Battle Born Batteries, I jumped at the opportunity. As I mentioned, I have more experience with lithium batteries than most, and I knew Battle Born Batteries makes excellent after-market batteries and components.
Within months of getting our new RV, we upgraded our system with two Battle Born 100 amp lithium batteries. You can see exactly what upgrades we did in the video above. But the point is, we were very happy with our new system. Very happy!
Battle Born customer service was exceptional, and they made the whole process as easy as possible. And, with their standard-size designs, we were able to simply drop in our new batteries into place. You'd likely be able to do the same.
We've since upgraded our new 5th wheel Arcadia with almost 600 amps of Battle Born batteries, which I'll tell you more about later.
Lead Is Dead: Why Lithium Batteries Make RV Sense
Like what you see in these videos? We'd appreciate it if you would Subscribe to our YouTube Channel (easy to do right here) and consider "ringing the bell icon" to be notified of any new video from us. 🙂 Thanks!
Battle Born likes to say that "lead is dead" and lithium batteries are here to stay. For the first time ever, RV manufacturers were making lithium batteries standard or available as easy upgrades in most new RV models.
Keystone RV, one of the largest RV manufacturers, announced that they were making lithium batteries a factory optional install in all their lines. They chose Dragonfly Batteries, which is the parent company of Battle Born Batteries.
In the above video, we talked to industry experts about why Keystone RV's announcement was significant. They explain why lead is dead with strong evidence from studies, tests, and improvements that prove their point.
Does Every RVer Need Lithium Batteries?
If lithium batteries are so much better than lead batteries, does that mean every RVer should upgrade to lithium? The answer is no, not every RVer needs lithium batteries.
AGM batteries, which have been the standard for the past few years, are sufficient for many RVers. Primarily, they are good enough for RVers that hook up their RV to electrical power wherever they travel.
That's to say, people who don't boondock or dry camp often don't need to upgrade to lithium batteries.
However, boondockers and people who want to travel off-grid more should seriously consider upgrading to lithium batteries. In fact, I'd go as far as to say as every boondocker needs lithium batteries.
As a long-time boondocker myself, I know how much lithium batteries have freed us to travel farther and longer off-grid. So, I easily recommend it to my fellow boondockers.
Why Lithium Batteries Are Worth It
Like what you see in these videos? We'd appreciate it if you would Subscribe to our YouTube Channel (easy to do right here) and consider "ringing the bell icon" to be notified of any new video from us. 🙂 Thanks!
In this last video, we show you just why we love having reliable power while out boondocking in our Arcadia 5th wheel. Watch to see why as we upgrade our RV power system and learn from the experts at Keystone RV!
In the video, we cover how different appliances draw power and how you can determine how much power you regularly use. It's very helpful information in determining what lithium battery system is best for you.
I encourage you to watch the video in full if you're considering upgrading to lithium batteries.
Our Recommendation: Battle Born Batteries
We first partnered with Battle Born Batteries because of their stellar reputation, which is why we opted to upgrade that 2019 Unity FX and also our current 2023 Unity FX. We have learned firsthand how great Battle Born power systems are.
As you learned and saw in the above videos, we gladly used them again to upgrade our new 5th wheel. Since we are happy customers ourselves, we confidently recommend them to our fellow RVers.
In fact, we tout that upgrading to Battle Born Batteries is an RV upgrade that is well worth the cost to anyone who will listen. If you wish to learn more, you can see why Battle Born Batteries are the better battery.
Now, where to next? Will you need to Boondock?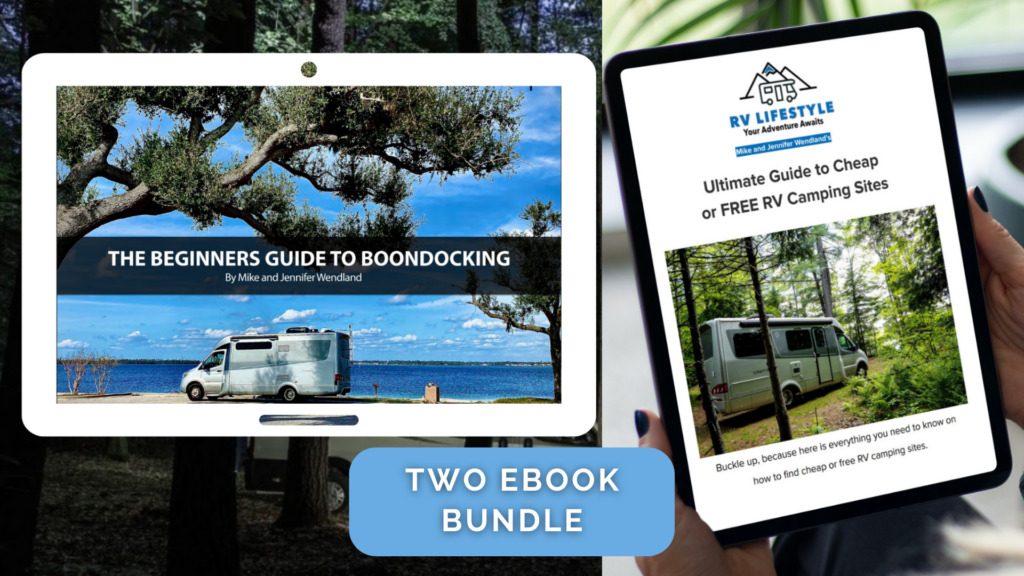 Beginners Guide to Boondocking (one of our most popular ebooks) and one of our newest ebooks, The Ultimate Guide to Free and Cheap RV Camping!
ebook #1: Beginners Guide to Boondocking
We created a 65+-page downloadable digital guide to help you understand the nuances that come with boondocking, the most common boondocking problems, and what you need to do to get your rig "boondocking-ready."
ebook #2: The Ultimate Guide to Free and Cheap RV Camping
Buckle up because here is everything you need to know on how to find cheap or free RV camping sites in the 33-page EBOOK.
---
---
---
Get the Home Study Course today and worry about the road, not the repairs!
Every time you move your RV it's like driving through a hurricane during an earthquake. Parts break and many items need to be maintained, this program will show you how you can save time and money by gaining the confidence to take on the majority of the issues you'll come across. Don't get caught with your RV in the shop! Learn how you can maintain and repair your RV at your own pace and at the most convenient time for you! This course is produced by the National RV Training Academy.