Backing up an RV, whether it's a motorhome or travel trailer, can be really intimidating and frustrating at first. So here's a Learner Kit with things that will help you park like a pro…
If you ask a newbie RVer what they're most concerned about, they'll likely say backing up their RV. This is especially true for Class A and travel trailer owners, though it's a common concern for all RVers.
The topic even came up in our RV Lifestyle Facebook group recently and it made me realize I should offer more advice on our blog. I started off by compiling the FB member's suggestions into an article called RV Pro Tips: How to Back Up a Travel Trailer.
While writing that article, I realized there are several items that they recommended that would make a great "Backing Up an RV Learner's Kit." So, I've now compiled those items into the following list.
We use affiliate links and may receive a small commission on purchases at no added cost to you. Thank you for your support. You can read our full affiliate disclosure here.
Backing Up an RV Learner's Kit
Jennifer and I have driven Class B campervans and Class B+ for the past 10 years, so backing up hasn't been much of a concern. However, we recently purchased a 5th wheel that we're slowly getting used to, and that includes backing it up.
So, I think this list is just as much for me as it is for you!
Backup Buddy
If you plan to travel with someone a lot, bring that someone with you to practice. My Backup Buddy is Jennifer and yours might be your spouse, too. But a friend or even one of your kids can be your Backup Buddy, as long as they're mature enough (and I don't just mean your kid).
Establish hand signals that your Backup Buddy will use to communicate with you. Usually, a raised open hand means "keep on coming" and then a raised fist means "stop!" Some people will hold their hands closer and closer together as you back up to show you how much room you have left before you stop.
Whatever signals you use, just make sure you're on the same page before you start practicing.
Did your parent ever take you to an empty parking lot when you were a teenager to teach you how to drive? Well, it's time to take yourself when you start RVing.
When practicing backing up an RV in an empty parking lot, it's best to set up orange cones as a pretend campsite. Give yourself a break and start off with a wide "campsite" and then slowly bring the cones closer and closer together to mimic tight spaces.
You could simply practice over and over again with these cones, but there are other things to make it even easier…
One of the most frustrating things about backing up an RV is not being able to see or hear your Backup Buddy. Some people solve this problem by using their cell phones to communicate, but as you'll learn, cell service is often very sketchy in campgrounds.
The better alternative, I think, are walkie talkies. And really, I think every RVer should always have walkie-talkies on hand. They're even on my list of 10 Best Hiking Gear to Keep You Safe.
These walkie-talkies will not only save you from having to scream at each other but can also keep your Backup Buddy and RV safe. You don't want bad cell reception or not being able to hear them result in driving into something, especially if that something is your buddy!
---
Mike and Jennifer's Official Summer T-Shirts for you to explore

---
Even with the best of mirrors and a trusty Backup Buddy, a backup camera really comes in handy. For those who travel alone, it'll especially make backing up an RV much easier and your camping experience more enjoyable.
With an RV backup camera, you don't have to rely solely on a Backup Buddy or an overly helpful campground neighbor. Nor do you need to keep getting in and out of your rig to check your positioning and proximity to things.
This particular model that I linked to monitors up to 4 cameras from a single screen, split-screen, and even a 4-split screen. That means you can buy additional cameras to use with one monitor. You can even attach the cameras to different vehicles, and just take your monitor with you.
The monitor comes with two mounting options. The heavy-duty camera is durable and easy to mount, too. The camera bracket is adjustable to any angle.
This is a more affordable option than the backup camera. Instead of seeing how close you are, this sensor audibly and visually alerts you. It beeps to warn you when an object is behind you. It also has a progressive light display that turns from green to red as you grow closer. If that's not enough, it also displays the distance between the sensors and the detected objects.
The system has a wireless option, so you don't have to worry about running a line to your cab and can use it with travel trailers. Be sure to select the wireless kit as a wired kit will not work for RVs! The kit comes with a drill bit to drill holes in your bumper to insert the sensors.
Tips for Backing Up an RV
All of the above tools will help you learn to back up an RV as well as aid you as you continue backing up an RV throughout your travels. But none of them tell you how to back up an RV. For that, I recommend watching YouTube videos about backing up your particular kind of rig.
Backing up a travel trailer is very different than backing up a motorhome, and backing up a Class A is very different than backing up a Class B or C. Even backing up a travel trailer vs 5th wheel is different. So, be sure to search for video tutorials for reversing your type of RV.
The one tip I will give you directly, though, is to simply practice, practice, practice. No matter how bad you are at backing up an RV at first, you will get better IF you give yourself the chance and practice.
New ebook from Mike and Jennifer Wendland – the Natchez Trace
The Natchez Trace Parkway will capture your imagination, soothe your jangled travel nerves, open your mind and inspire you with the history that unfolded along its 444 miles.
Each of the 7 Days of the ebook has:
Suggested Mileposts to explore
Places to Eat in each area of the 7 sections
Campground descriptions and links
Links to all the special places and information
Links to videos that show more in detail
and a lot of highlighted information for each section
PLEASE NOTE: This is NOT a printed, hard copy guide.
Whether you want to follow the footsteps of explorers, discover natural beauty, or visit historic sites, the Trace has something to grab your attention and leave you eager to see what's at the next milepost.
You can see why this is one of our favorite US routes to explore. We've traveled it a half dozen times!
---
Mike and Jennifer's Southern Utah RV Adventure Guide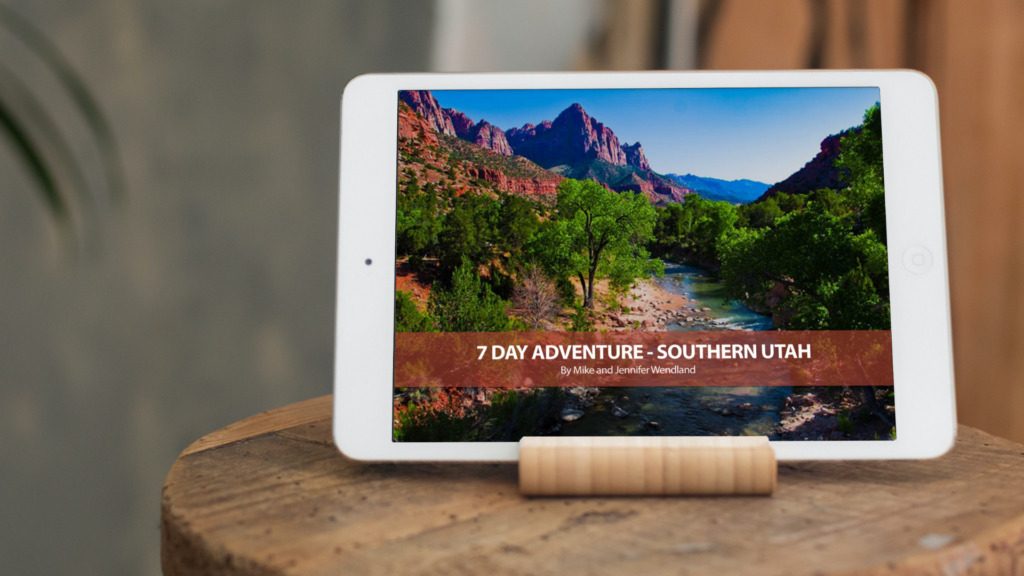 Utah, Utah, Utah. What more is there to be said? In very few places across the United States is there such a tremendous area with breathtaking vistas and diversity of terrain.
The sheer size of the National Parks, the canyons, the desert. Combined with the amount of history written in the red rocks that rise like towers jutting out of the ground and the delicate hoodoos washed away by erosion.
It is a place that, if you've never been, you need to go, at least once in your life.
This ebook is a seven day guided exploration of the State and National Parks in Southern Utah. We provide a suggested route and itinerary, links to multiple campgrounds and boondocking spots, and the best spots to see along the way. Don't plan your trip to Southern Utah without it!
You can hit everything in seven days, do a whirlwind weekend tour, or you can take your time and explore the area over a few weeks.
---
---
---