Whether you're boondocking, don't have access to electricity, or just want to rely on solar energy, these are the best portable solar panels for RV use.
There are many reasons that you might want to find a great portable solar panel for your RV.
Maybe you try to use as much clean energy as possible.
Or perhaps, you love to spend a long time off the grid. Jennifer and I prefer to dry camp so that we can feel like we are truly free!
Portable solar panels can also help prolong the life of your rig's battery by keeping it charged and preventing it from draining.
Whatever the reason, if you find yourself looking for the best portable solar panels for RV, you have come to the right place. I have looked over several leading models, and compiled a list of the best!
We use affiliate links and may receive a small commission on purchases at no added cost to you. Thank you for your support. You can read our full affiliate disclosure here.
Monocrystalline vs. Polycrystalline Solar Panel
When it comes to portable RV solar panels, you will likely see ones that are either "monocrystalline panels" or "polycrystalline panels."
Monocrystalline solar cells are cut from a single source of silicon, making them more efficient than polycrystalline. Polycrystalline solar cells are a blend of multiple silicon sources, making them a bit less efficient.
3 Things to Consider When Looking for the Best Portable Solar Panels for RV use
When shopping around for the best portable solar panels for RV, you will see a lot of information available to you. The three "big ones" that you will want to pay attention to are watts, weight, and cord length.
1. Watts
The wattage of a solar panel tells you how much electrical power output it provides. Since we all use electricity differently, how much wattage you need depends on your individual power needs.
Most panels come with anywhere from 100-200 watts. If you only plan to use 12V lights and a restroom fan for an hour a day, then 100 watts would be sufficient.
However, if you plan to run a 12V tv each day, then you likely want to go for wattage that is closer to 200.
2. Weight
If you travel around quite a bit, you will find yourself having to load and unload your portable panels. Depending on your age, physical strength, and how your storage is set up, weight might be one of the most important factors for you.
3. Cord Length
Portable solar panels come with different length cords. If you like to park your RV in the shade, then you might want to consider getting a longer cord than if you park in the sun.
The 5 Best Portable Solar Panels for RV Use
Based on our research and experience, these are some of the best portable solar panels for RV use.
Watts: 200
Weight: 36.6 pounds
Cord Length: 10 feet
This high-quality and efficient panel tops my list for the best portable solar panels for RV. This 200W monocrystalline panel gives you all the charging power you'll need!
The Wanderer charge controller is waterproof and it will tell you the battery voltage. It will also inform you about how many amps you are beginning into the battery. It also features battery voltage sensors and temperature for easy monitoring.
The panel can be carried in a rugged case, protecting it during transport. The panels also lock with latches to provide additional storage safety when carrying.
For even more protection, the panel features plastic protectors along the edge to keep it safe during transport.
An aluminum case and stand keep the solar suitcase relatively light, weighing in at just over 36 pounds.
Connecting the charge controller to your RV's battery is simple. Just use the alligator clips and 10-foot wire included with the panel.
Watts: 100
Weight: 25.9 pounds
Cord Length: 6 feet
This panel is rugged and strong. Made from durable and rigid materials, this solar panel is built from tempered glass and an aluminum frame. The frame also features corner protection for temporary or permanent installation.
This panel is made from two Boulder 50 Solar Panels (100 W total). They are chained together and connected by a hinge.
The frame also comes complete with a kickstand to keep the panel at an optimal angle to get as much direct sunlight as possible.
Transporting the panel could not be easier. Just use the protective canvas bag that comes with it.
---
Watts: 120
Weight: 8.95 pounds
The ACOPOWER portable solar kit offers extra portable design but remains durable for outdoor activities. This 120W panel is made of three 40-watt flexible solar panels that fold, becoming nearly flat. That makes for a lightweight, portable panel that can be easily stored.
The controller has two USB ports, allowing for the charging of devices like phones, lights, tablets, and speakers.
Although it's a flexible charger, there is a kickstand to tilt the panels toward the sun. That makes for higher efficiency charging.
One downside to this charger is that it is not waterproof. You would want to be sure to bring it in during rain.
Watts: 50
Weight: 6.85 lbs
As the name suggests, the Nomad is a great option for RVers who like to keep moving.
This monocrystalline solar panel is lightweight, weather-resistant, and highly portable. Plus, you can chain these monocrystalline panels together.
It also has built-in USB ports. So, you can plug your small electronic devices directly into the solar power system.
Watts: 110
Weight: 6 pounds
Cord Length: 9.84 feet
What RVer could not use a space-saver when it comes to any gear? This solar panel is foldable, making it an excellent space-saving design. 
This panel is also lightweight, weighing in at only six pounds.
Another great strength of this model is its durability. Its carrying case is waterproof and has a nice carrying pouch for its accessories.
In addition, the panels themselves are tough. Laminated and made with tough ETFE material, it comes with a 1-year warranty and a 30-day money-back guarantee.
Read Next: 6 Super Easy Tips on How to Care for RV Solar Panels
The Truth About RV Solar Power & Lithium Batteries
People keep asking us if all the solar and lithium upgrades are worth it… Today we are going to show you just why we love having reliable power while out boondocking in our Arcadia 5th wheel. Come along as we upgrade our RV power system and learn from the experts at Keystone RV!
Portable Solar Panel FAQ
Here are answers to some of the most frequently asked questions about portable solar panels.
Q: How much power can I expect to generate with a portable solar panel?
A: The amount of power that a portable solar panel can generate will depend on the size of the panel, the efficiency of the cells, and the amount of sunlight it receives. Portable solar panels are typically rated in watts, with the average panel ranging from 10 watts to 100 watts. A 100-watt panel can generate around 500-600 watt-hours per day, depending on the weather conditions, and the angle of the panel.
Q: Can I charge my phone or tablet with a portable solar panel?
A: Yes, you can charge your phone or tablet with a portable solar panel as long as it has a USB output. Some solar panels include a built-in USB port for charging devices directly, others require a separate USB converter, which can be plugged into the solar panel's output to convert the DC power into USB power.
Q: How long does it take to charge a battery with a portable solar panel?
A: The amount of time it takes to charge a battery with a portable solar panel will depend on the size of the battery and the size and output of the solar panel. On average, a 100-watt solar panel can charge a 12-volt battery in about 6-8 hours, but it can take longer if the battery is almost empty or if the solar panel is not receiving direct sunlight.
Q: Can portable solar panels be used in all weather conditions?
A: Portable solar panels can be used in most weather conditions, but the efficiency of the cells may be affected by heavy clouds, rain, and snow. The panels should be protected from physical damage such as heavy winds and hails. The panels will still generate some power in low light conditions, but not as much as in direct sunlight.
Q: How do I maintain my portable solar panel?
A: To maintain your portable solar panel, it's important to keep it clean and free of debris. Use a damp cloth to wipe down the panels periodically and check the connections to make sure they are secure. It's also important to store the panel in a dry, cool place when not in use. Consult the manufacturer's instructions for proper maintenance and storage.
Mike and Jennifer's Southern Utah RV Adventure Guide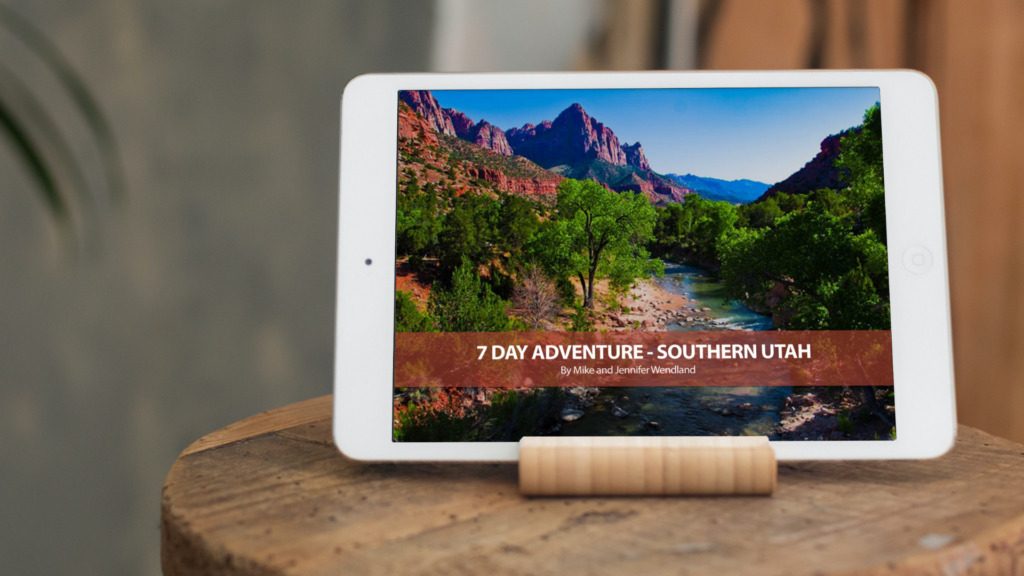 Utah, Utah, Utah. What more is there to be said? In very few places across the United States is there such a tremendous area with breathtaking vistas and diversity of terrain.
The sheer size of the National Parks, the canyons, the desert. Combined with the amount of history written in the red rocks that rise like towers jutting out of the ground and the delicate hoodoos washed away by erosion.
It is a place that, if you've never been, you need to go, at least once in your life.
This ebook is a seven day guided exploration of the State and National Parks in Southern Utah. We provide a suggested route and itinerary, links to multiple campgrounds and boondocking spots, and the best spots to see along the way. Don't plan your trip to Southern Utah without it!
You can hit everything in seven days, do a whirlwind weekend tour, or you can take your time and explore the area over a few weeks.
---
---
---