One of the best things about camping is getting away from city lights and gazing into the night sky. I've made a list of things that'll make it even more enjoyable in this stargazing for campers kit…
With so many stars in the sky and a universe so vast, stargazing helps put life (and all of our problems) into perspective. It's one of the biggest perks of camping when you have an open sky filled with stars above you.
Of course, all you need to stargaze is a clear sky and a craned neck. But to really soak in the heavens and enjoy your time outside at night, it helps to be comfortable. It's also nice to know what you're looking at and to see things even better.
So, I've compiled a list of items that take stargazing for campers to the next level.
We use affiliate links and may receive a small commission on purchases at no added cost to you. Thank you for your support. You can read our full affiliate disclosure here.
Stargazing for Campers Kit
By the way, I have written tips for stargazing and also about the 5 Best Dark Sky Locations for Stargazing in the US. You should check those out, too.
Alrighty, let's just jump right into this. The sooner we get through the items, the sooner you can order and plan your next stargazing adventure!
Um, Mike, I want to look at stars, not do yoga. I hear ya! But this yoga mat is better than any picnic blanket you'll find. With their thick padding, you can lay down anywhere and comfortably gaze up at the stars.
It's light and easy to carry with its strap. And it's not a problem if it gets wet. Just be sure to let it air dry before you store it.
This wearable blanket has a big front pocket and comes with a small pillow. And I do mean comes with a small pillow, not folds up into a pillow like some other options. That way, you can use the pillow and blanket at the same time.
Both the blanket and pillow zip up into a little bag. It's lightweight, easy to carry, and, most importantly, very cozy!
Comfy, Warm Clothes
The travel blanket is really nice, but you'll also want to wear some warm, comfy clothes. Since there are obviously so many different options to choose from, I'm just going to shamelessly recommend some items from our RV Lifestyle clothing line. But, obviously, any comfy, warm clothes will do.
I recommend an RV Lifestyle beanie at the very least since the wearable blanket doesn't have a hood. It's also nice to have an RV Lifestyle long-sleeve shirt or sweatshirt to keep the bugs off your arms.
---
Join those living the RV Lifestyle
---
Bug Spray
Stinkin' mosquitos can ruin stargazing faster than a shooting star. I have two recommendations for bug spray. The first is a DEET-free botanical formula called Buzz Away Extreme. It's perfect for those who want to use a natural repellent against mosquitos and ticks.
For those who are more worried about ultimate protection and less about chemicals, there is Off! Deep Woods Bug Spray. It has 25% DEET and repels mosquitos, ticks, biting flies, gnats, and chiggers.
Good ol' National Geographic created this excellent guide that lives up to its name. It provides essential information that's easily understood and organized logically.
It starts with the easiest constellations and then explains how to "star-hop" across the night sky to find others nearby. You'll learn about black holes, solar flares, supernovas, and more.
It's really a great guide for the whole family. A must-have in your stargazing for campers kit!
This is a neat little gadget to play with. This map helps you find constellations visible to you based on the time and date and where you are. It's designed for beginners, so don't worry if it sounds difficult to use. It's not!
In order to read your Backyard Guide and Stars Map, you're going to need a flashlight. But you don't want to use a standard bright flashlight. Your eyes will have to keep adjusting to the darkness if you do.
Instead, you want to use a red flashlight. You'll be able to see what you need to see without affecting your night vision. The added perk is red lights don't disturb animals, so you may spot some nocturnal wildlife while stargazing.
For those of you who don't want to mess with a stars map (even though it's fun), there's a great modern option. SkyView® Lite is a really neat augmented reality app that outlines the constellations and names the planets on your iPhone. If you have an android phone look into using Star Walk2 – and if you REALLY want to explore all the apps available Space.com has a full review post for you to explore.
You simply point your device's camera at the sky and it'll tell you what you're looking at. It's really neat, and one of the few times you'll ever hear me encouraging people to use their phones while camping.
Telescopes are bulky and hard to use. So, they're not ideal for camping unless you're an avid astronomy hobbyist. These Celestron binoculars are a much more practical option for most people.
While the magnification won't really compare to a telescope, they do give you a closer look with nice details and a sharp image.
They come at a great price, especially relative to their highly-rated value.
Now that you have everything your need for stargazing, you need something to keep it all in. Plus, some snacks, of course!
This large backpack has plenty of room for your guidebook, binoculars, flashlight, map, bug spray, and I think you can even fit your pillow and blanket pouch. Or at least clip it onto it.
Best of all, it has an insulated compartment for a few snacks and drinks. Now you'll have everything you need for stargazing while camping. It comes in a few different patterns, too.
What Do You Think of this Stargazing for Campers Kit?
Do you think I'm missing anything? If so, please let me know what you recommend in the comments below. I'd also love to hear about your favorite places to go stargazing.
Mike and Jennifer's Southern Utah RV Adventure Guide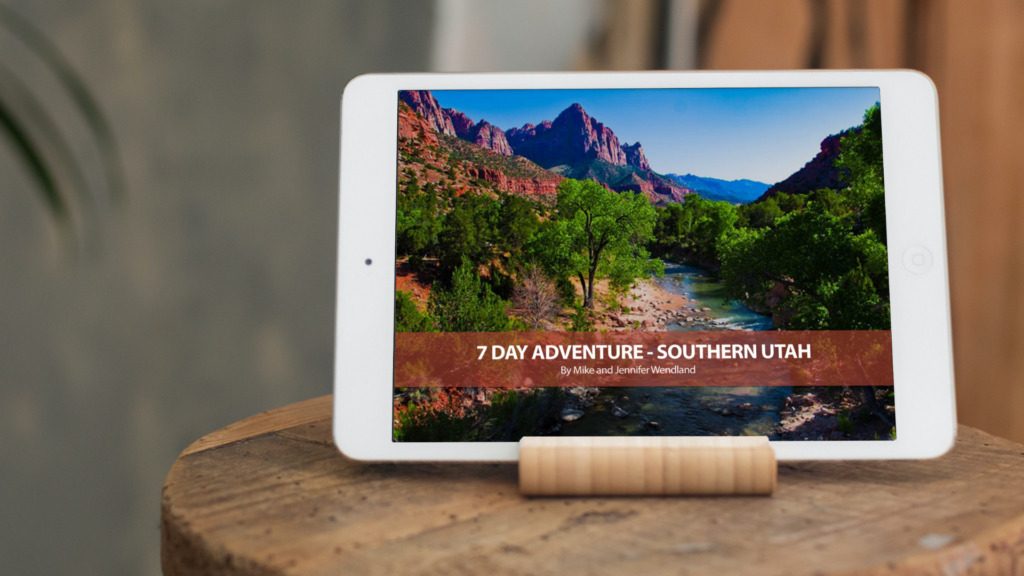 Utah, Utah, Utah. What more is there to be said? In very few places across the United States is there such a tremendous area with breathtaking vistas and diversity of terrain.
The sheer size of the National Parks, the canyons, the desert. Combined with the amount of history written in the red rocks that rise like towers jutting out of the ground and the delicate hoodoos washed away by erosion.
It is a place that, if you've never been, you need to go, at least once in your life.
This ebook is a seven day guided exploration of the State and National Parks in Southern Utah. We provide a suggested route and itinerary, links to multiple campgrounds and boondocking spots, and the best spots to see along the way. Don't plan your trip to Southern Utah without it!
You can hit everything in seven days, do a whirlwind weekend tour, or you can take your time and explore the area over a few weeks.
---
---
---