Our RV Lifestyle Facebook group was asked about their unique camping hobbies. Here's what real RVers like to do for fun…
RVing is a great way to escape it all. You can relax in the quiet beauty of the natural world. Some people live in the peaceful and relaxing setting of a campsite.
But sometimes camping by itself can be a little, ahem, dull. While a quiet and serene landscape may be incredible for a few days, you may need a hobby while on the road.
One of RV Lifestyle's members recently asked a question in our Facebook group to get some hobby ideas.
Scott posted: "I'm curious what hobbies y'all do while RVing."
His post got so many comments that we have narrowed them down to 10 unique camping hobbies. Then, we've added 3 more from the comments at the bottom of this article! So, here's a total of 13 unique camping hobbies you can try on your next RV trip.
We use affiliate links and may receive a small commission on purchases at no added cost to you. Thank you for your support. You can read our full affiliate disclosure here.
13 Unique Camping Hobbies to Do While RVing
Of course, many people responded with popular camping hobbies like hiking, biking, photography, fishing, crocheting, etc. But we narrowed in on unique hobbies that you may not have even considered before.
Maybe you'll find a new hobby on this list!
1. Create Nature Art
Many RVers enjoy creating art out of items they find in nature. For example, some folks like to create a nature journal and include leaf rubbings of the foliage nearby.
One RVer, Justin, said he likes to make art from fossils that he finds.
Another member said that she likes to make bowls out of interesting rocks she finds.
While creating art out of natural items is engaging, be sure that you follow all park rules and laws. For example, picking flowers from a national park is a big no-no. You want to ensure you know what you are and are not allowed to do before starting a hobby.
2. Metal Detecting
Another unique hobby some RVing people enjoy is metal detecting. You never know what hidden treasure might be found in a campground or on a deserted stretch of beach.
We were surprised to learn you can get a good metal detector for only about a $100. Not too pricey for a new hobby that keeps you active. However, it's important to research metal detecting restrictions and the code of ethics before you dive into this hobby.
3. Wood Carving / Turning Pens
I am sure you have heard of woodworking, but have you heard of turning pens? It is a woodworking technique to create custom pens, pencils, and other writing instruments.
Many people like to work with wood in varying capacities, whether by carving or making a helpful tool from wood.
You can get a mini wood lathe and wood carving set to keep in your RV.
4. Painting Kindness Rocks
A LOT of people like to paint kindness rocks. This is where you paint a rock with a nice picture or kind words, then place it somewhere for others to find. The point is to brighten a stranger's day with fun art.
Be aware, however, that it is unlawful to hide painted rocks in state and national parks. The painted rocks are considered litter, and their bright colors and patterns can disrupt the ecosystem. Nor should you take rocks from state and national parks.
Be sure that your kind act does not become an accidental act of vandalism! You can read more about these regulations at DON'T Do These 10 Things in a National Park.
5. Quilting
Quilting is another relaxing hobby you can work on when traveling. It's a wonderful way to create items you can use in your RV or give as gifts.
Some RVers make quilts out of t-shirts they buy wherever they travel. So, the quilt becomes a storyboard for their journey.
We've found a helpful article on How to Make a T-Shirt Quilt for Beginners. You can also purchase a Beginner's Quilting Kit to equip yourself with all the basic quilting tools.
6. Paper Quilling / Paper Crafting
Paper quilling is the art of cutting paper into long thin strips and rolling and pinching them into different shapes to create an overall design.
We hadn't heard of paper quilling before reading about it in the comments. But wow, it's really neat!
You can buy paper quilling kits online to get started. We've also found a great article on other fun crafts to make out of paper.
7. Jewelry Making
Another fun hobby you can try is jewelry making. Create earrings, necklaces, or bracelets that are just your style.
One of our RV Lifestyle members, Vicki, sells the jewelry she makes on Etsy. Talk about a creative way to make money while RVing.
Jewelry making includes many different options, including wire wrapping, leatherworking, and beading. There are all kinds of great starter kits available:
8. Travel Journaling
A few RVers mentioned travel journaling, and we were surprised more people don't do it. Instead of waiting until after their trip (and inevitably putting it off), they journal and scrapbook as they travel.
We have a few related articles to get you started:
9. Lego
Lego aren't just for kids anymore! Some folks find it relaxing to build intricate lego sets while camping.
One member, Jack, said that he plans to travel with his Lego train sets. You may think taking these tiny bricks camping will be a disaster, but you can use an organizer box to stay tidy.
As an RVer, I recommend starting with the following sets:
10. Gardening
Like what you see in these videos? We'd appreciate it if you would Subscribe to our YouTube Channel (easy to do right here) and consider "ringing the bell icon" to be notified of any new video from us. 🙂 Thanks!
Did you know that people love gardening in their RV? If you have a green thumb, you can still enjoy this hobby on the road!
There are many different creative ways that people garden from their RV, including show organizers and mason jar gardens! You can also use a portable garden box that is a little more traditional.
11. Geocaching
Geocaching was also suggested, and a commentator on this article agreed it needs to be included on our list. Sheila says, "If you like treasure hunting and hiking, try Geocaching," because that's exactly what geocaching is about.
Geocaches are small, hidden "treasures" created by people like you all around the world. You replace the geocache once you find it, but sometimes you swap a personal item inside, sign a logbook, or do other fun things with it.
You can go to geocaching.com to learn more about the world's largest treasure hunt. It tells you how to download the app, create an account, find a geocache, and share your experience.
Just keep in mind, that geocaching goes against the Leave No Trace pledge in protected parks and falls under the 10 Things Not To Do in a National Park.
12. Letterboxing
Letterboxing is similar to geocaching, but you hunt for a rubber stamp contained within a hidden letterbox. You then stamp your personal log book with your unique find.
What's really cool is that many of the rubber stamps are hand carved! So, this hobby combines art and adventure into one.
You can learn more by visiting AtlasQuest.com. It tells you about the history, how to get started, and the code of conduct participants abide by.
Once again, though, the Leave No Trace pledge all campers should make prohibits leaving letterboxes on protected lands. Be sure to read the 10 Things Not To Do in a National Park.
13. Activity Books for Adults
Kids are not the only ones that need entertainment when on the road. Adults need to stimulate their minds and creativity, too!
Doing crafts and activities is good for you, especially if you need to calm your nerves while riding shotgun. Many studies show the positive effects of occupying your mind (especially as you age!).
Or perhaps you want to pass the evenings at camp with more than a book or a movie. It's always good to mix things up.
We have an entire list of the Best Activity Books for Adults for you to check out.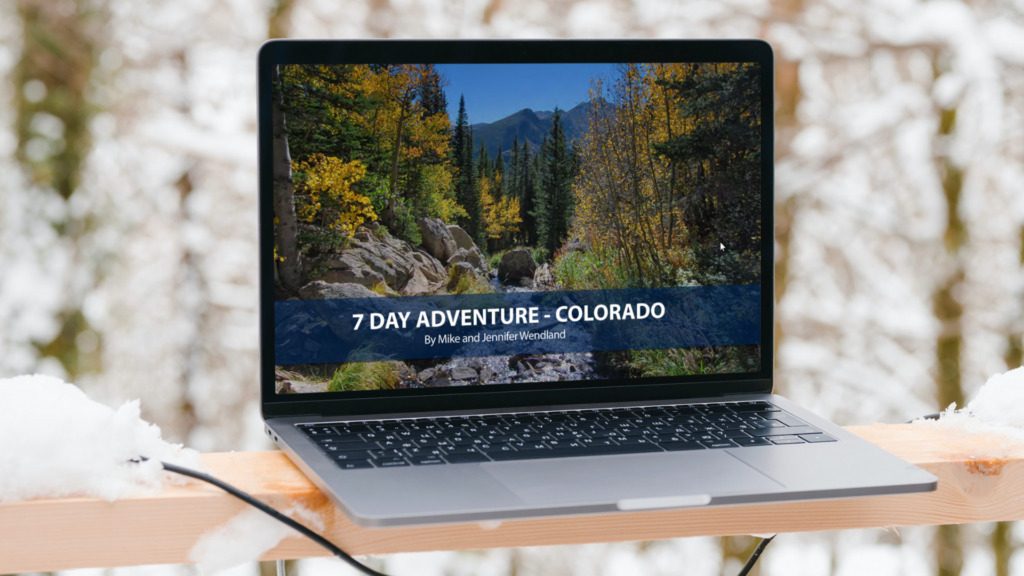 When Jennifer and I first went to Colorado, I felt like I finally understood what John Denver meant by his song: I've now been Rocky Mountain High.
And like Denver, exploring all that Colorado has to offer made me want to sing, too.
This is a fully designed and edited guide that you can download and start reading immediately on your phone, tablet, computer or e-reader.
---
---
---
We recommend you go Lectric for your RV Lifestyle

You know we love our RAD Power bikes – and have featured them for years, but we recently tested out and LOVE our new Lectric foldable ebikes. Being able to fold them up allowed us to put them in our Wonder rear garage area for a recent RV Lifestyle Gathering. You can check out our experience with them right here on our YouTube Channel.