With long drives and cozy nights, these are the best road trip movies to keep you entertained on your vacation…
When camping, there's nothing better than sitting outside and soaking up nature and all her beauty. The same goes for driving when you can see so much as you pass it by.
But sometimes, you just want to pass the time or cozy up to a good movie. Whether the landscape is repetitive or the night is stormy, these movies honor the feel-good nature of camping and the adventurous spirit.
We use affiliate links and may receive a small commission on purchases at no added cost to you. Thank you for your support.
13 Best Road Trip Movies for RVers and Camping
From family to drama to Westerns to horror, I've made it a point to include something for everyone to enjoy on this list.
These may be available on various streaming services for free, rent, or purchase. I think it's safe to say that many people have Amazon Prime, so I'll include the streaming Prime Video link as well as the link to purchase the DVD or Blu-ray for your convenience. And bookmark this link for all of them on one Amazon list.
The Sandlot is THE American classic. From baseball to the 4th of July, it wraps up Americana in a hilarious yet inspirational movie.
If you haven't seen this movie, then put it at the top of your list. It's about a new, unathletic kid learning how to fit in and play baseball with the tough "all-American boys" in the neighborhood. There's lots of comedy, and even a bit of mystery and romance.
Be warned, though, that even though this is rated PG, it does have foul language that isn't appropriate for younger kids.
Dan Aykroyd. John Candy. And a bear with a bare butt. If mention of those three things combined make you laugh, then this movie is for you.
A family heads to a lakeside resort for a serene vacation when obnoxious in-laws show up unannounced. Chaos and hilarity ensue.
The lakeside resort was filmed at an actual resort in Bass Lake, California, called The Pines Resort. Bass Lake is a wonderful destination near Yosemite National Park.
Planes, Trains and Automobiles DVD or Blu-ray
John Candy makes the list again with this movie, starring alongside another comedic giant, Steve Martin.
"An uptight businessman teams up with an irritating know-it-all blabbermouth to find any means possible to make it home for Thanksgiving when a major snowstorm strands them in the Mid-West."
As RVers, we can relate to the challenges we sometimes face just trying to get from Point A to Point B!
RV (PG)
Of course, I can't make a list of the best road trip movies for RVers and not include a movie titled RV!
Robin Williams could make anything funny yet still strike you at a deeper level. He did this in movies like Patch Adams, Jack, Mrs. Doubtfire, and more.
This movie leans more towards comedy than heartfelt, but it still carries the message of the importance of family bonding.
When an overworked man forces his family into an RV road trip, he's met with nothing but disgruntled attitudes and motorhome mishaps.
It's a comedic journey that I think all RVers can relate to and laugh about!
---
Mike and Jennifer's Summer T-Shirts for your next adventure

---
Wow, apparently they didn't print many Wild America DVDs because a DVD copy is over $40! Ironically, a Blu-ray copy is only $25. I'd say it's worth the cost, too.
This is the story of three brothers who venture into the wilds of America to film a nature documentary. It's a coming-of-age story filled with adventure and comedic obstacles.
It truly embraces the outdoor-loving mentality and sense of adventure that RVers and campers crave.
"It's a race! I'm winning, I'm winning!" That's a line from the movie that will likely get stuck in your head and make you chuckle every time you think about it.
The movie poster will make you think this movie is ridiculous, and you'd be right. But this movie pulls it off ridiculous in the best way.
A casino magnate, played by John Cleese, is determined to find a new avenue for wagering. So, he sets up a cross-country race for money, randomly selecting the participants.
The characters, which include Jon Lovitz, Seth Green, and a narcoleptic Mr. Bean, form a hilarious team that's perfectly balanced.
This is a quintessential family movie about two dogs and a cat who set out across America to find their owners.
It's a simple yet moving tale of comedic adventure. The original, titled only The Incredible Journey, was filmed in 1963 and still holds up today. But I still recommend the "newer" 1993 version.
If you're venturing West into cowboy country, then you should definitely add this movie to your watchlist. If you ask anyone what best Western movie is, I'd bet the majority would name this movie.
After they named this movie, they'd likely follow it up with some of the many memorable lines. "I'm your Huckleberry," "I've got two guns, one for each of ya," or "Hell's coming with me," just to name a few.
This movie will get your blood and tear ducts pumping, so get ready for a bucking bronco ride.
I promised this list would have something for everyone, so I must include a romance! Far and Away balances out the rugged masculinity of Tombstone with a romantic yet still tumultuous tale of the Great Frontier.
It's a story of a young Irish immigrant couple who head west to make their American dream come true. It may be a romance at its core, but it's still a Western adventure that anyone can appreciate.
This movie is NOT for everyone. But to be a complete list of best road trip movies, I felt like I needed to include a horror flick. I'm actually going to give you two, starting with The Descent.
I chose this one for RVers and campers because its female characters go deep into the wilderness, spelunking into undiscovered caves. They discover terror around every claustrophobic turn.
You can tell by the cover art alone that this has gore and isn't for the faint of heart.
Again, this movie is NOT for everyone, but we are talking about road trips here. And this movie is about a road trip from H-E-double hockey sticks.
Three young people on a road trip get targeted by a psychopathic trucker they pulled a prank on. Let me just say, you'll never hear the word "candy cane" the same way again.
Don't watch this movie if you don't like gore and nail-biting suspense.
The Secret Life of Walter Mitty DVD or Blu-ray
On a much happier note than the last two recommendations is The Secret Life of Walter Mitty.
It's a story about an ordinary many that goes on an extraordinary adventure, discovering himself and his destiny along the way.
Don't let the fact that it's starred in and directed by Ben Stiller. Though he is known for his comedy, this is more of an inspiring drama that still has plenty of humor.
This movie is full of wonder. The scenery and cinematography alone make it worth watching.
Star Trek (2009) DVD or Blu-ray
I promised something for everyone and that includes Sci-Fi junkies. As RVers and campers, we can surely relate to the desire to boldly go "where no man has gone before."
There is a lot of controversy over which Star Trek movie is the best. So, I'm not going to try to claim this one is the best overall, but I will say that the 2009 self-named Star Trek movie is the best modern choice.
The story is so well-paced and balanced with lots of action, humor, drama, and even some romance. It has something for everyone all in one movie.
Your Vote on the Best Road Trip Movies
What did you think about my list? Did I hit on some of your favorites? Did you add some to your watchlist? Or do you think I missed some great options? Let me know in the comments below! And here's a list on Amazon to get to all of these quickly.
Mike and Jennifer's Southern Utah RV Adventure Guide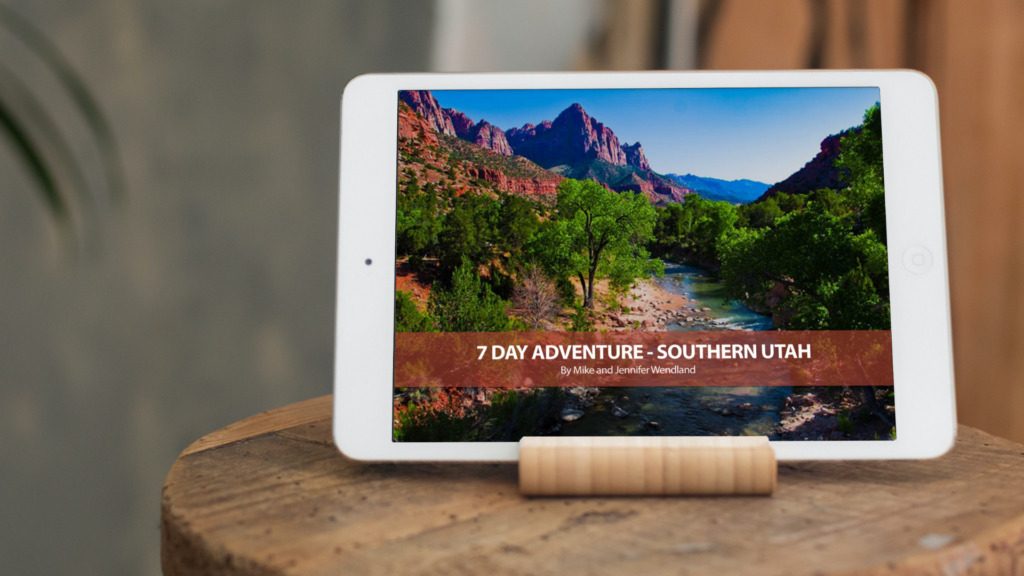 Utah, Utah, Utah. What more is there to be said? In very few places across the United States is there such a tremendous area with breathtaking vistas and diversity of terrain.
The sheer size of the National Parks, the canyons, the desert. Combined with the amount of history written in the red rocks that rise like towers jutting out of the ground and the delicate hoodoos washed away by erosion.
It is a place that, if you've never been, you need to go, at least once in your life.
This ebook is a seven day guided exploration of the State and National Parks in Southern Utah. We provide a suggested route and itinerary, links to multiple campgrounds and boondocking spots, and the best spots to see along the way. Don't plan your trip to Southern Utah without it!
You can hit everything in seven days, do a whirlwind weekend tour, or you can take your time and explore the area over a few weeks.
---
---
---
---
Mike and Jennifer's RV Lifestyle hat collection
Who needs a hat? You do! Dad hats aren't just for dads. This comfy one's got a low profile with an adjustable strap and curved visor. Just the thing to wear on your next RV Lifestyle adventure.
---