With dozens of options on the market, here is a list of the best RV vacuums.
For all that time you spend on the road, your RV can feel like home. Or maybe your RV is your full-time home! Either way, no one likes to live in a dirty house, especially those who have allergies.
And that dirt can add up, believe me!
If you're like us and enjoy the outdoors, that means you're going to track in some dirt. Or maybe you have guests who don't quite do a good enough job wiping their feet before stepping inside.
If you have carpets in your RV (or a pet), it becomes obvious very quickly you need to own a vacuum.
You might be thinking, how hard can vacuuming an RV be? After all, it's a relatively small space compared to a typical house or apartment.
What makes it a challenge is being able to clean those hard-to-reach places. So, you are going to want to have a vacuum that totally sucks, in a good way.
5 Best RV Vacuums
If you've made the RV lifestyle a reality, you'll want a vacuum that can keep up with your travels. We included in this list the best RV vacuum cleaners depending on your preferences. We use Affiliate links wherever possible, which means if you click one of the links in this video or description and make a purchase we may receive a small commission or other compensation. Thanks for the support!
When it comes to buying anything for your RV, the first thing you probably consider is how much space it uses. The kind of vacuum for those who want to save space is the Central Vacuum Systems.
In fact, many RVs come outfitted with the Central Vacuum already built-in. If so, it has its own designated easy storage space.
If you're looking to install one yourself or upgrade the one you already have, this Dirt Devil is the best RV vacuum for you.
The benefit to it being built-in is convenience. You don't need to worry about cords tangling up or rechargeable batteries. You just attach the hose you need and go.
It comes with a variety of tools good for any kind of surface, including carpets. It even has different attachments to reach every nook and cranny.
This Dirt Devil model has one gallon, so you don't have to worry about emptying it every time.
The downside is that this option ranks as one of the more expensive.
If you don't have a great vacuum already built into your RV, then you'll need to buy one that can be easily stored.
This Eureka is relatively compact, but its biggest strength is its versatility.
It functions as a normal corded vacuum with strong suction and handles any kind of hard floor. Its best feature, though, is the handheld vacuum you can detach to reach areas in those tiny spaces.
This is the best vacuum for RVs due to its convenience. Convenience is especially important because you won't have any excuses not to keep your RV clean all the time!
You never have to buy bags because it has a bagless, dirt compartment that is easy to dump out after you're done.
While a cord can be pesky to use in such tight spaces, the cord is 18 feet long to allow you to reach your entire RV.
If portability is an important factor to you or if hearing the word "cords" makes you anxious, this Black+Decker is the best RV vacuum.
This vacuum is a cordless model, making cleaning much more convenient, which in turn makes traveling with others more pleasant.
This vacuum is also the most compact on the list with a lightweight design, so you can carry it by hand like a traditional dustbuster.
However, just because it's small and cordless doesn't mean it skimps on power. Powered by a lithium-ion battery at 20 Volts, this little vacuum can accomplish a whole lot of suction for a long time on a single charge.
Even the charging base and tools included are stored in a very compact way, perfect for your RV.
It being handheld, though, means kneeling down to clean the floor. It doesn't come with an upright stick like a typical vacuum.
If you are a pet owner, sometimes a regular dry vacuum just isn't enough.
You need a wet vacuum to give your carpet or hard floors a deep clean to rid your RV of that wet dog smell.
Good thing there is a vacuum that includes the whole package.
This Bissell model is both a regular vacuum and a "mop." It contains both a dry compartment for regular dirt and a 28-ounce water tank for the deep clean function.
For added convenience, the cord is a whopping 25 feet.
It's not one of the best RV vacuums for compactness but for a wet vacuum, it is impressively storable.
Still, this would only be the best RV vacuum if you have a pet or a need for deep cleaning while out on the road.
This Shark handheld vacuum cleaner is the best of all worlds while still being relatively affordable.
It has the suction power to handle pet hair with its TruePet Motorized Brush.
You do have to plug it into a power source, but it is more powerful than cordless.
This vacuum is handheld which means you would need to kneel to clean the floors. It does have extensions, though, to make the task simpler, and only weighs 4 pounds.
Of course, it being handheld means easy to store.
Honorable Mention
If you want to splurge, the Dyson Absolute Cordless Stick Vacuum Cleaner deserves an honorable mention.
Reliable, powerful, and cordless, Dyson's vacuum is certainly a contender for the best RV vacuum.
It does the best job at the highest convenience. You just have to pay for that extra quality.
Your Vote on the Best RV Vacuums
What's your top pick for the best RV vacuums? Anything you recommend? Let us know in the comments!
Mike and Jennifer's Southern Utah RV Adventure Guide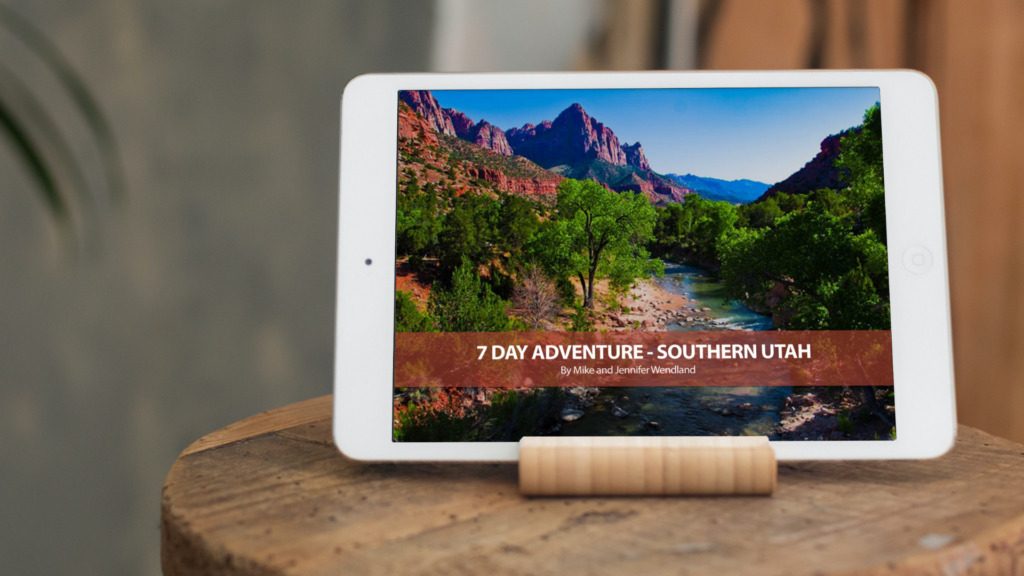 Utah, Utah, Utah. What more is there to be said? In very few places across the United States is there such a tremendous area with breathtaking vistas and diversity of terrain.
The sheer size of the National Parks, the canyons, the desert. Combined with the amount of history written in the red rocks that rise like towers jutting out of the ground and the delicate hoodoos washed away by erosion.
It is a place that, if you've never been, you need to go, at least once in your life.
This ebook is a seven day guided exploration of the State and National Parks in Southern Utah. We provide a suggested route and itinerary, links to multiple campgrounds and boondocking spots, and the best spots to see along the way. Don't plan your trip to Southern Utah without it!
You can hit everything in seven days, do a whirlwind weekend tour, or you can take your time and explore the area over a few weeks.
---
---
---