What type of safety detectors do you NEED in your RV to keep you safe? Find out this and more from a certified RV inspector…
When many folks think about camping safety, they think about having enough water or wearing good shoes to prevent a fall in nature. They do not often think about toxic RV gases that could be catastrophic to your health.
But they should! There are three different detectors that every RV should have to maintain the safe operation of the vehicle and keep your family safe.
Brenda of Queen Bee RV is a certified RV inspector and a regular guest on our RV Lifestyle podcast. She focuses on educating RVers on how to care for their RVs. In this podcast episode, she shared some easy tips to care for your awning that can save you money (and headaches).
This article shares Brenda's RV Life Safety Detectors information to keep you safe when RVing! If you prefer to watch her tips instead of reading them, scroll down to the podcast video near the end of this article.
PSST! Tune into our podcast for more troubleshooting tips, camping recipes, and lots of great RV-related information. A new episode airs every Wednesday!
Subscribe with your favorite podcast platform: Google Podcasts | Spotify | Stitcher | Email | TuneIn | RSS
We use affiliate links and may receive a small commission on purchases at no added cost to you. Thank you for your support. You can read our full affiliate disclosure here.
3 Life Safety Detectors You NEED
You should have LP, Carbon Monoxide or CO, and a smoke detector. Some of these may be combination detectors.
Many RVs come stock with these now, but it's up to you to test them and keep them in working order! We also have a handy Amazon List called RV Safety Essentials. We hope you never have to use the things on this list, but you certainly need to stock up on a few of these things to be safe in any situation. Better safe than sorry, as the saying goes.
LP Detector
Your LP detector is another name for a propane detector. It uses a sensor to measure the concentrated amount of propane gas in a given area, like your RV.
LP detectors might be a stand-alone device or combined with your carbon monoxide (CO) detector. Or you might be replacing one already installed, like this example below. Brenda explains how to replace these a little further down in this post.
CO Detector
Carbon monoxide detectors measure the amount of carbon monoxide in a given area. These are important because carbon monoxide is highly toxic, but is odorless. A detector is the only way to know if it is present.
Smoke Detector
As you know, smoke detectors detect the smoke from a fire, alerting you with a beep to any fire occurring in your coach. But sometimes, just cooking will set them off. The one we've listed here has a pause button to mute it for 9 minutes!
In addition to a smoke detector, you should ALWAYS have an RV fire extinguisher on hand. In addition to your certified extinguisher, we recommend keeping EZ Fire Spray in your kitchen and by your BBQ.
Where Should I Install My Detectors?
Your LP detector should be no more than 6" from the RV floor. The reason for this is because propane is heavier than air.
The CO detector location does not matter as much because carbon monoxide can be both lighter or heavier than air, depending on the room's circumstances. If you have the combination LP/CO detector, you want to install it no more than 6" from the floor.
If your RV has a separate CO detector, it is typically located in the bedroom.
The LP detector is hard-wired to the coach battery. It is imperative to make sure the battery remains charged so that the detector works properly.
The stand-alone CO detector could be hard-wired or run on a 9V battery.
Smoke detectors usually run on a 9V battery and are typically located near the exit door.
How Do I Test My Detectors?
You want to test your detectors each season before taking out your rig.
To test the detectors, press the test button on the front to ensure the alarm sounds. This will confirm that the detector is receiving power. However, this test cannot confirm that the sensor is still operating correctly.
If any detectors are not functioning correctly, you will want to check the power sources first. Make sure that hard-wired detectors do not have any issues with the wiring, and check your coach's battery.
For battery-powered detectors, replace the 9V batteries and retest the unit.
If that does not fix the issue, it is time to consider if the device has exceeded its life expectancy.
Detector Life Expectancy
To check the detectors' life expectancy, look for the manufacture dates for both smoke and CO/LP detectors located on the back of the device. Use a screwdriver to remove the device and check the date.
It is recommended to replace CO/LP every 5-7 years and smoke detectors every 5-10 years. To be on the safe side, change them all at five years. It is a simple procedure and an effective safety measure for your family.
What Does a Beeping LP Detector Mean?
If the LP detector is beeping, it can mean one of three things:
There is LP present
The battery power is too low
The detector is nearing the end of its life.
Replacing Hard-Wired Detectors
When replacing a detector, never disconnect it or cut the wires. You want to purchase an RV-rated detector as the replacement.
You can find rating information on the back of your current detectors and on the package or description when purchasing in the camping gear store or online.
To replace the detector:
1. Remove the face screws to reach the wiring behind the unit.
You should see two color-coded wires that will match the new detector wiring. One is positive and one is negative. The polarity does not really matter, but take note on the wire colors as you will want to attach the wires on the new unit in the same way.
You can also remove the fuse so that the wires are safe to handle.
2. Remove the existing wire nuts as well as the old detector. Then attach the wires from the new detector in the same way the previous ones were wired.
To make sure the connections are secure, you can give the wires a slight tug to ensure that it is tight.
3. Reinstall the fuse to power the LP/CO detector.
4. Mount the detector using the previous face screws. You should see a blinking green light. That is the unit's operational set-up. Once the light is a steady green, press the test button.
Press the test button to test out the detector.
RV Queen Bee Tip of the Week – video queued up for you
Like what you see in these videos? We'd appreciate it if you would Subscribe to our YouTube Channel (easy to do right here) and consider "ringing the bell icon" to be notified of any new video from us. 🙂 Thanks!
We summarized Brenda's tips above, but watching the above video is very helpful! Brenda walks you through what you need to know and the fixes you can try.
We also suggest you tune into our podcast for more troubleshooting tips, camping recipes, and lots of great RV-related information. A new episode airs every Wednesday!
Subscribe with your favorite podcast platform: Google Podcasts | Spotify | Stitcher | Email | TuneIn | RSS
According to the CDC, approximately 50,000 people end up in the emergency room each year due to accidental CO poisoning. Worse, at least 430 people die.
CO poisoning is a serious risk, especially where any fuel-burning machines or appliances exist. As we all know, an RV itself is a fuel-burning machine with plenty of fuel-burning accessories in and around it!
Humans CANNOT DETECT carbon monoxide. So, you need to know how else to identify its presence. Keep reading to learn how you can detect carbon monoxide before it's too late…
Mike and Jennifer's Official Travel Guide – Michigan's Lower Peninsula is now available!
You are in for a HUGE adventure. While some of our guides are designed to explore an area in 7 days, this one can take an entire summer to see it all. We chose to start in Detroit and travel north up the "Thumb" region, but you can pick and choose any section you want to begin your adventure.
Each Stop in our Guide gives you at least 3 places to camp while exploring the area! The state is particularly well suited for RV adventurers and the Michigan State Park system is one of the nation's best. But don't forget the beauty of boondocking. State forests abound, most offering rustic and dispersed off-the-grid camping. We hope you pick this up and enjoy one of our favorite places in the US to RV!
---
---
---
Official RV Lifestyle QUICK Links to ALL our eBooks
You can see ALL our eBooks here, or use the following Quick Links to go straight to what you need!
● Arizona
●    Colorado 
And MANY of these are BUNDLED together:
New England Bundle
Coastal Maine, Adirondacks
Ultimate Michigan and Great Lakes Bundle – 3 ebooks –
Upper Peninsula, Lower Peninsula, and the Great Lakes Tour
Michigan Bundle
Upper Peninsula, Lower Peninsula
The Great Lakes Adventure Guide Bundle
The Great Lake Shoreline Tour & JUST the Upper Peninsula Guide
Florida Adventure Guide Bundle
Gulf Coast, Atlantic Coast, Keys
Southwest Adventure Guide Bundle
Arizona, Colorado, Southern Utah)
Ultimate 7-Day RV Adventure Guide Bundle
Collection 1- our first 10 ebooks (does NOT contain Great Lakes Shoreline or Natchez Trace)
We also have a nice collection of ebooks that will help you navigate the RV Lifestyle.
Like these:
The Beginner's Guide to Boondocking
The Ultimate Guide to Cheap or FREE RV Camping Sites
Boondocking and Free RV Camping EBOOK Bundle
The Beginner's Guide to Boondocking ebook and Ultimate Guide to Free Camping Sites
And ONE PRINT book 🙂 and yes, before you ask, we have plans for MANY more print books.
The Complete Guide to Boondocking – PRINT VERSION
This is the same as the ebook titled The Beginner's Guide to Boondocking but in print.
And while you are exploring all our ebooks – check out the hoodies, T-shirts, Stickers, and mugs in our MERCH Store! You can get to it directly by just going here – SHOP!
---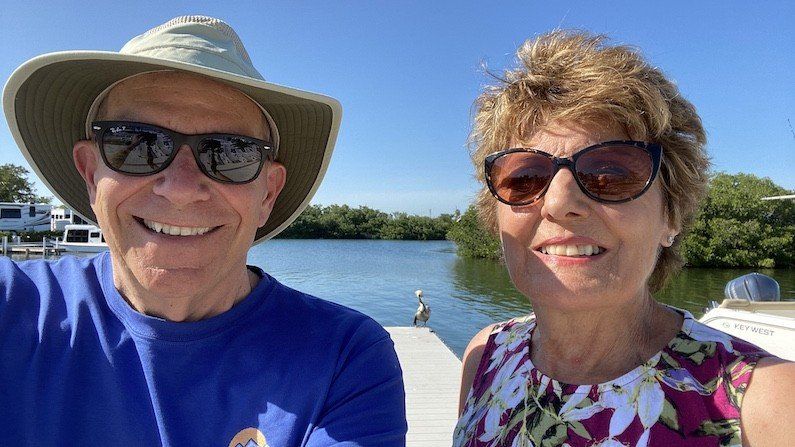 Curious about the gear, gadgets, accessories, and RV products Mike & Jennifer use and recommend?
On this RV Lifestyle Travel blog, our RV Podcast and our RV Lifestyle YouTube Channel, we mention all sorts of RV-related products and gear that we use, So we created a special page that links to them. We update this all the time.  CLICK HERE to go to it directly.
---
Last update on 2023-10-03 / Affiliate links / Images from Amazon Product Advertising API