Our votes for the best electric heaters for RVs!
Exploring the world in your RV can take you to magical places. But those magical places can come with cold weather, especially in the winter months! That means you will want the best space heater to keep your rig warm!
Or, perhaps your RV's pre-built propane heater does not work well. You might want to replace it with an electric model.
Whatever the case may be, you might find yourself in the market for a new electric heater.
Luckily, I have made it easy for you. I have compiled this comprehensive list for you to find the best electric heater for RV use.
Hey, if you buy something through my links, I might get a little something-something as a thank you. No extra cost to you, promise! Read our full affiliate disclosure here.
What to Look For in Electric Heaters for RVs
When shopping around for the best RV heater, be sure to consider these 3 tips about important features.
Tip 1. Auto Shut Off Safety Feature
A big RV fire safety tip is to only use electric heaters that automatically shut off if knocked over. Most new models have this feature, but not all do! So, be sure to check for this safety feature.
Tip 2. Figure Out Your Square Footage
Another top feature you will want to know is how many square feet the heater will cover. You may be happy with a personal heater, or you may want to keep your living room warm in the evenings.
Whatever your needs, you'll need to know the approximate square footage of the space you want to heat.
Tip 3. Get One with a Remote Control
I recommend purchasing an electric heater with a remote control. When it's cold outside, the last thing you want to do is move from underneath your cozy blanket. A remote control allows you to stay warm while also adjusting your RV's temperature. 
Tip 4. Pay Attention to Wattage
When we talked with our friend Mark Polk of RVEduction101.com, he advised us to use electric heaters that are 750-1,000 watts. That's a good rule of thumb range to avoid overworking your electric system, however, there are a couple instances where RVers opt for more.
For one, some RV electric systems can handle more wattage (but you should check your owner's manual). For two, many RVers use their electric heaters at home and in their RV, and still want the higher wattage for home use.
In those two cases, you can get a higher-wattage electric heater, but consider only using it on the low setting. Safety first, after all!
The Best Electric Heaters for RVs (5 Great Options)
After combing through many different electric heater options, I have narrowed down my list. The options below include both low and high-wattage electric heaters, so be sure to choose a safe option for your rig. (See Tip #4 above.)
Here are my top five picks!
Capacity: 5,000 BTU for up to 300 square feet
Dimensions: 7 x 7.4 x 23 Inches
Weight: 7.4 Pounds
This Lasko electric heater tops my list for the best electric heater for RV because of its features and unique design. It's a little bit of luxury, without a huge price tag!
Most RVs do not have room to spare. The compact design of this heater will allow you to store and place it anywhere in your space.
It also comes complete with a multi-function remote that allows you to control the settings without having to walk over to the unit. You can adjust your RV room temperature on cold mornings without having to get out of bed!
The heater does not make much noise, but its high heat production will warm small spaces quickly. The oscillating fan feature will evenly distribute that heat in your RV space.
Finally, this model is self-regulating and made from durable material that helps prevent it from overheating. It also has an auto-off feature in case you forget to turn it off.
Capacity: 5,118 BTU for up to 300 square feet
Voltage: 110 Volts
Dimensions: 6 x 3.7 x 9.2 Inches
Weight: 3.7 Pounds
This pick for the best electric heater for RV use is compact in size, but not features. With 11 different temperature settings on its adjustable thermostat, you will be sure to find a comfortable setting for your RV.
It also comes equipped with three quiet settings, including high heat, low heat, and fan only. Combine that with the adjustable thermometer, and you will heat your RV in no time.
The unit is small and compact, featuring a convenient carry handle. That makes it easy to move around your RV, and store when not in use.
Unfortunately, this model does not come with a remote.
---
---
Capacity: Heats up to 249 square feet
Dimensions: 6 x 3.7 x 9.2 Inches
Weight: 3.7 Pounds
Does your rig have limited floor space? Most RVs do! You don't have to worry about cramped floor spaces with this handy wall heater!
The heater plugs right into your wall plug, making it a convenient and space-saving design.
The unit stays cool to the touch so that you don't have to worry about accidentally burning yourself.
It also features a digital temperature display, along with a 12-hour timer. You can set it and forget it!
Dimensions: 7.52 x 6.34 x 10.04 Inches
Weight: 3.5 Pounds
This no-nonsense, oscillating fan puts out heat from three output options: high heat, low heat, and fan only.
For safety, it features a tip-over switch to automatically shut off when tipped over. It also features an auto shut-off so that you can turn it on and forget it.
The carrying handle on this portable heater makes it easy to move from space to space.
Dimensions: 7.9 x 6.2 x 10.2 inches
Weight: 2.90 Pounds
This electric heater is also a cooling fan! So, you can use it in winter and summer.
This ceramic heater has two heat levels, 1500W and 750W. The heater's thermostat control turns the heater on and off to maintain a preset temperature.
It's also quiet! The noise level doesn't exceed 45 decibels, which is comfortable for most people to sleep. (That noise level is comparable to a quiet library.)
You can heat up to 200 square feet with this model.
Bonus: Best GAS Heater for Boondocking

Capacity: 4,000 – 9,000 BTU for up to 225 square feet
Dimensions: 7.7 x 13.4 x 15 Inches
Weight: 3.5 Pounds
The maker of this model, Mr. Heater, is a household name when it comes to RV heaters. The portable unit reaches a minimal noise level, efficiently designed and made of quality materials. It tops my list since it is the best heater for RV boondocking.
I love to go boondocking. If you do too, then you might find yourself in locations that would benefit from a propane heater.
I call it the best boondocking heater because of its excellent safety features. If you are camping "off the grid," then chances are you are far from help if something goes wrong. You will want to purchase a heater that has as many safety features as possible.
This Mr. Heater model includes an automatic shut-off feature in case the heater tips over. In addition, the heater has an oxygen level sensor. It will shut off if the oxygen level falls below a certain point.
The heater conveniently connects to the propane tank or canister. Just keep in mind using it overnight will require extra propane. At the lowest setting, it will consume about one pound of propane per five hours.
Do You Just Want to Avoid the Cold? Check out 5 Warm Weather Road Trips for Winter RVing.
Your Vote for Best Electric RV Heaters
When the temperature drops, what kind of heater do you turn to? Does a small space heater do the trick or do you use a powerful heater? Please let us know in the comments so we can all benefit from your recommendations!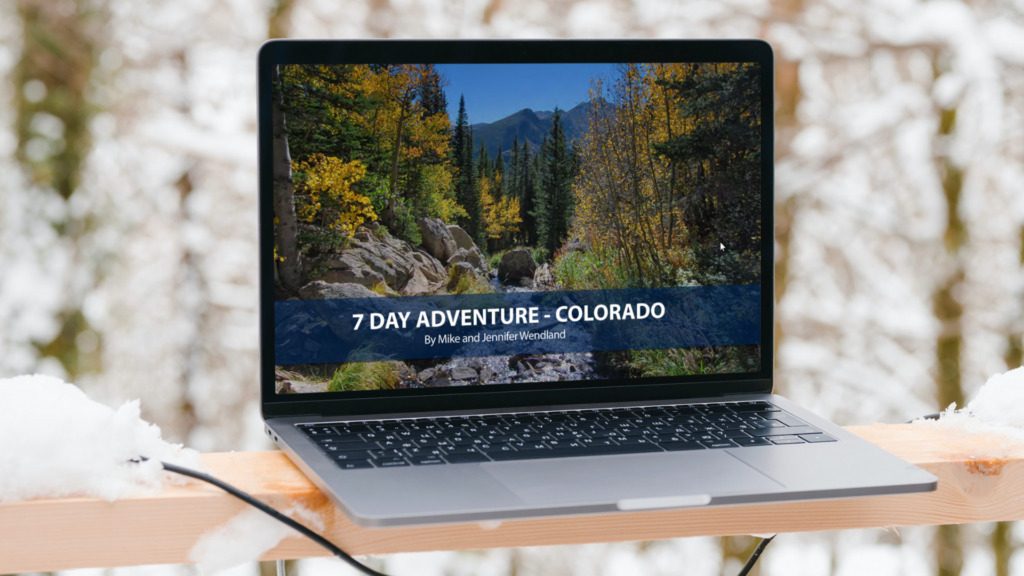 When Jennifer and I first went to Colorado, I felt like I finally understood what John Denver meant by his song: I've now been Rocky Mountain High.
And like Denver, exploring all that Colorado has to offer made me want to sing, too.
This is a fully designed and edited guide that you can download and start reading immediately on your phone, tablet, computer or e-reader.
---