These bedding storage ideas will help keep you snug in your RV without feeling cramped!
When it comes to your RV, the biggest challenge is probably finding enough storage space for everything. That is because the closets and other storage areas tend to be small spaces. It can be hard to stash everything you need!
Unless you have dedicated closet space for all of your extra linens, you will have to get creative in your storage solutions.
The good news is, there are tons of places you might not have thought of to store your extra bedding! From underbed storage solutions to under your sink, there are many ways to make the most out of your small spaces.
If you are in need of a great solution for your extra bedding storage needs, you are in luck. The following outlines many different ways to store your extra bedding. Go beyond a temporary solution and better ways to house your extra bedding today!
(We use affiliate links and may receive a small commission on purchases. Thank you for your support.)
How Much RV Bedding Do You Really Need?
Some people prefer to minimize their linens on a trip by only having one fitted sheet, top sheet, and two pillowcases for each bed. Others like to carry two sets of sheets for each bed so that they can change the bedding halfway through their trip.
The first thing you want to figure out is how often you think you will need to change your bedding. Are you taking a trip longer than a week or two? Do you have kids or grandkids that'll dirty the sheets quickly? Will you have access to laundry facilities? This can help determine how much bedding you need to have on hand.
Sheets, however, are only a small part of the challenge. They usually fold up pretty small.
Blankets and comforters are a bigger challenge. Sure, in most cases you just need one per bed and it can live there full-time. No need for storage if it's on the bed, right?
Well, the challenge arises on long trips or trips where you travel through different climates. Jennifer and I have started plenty of trips in frozen Michigan and ended in sunny Florida. So we can see how having light and heavy options on hand is useful.
We recommend checking out our 3 Best RV Bedding Solutions. These types of bedding are made specifically for RVs and can make this whole process easier! It's best to know which bedding you're going to use so you can better plan your storage.
Where to Find Storage Solutions
You can find storage solutions pretty much anywhere. A container store will have boxes, bins, and other hanging storage solutions in every size, shape, and material. These items will likely be high quality but can be pricey.
A dollar store will also have bins or storage solutions that may work well for your space. They will be inexpensive, but likely not as high quality.
Of course, you can also find a lot of options at places like Walmart, Target, Kohls, Costco, or other department stores.
Bedding Storage Ideas
What a lot of people don't realize is that sometimes the best bedding storage ideas aren't for bedding! They're for storing other things more efficiently so you have more room for bedding!
Compartmentalize Underbed Storage
Many RVs have built-in storage space underneath the beds. This, of course, is a great area to stash linens and extra throw blankets. However, underbed storage areas tend to get overloaded, fast! Too often, it's an RVer's go-to to shove everything in.
That's why we recommend compartmentalizing your underbed storage. You can plastic bins, fabric boxes, or nifty drawer dividers. There is something for every different style and preference!
If you use bins or boxes, we recommend getting ones with small handles. That way you can easily lift them in and out. These foldable storage bins are particularly handy because they fold flat when you don't need them.
If those bins are too deep for your storage area, you can try these great low-profile storage containers.
Swap Chairs for a Storage Ottoman
Another option is to replace your dining chairs with storage ottomans. A storage ottoman is a win-win. It's comfy and practical by giving you much-needed extra storage space.
There are even storage ottomans that have chairbacks!
Use Vacuum Storage Bags
Linens trap a lot of air, especially comforters! That makes them bulkier than they truly are.
Vacuum storage bags can take your extra bed sheets and different types of blankets to a fraction of their size. Most brands promise 80% extra storage space!
You simply throw the linens into the bag, attach the bag up to the vacuum machine, and suck out the air. Next thing you know, you have a much smaller item to store! If you don't have a vacuum, you can get vacuum storage bags that come with their own hand pump.
Use them for your clothes, too! Remember, by creating more space elsewhere you create more space for your bedding.
Improve ALL of Your Closet Storage
Like I said before, sometimes the best bedding storage ideas actually improve storage in other areas. By better organizing your closet, there will be more room for your bedding.
Make the most of your limited closet space by adding in bins, wire baskets, or shelf dividers into your closet spaces. Our partner, Organized Obie, also has lots of great storage solutions for this exact thing.
These items can help you compartmentalize your items, and create the perfect place to stash those extra sheets.
Use Shoe Dividers for More Than Shoes
Hanging shoe dividers are another great storage hack for RVs. Hang it on in a dedicated closet or on the back of the door. Then roll up your extra bedding and place it on various shoe "shelves"!
Or, you can use these underbed shoe storage organizers. Remember, you can use them for more than shoes!
Use Plastic Bins "Outside"
Another option for linen storage is to keep your "extras" in an air-tight plastic bin in the RV's outside storage area or "basement". If you have too much stuff to house it indoors, keep it in a plastic bin outside. Then grab what you need when you set up camp.
We recommend clear plastic bins so you can easily see what's in each. These taller, latching bins are a great option.
You can also change out the dirty sets with clean ones, then do wash when you can. It is a great way to travel for a long time without using up your interior storage area.
Speaking of which, you might want to check out our 5 Best RV Basement Storage Ideas, too.
Keep Your Bedding Smelling Fresh
Let's be real – RV storage areas do not always smell fresh! There's nothing worse than pulling out your bedding only to be bombarded by a musty smell.
One of the best ways to keep your stored linens smelling fresh until you use them is to place lavender sachets in your closet or storage bin. Lavender naturally repels moths, is soothing, and you can place them anywhere. Jennifer thinks the 'sachets by the yard' are neat because you can cut different sizes for different areas.
In addition to your bedding storage, you can put the sachets by your couch, in your drawers, and even in your pillowcase to help soothe you at night.
We'd love to hear your ideas, too. Please share what solutions you've come up with in the comment section below.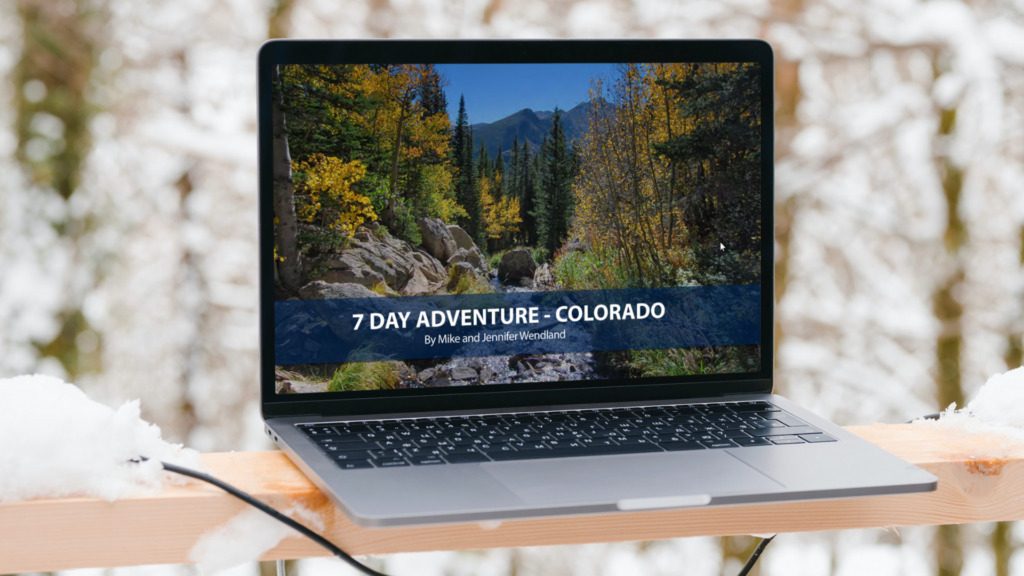 When Jennifer and I first went to Colorado, I felt like I finally understood what John Denver meant by his song: I've now been Rocky Mountain High.
And like Denver, exploring all that Colorado has to offer made me want to sing, too.
This is a fully designed and edited guide that you can download and start reading immediately on your phone, tablet, computer or e-reader.
---