Enjoy movies on the big screen no matter how small your RV is with the best projector for RV life. Here are the top options…
After a long, adventurous day exploring the outdoors, it's nice to cuddle up to your favorite movies or your favorite TV shows. What's not nice is squinting at a small screen that would offend the special effects studio that made your movie.
While some RVs these days come equipped with rather large flat screens (or even multiple TVs), most only have a modest-sized TV. This is especially true if you have a camper van that simply doesn't have the space for a big tv.
If you love the van life and movies, small TVs just won't cut it. That's where the best portable projectors come in. You can get the feel of a home theater wherever you travel!
We use affiliate links and may receive a small commission on purchases at no added cost to you. Thank you for your support. You can read our full affiliate disclosure here.
​Camping Etiquette Disclaimer
Before we get a lot of angry comments about polluting the outdoors with light and noise from TV, let's talk about camping etiquette. Having a portable video projector lets you enjoy outdoor movies, which is great! But it's important to consider your neighbors when planning any outdoor movie nights.
You want to ensure your TV's light or noise isn't disturbing your neighbors. Just imagine looking forward to a night of peaceful stargazing only to be interrupted by Fast & the Furious 18 flashing and blaring next door. You'd certainly be breaking the unwritten rules of a good camping neighbor.
If you expect your projector to get a lot of outdoor use, we recommend also investing in an RV Awning Privacy Screen and wireless Bluetooth headphones for TV watching. That way, you and your camping neighbors can both enjoy your ideal camping evenings.
A Must-Have for RV Use: Short Throw Projector
When it comes to RV projectors, portability and great picture quality are key, but that's not all. You also need a projector with a short throw distance.
A "short-throw projector" is one that requires only a short distance between the projector and the screen to give a nice-sized display. RVers certainly don't want a home theater projector that's designed to be placed in the back of a large room.
How short that distance needs to be depends on your RV size and intended use. If you want to use it inside your RV or small camper van, you'll need a very short throw to get the biggest projection possible.
"Throws" are measured as a ratio. For example, a 1.5:1 throw ratio means you need to move the projector back 1.5″ for every 1″ of screen size you want. That translates to 7.5 feet back for a 60-inch image.
You can use this projector throw distance calculator to help you determine which ratio is best for you. HOWEVER, almost all portable projectors are short-throw. So, if it's advertised as "portable," it'll likely suit your needs just fine.
Lumens are Important, too!
If you plan to watch your movies in the great outdoors, you'll need a high lumen count to counteract ambient light. Otherwise, it'll look like you're watching your movie through a veil. 500 lumens is the bare minimum for outdoor use, but at least 5,000 lumens should be your goal if you want excellent image quality.
Please note, the higher the lumens, the better the picture, but also the greater chance of encroaching on your camping neighbors' enjoyment! So, if you opt for a high-lumen projector, also strongly consider opting for an RV Awning Privacy Screen!
---
Mike and Jennifer's Official Summer T-Shirts for you to explore

---
5 Options for the Best Projector for RV Living
Alright, let's jump into the list of favorite projectors for RVers. These are all portable projectors that have excellent reviews across the board.
We've included various options that meet different needs that range from tiny to compact to one that even includes a built-in DVD player. Some include built-in speakers while others require external speakers. But remember, we recommend also investing in wireless Bluetooth headphones.
*Note that due to App copyrights, Netflix, Prime Video, Hulu, etc. can only play via a TV stick, Roku, etc. That means you can't project Netflix, etc, from an app on your phone.
This is an all-around great projector for camping. It has 9500 lumens, full HD 1080P, and is compatible with multiple devices. Plus, it uses advanced noise reduction technology to minimize fan noise.
It provides a 30-200 inches projection size with 3.2 ft to 16.4 ft projection distance. So, it works great both inside your RV and out.
You can connect it to smartphones, laptops, tablets, and USB drives. However, when you connect with a phone, you do need an extra HDMI adapter.
This smart wi-fi mini projector is about the size of a beer can. It may be small, but it gives off big sound with its 360-degree speaker. Most importantly, it has a built-in rechargeable battery that sustains 4 hours of video playtime.
This particular projector is more for indoor RV use as it only has 100 ANSI lumens. ANSI lumens measure more factors than basic lumens, so it still gives a good picture, especially in a dark room.
So, it's ideal for small campervans or even tent campers. but, you can certainly try it outside.
The biggest reason it makes the list is it's battery-operated and compatible with Android devices. If your Android has a hotspot, you can easily stream shows wherever you have cell service.
NOTE: this projector is best for Android users that camp in cell phone service range. It can work with iPhones with an HDMI adaptor but overall doesn't get good reviews from iPhone users. If you're an iPhone user, we have a better option for you…
This tiny projector is about the size of a smartphone, which is quite fitting since it's compatible with iOS, Android, and Windows. This tiny thing puts out 800L and a 1080P picture.
This Movie projector is equipped with multiple ports, such as USB/HDMI/AV/Audio/Chromecast interface, which can be easily connected to a variety of media devices. It's compatible with laptops, PCs, TV Boxes, TV Sticks, Chrome Books, Tablets, Blue-ray DVD players, USB Flash Drives, Media players, and Smartphones. (iPhones need an HDMI adaptor.)
It can also project up to a 200-inch outdoor movie screen! It comes with a nice carrying bag, tripod, remote control, and projector cover. The downside is it requires a power source as it does not run on battery power.
When camping, you often can't rely on streaming services to provide your entertainment. Oftentimes, good old-fashioned DVDs are the way to go. This compact portable projector has a built-in DVD player.
It also comes with a really nice carrying bag and a nifty tripod and remote control. It is bigger than the other options, of course, but it does save you from needing a separate DVD player. So, if you look at it that way, it saves you space!
It also has great image quality with 9000 lumens and 1080 P resolution. The downside is that its Bluetooth is incompatible with smartphones, but you can connect it to a laptop or game console. It's also not battery-operated, but it does come with an AC adapter.
This 1080P, high-lumen projector comes with 100-inch screen. It may not be the best outdoor projector screen in the world, but it is a proper screen. And, more importantly, it's a portable screen!
​The screen alone is reason enough for many campers to buy this projector, but it also has excellent picture quality. It's even 4K supported!
It's compatible with iPhones, Android phones, laptops, PC, tablets, Xbox, TV Stick, Roku, Chromecast, DVD, Gaming device, USB Drive, external speaker, earphone, etc. Plus, it has multiple ports, including USB, HDMI port, VGA, Audio, AV, and TF card ports.
What are your favorite films to watch when you camp? From family to drama to Westerns to horror, we've included something for everyone to enjoy on this list.
These may be available on various streaming services for free, rent, or purchase. I think it's safe to say that many people have Amazon Prime, so we include the streaming Prime Video link as well as the link to purchase the DVD or Blu-ray for your convenience…
Need More Power to Play Movies?
People keep asking us if all the solar and lithium upgrades are worth it… Today we are going to show you just why we love having reliable power while out boondocking in our Arcadia 5th wheel.
Come along as we upgrade our RV power system and learn from the experts at Keystone RV!
Mike and Jennifer's Southern Utah RV Adventure Guide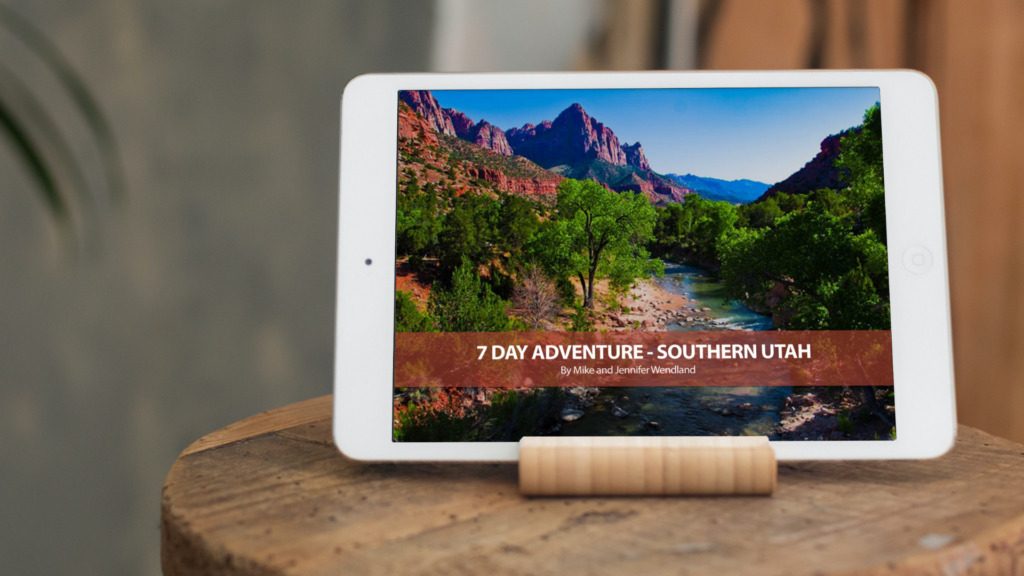 Utah, Utah, Utah. What more is there to be said? In very few places across the United States is there such a tremendous area with breathtaking vistas and diversity of terrain.
The sheer size of the National Parks, the canyons, the desert. Combined with the amount of history written in the red rocks that rise like towers jutting out of the ground and the delicate hoodoos washed away by erosion.
It is a place that, if you've never been, you need to go, at least once in your life.
This ebook is a seven day guided exploration of the State and National Parks in Southern Utah. We provide a suggested route and itinerary, links to multiple campgrounds and boondocking spots, and the best spots to see along the way. Don't plan your trip to Southern Utah without it!
You can hit everything in seven days, do a whirlwind weekend tour, or you can take your time and explore the area over a few weeks.
---
---
---
Official RV Lifestyle QUICK Links to ALL our eBooks
You can see ALL our eBooks here, or use the following Quick Links to go straight to what you need!
● Arizona
●    Colorado 
And MANY of these are BUNDLED together:
New England Bundle
Coastal Maine, Adirondacks
Ultimate Michigan and Great Lakes Bundle – 3 ebooks –
Upper Peninsula, Lower Peninsula, and the Great Lakes Tour
Michigan Bundle
Upper Peninsula, Lower Peninsula
The Great Lakes Adventure Guide Bundle
The Great Lake Shoreline Tour & JUST the Upper Peninsula Guide
Florida Adventure Guide Bundle
Gulf Coast, Atlantic Coast, Keys
Southwest Adventure Guide Bundle
Arizona, Colorado, Southern Utah)
Ultimate 7-Day RV Adventure Guide Bundle
Collection 1- our first 10 ebooks (does NOT contain Great Lakes Shoreline or Natchez Trace)
We also have a nice collection of ebooks that will help you navigate the RV Lifestyle.
Like these:
The Beginner's Guide to Boondocking
The Ultimate Guide to Cheap or FREE RV Camping Sites
Boondocking and Free RV Camping EBOOK Bundle
The Beginner's Guide to Boondocking ebook and Ultimate Guide to Free Camping Sites
And ONE PRINT book 🙂 and yes, before you ask, we have plans for MANY more print books.
The Complete Guide to Boondocking – PRINT VERSION
This is the same as the ebook titled The Beginner's Guide to Boondocking but in print.
And while you are exploring all our ebooks – check out the hoodies, T-shirts, Stickers, and mugs in our MERCH Store! You can get to it directly by just going here – SHOP!