With all of the hiking and exploring you do as RVers, it's so nice to have one of the best camping chairs waiting for you at the campsite…
Nothing is better than escaping the hustle and bustle of everyday life and putting your feet up in nature. 
That means you need a good chair to relax in. From zero-gravity loungers to perfect director's chairs for seniors, I have you covered.
The following is a list of my top five picks for the best camping chairs!
We use affiliate links and may receive a small commission on purchases at no added cost to you. Thank you for your support.
5 Best Camping Chairs for Your RV
The following five chairs are ones that I love. From great napping chairs to ones that can accommodate those with knee injuries, there is a chair for everyone on this list!
You can find all of these chairs in one place with our Essential Outdoor Gear Amazon Shopping List. And if you need a little more room for comfort, check out these 7 Best Camping Chairs for Big Guys and Gals.
The Alpha Camp Oversized Chair is so comfortable that you will be hard-pressed not to nap in it every time you sit down.
The chair is made from durable Oxford fabric, so it will stand up to wear and tear very well.
It also has a soft neck area that is also supportive. When you sit in the chair, you can lean your head back to rest but will still have support!
This chair is extra wide, so you do not feel pinched or squished when relaxing.
The chair weighs 13.9 pounds, but it folds up small like any other camping chair. You can throw it into the carry bag and stow it reasonably easily, even in smaller campervans.
Another great thing about this chair is that it comes in various colors. You can choose what suits you best!
It also comes with a small side pocket to keep your drink and other small items there.
If you want to Keep the Romance Alive While RVing, this is the chair for you!
This heavy-duty loveseat comfortably accommodates two adults that want to sit right next to each other. You can even put Fido in between you if you want!
Made using a double-seam, Oxford fabric, the chair can hold up to 300 pounds.
It is very easy to set up this chair and put it away when you are done. Like other typical camping chairs, you pull in the sides to collapse them. After you fold it, stow it in the complimentary carry bag and toss it in your rig!
The chair itself weighs 18 pounds and has drink holders on each armrest.
It also has a very convenient mesh storage net in the center of the seat. It's a great spot for holding your glasses, phone, book, flashlight, or other small items.
The last thing that I appreciate about this chair company is that they back up their furniture. They offer a 1-year warranty on their camping equipment.
The first RV accessories that Jennifer and I purchased when we started our RVing in 2012 were director's chairs. We liked them not only for their support and comfort but also for their compact size when folded.
The Portal Compact Folding Director's Chair lives up to its name. It's also comfortable, providing much-needed back support when enjoying the outdoors.
One of my favorite things about these chairs is the convenient side table. I have spilled enough dinner plates in my time to know that having a table right next to me is a good idea.
This chair is also perfect for those folks that have knee or spine injuries because it sits up higher. It's much easier than other camping chairs to get in and out of.
It is also lightweight, which makes it easy for us seniors to carry and stow!
Caravan Canopy Zero Gravity chairs are a great addition for camping. We love these chairs so much that Jennifer and I call them our "look at the sky chairs" because you fully recline to a laying position.
These chairs are typically purchased for your backyard. People set them around for lounging on the patio or around the pool.
But they make excellent camping napping chairs! Plop one under the shade of a tree, and you have the perfect spot for that afternoon nap or reading a good book. I say this from experience, since every time I sit in one, I promptly fall asleep!
One downside of the chairs is that they take up quite a bit of space. They are not like typical camping chairs that you can fold up tight and put in a carry bag. They might be too large for some smaller campervans unless you can stow them creatively.
But for us, we would not dream of camping without these chairs.
We love this chair and feel like it helps complete our camping chair collection very nicely. We added it to our gear a few years back after seeing it used at an RV show.
It is so comfortable to sit in and supports my back well, which is a huge plus! It can support up to 250 pounds.
The GCI Freestyle Rocker costs about $69 and is very well made from sturdy materials.
The chair rocks through specialized springs, which look very similar to shock absorbers.
The chair weighs approximately 12 pounds and comes complete with a drink holder.
The great thing is, it folds up very quickly and can be stowed in the back of your campervan. All you have to do is pull a handle to close it, and it's ready for transport!
It has a very similar size to director's chairs if you currently use that type.
You can also choose a chair that fits your style since they come in different colors.
Your Vote on the Best Camping Chairs
Do you have the best camping chairs that you love but aren't on this list? Share them below in the comments. We always like to hear about new products that fellow RVers recommend. And maybe you can bring your favorites along to our favorite RV adventure – The Natchez Trace.
New ebook from Mike and Jennifer Wendland – the Natchez Trace
The Natchez Trace Parkway will capture your imagination, soothe your jangled travel nerves, open your mind and inspire you with the history that unfolded along its 444 miles.
Each of the 7 Days of the ebook has:
Suggested Mileposts to explore
Places to Eat in each area of the 7 sections
Campground descriptions and links
Links to all the special places and information
Links to videos that show more in detail
and a lot of highlighted information for each section
PLEASE NOTE: This is NOT a printed, hard copy guide.
Whether you want to follow the footsteps of explorers, discover natural beauty, or visit historic sites, the Trace has something to grab your attention and leave you eager to see what's at the next milepost.
You can see why this is one of our favorite US routes to explore. We've traveled it a half dozen times!
---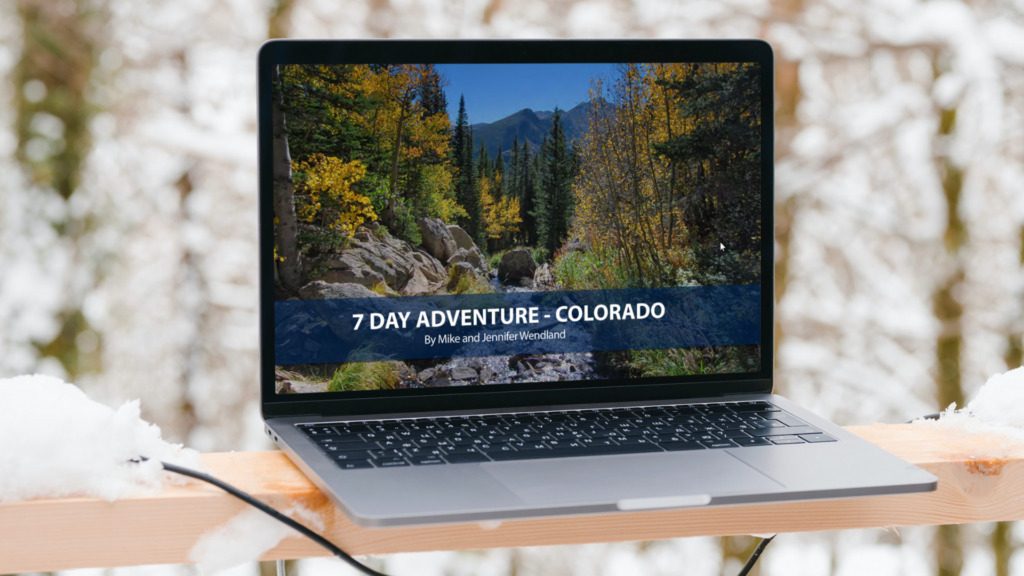 When Jennifer and I first went to Colorado, I felt like I finally understood what John Denver meant by his song: I've now been Rocky Mountain High.
And like Denver, exploring all that Colorado has to offer made me want to sing, too.
This is a fully designed and edited guide that you can download and start reading immediately on your phone, tablet, computer or e-reader.
---