Tired of trying to figure out where to store your shoes in an RV? Here's a great list of RV shoe storage ideas to help organize your shoes and minimize dirt…
RVing is one of the best ways to enjoy the great outdoors. But how do you keep the great outdoors, well, outdoors and not tracked in on your shoes?
Where can you store dirty and muddy shoes while you camp? What about when you pack up to go home or head to your next destination? Or just want long-term RV shoe storage?
Whether you're going on a weekend camping trip or you RV full-time, the following ideas and products can help.
We use affiliate links and may receive a small commission on purchases at no added cost to you. Thank you for your support. You can read our full affiliate disclosure here.
10 RV Shoe Storage Ideas and Products
We have quite a few ideas for you, so we're going to jump right in. We did our best to include storage solutions in all price ranges and for different uses. Hopefully, you'll be able to find exactly what you're looking for.
These individual shoe organizers are great for placing them exactly where you need them. You can mount two by the front door for your everyday shoes or several in your closet.
Basically, you can use them wherever you have open wall space, door, or cabinet door space.
Note that these do not fit all shoe sizes. They won't work for hiking boots and even some men's sneakers won't fit well. But they seem ideal for women's shoes and basic tennis shoes.
This free-standing shoe organizer is a great way to store up to 6 pairs of shoes outdoors while camping. Simply set it up right by your entry steps for easy access.
This bamboo rack gets your shoes off the dirt and out of the mud, which helps to keep critters and bugs out. Your shoes and hiking boots will dry quicker, and odors will air out.
Best of all, you can pop out the dowels easily to store the collapsed rack in a small space. It's one of the easiest ways to keep dirty shoes outside wherever you camp.
These small storage ottomans pull triple duty as a footrest, extra seating, and extra storage. At only 12.6″X12.6″X12.6″ you don't have to worry about them taking up too much space.
They have a sturdy frame, and the faux leather is easy to clean. If you don't have room for an ottoman, you can consider replacing your dining chairs with these storage ottomans with seat backs.
Any odors should be contained inside, which you can alleviate with shoe odor deodorizer balls. Actually, those deodorizers should be a recommendation all on their own…
These odor-busting balls are great to use in several of the RV shoe storage solutions on this list. You can toss one in the under bed shoe organizer, the ottoman, plastic totes, and more.
As an Arm & Hammer product, they use baking soda and a fresh scent to deodorize. Unfortunately, these aren't refillable but they do eliminate odors for 60 days.
The Command brand is always known for having the best solutions for organization and storage. You can mount the damage-free hooks anywhere and easily remove them anytime.
Like the wall-mounted shoe racks, a perfect place to hang these is by the entry, in your closet, or on any other vertical space. The large hooks we've linked to hold up to 5 pounds, which means they make great shoe holders.
You might as well buy a big pack of them because you'll find uses everywhere in your RV. While you're at it, check out these 10 Easy RV Hacks You Can Do This Weekend.
Some RVers use cargo nets to take advantage of their vertical space and ceiling space! You can hang them high in a corner or on an unused wall.
For this type of storage, we turn to Organized Obie. They have great lightweight storage options, including nets in all sizes. They even have a customizable netting product to make your own storage solution. To get 5% off your order, simply use the promo code RVLIFESTYLE when you order from OrganizedObie.com.
A hanging shoe organizer is a great way to make use of vertical space. In fact, we probably should have listed this product first, as it's both effective and cheap!
This particular model has 24 pockets. In most cases, you'll use two pockets for one pair of shoes, but sandals and flip-flops can usually fit into one pocket. You can pop one of the Arm & HammerOdor Busterz Balls in one of the pockets to help with shoe odor.
These hanging organizers are really popular among RVers. Many even use them as shower caddies and organizers.
These shoe organizers are also known as shoe drawers because they can easily slide out from underneath a bed. Most RV beds don't allow for sliding, but they are still a great way to store shoes in that large storage space beneath beds in some types of RVs.
They're especially useful for storing shoes you don't wear every day but want or need to take with you on a road trip. You can tuck the organizer under the bed or even in your RV's basement.
If your RV closet is deep enough, you can use them in there, too. You can stack them at the bottom, on a shelf, or even change them from the closet rod.
This stackable shoe storage is a great way to customize your RV closet. The boxes are sturdy and snap tight into place. They have a door but are breathable with rear ventilation holes.
They're great for more than just shoes, too, like scarves, socks, gloves, and much more. You can create a whole closet and shoe storage system with them that makes the most of your non-hanging space.
10. Plastic Totes or Storage Bins
Plastic totes are a go-to for all RV storage needs, and RV shoe storage is no exception! You can get medium-sized plastic totes to dump your shoes in or small plastic bins to store individual pairs of shoes.
You can also find the perfect size for whatever convenient place you have to store your shoes. Whether that's the storage area under your RV or storage compartments inside, you can almost always find the perfect fit.
BONUS IDEAS for RV Shoe Storage
Our RV Lifestyle Facebook Group is overflowing with ideas for this! Explore this post and this one, too.
Now that you have your shoes all sorted, where to next?
Mike and Jennifer's Southern Utah RV Adventure Guide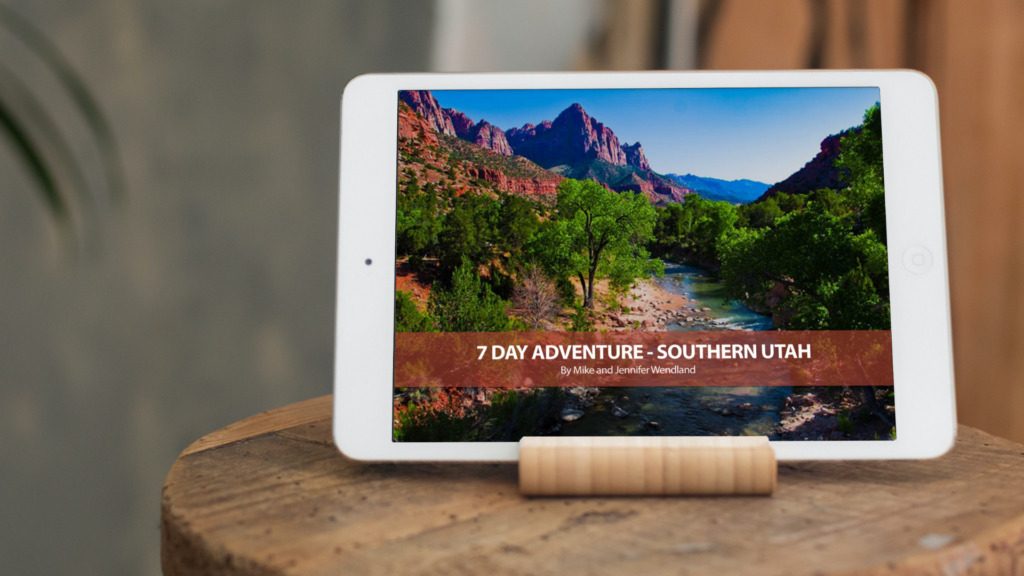 Utah, Utah, Utah. What more is there to be said? In very few places across the United States is there such a tremendous area with breathtaking vistas and diversity of terrain.
The sheer size of the National Parks, the canyons, the desert. Combined with the amount of history written in the red rocks that rise like towers jutting out of the ground and the delicate hoodoos washed away by erosion.
It is a place that, if you've never been, you need to go, at least once in your life.
This ebook is a seven day guided exploration of the State and National Parks in Southern Utah. We provide a suggested route and itinerary, links to multiple campgrounds and boondocking spots, and the best spots to see along the way. Don't plan your trip to Southern Utah without it!
You can hit everything in seven days, do a whirlwind weekend tour, or you can take your time and explore the area over a few weeks.
---
---
We LOVE Harvest Hosts! It's a membership program that connects RVers with unique places to stay overnight for free, such as farms and wineries. Members pay an annual fee and can stay at any of the participating host locations for one night at a time.
In exchange for the free overnight stay, members are encouraged to support the host location by purchasing products or services. This is a great way to save money on camping reservations while experiencing unique and memorable locations.
You can use this link and the discount code: RVLIFESTYLE15 you get 15% off Harvest Hosts annual membership.
The Harvest Hosts CampersCard is a NEW discount program we've already benefited from. You can see in the video above how we used it while camping out at an incredible hidden gem campground.
CampersCard members get benefits, including early check-in, late checkout, and discounts on nightly rates.
---
---
---
RV Lifestyle Favorite Amazon Quick Links
We use affiliate links and may receive a small commission on purchases at no added cost to you. Thank you for your support. You can read our full affiliate disclosure here.