The best camping fan can turn those hot days into an enjoyable and relaxing experience.
Sometimes all you need is a little airflow to stay cool wherever you camp. Or a lot of airflow, which is what the best camping fans provide.
That is why we have compiled a list of what to look for in a camping fan, with some recommendations of our favorites at the end. That way you can find the best camping fan for you and your set-up.
As a BONUS! We also share some of the best summer gadgets to keep you cool on your next camping trip. So, be sure to check those out at the end.
Hey, if you buy something through my links, I might get a little something-something as a thank you. No extra cost to you, promise! Read our full affiliate disclosure here.
7 Things to Look for in a Camping Fan
When looking for a camping fan, you may want to consider additional features that go beyond its portable design. The following is my list of the best features to consider.
Compact Design
When shopping, don't equate a bigger model with more power. There are compact designs that still blow a lot of air.
So, I recommend first looking at fans with a small, compact design that won't take up much space in your RV.
In addition, you may want to look for a design that includes a carry handle. It's a convenient feature that is often overlooked until you start lugging the fan around.
Rechargeable Battery
Fans with rechargeable batteries can offer a more predictable battery life. You can easily connect the USB cable to the power bank whenever you need to operate the fan.
Some fans require the use of D-cell batteries, which is not always the best power source. They can be cumbersome and take up your precious cargo space. In addition, if you forget to purchase new batteries for the trip, you may find yourself with a dead fan.
A rechargeable fan is also an excellent option if you have solar panels. Your solar panel may have a USB port available to plug in devices to charge.
In that case, you would have a power source right at your fingertips. Say goodbye to lugging around those D batteries!
But don't worry. We still include some battery-operated fans on our list for those that have limited access to power while camping.
LED Light
Another one of the extra features to look for is an LED light. They can be used as a night light, providing enough light to get up and use the restroom or even read by.
Adjustable Speed Settings
Consider purchasing a fan that offers different speeds, like a high setting and low setting. Adjustable fan speed can offer you more customizable comfort.
Another important consideration is whether or not the fan can turn in different angles. When fans oscillate, it provides more airflow in any given space. That can make the difference between comfort for all vs. comfort for one person, especially in a large tent or RV.
Outdoor Use
When looking for the best camping fan to use outdoors, be sure that it is rated for outdoor use. That includes using the fan inside of a tent or under your RV canopy.
Hanging Hook
Many of the best camping fans come with a hanging hook. A hanging fan can easily be moved around to the area you want to use it by easily hooking it to, for instance, your RV awning.
By hanging the fan inside a tent or your RV, it will work more like a ceiling fan that disperses the rising hot air.
Noise Level
The last thing you want to hear in the great outdoors is a loud fan. Most people enjoy camping and outdoor activities because they are immersed in nature. They want to enjoy the quiet sounds of nature and get away from noisy city life.
That is why you want to pay attention to the noise level of camping fans you check out. Getting a quiet fan will surely help you relax while enjoying your trip.
7 Best Camping Fans
Whether you are looking for a floor fan, hanging fan, or tent fan, there are several camping fans that will fit the bill. These are some of the most popular, highest-rated camping fans on the market today.
By the way, these aren't organized in ranking order. We've simply tried to include a variation of the best camping fans for different needs.
1. Rechargeable Camping Fan with Lantern
This small but mighty fan is rechargeable and includes a nifty LED lantern. The built-in rechargeable battery can work continuously for 8-36 hours.
Despite its ultra-strong airflow, this fan is quiet (<30db). So, you don't have to worry about it disturbing your sleep or relaxation.
This fan has a nifty hook to hang it from anywhere. Plus, its lantern feature has 3 brightness settings.
2. KITWLEMEN Rechargeable Camping Fan with Lantern
Another rechargeable option, this KITWLEMEN fan is great for personal use, indoors or out. You can hang it by its hook or place it on a table or the ground on its sturdy base.
This fan has a double triblade, which provides more powerful airflow than most. It has 4 different speed settings and a 270° pivoting head to direct the air where you want it to go.
The lantern feature has 16 LED light beads with 3 brightness settings. So, however dim or bright you need it, you're covered.
As an added bonus, you can plug into the fan's USB port to charge your cell phone or devices.
3. Odoland Portable Fan with Light
Complete with two-speed settings, and 18 individual LED bulbs, this Odoland portable fan is a great choice for any camper.
It comes with a carry handle, so you can easily move it around. Plus, it has 360-degree rotation to point it wherever you want to.
The best thing about it? It is reasonably priced! The worst thing about it? It only runs on batteries.
If you don't want a rechargeable fan, then this lightweight fan is the best battery fan you can find. It requires 4 D-batteries but can run for 5 hours at high speed with only that battery power. Or, it can run 15 hrs in low speed mode and 20 hrs using only the led light.
This puppy has over 30,000 reviews on Amazon with a 4.5-star rating. So, despite not being rechargeable, it is a great option.
Finally, this fan gives you excellent light features. Use the 5-mm LED built-in lights to light up your space with 99 lumens of brightness. Or, choose the nightlight option for when you go to sleep.
The O2Cool by Treva is a compact table fan that's perfect for tent or RV use. You can set it on your RV's bedside table, dresser, kitchen table, and more. Or, take it outside to sit on your picnic table.
Wherever you place it, this lightweight fan pushes a lot of air to keep you cool with 2 cooling speeds.
As a plus for campers, it has two power options. You can run it on 6 D batteries or on AC power using the included adapter.
Overall, it's a great affordable fan that's perfect for travel.
5. Coleman CPX
The Coleman CPX camping fan is a good choice for tents, in your RV, or as a picnic tabletop fan. It comes with a magnetic hanging device and a fold-out stand to place it on a table or the ground. Those are both great options to help maximize airflow no matter what setup you have.
Enjoy it while resting in the shade reading a good book, or having a nice chat. It switches from a bright light to nightlight at a push of a button.
Another great feature of the Coleman CPX fan is that it offers you power source choices. You can use four D-cell batteries, a rechargeable power cartridge, or an A/C adapter cartridge. Talk about flexibility!
Overall, it's a great, compact option for more confined areas or personal use.
6. VENTY Foldable Fan
A member of our RV Lifestyle Facebook group recently recommended this VENTY Folding Fan, and a lot of RVers chimed in that they love this fan, too. Many even said it's the best purchase they've ever made for their RV.
And we can see why!
This wireless, rechargeable fan has all the bells and whistles you could want. It oscillates, has a remote control and LED lighting, and folds down into a small carrying case. The foldable stand is also telescoping, so you can adjust the height as needed.
Best of all, it cools up to 48 hours with every charge. And you can charge your phone and other devices by plugging into its mighty 16,000 mAh rechargeable battery.
7. Handheld 3-in-1 Fan
To round out our list, we want to include a great handheld option. This 3-in-1 handheld fan is quite convenient. Its small size can easily fit in your pocket or bag, which is ideal when traveling.
This great gadget also has a flashlight and backup power bank option. So not only can you enjoy the fan, but the backup light and power bank can get you out of a pinch when traveling.
Like what you see in these videos? We'd appreciate it if you would Subscribe to our YouTube Channel (easy to do right here) and consider "ringing the bell icon" to be notified of any new video from us. 🙂 Thanks!
We discovered a great way to keep your food or drinks cool while camping. These poly ice packs can help keep your cooler cold for 2-3 days and remedies a couple other issues you may not know. Watch the video to learn more.
And now…
The following are seven gadgets that can help keep you and your family cool this summer (including your dog!). From fans to a cooling hoodie, don't get stuck in the heat!
One way to stay cool this summer is to use a neck fan. Many folks get sweaty on their head and neck, especially around the top of their shirt.
This neck fan helps fix that issue. Simply turn it on and place it around your neck.
It will help keep your entire body cool. The best part is that it's hands-free, so you can do whatever activity you want.
Another option to keep cool is to use a cooling patch. These patches can be adhered to most parts of your body, like your forehead or neck.
They can help you feel cool and even help alleviate side effects from heat, like headaches. The cool thing is that these patches do not need a freezer to work!
They are also safe to use with everyone at the campsite, including babies!
Click here to see all 10 summer cooling gadgets…
This bundle is our popular Upper Peninsula RV Adventure Guide PLUS our newest Adventure Guide – The Great Lakes Shoreline Tour! Both ebooks will give you plenty of ideas and resources to enjoy this part of the US.
The Great Lakes Shoreline Tour — One of our favorite RV trips has been driving the United States side of the five Great Lakes. It is a trip of over 4,000 miles and takes you to 8 states! And it's filled with beautiful vistas, welcoming towns and villages, and fabulous places to camp, hike, and explore.
Upper Peninsula RV Adventure Guide — Whenever someone asks us, "Where is one of your favorite places in the US for RVing?" Our answer is unquestionably, in unison, "The UP of Michigan." The "UP" means Upper Peninsula, of course.
---
---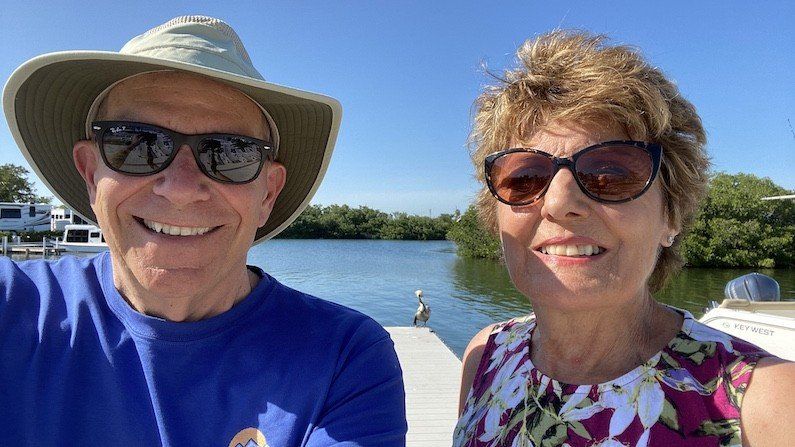 Curious about the gear, gadgets, accessories, and RV products Mike & Jennifer use and recommend?
On this RV Lifestyle Travel blog, our RV Podcast and our RV Lifestyle YouTube Channel, we mention all sorts of RV-related products and gear that we use, So we created a special page that links to them. We update this all the time.  CLICK HERE to go to it directly. Have you caught one of our Amazon LIVE events yet? Just go here and Follow us – to be notified every time we go live.
---