Despite being for your home away from home, RV mattresses aren't known for their comfort. Whether you're replacing one in an old or new rig, here's a guide on how to replace the mattress in your RV.
Standard RV mattresses have such a bad reputation that RVers have come to accept they'll have to replace them sooner rather than later. In fact, experienced RVers will advise newbies to budget for a new mattress when purchasing an RV (new or used!).
The problem is, replacing an RV mattress can actually be quite the ordeal. There are so many lengths, widths, thicknesses, and even shapes of RV mattresses that make ordering one a whole process.
But, don't worry, I'm going to walk you through the process and help you avoid common mistakes RVers make when buying replacements.
Why are RV Mattresses So Uncomfortable?
If standard RV mattresses are so bad, and RV manufacturers know they're bad, why are they still so uncomfortable?! Why doesn't the RV industry address this widely-acknowledged problem?
Well, I should say first that more and more RV brands are offering more mattress options. So, even if their factory standard isn't ideal, at least you can upgrade to a better bed. But, of course, those come at a higher price and oftentimes, a higher price than you'd pay if you got the mattress yourself.
I think the two main reasons comfy beds still don't come standard in most RVs are price point and fuel efficiency. A third valid reason is personal preference for beds varies so much that it may be too difficult to try to please everyone, so they end up not really pleasing anyone.
But as for the two main reasons, comfy mattresses can be quite expensive. And with how competitive the RV market is, a "more comfortable mattress" may not be enough of a selling point to excuse a higher price point than the competition.
As for the second reason, comfier mattresses usually mean thicker mattresses. And thicker mattresses mean heavier mattresses. And as we all know, what does weight equate to in the RV world? More fuel usage!
So, it's understandable that RV manufacturers want to minimize mattress weight in order to maximize their advertisable miles per gallon.
Can you replace an RV Mattress with a Regular Mattress?
While there are always exceptions, sometimes the answer is no.
Regular mattresses are usually longer and considerably thicker than RV mattresses. Not to mention some RV mattresses come in odd shapes, with rounded corners or even cut corners.
How Thick is an RV Mattress?
Most RV and camper mattresses are only 5 to 6 inches thick. In comparison, your mattress at home is most likely between 8 to 14 inches. So, it's no wonder that your bed at home seems twice as comfortable as your RV mattress. Because it's probably twice as thick!
But that doesn't mean you have to try to squeeze in a 14" thick mattress to get a good night sleep on the road. A good rule of thumb is a comfortable mattress should have a 2-3" comfort layer and, ideally, at least 6" thick base layer.
So, a great compromise between comfort and space-saving is an 8" thick RV mattress. Most RV bed areas can accommodate this thickness. Though, please note you still need to measure before ordering anything!
Pro Tip: When measuring mattress space in your RV, don't forget to account for bedding. Factor in 2-3" total for your sheets, comforter, and pillows.
---
Join those living the RV Lifestyle
---
The Most Common RV Bed Sizes
Are you ready for the long list of RV mattress sizes? You'll quickly realize why replacing an RV mattress is trickier than a home mattress.
Alright, here we go, from smallest to biggest:
RV Bunk – 28-35 inches x 75-80 inches
RV Twin – 38 inches x 75 inches
RV ¾ size – 48 inches x 75 inches
RV Full – 53 inches x 75 inches
RV Queen – 60 inches x 80 inches
RV Short Queen mattress– 60 inches x 74 inches-75 inches
RV Olympic Queen – 66 inches x 80 inches
RV King – 72 inches x 75-80 inches
RV Regular King – 76 inches x 80 inches
RV mattress topper – available in the same sizes as full mattresses
Don't forget, these are the most common sizes for RVs and campers, not the only sizes! It's imperative you measure your bed area before placing an order.
So, now I'll walk you through how to replace your RV mattress.
How to Replace Your RV Mattress
Now that you know the basics, we can get into the nitty gritty. But don't worry, it's not that these steps are difficult, they're just very important! Don't skip any!
The 4 steps on how to replace the mattress in your RV are…
1. Measure Your Bed Area (Not Your Mattress!)
A common mistake RVers make is measuring their existing mattress, not the bed area itself. If you do this, you may be missing out on an opportunity to get a slightly bigger mattress. Or, you might realize that a standard RV mattress size may work even if your current mattress isn't standard-sized.
So, measure the base your mattress sits on. Also, measure the height from the bed base to the top of your side tables and overhead cabinets (if any). You'll need to consider how much above your side tables your mattress can extend (if any) and you still be comfortable. The same goes for your headspace between your bed and anything above it.
I highly recommend making a 3D sketch. It doesn't matter how good your drawing skills are as long as you can read it. If your bed is an odd shape, make sure you measure every curve, corner, etc. Again, don't forget the thickness range you can work with!
2. Compare Your Measurements to Standard RV Mattress Sizes
Take your measurements, compare them to the bulletpoint list above, and cross your fingers that you have a standard RV size. That'll make the rest of the process that much easier. But, if crossing your fingers didn't do the trick, there are still great custom options for you.
3. Measure Your Door Openings
There's nothing worse than ordering a mattress only to realize you can't get it into your RV! You're all excited that your new mattress has arrived only to hit a wall… literally.
Jot these measurements down and make sure your new mattress can fit through all the doors and openings that lead to its future resting place.
Foam mattresses really come in handy in this regard, as they are often compressed and vacuum sealed. You can just carry the box in and open it on the spot. Or, at the very least, more easily bend foam mattresses around corners and squish through doors.
4. Order Your Mattress
Alright, here comes the main event! Ordering your mattress!
If you have a brick-and-mortar RV mattress store, you may want to look there first. That way, you can lay down and test the comfort level for yourself. Keep in mind that the prices might be higher than online, but sometimes it's worth it to purchase with confidence. Many places will offer both standard and custom options.
There are many great online options for those who don't have a store nearby or want to try to save as much money as possible. Many of these sites allow you to try out the mattresses for an extended period of time. (But not all will pay for return shipping!)
Some popular online RV mattress brands and web stores are:
If you're looking for a short queen by chance, I have 6 Top Picks for the Best Short Queen RV Mattress.
Do you have any advice or experience on how to replace the mattress in your RV? We always appreciate it when our readers offer their recommendations and advice in the comments below. We'd all like to benefit from your insight.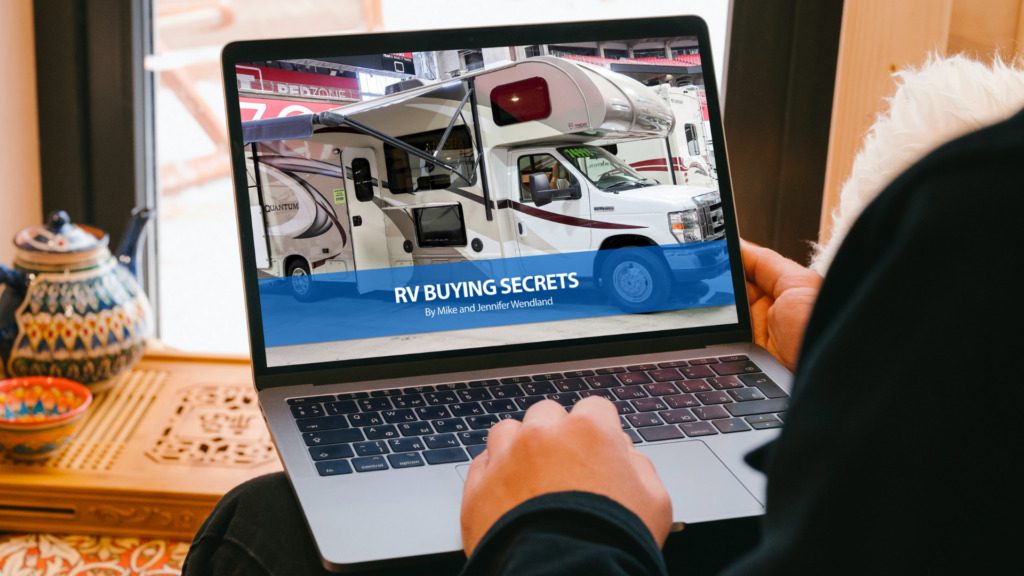 Next to your home, an RV is most likely the 2nd most expensive thing you'll ever purchase.
We get questions every day of other RVers wondering. "How do you buy a new or used RV?"
So we created a 75+-page downloadable digital guide to help you understand the nuances that come with purchasing an RV, where you can save thousands of dollars in the buying process, what the right questions are to ask dealers, what things to look out for, how to select the right unit, amenities, warranties, and so much more!
We created this guide to help you understand the nuances that come with purchasing an RV including:
Where to save thousands of dollars in the buying process
What questions to ask dealers
How to select the right unit
How to narrow down RV amenities
Understanding your warranty and what it covers
This ebook is designed to help make your purchase process as smooth as possible. And to teach you step-by-step exactly what to do so you can start your RV Lifestyle today!
---
---
---