If you've ever wondered whether you should not trust GPS completely, look no further than this week's tragic news story about an elderly couple stranded in Nevada's high desert because their GPS routed their RV through backroads.
They were missing for more than a week, and only one survived.
To be sure, other mistakes were made that led to them getting stuck. And local red tape delayed their rescue. But the main factor appears to be that they relied solely on GPS for their directions.
For all of us these high-tech days, this tragic case underscores the need to have backup and other navigation sources and, when the GPS takes us some place that doesn't seem to be right, to immediately stop and figure out where we are and where we're headed.
It's very hard to hear that fellow RVers met tragedy while traveling the country as they had always wanted to in their retirement. We mourn for their family and friends, extending our prayers in this time of need and loss.
Good can come from this tragedy if it causes us not to trust GPS alone!
The full story of what happened was recently shared by the couple's nephew, Travis Peters, who recounted what his surviving aunt explained to him while recovering at a Reno hospital.
Peters shares that the story is not at all what he expected and that it could be described as more of a "religious experience" than a fear-filled tragic event. He and his family, including his aunt, have a sense of peace despite the circumstances that they credit to their Lord and Savior Jesus Christ.
"It was almost a story that just needed to be told because out of Ronnie's passing there's going to be good that comes from it," he said. "There's going to be changes to the way that Nevada handles missing persons, I can assure you of that."
How Did the Missing Couple Get Stranded?
WATCH the video of the couple's nephew – right here.
The couple's nephew, who works with 13News in Indianapolis, shared the story in an uninterrupted interview with the Indiana News Network, linked above.
Ronnie and Beverly Barker, 72 and 69 respectively, residents of Indiana, were traveling in their Class C RV, towing a Kia, from Oregon to Arizona when the couple's GPS guided them to a road that ultimately led them up a mountain west of Silver Peak, Nevada.
They may have thought the directions odd but there wasn't anything immediately startling to prompt them to turn around or to seriously question the GPS.
"Bev recalls they … saw other cars, I believe she even mentioned another motorhome was seen," Peters wrote in a long social media post.
"The directions had them making turns and they knew they were going up a mountain, but I don't think they ever had a fear that they were doing anything wrong. Bev said that the RV was doing just fine on the road other than the fact that they had to slow down because the trailer dolly that was bouncing around if they went too fast. Eventually the motorhome became stuck in the gravel and sand."
The Biggest Mistake: Having the wrong setting on their GPS
It turns out the "avoid highway" setting on the GPS may have been selected, which is why the GPS pointed them to a county road.
Peters describes his aunt and uncle as intelligent, tech-savvy people. Their innocent mistake could be easily made by anyone.
But blindly following the GPS on that county road eventually led them to a very remote location.
As the sun set, the RV got stuck on a gravelly road, but they kept their senses and did not panic. They decided to sleep in the RV that night and then go for help in the morning in their tow vehicle.
On Monday, March 28, they unhooked their Kia Soul and started to head back down the mountain. Unfortunately, their Kia ended up getting stuck, too, and they remained there for the next week, waiting to be rescued.
Another big mistake: Not bringing water and food and a blanket. All that, they left in the RV, mistakenly thinking it would be a short trip down the road to get help to pull out the RV.
But they made a wrong turn in the Kia. And then it, too, got stuck.
What Did They Experience on that Mountain?
Beverly Barker told her family that they remained relatively positive and spent their time reading their Bible, appreciating the clear skies, and watching planes fly overhead.
Their nephew shows relief in his interview, knowing that his uncle, a military man who would've been a pilot if his vision had allowed, found a small bit of joy watching the planes before his passing.
In an attempt to alert anybody nearby, Ronnie would regularly honk the horn for SOS in Morse Code. He taught Beverly how to do the same.
As days passed, Ronnie Barker began having breathing problems and grew weak from dehydration. It was then left to Beverly to provide water.
Despite being mostly immobile, Beverly used her walker to retrieve snow from up a nearby hill. The intrepid couple used N95 masks to transport and melt the snow to drink.
Peters said in his interview that he knows Jesus helped Beverly retrieve the snow because she normally struggles to walk across a room with a cane, let alone up a mountain.
"Eventually peace came upon the both of them," Peters wrote, "and Ronnie Barker passed away at 3:12 p.m. on Monday April 4."
Beverly Barker remained in the car with her husband for the next day and a half until her SOS honking alerted a nearby search team Tuesday afternoon.
Beverly was taken to a hospital in Reno and has been released in time for her 70th birthday, which is today, April 9th.
Why Did It Take So Long to Find Them?
Authorities and volunteers spent hundreds of hours searching for Ronnie and Beverly Barker, but their efforts were greatly hindered and delayed by red tape.
Authorities did not issue a Silver Alert at first because Nevada stipulates that a missing person has to be a resident of the state. Instead, they only initially released a "be on the lookout" bulletin.
A Silver Alert, similar to an Amber Alert, is a "public notification system in the United States to broadcast information about missing persons– especially senior citizens with Alzheimer's disease, dementia, or other mental disabilities – in order to aid in locating them."
Peters said, "3 days passed before earnest search efforts were made." He made it clear in his interview that he and his family are taking steps to try to change the resident stipulation that delayed the Silver Alert from being broadcast.
In another interview, Peter says, "It flabbergasts me that a state that depends on tourism is not willing to take care of the tourists and that's what it comes down to. To me, a life is a life. Who cares where they live? It makes no sense to me."
Why You Shouldn't Trust GPS
Ronnie and Beverly Barker's experience should teach us that we should not rely solely on GPS. A wrong setting or loss of cell service can misdirect us or leave us lost and stranded.
Furthermore, many popular GPS systems do not account for driving an RV, and may direct you to low clearance, rough and narrow roads, or other inappropriate passages for RVs.
Always Carry a Hard Copy Map
First and foremost, we recommend always carrying hard copies of maps.
Maps serve as reliable backups if cell service fades or device batteries die. Plus, they can be consulted if the GPS directions seem "off" or misguided.
Here are some recommended road atlases and guides to consider keeping in your RV.
Use RV GPS
Unlike standard GPS, RV GPS takes into account the size of your RV and other RV-related travel limitations.
Once you set your custom information, an RV GPS will not guide you to roadways that are unfit for your RV. This includes low clearances, weight limitations, and more.
You can learn more about RV GPS and the one that we recommend, Roadpass Pro. We share a discount code that we hope helps you to use an RV GPS over standard GPS apps.
How You Can Help
First, we request that any comments left below are only in support of the family and in the spirit of helping others stay safe on the road. Please do not leave any judgmental comments as it is not fair for anyone to negatively comment on the Barkers' experience for no one else can truly understand what they went through.
Second, please help spread the word about Nevada's faulty policy on Silver Alerts. By bringing awareness, their state policy to broadcast Silver Alerts for only local residents will hopefully change. If you wish to share your concerns directly, you can contact Nevada DPS.
Lastly, please reassess your safety measures for RV travel. Consider what resources Ronnie and Beverly Barker could have used at their disposal and then put those resources in place for yourself. As their family hopes, use their tragic experience to prevent one of your own.
Mike and Jennifer's Southern Utah RV Adventure Guide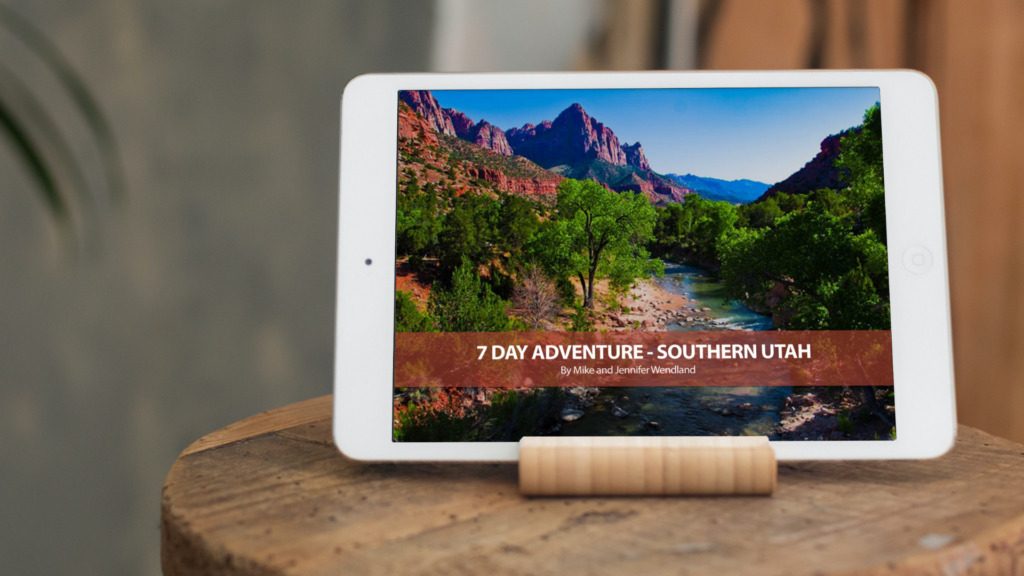 Utah, Utah, Utah.  What more is there to be said? In very few places across the United States is there such a tremendous area with breathtaking vistas and diversity of terrain.
This ebook is a seven-day guided exploration of the State and National Parks in Southern Utah. We provide a suggested route and itinerary, links to multiple campgrounds and boondocking spots, and the best spots to see along the way. Don't plan your trip to Southern Utah without it!
---