One of the topics that we are asked about a lot has to do with RV insurance.
It's an important question because if you make a mistake you can end up overpaying or not having enough coverage.
It's also a tough one to answer because there are so many variables — yet you want the best deal, of course.
So, we asked the professionals for their best advice…
5 Professional Tips for Buying RV Insurance
To sort it all out, I recently talked with insurance expert Theresa Cogar, who is with Recreation Insurance Specialists, aka RIS. (See a video of my interview with her at the end of this blog post.)
Tip #1: Don't Rush Into a Decision
Her first tip? Don't rush into a decision.
"When someone's purchasing an RV, everyone is very anxious to get the sale done and over with," she said. "And often, at the dealership, they want there to be proof of insurance before they take the RV. So, the pressure is a little high to go out and get the RV insurance from where they recommend or who they filter their referrals to."
The problem with that, she said, is you might not have RV specialty coverage that you need.
"Without a specialty coverage carrier … (traditional auto insurance carriers) are not experienced enough with what to expect with RV damage…water leakage, and those types of things," she said. "The other thing is, the value of your vehicle is a lot different than your auto. We are all accustomed to a car loses its value as soon as you pull it off the dealership thought, but RVs are a little bit different, and with RV specialty coverage, you can kind of protect yourself from losing too much on your vehicle."
Tip #2: Compare Total Loss Replacement vs Actual Cash Value (ACV)
There are a lot of steps that go into the equation, too, when RV insurance policies are drawn up.
"We take into consideration if it's a brand new unit or a used unit," she said. "That's one of the very most important things. You can qualify for total loss replacement, as opposed to an actual cash value policy. Which means, if you have a total loss to your unit, they will actually replace the vehicle with a new one. The same make and model, to the closest they can get it. As opposed to an actual cash value policy, that would, at the time of the loss, they would decide then, well, what was the value of the vehicle."
As Cogar explained, making a mistake in this area can be the difference between getting say, $45,000 instead of $60,000 on a total loss. (Total loss replacement is offered to those who are the original owner of a vehicle that is five years or newer.)
Tip #3: Discuss How You Use the Vehicle
"The other thing you want to look for is how does the person use the vehicle?" she said. "Are they full-time, using it as their home and have no home? Do they use it some times of the year, but they are snowbirds and live in Ohio to get away from the snow, they are gone? Are they using it for things other than personal use?"
There are a bunch of other questions you need to address, too (Do you pull a trailer? What kind of personal effects do you travel with?).
By discussing this with potential insurance carriers, you'll ensure you get proper coverage without paying for things you don't need.
Tip #4: Consider Related Insurance Policies
Further complicating matters, you may want to consider other coverages. For instance, vacation liability is like a homeowner's policy for your campsite. Or, emergency expense coverage pays for things like car rentals and hotel stays if you have a loss to your vehicle and you're far away from home.
The bottom line is once you know what your needs are, she said, you can know what kind of coverage you really need to be search out. Or having a service like RIS search out for you.
Tip #5: Shop Around
Once you have a clear idea of the coverage you need, shop around. Get quotes and read reviews from RV Insurance providers.
Cogar said there are "probably five or six" carriers out there that do RV specialty coverage.
"It's always important to shop around because people's rates do change," she said.
Bonus Tip: Keep Great Records
I also asked her for some advice that all RVers can follow to ensure smooth claims, when they actually have to call the underwriter and make a claim.
"Keep very good records, photos of your vehicle, receipts when you've done upgrades or added something to your vehicle that adds value to it," she said. "The better you keep records on the condition on your vehicle, what it looked like, because a total loss can mean … there's nothing for them to look at. So, they know what they're looking at by the proof that you have. So, that's the very number one thing that will safeguard you from being surprised, or a claim not reaching your expectations."
RIS (Recreation Insurance Specialists), has many years of experience with RV specialty coverage. We have partnered with them to tailor RV specialty insurance solutions to meet your specific needs. They have access to comprehensive RV insurance options with specialized coverages like Total Loss Replacement, Agreed Value, Scheduled Personal Property and Secured Storage. They can offer solutions for vehicles registered to a LLC or Trust and can provide specialized coverage for harder to place insurance such as full-timers, motorhomes, or medium duty tow vehicle and 5th wheel combinations. To get that special quote go to https://rvlifestyle.com/insurance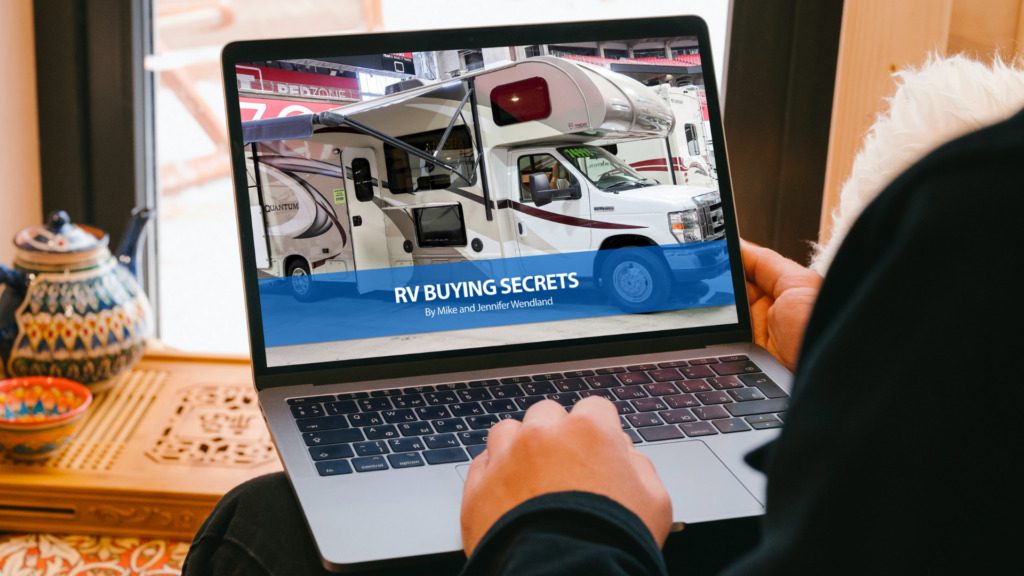 Next to your home, an RV is most likely the 2nd most expensive thing you'll ever purchase.
We get questions every day of other RVers wondering. "How do you buy a new or used RV?"
So we created a 75+-page downloadable digital guide to help you understand the nuances that come with purchasing an RV, where you can save thousands of dollars in the buying process, what the right questions are to ask dealers, what things to look out for, how to select the right unit, amenities, warranties, and so much more!
We created this guide to help you understand the nuances that come with purchasing an RV including:
Where to save thousands of dollars in the buying process
What questions to ask dealers
How to select the right unit
How to narrow down RV amenities
Understanding your warranty and what it covers
This ebook is designed to help make your purchase process as smooth as possible. And to teach you step-by-step exactly what to do so you can start your RV Lifestyle today!
---