It's time to tell the truth about RV solar and lithium batteries. Not that they aren't great to have. It's just that too many RVers have been talked into getting solar/lithium packages by unreasonable claims by RV salespeople who just don't understand the limits of the technology.
Let me be very clear: We've been using RV solar and lithium batteries since 2015. Jen and I love RV solar and lithium batteries. We wouldn't have an RV without a robust system and, indeed, we just did a major upgrade of the RV solar package and lithium battery bank on our Keystone Arcadie fifth wheel.
But the key is having enough RV solar and lithium to do what the salespeople promise.
This week, we talk to two experts as we explore the capabilities of our new system and learn about battery draw and what is reasonable and not reasonable to expect from it.
You can watch the video version of the podcast by clicking the player below.
If you want an audio-only version of the RV Podcast, you can get it on your favorite podcast app – we're on them all – or by clicking the audio player below.
[powerpress}
Our RV solar and lithium battery package
The first thing people thinking about RV solar and lithium need to know is that you need to know if that the more you have, the more you can do with it in terms of off-the-grid camping.
A 200-watt RV solar package with a single lithium 100 amp hour battery isn't going to make the huge difference you often hear from RV salespeople.
And the 1,000 watt inverter systems that come with most RVs to convert that energy that solar puts in the batteries is woefully inadequate if you want to run things like a microwave, a hair dryer or an air conditioner.
When we bought our Arcadia this spring, we bought a package that had 600 watts of RV solar and 200 amp hours of lithium, with a 3,000-watt inverter.
That's a very respectable system. It will even fire up one of our air conditioners equipped with a safe start to minimize the huge power bite the compressor takes when the AC unit starts out. Fully charged, it will run that air conditioner for two hours or so, depending on how hot it is outside and the humidity it needs to remove from the coach.
But we wanted more. Our upgraded system has four 300-watt Keystone Solarflex panels providing a total of 1,200 watts of energy that charge two Dragonfly Energy Gamechanger 3.0 lithium batteries that each have a capacity of 270 amp hours. That's a total of 540 amp hours. Dragonfly is the parent company of Battleborn Batteries.
For us, this is the sweet spot for our boondocking and off the grid camping. The system will let us run the AC for about six hours. Maybe a bit longer if we don't try to turn our RV into an ice cooler.
What's reasonable to expect from RV Solar and Lithium Batteries?
BONUS CONTENT: It's important to know the basics about solar and batteries. CLICK HERE for a quick primer on RV solar.
The two experts we talked to in the podcast interview of the week are Sam Lengerich, an executive from Keystone who does product design and development for the Arcadia brand, and John Brock, Keystone's director of Research and Development.
In separate interviews, the two discuss all the ins and outs of RV solar and lithium, including;
The limits of solar panels when the sun isn't shining.
Why solar should be wired in parallel instead of series.
The importance of knowing how much power various RV appliances draw
How to monitor power usage.
The expense of solar and lithium packages (think thousands of dollars, not hundreds)
Check out the podcast for all the details. Remember, you can find our podcast in your favorite podcast player – just search for The RV Podcast. Or just watch the video above or use that audio player.
But the bottom line is before making your solar and lithium choices, educate yourself.
Camping can be expensive.
Especially if you are spending more travel time in outdoor spaces. Or, perhaps you're living and working from your RV.
Traditional campgrounds can also be crowded and noisy. It can sometimes feel like the opposite experience you are seeking by getting away from civilization and into nature.
That may be why you are looking for cheap or free RV camping sites and that's why I'm here to help. I'm going to introduce you to boondocking in off-the-beaten-path campsites and then teach you how to find them.
This ebook (not a print book – but you could print this one out on your own if you wish) is available right now.
Here's your Ultimate Guide to Cheap or FREE RV Camping Sites
---
---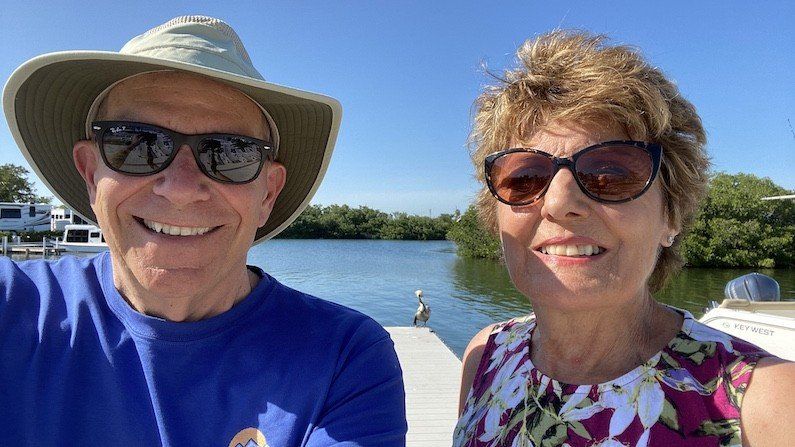 Curious about the gear, gadgets, accessories, and RV products Mike & Jennifer use and recommend?
On this RV Lifestyle Travel blog, our RV Podcast and our RV Lifestyle YouTube Channel, we mention all sorts of RV-related products and gear that we use, So we created a special page that links to them. We update this all the time.  CLICK HERE to go to it directly. Have you caught one of our Amazon LIVE events yet? Just go here and Follow us – to be notified every time we go live.
---
Podcast: Play in new window | Download (Duration: 31:26 — 18.6MB) | Embed
Subscribe: Google Podcasts | Spotify | Email | TuneIn | RSS