The following RV camping tips for seniors will help you make the most of your retirement in a safe, comfortable, and FUN way…
Like many people, Jennifer and I dreamed of becoming RVers when we retired. We made that dream a reality over a decade ago and have traveled North America for most of the year ever since.
We are big believers that senior citizens can live their best life with an RV with proper preparation and expectations. We believe it because we live it!
To help you live it, too, we have compiled some of our top RV camping tips for seniors.
We use affiliate links and may receive a small commission on purchases at no added cost to you. Thank you for your support. You can read our full affiliate disclosure here.
13 RV Camping Tips for Seniors
While this is not an exhaustive list, the following tips will help you better enjoy your travels in different ways. We share some of the best things and resources that have made RVing possible for us. And we hope they help you, too!
1. Try Before You Buy
No amount of research compares to first-hand experience. We highly recommend renting an RV for a trip (or several trips) before committing to purchasing one. This will help you determine not only if the reality lives up to the dream but also help you decide what kind of RV is best for you.
(Try Outdoorsy for your renting adventure.)
Older adults often save for years to purchase an RV, and we were shocked to learn how many people regret their decision once it is too late. In most cases, people don't regret joining the RV lifestyle; they regret which size RV they got.
Some people wish they would've gone bigger; others wish they would've gone smaller. But all wish they would've tried out the different RV classes before they bought.
To find your "goldilocks RV" that's "just right," we recommend reading 10 Top Tips for Finding the Best RV Size for You.
And then there are those who wish they'd never bought an RV at all, which leads to our next tip…
2. Ease Into the RV Lifestyle!
We've seen and heard of many older people selling their homes and most of their belongings to dive headfirst into RVing. Only to regret it.
It's a good idea to EASE into the lifestyle before becoming a full-time RVer or even downsizing to RV part-time. Start with a test run in your driveway or close to home. Then take a few trips, stay at different campgrounds, and figure out through experience if RVing really is right for you.
Here are some helpful articles related to this tip:
3. Embrace Being a Senior RVer
Once you've determined that the RV life is for you (whether full-time or recreationally), then GO FOR IT! And don't let anything or anyone stop you!
This may sound easy, but there are challenges you'll face as a senior RV that you wouldn't expect. Like, for instance, a surprising lack of enthusiasm and support from your friends and family members.
So, we highly recommend you read How to Embrace Being a Senior RVer to overcome such challenges, including How to Tell Family & Friends. But we also have more practical tips for you to live your best RV life here…
4. Invest in a Good Night's Sleep
I've learned firsthand why my grandfather used to say, "Getting old hurts." It does… especially if you don't have a comfortable bed. We've learned the best way to make the most of every camping day is to get a good night's rest before.
Here are some good resources to help you create a sleeping oasis in your recreational vehicle:
5. Make Driving More Comfortable
Road trips are a lot of fun, but they're MORE fun when you're comfortable. This is true for both the driver and passengers.
Here are some helpful accessories and tips to keep you comfortable while driving:
Discomfort leads to irritability, and irritability leads to a bad camp set-up experience! The last thing you want is to arrive at the camping site irritable with a crick in your neck. So, the above information can help get your trip off on the right foot (er, on the right wheel?). The next tip will also help…
6. Adopt the 330 Rule
Like what you see in these videos? We'd appreciate it if you would Subscribe to our YouTube Channel (easy to do right here) and consider "ringing the bell icon" to be notified of any new video from us. 🙂 Thanks!
When we finally hit the road after retirement, I wanted to see as much as possible as fast as possible. I pushed us day after day, driving several hours and hundreds of miles every day until Jennifer finally put her foot down. And I'm glad she did!
Pushing yourself to drive too long and too far is one of the most common RVing mistakes. I finally learned my lesson, and we adopted the 330 Rule, which is one of the 15 Things RVers Wish They Had Known Before Becoming RVers.
The 330 rule goes like this: "stop when you have driven 330 miles, or it's 3:30 in the afternoon." I recommend reading more about the rule and its many benefits.
7. Install Additional Safety Features
Perhaps the most important thing for senior RVers to do is to make their RV SAFE. As seniors, we need to understand our physical limitations and make accommodations as necessary.
Don't make the mistake of installing safety features after you've been hurt. It's far better to take extra precautions (even if you think you're not that old) to prevent injuries that can squash your travel dreams.
We have compiled a list of 7 RV Safety Products that can make your RV safer and more comfortable for you. Some products address specific special needs, but a few of the products are helpful for most older citizens.
8. Bring a Dog to Keep You Active
Many people think campers hike and play all day, but the reality is a lot sit around their campsites or in their RV. It's easy to fall into "couch potato" habits when you actually travel with a couch.
It's important to get plenty of physical activity when you RV, and what better way to enjoy it than with a dog? Their energy and enthusiasm will keep you motivated, not to mention the necessity of potty walks. It's one of the 5 Best Perks of Traveling with a Dog.
We love traveling with our dog Bo, and he certainly keeps us out of our favorite camping chairs. We have an Ultimate Resource Guide for RVing with Dogs and an Amazon Shopping List for Traveling Pets.
Looking for a way to keep your dog on your property without using a physical fence? Check out SpotOn GPS Dog Fence™
SpotOn works almost anywhere — but you need a lot that's at least ½ acre
Why? Because you'll need to allow for the fence alert/warning zone. The effective boundary for your dog is 10 feet inside the fence boundary that you walk. Walk your planned boundary with SpotOn's dog collar and your phone or draw your fence in the app. Truly, watching this video will show you how cool this technology is! True Location™ technology builds on conventional GPS and makes it better, giving you the most reliable fence boundary that never requires calibration. So your dog can have a great adventure without risking a great escape. Get professionally-developed training programs that'll have your dog using SpotOn in a few simple steps!
9. Keep Your Campsite Info on Your Fridge
When you're having a great time, the last thing you want to think about is something going wrong. But emergencies happen, and you need to be able to tell first responders where you are. Many people don't think of this until the first time they call 911 and realize they don't know their exact location!
A great way to avoid this scary situation is to write down the name of your campground, the campground's address & phone number, and your campsite number on a post it note and stick it to your fridge. Or input the info in your cell phone. Make it a part of your set-up checklist when you arrive at camp.
People of ALL ages should take this safety measure. We also recommend that everyone skims our long list of Life-Saving RV Emergency Preparedness articles. This compilation resource serves as an index for all of our safety and health resources, including Emergency Survival Gear, Driving & Camping Safety, Health & Medical, and Severe Weather.
10. Carefully Plan a Budget
Most seniors live and travel on a fixed budget, whether it's their retirement income or social security. As such, it's very important to take the time to make a practical budget.
RVing is often more expensive than people think. Travel, maintenance, and repair costs can add up quickly, and can strangle your travel plans.
We have some resources to help you prepare and plan for the costs you'll encounter:
We also have some tips on how to stretch your budget so you can enjoy more for less…
11. Save Money with RV Memberships & Clubs
You can save a significant amount of money by joining RV campground memberships, camping clubs, and reciprocal memberships. These memberships and clubs give you access to discounts, free resources, and more.
There are many different memberships to choose from, and they're not all worth it. However, depending on your travel lifestyle and preferences, there are likely at least a few memberships you can benefit from.
Here are some resources to help you find memberships that will save you money:
12. Purchase a Lifetime National Park Senior Pass
Speaking of memberships, there is one membership that every RVing senior should have. It's called the America the Beautiful Senior Pass.
Seniors gain access to more than 2,000 recreation sites managed by six Federal agencies for one low price.
Seniors can choose between the $20 Annual Senior Pass or the $80 Lifetime Senior Pass. Jennifer and I have gotten our money's worth on our annual pass 10 times over!
With this pass, you enter the parks for free and can then stay at free or low-cost campgrounds in the parks.
13. Try a Workkamper Job
Our last tip for you today is a win-win because it stretches your money farther while enjoying the great outdoors. Work Camping is a practical method of travel, where you can offset camping costs or earn some extra cash to supplement your income or social security.
You can volunteer at many state parks and national parks in exchange for a free campsite, work as a camp host at private campgrounds, or earn money on the side while you travel. There are some excellent resources to help…
Happy Camping!
We hope these camping tips for seniors help you enjoy the open road and breathe in the fresh air across the country. We believe RVing is the perfect way to see all the United States has to offer, from its national forests to historical landmarks and so much more.
So, we'll leave you with the most important tip: make the most of your time on this planet!
Mike and Jennifer's Favorite Places in Florida – all 3 ebooks!
We RVers may wander far and wide but it's true for most of us that we end up with some favorite "Go-To" places – places that draw us back again and again.
Florida is one of those places for us. And we know it is for many RVers looking to get away and explore during the winter.
That's why we've created three guides, covering Florida's Atlantic Coast, the Gulf Coast, and the Keys.
Each of these guides is a seven-day guided exploration of one of the coasts. And each stop is a curated view of the best things that we've enjoyed on this trip and want you to experience.
Altogether these guides are over 300 pages of content!
---
FAQ's about Florida Gulf Coast beaches of interest to RVers
---
---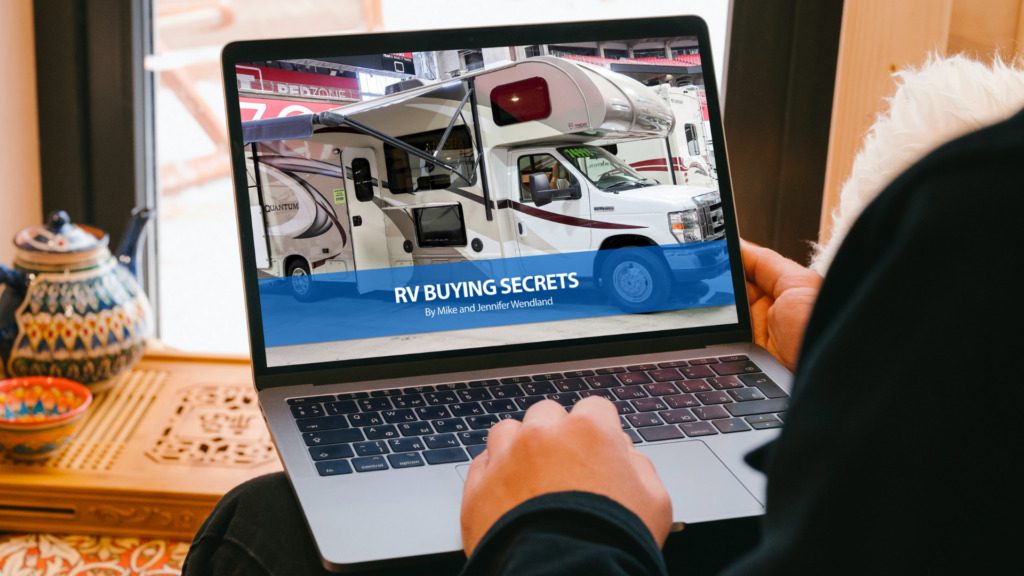 Next to your home, an RV is most likely the 2nd most expensive thing you'll ever purchase.
We get questions every day of other RVers wondering. "How do you buy a new or used RV?"
So we created a 75+-page downloadable digital guide to help you understand the nuances that come with purchasing an RV, where you can save thousands of dollars in the buying process, what the right questions are to ask dealers, what things to look out for, how to select the right unit, amenities, warranties, and so much more!
We created this guide to help you understand the nuances that come with purchasing an RV including:
Where to save thousands of dollars in the buying process
What questions to ask dealers
How to select the right unit
How to narrow down RV amenities
Understanding your warranty and what it covers
This ebook is designed to help make your purchase process as smooth as possible. And to teach you step-by-step exactly what to do so you can start your RV Lifestyle today!
---