The RV 330 Rule is a rule Jennifer and I (try to) live by when on the road. We learned the hard way that traveling without it leads to exhaustion and frustration. Here's what it is and why you should (try to) follow it, too.
When Jennifer and I first started out, I would hit the road and keep hitting the road until we crammed as much into one day as possible. In my mind, the more we drove, the more we'd see and the more fun we'd have.
Well, we quickly learned that it doesn't work out that way. Sure, we covered a whole lot of the map in a matter of days, but it sure wasn't as fun as it could have been.
That's why we adopted the 330 rule and have tried to live, or rather, traveled by it ever since. I'm going to explain what it is and why every RVer needs to know it!
We use affiliate links and may receive a small commission on purchases at no added cost to you. Thank you for your support. You can read our full affiliate disclosure here.
What is the RV 330 Rule?
Like what you see in these videos? We'd appreciate it if you would Subscribe to our YouTube Channel (easy to do right here) and consider "ringing the bell icon" to be notified of any new video from us. 🙂 Thanks!
I had a fulltimer explain this to me early on. The 330 rule is you "stop when you have driven 330 miles or it's 3:30 in the afternoon."
The idea is to get somewhere while it is still early enough to explore, chill, and enjoy the place when you're not exhausted from driving miles upon miles.
In our early days, I looked at the daily driving mileage as a challenge. The more the better.
I kept trying to set another personal best… It's 735 miles, by the way. Silly. Stupid, really.
There's really nothing worse than pulling into a campsite after dark. It can even stray into bad camping etiquette.
Why Should You Follow the 330 Rule?
There are two main reasons every RVer should try to adhere to the 330 Rule. The first is health and safety-related. The second is sanity-related. 
It's Safer & Better For Your Health
Pushing yourself too hard when driving isn't great for your health and can even be downright dangerous. I certainly crossed the safety line when I pushed myself to drive those 735 miles in one day.
Did you know that drowsy driving is as dangerous as drunk driving? According to the Sleep Foundation, drowsy driving is most likely to occur in the late afternoon, when most people are naturally sleepier. (That, and between midnight and 6 a.m.)
That's why stopping by 3:30 pm (before late afternoon) is safest.
Plus, driving long hours leads to multiple health concerns, including Sitting Disease. And yes, that is a real disease and a real health risk for RVers.
It Will Keep You Sane (& Married)
The second big problem of pushing yourself beyond 3:30 and 330 miles is you're almost guaranteed to end up frustrated and grumpy. And fighting with your spouse or travel companions.
If you arrive at camp late or after extensive driving, you're exhausted and still have to set up camp. This often leads to touchy nerves, bickering, and downright fights between travel companions.
That's NOT a great way to start your camping trip.
Adopting the 330 rule will keep you sane and Jennifer can attest that it will also keep you married! She was not happy with me during the days of my record-breaking driving attempts and not happy with me now if I break the rule these days.
I'm glad I finally admitted that she was right and stopped trying to push us so hard (most of the time). Our road trips have been far more enjoyable ever since!
The RV 330 Rule vs. 3-3-3 Rule
You may have heard of another RV rule of thumb called the 3-3-3 Rule. This rule is similar to the 330 Rule, but I'll soon tell you why I prefer the 330 Rule over it.
The 3-3-3 Rule is as follows:
Don't drive more than 300 miles in a day
Stop by 3 pm (or stop every 3 hours, depending on who you ask)
Stay at a campground for a minimum of 3 days
Now, technically, it should be known as the 300-3-3 rule, but that technicality isn't why I don't prefer it. The first two rules aren't very different than the 330 rule either.
It's that third 3 that gets to me. Here's why…
As boondockers, Jennifer and I love having the freedom to travel to multiple places in a relatively short time span. We often stay a night or two in one place, then drive a few hours down the road to enjoy the next area.
This, of course, isn't as easy to do for Class A RVers and others traveling in bigger rigs. In their case, the 3-3-3 Rule may be better.
But, for many, that third 3 is too limiting. That's especially true for those who want to enjoy free overnight parking with Harvest Hosts!
What Is Harvest Hosts?
Harvest Hosts is one of our very favorite places to overnight. It is a unique membership service that lets RVers camp overnight FOR FREE at lovely outdoor venues such as wineries, breweries, museums, farms, orchards, and creameries.
It is recommended that you patronage these venues that you stay at, but it's still a budget-friendly way to camp.
There are more than 2,000 such places across North America to choose from. Plus, there's even an upgraded membership where you can also camp overnight at golf courses!
We love Harvest Hosts so much that we became partners so our readers can save. Using this link and the discount code: RVLIFESTYLE15 you get 15% off Harvest Hosts annual membership.
Do you see why I don't like that 3rd R in the 3-3-3 Rule?
To Each His Own
I won't go as far as saying every RVer needs to abide by the 330 Rule. However, I will say that I do highly recommend it.
I know that from my own experiences (and mistakes) and from countless RVers who say the same, the 330 Rule makes traveling more enjoyable.
I became such a believer that we even had 330 Rule t-shirts, coffee mugs, and stickers made. They serve as great reminders to get comfy and take it easy.
I hope you'll give it a try! If you already have, please let us know what you think of the RV 330 Rule in the comments below.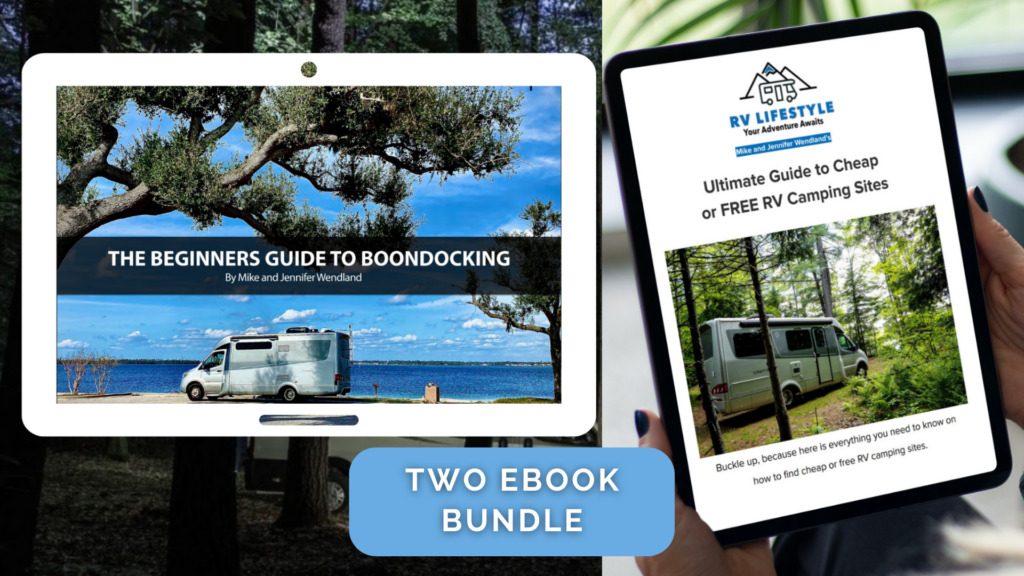 Beginners Guide to Boondocking (one of our most popular ebooks) and one of our newest ebooks, The Ultimate Guide to Free and Cheap RV Camping!
ebook #1: Beginners Guide to Boondocking
We created a 65+-page downloadable digital guide to help you understand the nuances that come with boondocking, the most common boondocking problems, and what you need to do to get your rig "boondocking-ready."
ebook #2: The Ultimate Guide to Free and Cheap RV Camping
Buckle up because here is everything you need to know on how to find cheap or free RV camping sites in the 33-page EBOOK.
---
---
---
---
---