You learn as much as you can before buying an RV, but some things you can only learn by experience. Or, by reading this article…
There was a question posed recently about what our RV Lifestyle members wish they had known about RVing before hitting the road!
And, guess what? There was a LOT RVers wish they had known. The post received nearly 300 comments sharing the wisdom RVers gained from the road.
We use affiliate links and may receive a small commission on purchases at no added cost to you. Thank you for your support. You can read our full affiliate disclosure here.
What RVers Wish They Had Known
The following are all the things our RV Lifestyle members wish they had known about RVing before getting on the road. Their mistakes and discoveries can help you be prepared if RVing is new to you!
1. Fluctuating Gas Prices
The first item on our list is the fluctuating gas prices. Of course, this should no longer come as a surprise to most since we have all been hit hard by the soaring gas prices these past few months.
Many RVers wished they had known How to Get Better Gas Mileage in Your RV.
Our RV Lifestyle member, Kari, was the first to comment on the thread. It was not that she mentioned fluctuating gas prices that stood out, but the large red exclamation point at the end.
Gas is one of the largest ongoing RVing expenses you can incur depending on how far you are traveling and the type of rig you own.
It can absolutely influence your travel plans because what once was an affordable destination for you may not be any longer. Many people will end up staying closer to home.
Consider the size and gas mileage of any rig that you are looking to purchase.
Another RVer, Connie, also shared how she learned that fuel treatment can help battle this challenge. She said it's "getting me 7 more miles to the gallon."
2. Tires
Tires, tires, tires. This is another very important part of RVing. That's because tires are the only thing separating your rig from the road you are traveling on.
Many of our members mentioned tires as an important thing to understand before becoming an RVer.
John L. commented simply, "Chinese tire bombs." He later explained this to mean that cheap tires made in China can burst on you and to be careful with what you purchase.
Another member agreed since he had experienced a major tire blowout himself.
Be sure that you always have solid tires on your rig, but be prepared for the cost. Getting good tires is not cheap in the short run but can save you money (and a lot of hassle) in the long run.
Having good tires also falls under the Preventative Maintenance Every RVer Should Do.
3. Unpredictable Expenses
Another member, Caroyln, commented on rising overall expenses. She cited the rising gas prices and the cost of RV parks.
Just like all of us, RV park owners are experiencing the pinch of inflation. That means they are passing on those costs to you.
Carolyn said that they became full-time RVers to be able to save one-third of their income. They found that rising RV park costs prevented them from saving what they wanted to.
In addition, she said that the places she stayed in Florida cost about $1,200 per month last year, but that's jumping to $2,000 per month next year. That is a roughly 66% increase in pricing over the course of one year. Ouch! Plus, many sites were damaged during Hurricane Ian, so they might not be available at all!
4. Do Not Overpack
Hank commented, "Leave all that STUFF at home!!" He was not alone in this sentiment.
Susan M. went further to say, "Take half of what you think you will use (stuff wise)."
Both of our members make a great point. Most of us overpack our RVs. Yes, there is good reason to have some items you may need but won't always use.
But pack carefully. Ask yourself if you think you will truly use something. And don't forget these Little Things to Remember to Pack for Your Big RV Trip
If you discover that you do not use an item after several trips, consider taking it out of your RV. That can free up valuable room in the rig.
It can also make the vehicle lighter overall, which can save you gas money in the long run!
5. Know Your Water System!
Another important item mentioned by Julia is to understand how your valve system works. She said that understanding the grey and black tanks is valuable info, and she is right!
It is a good idea to go through a trial run of these systems before your first trip. That way, you don't get to your destination and waste valuable water or damage your delicate system.
You may want to read the following:
6. When and Where to Purchase Liquor
This was a funny message that came through, but might be important for some of you.
Not all states sell liquor in regular grocery stores. Some states sell beer and wine at the grocery store, but not hard liquor.
Furthermore, many states do not allow liquor sales on Sundays, and sometimes it's on a county-by-county basis.
If you plan on picking up any alcohol on the road, be sure to pay attention to the state and county laws around liquor.
7. Rent It Out
Another idea that popped up in the comment thread is an idea to make money when not using your RV by renting it out!
Renting out your Rv may not be for everyone. It takes work to clean and deliver it between rentals. It can also cost you money for repairs and wear and tear in the long run. So, you may want to read 5 Things to Know Before Renting Out Your RV first.
But some people love renting their rigs out and make good money doing it!
RV Lifestyle member, Kelly, says that they "are using ours as a rental so we always have a fallback and we stay diversified in our investments."
8. The Value of Airtight Containers
I don't think I've ever met an RVer that doesn't use multiple plastic storage containers. From small items in cabinets to big items in the RV basement storage, airtight containers really come in handy.
One RVer mentioned a specific purpose for these that is worth repeating. He said that he recommends using airtight storage containers for trash and dirty clothes. Otherwise, he says, the smell can become overwhelming.
Putting your dirty clothes in them also makes transporting them to the laundry room that much easier. Speaking of which, check out the 10 Best Campground Etiquette Tips & Tricks.
9. The Miracle of Happy Camper Tank Treatment
Another RVer said she wished someone had told her about Happy Camper Holding Tank Treatment. It would have saved her months of battling the lingering smell that comes with RV toilets.
Jennifer and I highly recommend Happy Camper, too. We've tried other options, including a homemade RV holding tank treatment, and Happy Camper always comes out ahead.
But recently, we've been impressed with The Thank Tank – worth a look.
10. The Many Benefits of Tinted Windows
Tinted windows are one of the 5 RV Privacy Products we recommend. Daytime One-Way Window Tint allows you to enjoy the view without people looking into your RV.
Plus, this tint blocks the heat while still letting in natural sunlight. It's a win-win for privacy and functionality!
11. Auto Levelers Are Worth the Investment
A couple of RV members mentioned that auto levelers are well worth the investment. Leveling seems like an easy enough task until all your tires on a different elevation, however slight.
An unlevel RV presents more problems than you'd expect, too. Just ask anyone who's woken up with a headache from sleeping at a bad angle.
If you don't want to spend money on an auto leveler, another RVer recommended the Camco RV T Level in the comments of our How to Level a Pop Up Camper article. He wrote:
"This Camco T Level 25543 is fantastic!! I use it on our 5th wheel. You just need to know where the center of your camper is. I put it on the floor and turned it on, and it will let you know which side is not level.
It's compact and can be installed anywhere, and it allows for front-to-back and side-to-side leveling systems in one unit. Another incredible thing about this product is its price tag. I didn't even need to allot a special budget just to have this RV level in my possession."
12. The 330 Rule
Like what you see in these videos? We'd appreciate it if you would Subscribe to our YouTube Channel (easy to do right here) and consider "ringing the bell icon" to be notified of any new video from us. 🙂 Thanks!
This is a tip that Jennifer and I always give new RVers. We call it the "330 Rule" and it's our guaranteed formula for arriving at your destination fresh and ready to explore, instead of being of fatigued and worn out from a long, overly-hard drive.
It means going no further than 330 miles in a day or stopping by 3:30 PM local time, wherever you happen to be. We admit, for those of us eager to just "get there," this rule can be hard to follow.
You can watch the above video to see how it works out on a real trip.
13. RVing with Pets is Grrrreat!
When people consider the RV lifestyle, they often wonder if they should bring their pet along for the ride. Is it worth the trouble? Is it safe for their pet? How do you keep your RV clean?
Well, the resounding answer from the RV community is that bringing your pet along on your camping trips is well worth any hassle they might present.
Jennifer and I wholeheartedly agree and take our big, hairy dog everywhere we go. We even have an article on the 5 Best Perks of Traveling with a Dog.
We also have LOTS of resources for RVers wanting to travel with pets. Here are just a few:
14. Don't Think Emergencies Won't Happen to You
It's easy to adopt the "it won't happen to me" mentality when traveling. After all, you're escaping the daily grind and headed to your "happy place."
Unfortunately, that mentality can leave you stranded and even in mortal danger. You must be prepared for an emergency BEFORE you leave on any camping trip.
Here are some valuable resources:
15. RVing Will Test Your Relationship
I'm going to end this list on an emotional note, because the RV lifestyle is a big adjustment for couples. I usually share the wisdom that RVing will expand on whatever relationship you currently have (good or bad).
If you have a good relationship, it can get even better. If you have a bad relationship, RVing can bring the worst out of it.
Traveling around the country with your significant other is a romantic notion. Parking beneath the stars every night. Viewing God's wonders every day. Spending more time together than ever before.
But that last benefit is a double-edged sword. The sheer quantity of time together in a small space can lead to small frustrations building up into big fights. Or perhaps worse, being together all the time makes you numb to each other.
But it doesn't have to be that way. Here are several ways to keep the romance alive while RVing.
More Things RVers Wish They Had Known…
You can read even more responses from the Facebook post. Trust me, there are plenty of things RVers wish they had known and I bet the FB thread is still growing. You can share your wisdom, too!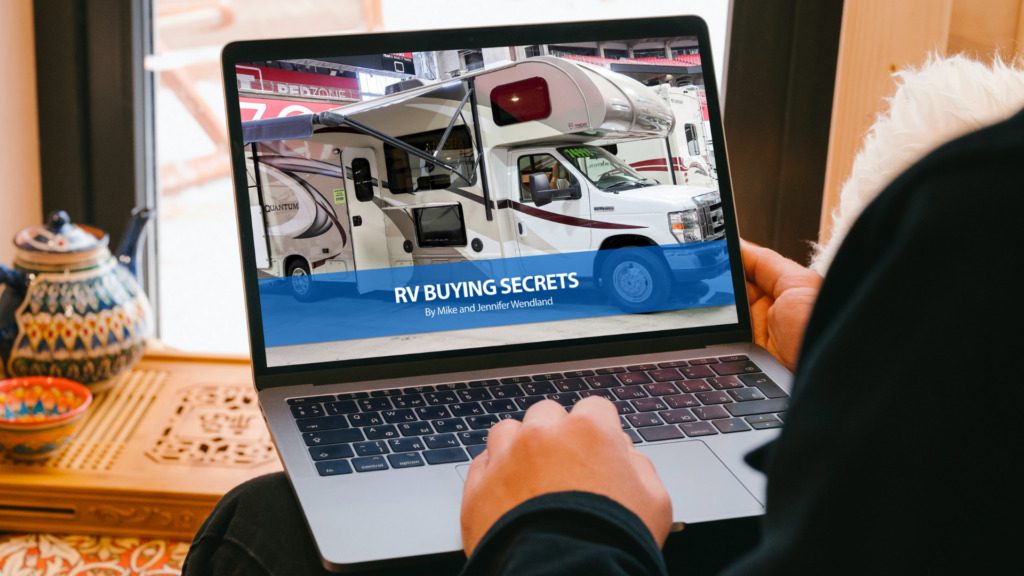 Next to your home, an RV is most likely the 2nd most expensive thing you'll ever purchase.
We get questions every day of other RVers wondering. "How do you buy a new or used RV?"
So we created a 75+-page downloadable digital guide to help you understand the nuances that come with purchasing an RV, where you can save thousands of dollars in the buying process, what the right questions are to ask dealers, what things to look out for, how to select the right unit, amenities, warranties, and so much more!
We created this guide to help you understand the nuances that come with purchasing an RV including:
Where to save thousands of dollars in the buying process
What questions to ask dealers
How to select the right unit
How to narrow down RV amenities
Understanding your warranty and what it covers
This ebook is designed to help make your purchase process as smooth as possible. And to teach you step-by-step exactly what to do so you can start your RV Lifestyle today!
---
Get the Home Study Course today and worry about the road, not the repairs!
Every time you move your RV it's like driving through a hurricane during an earthquake. Parts break and many items need to be maintained, this program will show you how you can save time and money by gaining the confidence to take on the majority of the issues you'll come across. Don't get caught with your RV in the shop! Learn how you can maintain and repair your RV at your own pace and at the most convenient time for you! This course is produced by the National RV Training Academy.
---
---