REAL RVers answer what NOT to bring on your RV trip in response to an RV Lifestyle Facebook post…
RVing is a great way to escape the hustle and bustle of everyday life and explore the open road. But, when it comes to packing for your trip, it's easy to get carried away and over-pack.
Over-packing not only takes up valuable space in your RV, but it also adds extra weight, eating away at your gas mileage.
In this article, we will explore what experienced RVers say are the items that they should not have brought on their trips, and how to avoid these common mistakes.
We use affiliate links and may receive a small commission on purchases at no added cost to you. Thank you for your support. You can read our full affiliate disclosure here.
10 Things NOT to Bring on Your RV Camping Trip
We get many great questions in our RV Lifestyle Facebook group that receive lots of helpful answers from our 190k-member community. This question comes up quite a bit, including from a recent posting.
Wendy posted: "I am a first-time RV-er and want to pack light. Those of you who are more experienced than me, what did you find out that you did not need???"
Below, we've summarized over 200 comments on the most common OVERPACKING mistakes.
NOTE: We also have a FREE RV Packing list and the 3 best RV checklist apps to help!
1. Too Many Dishes
At home, you're used to having extra dishes to use while others are in the dishwasher and also for guests. But bringing too many dishes takes up valuable storage space and adds unnecessary weight to your RV.
Many people advise that you only take as many dishes as you have travel members and wash them after each time. It helps keep things tidy and minimizes cabinet space usage.
So, for instance, if you travel only with your spouse, bring 2 plates, 2 bowls, 2 cups, and 2 sets of utensils. Or, maybe don't take it to that extreme but take 2 of every item for each person.
To find the perfect set, check out the Best Dishes for RV Camping & Living.
2. Fancy Kitchen Appliances
While it's great to have all the conveniences of home while RVing, it's not necessary to bring all your fancy kitchen appliances. Most RVs have basic kitchen appliances like a refrigerator, stove, and microwave, and you'll likely find that you use them less than you think.
Most RVers agree you shouldn't leave your RV coffee maker or camping crockpot behind. But you can probably do without a toaster oven, air fryer, pressure cooker, electric can opener, etc.
RVers find they use the campground grill quite a bit or even enjoy cooking over the fire. These campfire cooking accessories help! You can also opt for other simple and lightweight camping equipment, such as a portable grill or camp stove.
3. Too Many Pots & Pans
Just like dishes, it's easy to over-pack on pots and pans. However, most RVers find that just one or two pots and pans are sufficient for basic meal preparation.
So, forego the whole set of pots and pans and take only the basics. Two sizes of frying pans and two sizes of pots are usually more than enough.
4. Too Many Clothes
Like what you see in these videos? We'd appreciate it if you would Subscribe to our YouTube Channel (easy to do right here) and consider "ringing the bell icon" to be notified of any new video from us. 🙂 Thanks!
In the comments, there was a resounding "too many clothes!" That's not surprising since it's a mistake we've had to overcome ourselves. Above is a video we did to help others avoid that same mistake.
Opt for versatile clothing that can be dressed up or down, and bring only what you'll need for the length of your trip. So, think layers! A pair of jeans, shorts, a few t-shirts, a sweater, and a jacket works in most cases.
Better yet, only take up to 5 days' worth of clothing and utilize campground laundry facilities. Just remember these Campground Laundry Etiquette and Tips.
5. Too Many Shoes
It's easy to over-pack on shoes, but it's important to remember that you'll likely be doing a lot of walking while RVing. Bring a comfortable pair of walking shoes, a pair of sandals or flip-flops, and a pair of dress shoes if necessary.
If you're going on hikes that require more than sneakers, then a good pair of hiking boots or hiking sandals are worth bringing, too. Leave the rest at home to save space and reduce weight.
Here are some helpful resources when it comes to shoes:
6. Too Many Canned Goods
Canned goods are heavy and take up a lot of space, so it's important to pack wisely. Yes, it's a good idea to have a little extra in case of an emergency, but don't go overboard.
After every road trip (or at least every season), go through the pantry and remove the canned goods that have been crammed in the back from neglect.
Here are some helpful resources when it comes to stocking your RV pantry:
7. Too Many Tools
While it's good to be prepared for any situation, it's not necessary to bring your entire toolbox on your RV trip. Consider bringing a basic tool kit with essentials like a screwdriver, pliers, a wrench, and a few RV-specific tools you may need. Then leave the rest at home.
Here are some helpful resources:
In conclusion, when planning your next RV trip, it's important to think carefully about what you bring. By avoiding the items listed above, you'll save valuable space and reduce the weight of your RV, making your trip more enjoyable and stress-free.
So, pack wisely and hit the open road!
8. Too Many Board Games and Puzzles
It's important to take some good evening entertainment along with you, but it's easy to get carried away. Instead of stocking your RV with a bunch of games and puzzles, select a few from your collection and leave the rest at home. You can then rotate the games with every trip.
This suggestion not only saves you space but it keeps the fun fresh! You won't end up playing the same games over and over.
In addition to board games, you should always take a deck of cards. They hardly take up any space and the card game options are endless.
If you're looking for new game and puzzle ideas, check out these lists:
9. Too Many Books
On that same note, it's easy to overpack books, crafts, and other hobby activities. Audiobooks and an e-reader can give you access to countless books and save you space in your RV.
But we understand that many people don't want to give up the feel and smell of books. So, another option is to be really thoughtful of how much time you'll have to read and only bring as many books accordingly.
Another excellent option is to make use of the many little free libraries across the country. These are free book-sharing boxes that you can find at campgrounds, residences, and many other locations. You can almost always find a little free library near wherever you camp.
Many campground offices have their own version of book sharing, too. It's really a great way to save space and be introduced to books you may have never considered otherwise.
If you're looking for great reads while camping, check these out:
10. Too Much Outdoor Gear & Toys
This is another one of those things where you overpack because you're trying to avoid boredom at all costs. But like board games, we recommend cycling through your toys, sports gear and outdoor games on different trips.
By rotating outdoor activity gear each camping trip, you'll never get bored with resorting to the same activities. Sure, you can always bring along your favorite activity, but don't bring ALL of your stuff to choose between once you get there. Make those decisions in advance!
If you're looking for some fun ideas to rotate through:
RV Checklists, Shopping Lists, & More!
Not long ago, we made a compilation article on all of the best checklists and lists we have. We call it the "RV List Round-UP," and it's definitely worth checking out.
It connects you to the following lists:
FREE RV Packing List (PLUS 3 Best RV Checklist Apps)
RV Setup Checklist: 15 Tips on How to Setup Your RV
RV Breakdown Checklist: How to Tear Down Your RV Setup
RV Departure Checklist: 3 Safety Items You Can't Forget
Must-Haves for Your First RV Trip
Must-Have Camping Gadgets
Must-Haves for Every RV Owner (According to REAL RVers)
The Ultimate 'Bug Off!' Shopping List for Your RV
10 Best Pet Accessories for Camping with Your Dog
10 Purrfect Cat Travel Accessories for your RV Lifestyle
Stargazing for Campers Kit (10 Must-Have Items)
10 Best Campfire Accessories to Keep in Your RV
Click here to go to the RV List Round-Up (It's a free resource… no downloads or subscriptions required).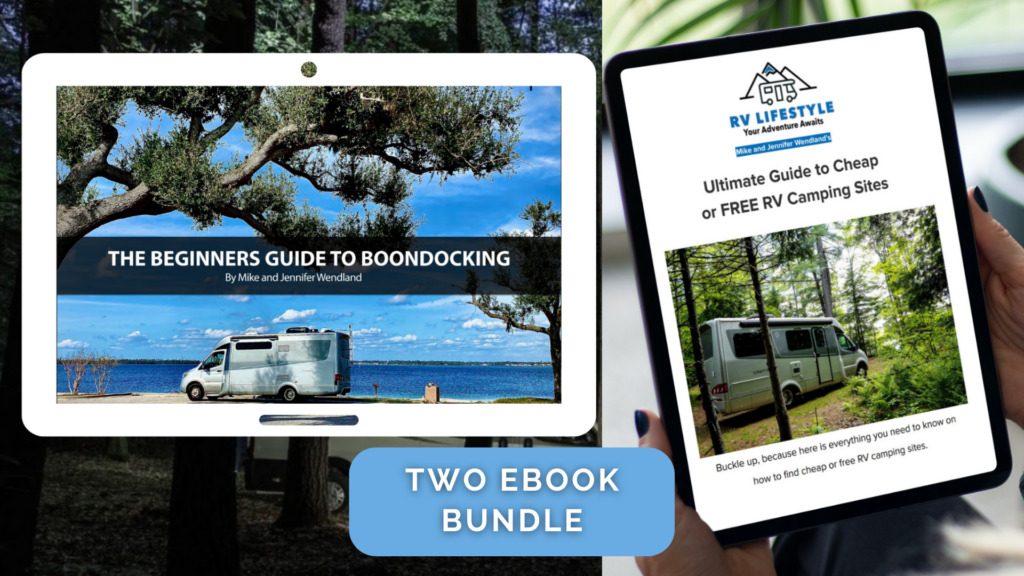 Beginners Guide to Boondocking (one of our most popular ebooks) and one of our newest ebooks, The Ultimate Guide to Free and Cheap RV Camping!
ebook #1: Beginners Guide to Boondocking
We created a 65+-page downloadable digital guide to help you understand the nuances that come with boondocking, the most common boondocking problems, and what you need to do to get your rig "boondocking-ready."
ebook #2: The Ultimate Guide to Free and Cheap RV Camping
Buckle up because here is everything you need to know on how to find cheap or free RV camping sites in the 33-page EBOOK.
---
---
---
We recommend you go Lectric for your RV Lifestyle

You know we love our RAD Power bikes – and have featured them for years, but we recently tested out and LOVE our new Lectric foldable ebikes. Being able to fold them up allowed us to put them in our Wonder rear garage area for a recent RV Lifestyle Gathering. You can check out our experience with them right here on our YouTube Channel.
RV Lifestyle Favorite Amazon Quick Links
We use affiliate links and may receive a small commission on purchases at no added cost to you. Thank you for your support. You can read our full affiliate disclosure here.