One of the worst things that can happen is to lose your pet on a camping trip. It happens all the time. There are a lot of things you can do to prevent them from running away.
In this week's episode, we feature an interview with a real-life pet detective who offers expert advice and tells us what to do if our dog runs away on a camping trip.
Also this week:
We check the latest social media buzz and see what real RVers are talking about this week
We introduce you to a new spinoff blog from RVLifestyle – CampingFood Recipes.com which is totally dedicated to recipes and tips on how to have awesome meals while camping but still have plenty of time for all your favorite outdoor activities
We share an RV tip about taking care of the tires on our RV
And we answer a question about driving in wind – specifically, when we should stay put.
You can watch the video version from our RV Lifestyle YouTube Channel by clicking the player below.
If you prefer an audio-only podcast, you can hear us through your favorite podcast app or listen now through the player below.
Podcast: Play in new window | Download (Duration: 50:55 — 29.8MB) | Embed
Subscribe: Google Podcasts | Spotify | Email | TuneIn | RSS
RV SOCIAL MEDIA BUZZ – from Wendy Bowyer
Wendy Bowyer reports on the hot issues most talked about this past week on our RV Lifestyle Facebook Group:
One post that seemed to have EVERYBODY talking this week was from Victoria. Victoria was camping in southern Louisiana when she went out to walk her dog and noticed thousands of termites swarming. She was wondering what she needed to do to protect an RV from termites.
Several people, like Carol, asked if she was SURE they were termites – because apparently swarming ants can look similar.
Victoria assured her she definitely knows what termites look like and these are termites.
Ron said he had a mini-Winnie once that sat in the driveway for a few years. When he went to clean it up one day to sell he discovered termites had gotten in and the whole 4 by 8 sheet of plywood over the cab was dust. He had to junk the whole thing. And sure enough, there was a termite nest in the ground.
In all, there were a couple hundred comments in this thread, and thankfully it does sound like the risk to the RV is minimal. Joe said when termites swarm they are actually dying. Their colonies live around 10 feet underground and attack wooden structures from beneath the ground… so her RV will be moving around meaning it should not be at risk. What a relief!
Next we have a post from Pamela. Pamela asked for RV storage ideas – specifically of what to store in a tiny opening above her microwave in the kitchen of her Class C. She got so many ideas – such as spices, dish towels, breads… but the majority seemed to think paper goods and foils are the way to go.
Let us know what you decide, Pamela!
Some of my favorite posts are the ones where members of the group take a picture before a destination spot. The last post I'd like to share with you today is just such a post and it is from Juan who took a picture of himself, his wife and kids at …. Bucee's!
He was so excited to finally stop at Bucee's on his way to Florida from Pennsylvania he took a picture, and shared it with the group.
Bucee's -if anyone doesn't know – is this extremely, and I mean extremely, large gas station and store with tons of gas pumps, T-shirts, food, and all sorts of stuff. It has quite the reputation among RVers making a long trip – many say you have to stop at least once.
So Juan did and he said it was TOTALLY worth the hype – thanks for sharing!
That's it from me this week. I am Wendy Bowyer and you can find me on the RVLifestyle Facebook group.
RV RECIPE OF THE WEEK – Jerrica Mah
Time now for the RV Recipe of the Week, brought to you by CampingFoodRecipes.com
The editor of CampingFoodRecipes.com, outdoor enthusiast and lifelong foodie enthusiast Jerrica Mah explains that the CampingFoodRecipes.com blog is dedicated to sharing camping food recipes, tips, and tricks to help you plan and prepare meals for your next adventure in the great outdoors.
Whether you are a seasoned camping enthusiast or a newbie to the world of outdoor (or INSIDE your RV) cooking, Jerrica says the blog has something for everyone.
Her team of experienced campers and foodies is constantly testing out new recipes and experimenting with different ingredients to create easy-to-make, flavorful meals that are perfect for the campsite.
They believe that eating well while camping should not be complicated or time-consuming, and our recipes are designed to be simple and efficient while still being packed with nutrition and flavor.
In addition to recipes, CampingFoodRecipes.com also offers advice on meal planning, food storage, and cooking techniques that are specifically tailored to the unique challenges of camping. From one-pot wonders to delicious desserts, they have everything you need to make your camping meals a success.
So whether you are planning a weekend camping trip or embarking on a months-long adventure, we invite you to check out this new blog and tune into this podcast every week for a camping food recipe shared by Jerrica as she helps us "Savor the Adventure" of great meals on a camping trip.
RV INTERVIEW OF THE WEEK – How NOT to lose your pet on a camping trip
Most RVers camp with pets, and sometimes those pets escape and get lost. Just recently a member of our RVLifestyle Facebook group lost her dog for 30 terrifying hours while camping at a Texas state park.
Also last month, a family camping in North Carolina lost their dog when someone at their campground let off fireworks. The dog has been gone for more than a month and to our knowledge, is still missing.
As this year's camping season begins, we thought it would be a good time to bring on the podcast an expert to help us know first – what we can do to prevent this from happening and second, what to do if our pet runs away.
Our guest is Annalisa Berns, the owner, search dog handler & licensed private investigator at Pet Search and Rescue. Pet Search and Rescue specializes in helping people to find their lost pets, offering coaching and in-person searches primarily in California and Florida.
Annalisa has nearly 20 years of experience finding missing pets and has four active search dogs, Juniper, Rhodie, and Bloodhounds Faith and Hawkeye.
Annalisa, who is a camper who has hiked sections of the Appalachian Trail, has helped many RVers through the years find their lost pet.
RV NEWS OF THE WEEK
U.S. News & World Report released its annual ranking of the 15 best national parks in the U.S., complete with pictures, descriptions and reasons why you need to go.
So what took the top spots? In order, the top eight best national parks on this list include Glacier, Grand Canyon, Yellowstone, Yosemite, Zion, Grand Teton, Olympic, and Arches. To see the rest, click here.
To see our story on the best national parks for RVing in solitude, click here. And to see our 7 Day Adventure Guides, several of which include national parks, click here.
The RV Industry hosted a "power breakfast" in Elkhart last week with record-breaking attendance where they strategized on ways to improve the camping experience for its customers.
The breakfast, which was reported on in the Goshen News here, featured an economist discussing the role high inflation and a struggling economy is playing on the industry, and the head of Kampgrounds of America shared research on ways the industry could do a better job improving customer experience so those who buy an RV don't quit.
RV sales are down significantly, which we have reported on here, as inflation causes many to hold off on big purchases as even those with good credit are looking at 8% interest rates.
KOA does extensive camper research each year and its CEO shared data showing 70 percent of new campers are millennials or Gen Z, meaning the historic age of RV buyers is dropping significantly.
The breakfast stressed the importance of improving the quality of campers experience each step of the way – from having RV sales representatives do a better job of educating new buyers to having more technicians so RVs can be serviced more quickly to having more campgrounds so campers can easily find a place to camp and more.
Bears are waking up from their annual hibernation and that can only mean one thing: Beware of aggressive bears.
Paint Creek Campground in the Cherokee National Forest is the latest to close temporarily because of aggressive bear activity.
Bears in the Tennessee campground were going into campsites and taking food. A couple of campgrounds in Tennessee and camping areas off of the Appalachian Trail are also closed because of aggressive black bears.
The U.S. Forest Service is reminding campers to keep food and garbage in bear-resistant containers. Also do NOT run if you see a bear, but rather back away in the opposite direction.
To see our story with bear safety resources, click here.
Rocky Mountains National Park is joining a handful of others by going cashless for all entry and permit fees starting June 1.
The National Park Service says eliminating cash payments will speed up ranger times at busy entry gates. Payments at the entry gates can be made by credit or debit cards or by phone. A small convenience store and coffee shop within the park will still accept cash.
Mount Rainier National Park in Washington announced early this year that is is going cashless starting May 26. Its entire park will permit card payments only.
A second grader who got lost on his family's annual camping trip in Michigan's Porcupine Mountains Wilderness State Park was found last week after spending two nights eating snow and sheltering under a log to survive.
The 8-year-old was gathering wood to make a fire when he became lost. Search teams spent two days and two nights searching for him, as temperatures dipped into the 40s.
The boy told reporters he tried to leave muddy footprints, so he could be found, and ate snow when he was hungry.
Helicopters were brought in, K-9s and about 150 people searched. He was found about two miles from his campsite.
RV Tip of the Week from Brenda of Queen Bee RV
Time now for the RV Tip of the week from certified RV Inspector Brenda of Queen Bee RV.
Brenda's focus is on educating RVers on how to care for their RVs – especially women RVers – and she is a regular contributor to the podcast, sharing her expertise with our entire audience.
Here's Brenda.. The RV Queen Bee… with this week's RV Tip.
Simple RV tire tips and visual inspections for owners to perform on each trip
A flat tire or a blowout can strike fear in the heart of any RVer and I know this one from experience. I have had two blowouts while in transit with my Class C motorhome and they are never convenient! Plus, they can be really scary. Let's go over some tire care tips so that maybe you can avoid this in your RV adventure.
Even if your tires have a like-new appearance or a Seller says that they have barely been driven on, looks can be deceiving and there can be other factors that need your attention.
First, have a good tire gauge with you at all times – either the stick variety or a digital version. I use a digital gauge in my RV inspections and they are much more accurate. Confirm the tire gauge goes high enough for the PSI rating on your RV tires.
Take a pressure reading on every drive, every trip, every time. Do not skip this step. Be sure to take the PSI reading on cold tires. That means the tires have not been driven on right before you check them.
You might also consider installing a TPMS or tire pressure monitoring system.
Know the manufacture dates of all your tires. This can be found by finding the DOT dates on the sidewall of each tire. The NTSB and most tire manufacturers recommend that tires get replaced at the six year mark.
Prior to each trip, do a visual inspection of the tread and the sidewalls. For the tread, look for any nails, bald spots, plus signs of over or under inflation. The sidewalls need to be inspected for signs of feathering or cracking, any bulges or other damage.
UV rays can also wreak havoc on your tires, so if possible, keep them covered when exposed to the sun while camping or in storage.
Don't forget to check your spare, too!
Lastly, when it's time to replace the tires, it is recommended to do them all at the same time.
Time now for the RV App of the Week segment, taken from the pages of NewTravelTech.com – our sister blog that celebrates the many ways technology enhances the travel experience.
The Cracker Barrel app shows Cracker Barrel locations near you or on your route, many of which allow free overnight stays in the parking lot for RVers.
You can also order take-out meals from restaurants along your route. Allowing you to have it ready by the time you get there.
Cracker Barrel is very friendly to RVers, usually offering plenty of parking even for big rigs.
RV QUESTIONS OF THE WEEK
Question: How much wind does it take before you won't drive? We are currently stuck in Twin Falls ID with 31 gusting to 45.
Answer: It depends on whether we're towing our fifth wheel or driving our Sprinter-based Leasure Travel Vans motorhome.
It also depends on whether the winds are crosswise. If so, rather than fight it, I'd for sure stay put with the fifth wheel.
If I could drive backroad two-lanes, I might venture forth with the motorhome where roadside trees may lessen the buffeting effect of the wind. But if I did go, I'd drive slow and if those 45 mile and hour gusts were frequent, I'd be ready to call it a day and hole up somewhere.
Safety first would be the rule.
Where to next?
This bundle contains our ever-popular Michigan Upper Peninsula 7-Stop Adventure Guide PLUS the NEW LOWER Michigan Adventure Guide PLUS the US Side Tour of the Great Lakes! This ULTIMATE Bundle will help you keep enjoying Michigan and the Great Lakes for years!
---
---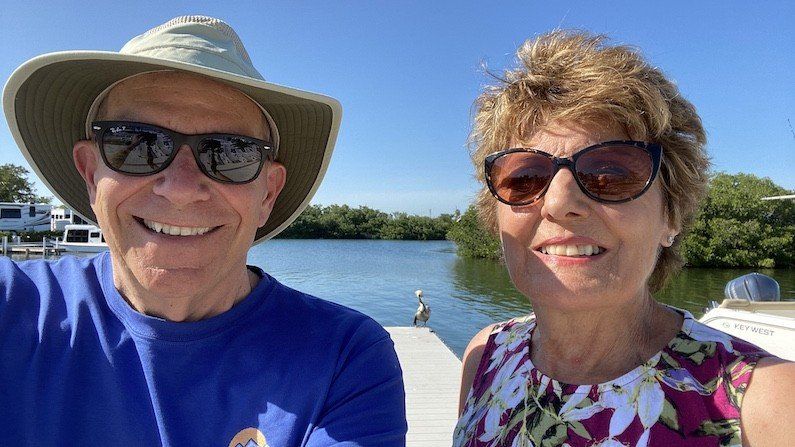 Curious about the gear, gadgets, accessories, and RV products Mike & Jennifer use and recommend?
On this RV Lifestyle Travel blog, our RV Podcast and our RV Lifestyle YouTube Channel, we mention all sorts of RV-related products and gear that we use, So we created a special page that links to them. We update this all the time.  CLICK HERE to go to it directly. Have you caught one of our Amazon LIVE events yet? Just go here and Follow us – to be notified every time we go live.
---