RV privacy is a big concern when you're sandwiched between other campsites. Here are great products and ideas to make your campsite more private…
Even though campgrounds are often set in the great outdoors, space between neighbors can be limited. Privacy can become an issue really quickly.
Sure, meeting new people is a perk of camping, but sometimes, you want to get away from everything (and everyone).
That's why I'm giving you a list of RV privacy products that help make your campsite more private.
Hey, if you buy something through my links, I might get a little something-something as a thank you. No extra cost to you, promise! Read our full affiliate disclosure here.
Campsite Etiquette
Like what you see in these videos? We'd appreciate it if you would Subscribe to our YouTube Channel (easy to do right here) and consider "ringing the bell icon" to be notified of any new video from us. 🙂 Thanks!
Respecting everyone's privacy in a campground is top of the list of campsite etiquette. However, some bad campground neighbors never get that memo, and it's up to you to set boundaries.
It can get uncomfortable trying to ignore too-close or too-loud neighbors and even more uncomfortable if you have to deal with bad camping neighbors about your concerns.
So, there are some preventative measures you can take to create separation…
5 Best RV Privacy Products
Here are some great RV privacy products that will help set physical boundaries between you and your neighbors. There are some added benefits as well, including bug blocking, added shade, and interior heat reduction!
I have a list of the Best Screen Tents for Camping; however, those all have mesh sides. This AxplorOutdoor pop-up screen tent also has mesh sides, but you can purchase a 3-pack of solid panels to attach to it.
You can attach 1 or all panels to block your neighbor's view of your outdoor seating area. It also helps block (& keep in) sound if you or your neighbors are enjoying group company.
At 12' x 12', this screen tent comfortably seats 10 adults with plenty of leg room. It also comes with a tent floor if you wish to use that, too.
As a bundle deal, the screen tent and solid panels help protect you from bugs, noise, and prying eyes.
Another option without the tent is a privacy screen that attaches to your RV awning. In most cases, these are mesh, but they offer more privacy than just the open air.
These privacy screens don't completely block your neighbors' view, but they do create a barrier. Plus, they provide more shade for your campsite. Kids are also less likely to run through your campsite when it's enclosed in this way.
I've linked to a popular option, but be sure to check the size of your awning before ordering anything.
3. RV Windshield Cover
Assuming you back into your campsite, neighbors often pass by the front of your RV and have a clear view inside through your windshield.
Standard windshield covers give you privacy. However, they also block natural sunlight and your view. That's why we recommend this solar-reflective RV windshield cover.
This Sunguard Solar Reflective RV windshield cover maximizes your privacy while still letting sunlight in and preserving your view. Perhaps best of all, it reduces solar heat gain by as much as 94%! That'll help ease the load on your RV's A/C!
*Keep in mind, that people will be able to see in at night when your interior is brighter than the exterior. So, you'll need to put up your solid RV windshield cover at night if you want full privacy.
You can, of course, use any RV windshield cover as an alternative. Just be sure it fits your particular RV.
This reflective privacy film is similar to the windshield cover, but it's a more permanent option for the rest of your RV's windows. Although it's not actually permanent, this product clings to your window with static (not adhesives), so you can easily remove it whenever you want.
Like the reflective windshield cover, this tint blocks the heat while still letting in natural sunlight and preserving your view. It also keeps any neighbors from being able to peer inside during the day.
Keep in mind, however, that when your indoor lights are brighter than the outside (like at night time), people can see in from the outside. You'll need to draw your curtains at that point, which isn't a big deal since there's no sunlight or view to enjoy during those hours.
This is also a great option for those kitchen windows that don't have enough space for curtains to be installed.
The truth is, noise is inevitable if you're camping in a popular campground. Whether it's kids, dogs, or inconsiderate neighbors, you'll have to deal with excessive noise at some point living the RV lifestyle.
Sometimes the best solution is the one you have the most control over. If you don't feel comfortable approaching noisy neighbors, you can pop on these noise-canceling headphones instead. They also double as great bluetooth headphones to respectfully listen to your music or favorite podcast outside.
I've linked to a Bose product because they are the best of the best. This model has "Quiet" and "Aware" modes. Quiet is full noise canceling, whereas Aware allows you to hear your environment and your music at the same time.
If Bose is out of your price range, Anker has a more affordable option that gets the job done well enough.
RV Privacy – How to Deal with Bad Camping Neighbors
Unfortunately, no matter how many preventative measures you take to protect your privacy, there will always be neighbors who don't get the hint. Or, worse, don't care.
You're left with either painfully enduring their presence and their raucousness or trying to stop them. Either option is no fun.
I encourage you to read How to Deal with Bad Camping Neighbors to help you remedy the situation. Nothing is worse than not getting to fully enjoy a trip because of others.
So, hopefully, the advice in that article will help you gently put a stop to disruptive behavior.
What RV Privacy Products Do You Use?
If you use any of the RV privacy products we mentioned or recommend some of your own, please comment below. We're always looking for feedback, advice, and suggestions from our RV Lifestyle community.
Having Your Own RV Land is the Ultimate Privacy
We have 12 videos on this YouTube Playlist that covers everything that it took to build out our own RV land for the ultimate amount of privacy.
Like what you see in these videos? We'd appreciate it if you would Subscribe to our YouTube Channel (easy to do right here) and consider "ringing the bell icon" to be notified of any new video from us. 🙂 Thanks!
Boondocking = Privacy
Lastly, I want to mention Jennifer and my preferred way of RVing that offers even more privacy: boondocking! Boondocking takes you out of crowded campgrounds and puts you in secluded areas across the country.
You can check out this article to see if boondocking is right for you or check out our Boondocking Beginners Guide…
Want to learn how to boondock?
We created a PRINT version of our most popular guide to help you with the most common boondocking problems. We get a ton of questions from our subscribers about how to get started boondocking that range from where to go and wild animals to water conservation to what equipment to use and more.
Throw off the shackles of traditional RV Parks and campgrounds, stop paying high fees every night that you spend in your RV, and experience the boundless amounts of nature while boondocking!
You're done with the noisy RV parks, the 3.5 feet of room you have squished in between two other RVs, and other people's kids running through your campsite?

You've ditched the hookups, the concrete blocks and have replaced them with self-leveling and Navy showers?
---
---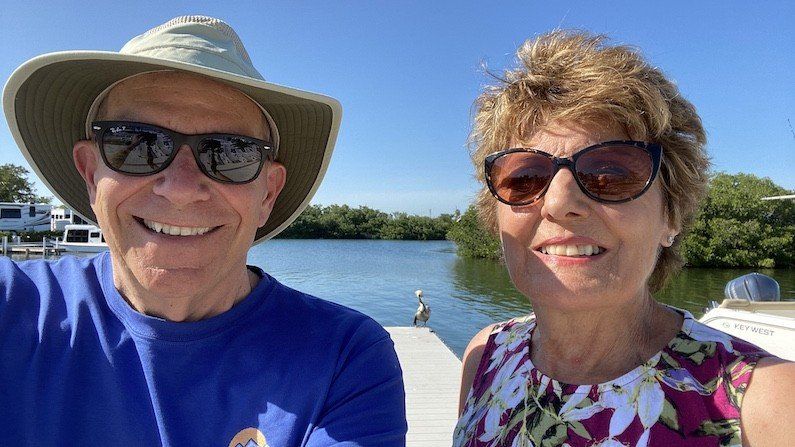 Curious about the gear, gadgets, accessories, and RV products Mike & Jennifer use and recommend?
On this RV Lifestyle Travel blog, our RV Podcast and our RV Lifestyle YouTube Channel, we mention all sorts of RV-related products and gear that we use, So we created a special page that links to them. We update this all the time.  CLICK HERE to go to it directly. Have you caught one of our Amazon LIVE events yet? Just go here and Follow us – to be notified every time we go live.
---
Last update on 2023-12-05 / Affiliate links / Images from Amazon Product Advertising API