Here is what we think is the best homemade RV holding tank treatment, PLUS the best environmentally-friendly commercial product to keep your RV smelling fresh, and a BONUS product to try.
Unless you have a small RV, your vehicle has holding tanks. Since those RV tanks are designed to hold all kinds of liquids, they can emit some unpleasant smells if untreated.
Imagine being in the middle of a much-anticipated RV trip on the open road. You have been planning to visit this destination for ages and saw many great things in nature during the day.
Then you retire to your RV to sleep but are met with some horribly foul odors.
To avoid this scenario, there are some simple steps you can take for odor control. With just some regular maintenance, you can be prepared to confront your RV waste and keep a clean tank.
What are the Different Tanks in My RV?
First, let's talk about the three tanks in an RV.
The freshwater tank
The Grey Tank
and the dreaded Black Tank
Of the three, the fresh water tank is the easiest. It holds the clean water you need when not hooked up to water on a campground. When you are boondocking and shower, use the kitchen sink or bathroom, the water comes from this tank. When hooked up to city water at a campground, the water bypasses the tanks and goes directly to the faucets.
(By the way, we have a great article on How to Refill Fresh Water Tank During Camping.)
If you empty it regularly and don't let it hold water for long periods of time in hot weather, other than an easy sanitation procedure (a couple of ounces of bleach or a commercial sanitation treatment) at the start, midway, and end of the camping season, the fresh water tank is pretty much maintenance-free.
It's the other two tanks in your RV that need ongoing treatment to keep them odor-free and hygienic.
The grey tank holds the water waste that drains from the sinks and shower. While you may not think grey water tanks would have a bad smell, keep in mind food waste from cooking can gather inside.
The grey tank only needs sporadic treatment, or if you notice a stale smell. Again, a small amount of bleach or RV sanitizer dumped down the traps will solve that issue. Maybe once a year, if that.
It's the black tank we want to talk about here.
The black holding tank is the one most associated with tank odors. It includes all the solid waste that is deposited down the toilet. Even after using a dump station, a black tank treatment is still necessary pretty much after every emptying (be sure to put about a gallon of clean water in it after you empty it before adding the treatment).
Why is it Important to Keep All These Tanks Clean?
There are other reasons you should treat your black and grey holding tanks besides the unpleasant odors.
Your tanks have sensors that tell you the levels. Waste can build up on these sensors and keep them from working properly.
Even worse, waste can build up to a point where it clogs the tanks.
The Best Homemade RV Holding Tank Treatment – DIY process
Not to worry though.
There is an easy DIY, homemade way to treat your black and grey holding tanks called the Geo Method. It uses more natural cleaning products than some commercial products, so you don't have to feel guilty about using it.
But before I jump into the Geo Method, I want to let you know that Jennifer and I (along with most members in our Facebook Group) prefer a different holding tank treatment.
After trying out the Geo Method, we discovered Happy Campers Organic holding tank treatment. It is a commercial product but it is very environmentally friendly.
We'll discuss Happy Campers more below.
But first, we want to introduce you to the well-known, and still highly regarded Geo Method.
After all, this article is on the best homemade RV holding tank treatment and the Geo Method is homemade and very DIY-friendly. It will still give you good results (though, as I said, the consensus is that Happy Campers will give you the best results).
You can also check out the suggestions in the comments of this post, as there are other treatments you might want to try.
The Geo Method
Several years ago, I came across the Geo Method and shared it with our viewers. The video below goes over the recipe and how to use it.
The Geo Method part starts at 1:40. Bonus points for naming the RV we were driving back then in the comments.
The Geo Method is a natural holding tank treatment that just requires a bit of mixing. It was a method invented in the 1980s by Charles Bruni. The intent was to prevent waste from building on tank sensors, walls, and bases.
The basic way to think about the Geo Method is treating tanks like a washing machine for clothes. After all, what keeps a washing machine from getting filthy? The detergent, bleach, and fabric softener are constantly circulating through regular use. It never gets a chance to be dirty.
Bruni applied this logic to the Geo Method, and its convenience makes it the best treatment for black and grey tanks.
You just need to buy three of some very budget-friendly products along with hot water:
2 cups powdered water softener, such as Calgon Water Softener
1 cup powdered laundry detergent or Dawn dish soap
a splash of household bleach** (Please see ** note below)
a hot gallon of water for this homemade treatment
**We personally did not add household bleach to our mixture when using the Geo Method. We have heard that bleach can corrode different seals and parts of an RV toilet.
The Calgon makes sure waste doesn't stick to the tank's walls such as toilet paper. Meanwhile, the laundry detergent or dish soap makes work of dislodging waste.
Since you can't physically get into your tank and scrub, this ingredient is important. Then the bleach takes care of any lingering odor.
Also, it's worth noting not to try the Geo Method in the freshwater tank. These chemicals don't belong in the one that has clean water from which you bathe and drink. If you want to know how to sanitize the fresh water tank, check out this article.
How to Do the Geo Method
Before you begin, you will want to be hooked up to city water and be ready to dump your full black and grey tanks.
Note that this process will take a few days to "scrub" the odors. Allow yourself sufficient time for a good job.
First, dump your tanks normally, starting with the black tank, then grey. Close the flush valve and go back inside your RV.
Grey Tank
You will then pour two cups of the water softener into a one-gallon bucket of hot water.
The next step is to pour this mixture down the kitchen sink. Make another batch of this solution and pour it into your bathroom sink next.
This takes care of the grey tanks.
Black Tank
Now for the heavy-duty part, clearing out the black septic tank. For this batch of hot water and water softener, add one cup of laundry detergent.
Pour this mixture into the toilet, then add a little water into the tanks from the sink, shower, and toilet.
Wait a few days to give the Geo Method time to do its work, then dump the tanks. This will rid your tanks of all that stinky gunk.
The Geo method recommends that you repeat this process each time you need to dump these tanks.
That seems excessive to us. Maybe once or twice a season is all we'd suggest,
Why Choose the Geo Method?
By doing the Geo Method, however, you're dumping a solution that isn't toxic to any water supply. Also, these ingredients are affordable and can be bought at almost any market in a pinch.
However, as we mentioned before, we have since learned of a better solution. We much prefer the following over the Geo Method…
The Best RV Holding Tank Treatment – commercial product
While the Geo Method is effective, it is not as effective as Happy Campers Organic RV Holding Tank Treatment. Although Happy Campers is a commercial product it is natural and very environmentally friendly.
It is:
100% Organic
100% Biodegradable
You'd expect using Happy Campers to be more expensive than the Geo Method, but according to their report, it's actually cheaper at only $0.67 per treatment. You can read Happy Camper's response to Geo Method vs Happy Campers.
Since their response is likely biased, I ran a few numbers myself and it does seem like Happy Campers is more cost-effective. After all, a container that does 18 treatments of Happy Campers is the same price as a box of Calgon water softener.
How to Use Happy Campers Natural RV Holding Tank Treatment
What's nice about Happy Campers is you can just pour it straight into the toilet bowl, mixing it into the toilet bowl water.
For the black tank, the label directs you to fill the toilet with approximately 1 gallon of water. Then sprinkle 1 scoop of Happy Campers per 40 gallons of tank's capacity and flush. Add approximately 1 gallon of water to the toilet bowl and flush again.
For the grey tank, the label says to mix well with plenty of water in the sink or shower and wash down the drain.
For first-time use, the label directs you to double the amount of treatment for a clean-up of any residuals.
There's plenty more information and reviews of Happy Campers in our Facebook Group, if you'd like to learn more.
Bonus Product to research
Thank Tank is certainly one to try, too. This one can be used as a black and grey water tank treatment.
And one last point – Check the Tanks Before You Buy a Used RV
If you're looking to buy an RV for the first time, you need to make sure the tanks are in good working order before you buy. Check out our RV Buying Secrets for all the tips you need to know before purchasing a new or used RV, along with this article.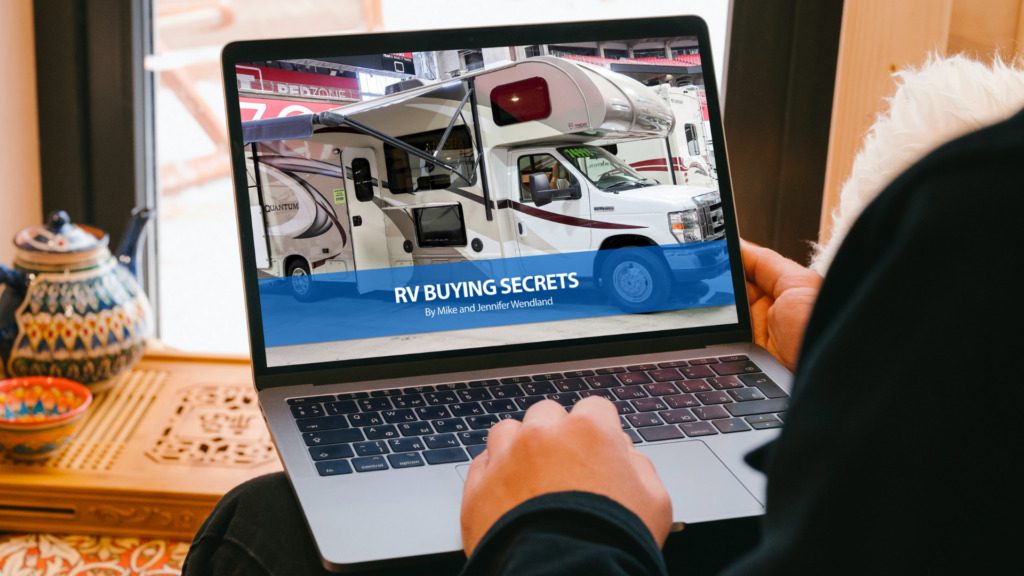 Next to your home, an RV is most likely the 2nd most expensive thing you'll ever purchase.
We get questions every day of other RVers wondering. "How do you buy a new or used RV?"
So we created a 75+-page downloadable digital guide to help you understand the nuances that come with purchasing an RV, where you can save thousands of dollars in the buying process, what the right questions are to ask dealers, what things to look out for, how to select the right unit, amenities, warranties, and so much more!
We created this guide to help you understand the nuances that come with purchasing an RV including:
Where to save thousands of dollars in the buying process
What questions to ask dealers
How to select the right unit
How to narrow down RV amenities
Understanding your warranty and what it covers
This ebook is designed to help make your purchase process as smooth as possible. And to teach you step-by-step exactly what to do so you can start your RV Lifestyle today!
---
RV Lifestyle Favorite Amazon Quick Links
Hey, if you buy something through my links, I might get a little something-something as a thank you. No extra cost to you, promise! Read our full affiliate disclosure here.