A certified RV inspector explains how your RV fresh water system works and provides helpful tips to keep it running smoothly…
In our weekly RV Lifestyle Podcast, certified RV inspector Brenda from Queen Bee RV shares her expertise on common issues RVers face. In this episode, Brenda answers, "How does an RV fresh water system work?" and provides helpful tips along the way.
The system can be pressurized in two ways: through the city water connection or the fresh water holding tank coupled with the on-demand water pump.
So, we will share Brenda's wisdom on the different ways and also provide helpful links to related resources throughout.
We use affiliate links and may receive a small commission on purchases at no added cost to you. Thank you for your support. You can read our full affiliate disclosure here.
Watch the Podcast Video Queued Up to Brenda's Segment on How Does an RV Fresh Water System Work?
Like what you see in these videos? We'd appreciate it if you would Subscribe to our YouTube Channel (easy to do right here) and consider "ringing the bell icon" to be notified of any new video from us. 🙂 Thanks!
We summarize Brenda's wisdom below, but you may prefer to watch the above podcast video queued up to her segment.
We also suggest you tune into our podcast every week for more troubleshooting tips, camping recipes, and lots of great RV-related information. A new episode airs every Wednesday!
Subscribe with your favorite podcast platform: Google Podcasts | Spotify | Stitcher | Email | TuneIn | RSS
Two Ways to Fill the Fresh Water Tank
Many RVers prefer using the fresh water tank for boondocking or as a backup in case of water main breaks. When filling the tank, you may encounter two different options.
The first is the gravity fill, where you insert the hose into an opening larger than the hose's end and wait for water to indicate a full tank.
The second option is a threaded cap type connection found either on the side of the RV or in the water bay area. With the threaded fill, you can monitor the tank's fill level through the panel inside or by observing any overflow onto the ground.
Here's How to Refill Fresh Water Tank During Camping? 3 Easy Ways.
How Does the Water Flow Through Your RV?
The system can be pressurized in two ways: through the City water connection or the fresh water holding tank coupled with the on-demand water pump.
Once the fresh water tank is filled or connected, the on-demand water pump, powered by the 12Volt DC coach battery, distributes water throughout the plumbing system.
Opening a faucet triggers the water pump, which you'll hear turn on as it makes a rumbling noise. When you close the faucet, the pump shuts off.
Do You Hear Intermittent Rumbling?
It's normal for your water pump to rumble when faucets are turned on, but it's not normal to rumble if your faucets are closed.
If you notice an intermittent rumbling noise when none of the faucets are open, there might be a small leak somewhere in the system.
The Importance of Water Pressure Regulators
Water pressure in campgrounds can be unpredictable and even excessive, which can be problematic for RVers and damaging to RVs.
The plumbing fittings in an RV are typically rated to withstand around 55-65 psi. Exceeding this pressure can lead to water leaks that are costly and challenging to detect.
To tackle this issue, RVers often use pressure regulators. These regulators vary in quality and functionality, with some offering adjustable settings for a customized experience. They can be connected at the hose bib or directly at the RV.
Here are Answers to Top 10 RV Water Pressure Regulator Questions.
Use the Right Water Hose!
It's essential to use a potable water hose to ensure the water doesn't contain any harmful substances like lead. People like to brag that they "drank from the garden hose" as kids, but that was only every now and then.
You don't want to "drink from the garden hose" throughout your trip. Unclean water is one of the 5 Big Dangers of Camping In RV Campgrounds.
Here is a helpful article on the Best Drinking Water Hose for Your RV (5 Options & FAQ)
Dropping Water Weight
Finally, it's advisable not to travel with a full freshwater tank to avoid carrying excessive weight. Water weighs approximately 8.3 pounds per gallon, so the added weight can kill your gas mileage and put unnecessary wear and tear on your RV tires and engine.
If possible, wait until you're closer to your destination before filling the tank. Only put enough water in your tank at the beginning of the trip to cover your in-transit needs, like washing your hands or using the bathroom.
Here are helpful articles on Where to Fill Your RV Fresh Water Tank (5 Places & Apps) and How to Get Better Gas Mileage in Your RV (13 Tips)
Turn Off the Water Pump During Travel
If you do fill your water tank before travel, it's essential to turn off the water pump in transit. This precaution prevents potential flooding accidents if a faucet handle accidentally gets bumped open during the drive.
Even if your fresh water tank isn't full, it's still a good idea to turn the pump off in transit. You don't want the pump running during your entire drive because a faucet accidentally bumped open.
How Does an RV Fresh Water System Work? Hopefully, you know more now.
Let us know in the comments if this was helpful.
Speaking of turning systems off during travel…
A quick google search of "RV blows up" will produce more results than you might think. Even if you amend the search to include this year or even month, you'll likely see recent news stories.
That's why every RVer needs to practice propane tank safety. You need to know how to store it, when to turn it off, how to detect leaks, and more.
I'm going to give you several RV propane safety tips to help keep you and your family safe. KEEP READING…
Get the Home Study Course today and worry about the road, not the repairs!
Every time you move your RV it's like driving through a hurricane during an earthquake. Parts break and many items need to be maintained, this program will show you how you can save time and money by gaining the confidence to take on the majority of the issues you'll come across. Don't get caught with your RV in the shop! Learn how you can maintain and repair your RV at your own pace and at the most convenient time for you! This course is produced by the National RV Training Academy.
---
---
---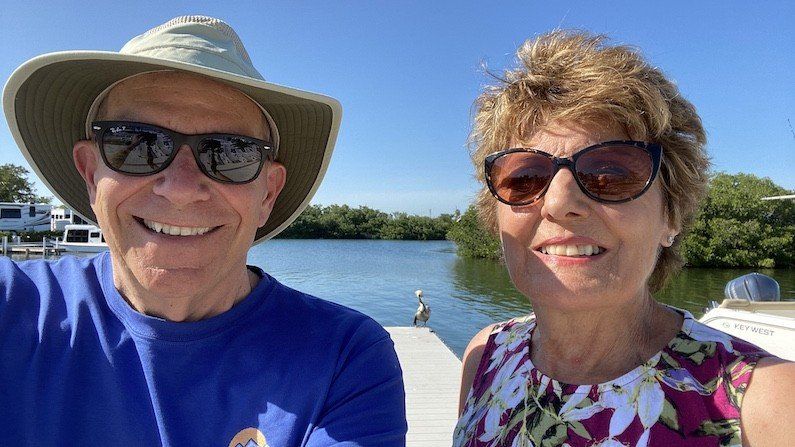 Curious about the gear, gadgets, accessories, and RV products Mike & Jennifer use and recommend?
On this RV Lifestyle Travel blog, our RV Podcast and our RV Lifestyle YouTube Channel, we mention all sorts of RV-related products and gear that we use, So we created a special page that links to them. We update this all the time.  CLICK HERE to go to it directly.
---