If you're searching for how to make RV dinette bed more comfortable, you're not alone! It's a common problem that the following tips can solve…
RV dinette beds are a clever innovation that makes good use of limited space in an RV. Converting the kitchen table and dinette area into a bed is certainly a good idea. However, the comfort level is often unimpressive.
In this blog post, we'll share some practical and effective ways to make your RV dinette bed more comfortable, so you can wake up feeling refreshed and ready to hit the trail or road again.
Whether traveling with your family, friends, or solo, having a comfortable sleeping space is crucial to your overall experience. With a few simple upgrades and adjustments, you can transform your dinette bed from an uncomfortable makeshift bed to a cozy sleeping oasis.
So, let's dive in and explore the tips for making your RV dinette bed more comfortable!
We use affiliate links and may receive a small commission on purchases at no added cost to you. Thank you for your support. You can read our full affiliate disclosure here.
5 Tips on How to Make RV Dinette Bed More Comfortable
Good news for all RV owners! Despite the challenges of sleeping on an RV table bed, you or your guests CAN get a good night's sleep.
With some simple modifications and additions, dinette booths can make comfortable sleeping areas; they just need a little help. Here's what you can do to help solve the problem…
1. Add Additional Support to the Base
One of the main reasons dinette beds aren't comfortable is because they dip at the tabletop section. To address this problem, you can reinforce the base with a stronger post, such as a thick, cut-to-size dowel or an adjustable leg. This will help distribute the weight more evenly and prevent the tabletop from sagging.
Alternatively, you can consider adding a piece of plywood or a bedboard underneath the table top for added support. This is especially helpful if the existing support system is weak or flimsy.
However, keep in mind that adding a piece of plywood will add extra weight and take up storage space. We have heard that some RV owners screw the plywood to the underside of the dinette tabletop, creating a sturdy platform that doesn't take up additional storage space.
Another option is to get a new table top altogether, which can be custom-cut to fit perfectly.
Regardless of the method you choose, adding more support to the base of your dinette bed can make a significant difference in its comfort level.
2. Add a Memory Foam Topper or Mattress Pad
Memory foam mattress toppers are an effective way to add extra cushioning and support to your existing dinette bed. Memory foam conforms to your body shape, providing pressure relief and reducing motion transfer, which can help you sleep more soundly.
Additionally, memory foam toppers can help regulate temperature, keeping you cool in the summer and warm in the winter.
When choosing a memory foam topper for your dinette bed, look for one that is the right thickness and density for your needs. A thickness of 2-4 inches is ideal, and a density of 3-4 pounds per cubic foot is considered medium-firm, which is a good balance of support and comfort.
However, you'll have to find a good compromise between thickness and weight, as a memory foam mattress topper can be quite heavy (and expensive).
A more economical and lightweight alternative to a memory foam mattress is to use egg crate foam. Even this small layer of foam can make a huge difference.
3. Use an Air Mattress Instead of Seat Cushions
Air mattresses are a good option since they roll up like a sleeping bag. They are versatile, easy to store, and provide a comfortable sleeping surface. They come in various sizes, shapes, and thicknesses. Plus, you can also adjust the firmness of the mattress by adding or releasing air.
You can secure it in place with fitted sheets or straps to prevent it from moving around during the night. Some air mattresses even come with built-in pumps, making it easy to inflate and deflate them without the need for additional tools or equipment.
It's worth noting that air mattresses may not provide the same level of support as memory foam or traditional mattresses, so it's important to choose a quality one to maximize comfort. Additionally, they're susceptible to punctures and leaks, so it's a good idea to have a repair kit on hand just in case.
Plus, it can be difficult to find the right size and shape of cushions to fit your dinette bed, especially if it has an irregular shape. They can also be quite heavy. That's why this last option might be the best overall option…
4. Replace Your Dinette Cushions
It can be difficult to find the right size toppers or blow up camper mattresses to fit the RV dinette booth area. The dinette lengths and widths don't often match standard sizes for these RV mattress alternatives. So, sometimes the best option is to work with what you have in order to maintain the perfect fit.
You can replace and upgrade the seat cushions that serve as the mattress. This often includes the back cushions, so don't forget those!
Instead of buying new cushions, you can simply replace the stuffing with new foam. This is a great option to DIY, but if you can't or don't want to, you can take your cushions to a seamstress or upholsterer.
5. Upgrade Your Bedding
Like what you see in these videos? We'd appreciate it if you would Subscribe to our YouTube Channel (easy to do right here) and consider "ringing the bell icon" to be notified of any new video from us. 🙂 Thanks!
Another great way to make your RV dinette bed more comfortable is to upgrade your bedding. Having the right bedding can make a significant difference in how comfortable you are while sleeping.
Begin by investing in high-quality sheets. Look for sheets that are made of a soft, breathable material, such as cotton or bamboo. These materials are not only comfortable to sleep on, but they also help regulate temperature and wick away moisture.
It's also important to choose the right pillow. A good pillow can help support your neck and shoulders, which is essential for a good night's sleep. Look for a pillow that is the right size and firmness for your sleep position.
It's a good idea to refer to brands that specialize in RV bedding, like Beddy's. They're one of the 3 Best RV Bedding Solutions we recommend.
RV Dinette Bed FAQ
Here are answers to the most frequently asked questions about RV dinette beds…
How do I convert my RV dinette into a bed?
To convert your RV dinette into a bed, you typically need to remove the tabletop and cushions and then rearrange the cushions to form a flat sleeping surface. Some RVs may have additional support or mechanisms that need to be adjusted, so it's important to refer to your owner's manual for specific instructions.
Why is my RV dinette bed uncomfortable?
RV dinette beds can be uncomfortable for several reasons, such as sagging cushions, lack of support, or inadequate bedding. Additionally, the size and shape of the bed may not be ideal for your body type or sleep preferences, which can lead to discomfort.
What size sheets do I need for my RV dinette bed?
Most RV dinette beds are smaller than standard mattress sizes, so you may need to purchase specialized sheets designed for RVs. Make sure to measure your bed before purchasing sheets to ensure a proper fit.
Can I use a regular mattress on my RV dinette bed?
You can use a regular mattress on your RV dinette bed if it fits properly and doesn't exceed the weight capacity of the bed. However, keep in mind that regular mattresses may be too heavy or bulky for an RV, so it's important to consider the size and weight of the mattress before purchasing.
Explore more posts on sleeping in your RV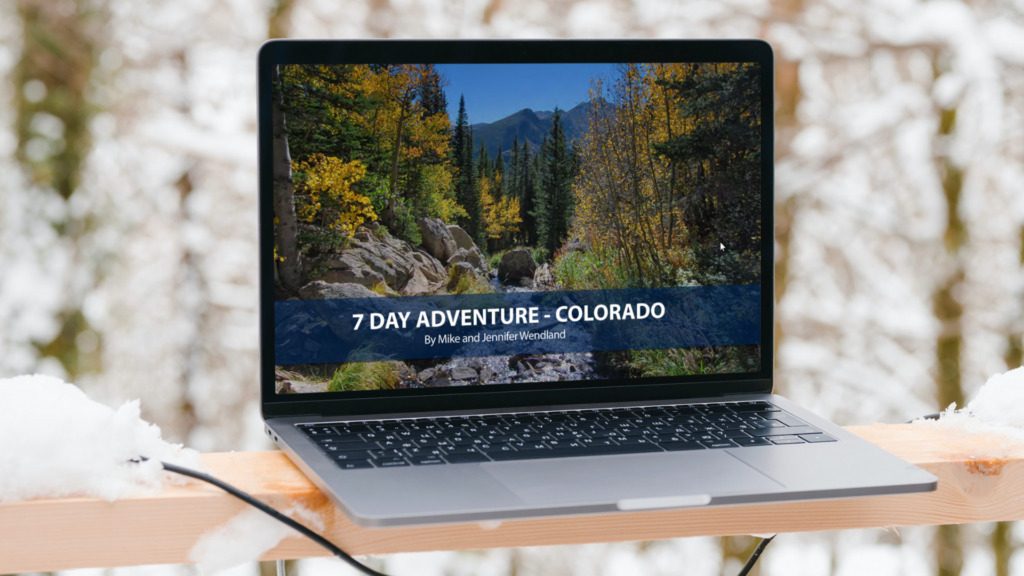 When Jennifer and I first went to Colorado, I felt like I finally understood what John Denver meant by his song: I've now been Rocky Mountain High.
And like Denver, exploring all that Colorado has to offer made me want to sing, too.
This is a fully designed and edited guide that you can download and start reading immediately on your phone, tablet, computer or e-reader.
---
---
---
Get the Home Study Course today and worry about the road, not the repairs!
Every time you move your RV it's like driving through a hurricane during an earthquake. Parts break and many items need to be maintained, this program will show you how you can save time and money by gaining the confidence to take on the majority of the issues you'll come across. Don't get caught with your RV in the shop! Learn how you can maintain and repair your RV at your own pace and at the most convenient time for you! This course is produced by the National RV Training Academy.