I firmly believe every RVer larger than a Class B campervan needs an RV Leveling System or RV Stabilizer.
If you're tired of rocking and rolling in your rig (but not to music), It might be time to upgrade your levelers and stabilizers.
Many people inherit jack stabilizers from the previous owner of their RV. Or, if you bought brand new, you might have purchased whatever the salesperson told you to.
But not all rigs are created equal. Maybe you purchased stabilizers, but they don't work well with your particular RV.
The following is a quick guide for choosing an RV leveling system or stabilizers that you can explore to find the best fit for your rig.
We use affiliate links and may receive a small commission on purchases at no added cost to you. Thank you for your support. You can read our full affiliate disclosure here.
Like what you see in these videos? We'd appreciate it if you would Subscribe to our YouTube Channel (easy to do right here) and consider "ringing the bell icon" to be notified of any new video from us. 🙂 Thanks!
The different types of RV stabilizers and Leveling Systems
Let's start with the best: Automatic four-point leveling. These systems are expensive and are usually hydraulic and found on motorhomes and high-end towables.
You push a button and the jacks come down and automatically adjust the four corners of your rig, side to side, front and back. Figure about $5,000 to have installed either as an OEM factory-installed option or, if added aftermarket.
The two automatic leveling systems we have used are from:
Equalizer Systems: This company, based near Elkhart, Indiana, makes its own jacks, hydraulic pumps, and hoses. They are used by many RV manufacturers and can be installed on Class A and C motorhomes. They are not recommended for Class B campervans. They also do aftermarket installs. We've used their levelers on three of the motorhomes we have owned and have been very happy.
The Lippert Ground Control automatic RV leveling system – This is the current system we have on our Keystone RV Arcadia 3250 RL Fifth Wheel. It is perhaps the most popular system used today on RV Fifth Wheels and travel trailers, offering one touch automatic leveling. It also will return your towable to the height it was before you unhitched, so when it comes time to reconnect to the tow vehicle, it is already in position.
Here's a video from Lippert showing how it works:
Jack Stabilizers
By far the most common way towables and middle-of-the-road motorhomes and trailers weighing 7,500 pounds or less are stabilized is with scissor-type jacks that are manually lowered and adjusted. Most are standard on towables in some form or another.
But better and more efficient jack stabilizers are available either as an optional expense from the manufacturer or as an aftermarket upgrade.
VERY IMPORTANT WARNING: the following RV jacks are meant to stabilize your rig when parked, not lift it! These are not designed to lift your RV so you can change a tire.
Changing an RV tire can be very dangerous even with the right tools. That's why I recommend you get RV Roadside Assistance when changing an RV tire.
If you're looking to stabilize your RV when parked, here are some of the better-known ones:
If you are looking for a great set of steel jacks, Libra True might be the one for you.
This set comes with four jacks made from heavy-duty 11 gauge steel. They can easily hold up to 7,500 pounds thanks to the bow-tie base.
They can lift to 24', and when closed, they are only 4", making them easy to store in our precious RV cargo space.
The reason many like Libra True's jacks is that many other jacks on the market are made from thinner steel. Many use 14 gauge steel which is not as strong. You get more bang for your buck with these!
The set also comes with a hand crank and a ¾" hex magnetic socket that fits on a power drill to lift and lower the jacks easier and faster than using the hand crank.
This heavy-duty set of scissor jacks also features a 7,500-weight capacity. They are heavy-duty and will help keep your rig from swaying when parked.
This set can help stabilize your trailer from 4" – to 24", which comes in handy in uneven terrain.
They are also adaptable and can be bolted or welded to your RV. This can be an excellent space-saving option for travel. They are only about 4" thick when closed. So, keeping them attached during travel should not be an issue keeping them connected during travel.
The bow-tie base is excellent at keeping the jack stable, making these a perfect option for soft ground surfaces.
WEIZE also provides a one-year warranty. If there is an issue, they are covered! You can try them out in various camping areas.
This set also comes complete with a speed crank handle for quick set-up.
Once again, Camco is putting out a quality RV product.
The jacks feature a powder-coated finish, protecting them from rust. This is great when you camp in areas that are wet from rain or snow, or near an ocean.
They are easy to use and come with a crank handle and socket for a power drill. They can lift from 4" to 23 ¾", perfect for rough terrain conditions.
Another good set of levelers is the Camco Olympian Stack Jacks. While they are not quite as strong as the first set I described, they are great for less heavy RVs.
Made from cast aluminum, each jack can hold up to a 6,000-pound weight capacity. They can raise the RV from 11" to 17".
This scissor jack can stabilize and level your rig with ease. It can be bolted or welded to your RV, making storage a breeze!
It can extend up to 24" and is rated for up to a 5,000 weight capacity. While it has the power to lift a car, it's top plate is on the thinner side.
The Stromberg Carlson jack features a bow-tie base which adds to its stabilizing power. It is also powder-coated to reduce corrosion and rust.
Thanks to their bow-tie construction, these stabilizing jacks provide a solid base and secure footing for any RV, thanks to their bow-tie construction.
Each jack is rated for a 5,000-pound weight capacity and can be easily raised or lowered with the help of a power drill.
The set also comes complete with a complimentary magnetic bubble level.
It can extend from 4" to 24" in height.
Rear bumper and front stabilization products
Sometimes, on larger RVs, even those equipped with the fancy four-point leveling systems sometimes more is needed.
This past summer, we added two extra stabilization systems to our fifth wheel, both made by the RV parts supplier MORryde as aftermarket products.
When we saw a company representative demonstrate this $229 mod at an RV seminar we attended, we knew we had to have it. Even though we have the Lippert auto-leveling system on our Arcadia, there was some noticeable shaking in the back.
This device has a center part that goes into the rear hitch receiver on the fifth wheel and two adjustable supports that are connected by a strap that is cinched with a latch tightener.
We couldn't believe the difference. It totally eliminated all instability.
With the back end of our Fifth Wheel rock solid, we turned our attention to the front, the overhang part of the Arcadia that ends with the king, or hitch pin.
This $183 mod consists of two bars mounted between the front landing gear supports.
You twist each bar until hand-tight and then maybe half a turn more.
When it's time to leave, twist in the opposite direction to loosen them. They are permanently mounted. When loosened, just stow the landing gear as normal before taking off.
We did a video that shows how these aftermarkert stabilizers are installed and the before and after demonstration of their effectiveness shows why we had to include them in this report.
Like what you see in these videos? We'd appreciate it if you would Subscribe to our YouTube Channel (easy to do right here) and consider "ringing the bell icon" to be notified of any new video from us. 🙂 Thanks!
RV Jack or Stabilizer pads
There's one more product that needs to be involved in your stabilization system: Jack or Stabilization pads
These keep the metal ends of the jacks – the part that comes into contact with the ground – from sinking into the dirt or damaging the surface they press down on
Let me make two recommendations: One for hydraulic jacks, and one for scissor jacks.
For Hydraulic Stabilizers: SnapPad
These mount permanently around the metal feet of most Class A or C motorhomes and fifth-wheel leveling jacks. They are extremely durable, made with recycled tire rubber, high-strength resin, and a 100+ ton press.
Here, look at the company video to see how they go on and work.
They increase stability in three ways: By giving the jack a wider footprint when deployed in contact with the ground, by dampening vibration and by conforming to uneven terrain like gravel. They come in four packs or six packs and in various widths to accommodate different jacks. They cost around $200.
For all types of jacks (except the hydraulic ones) all you need are four, one that you place under each jack. The cost is $18 for 4. See https://amzn.to/3V6ZP6L
(For Class B campervans, which usually do not use scissor jacks or automatic leveling systems, a 10 pack of these tough little plastic pads costs $44. You can snap them together like Lego blocks to get extra height if needed, or just use one under the scissor jacks. See https://amzn.to/3UZUm1H)
Again, this type of jack pad is NOT for hydraulic jacks. They are made from durable, heavy-duty flexible rubber. They will help prevent your jacks from sinking into the mud.
They are 6.5 inches by 6.5 inches and come complete with a built-in handle.
First, they help distribute the weight of your RV evenly and over a larger area than the jacks by themselves.
They also help prevent your jacks from sinking. This comes in handy when camping on softer dirt or in areas that have experienced wet conditions.
RVs are heavy, after all!
More Helpful Resources
These RV jack stabilizers are a great addition to your toolbox, but there's plenty more you need. Taking care of your RV can be a lot of work, but it's easier with the right tools and resources. Here are some more resources that may help: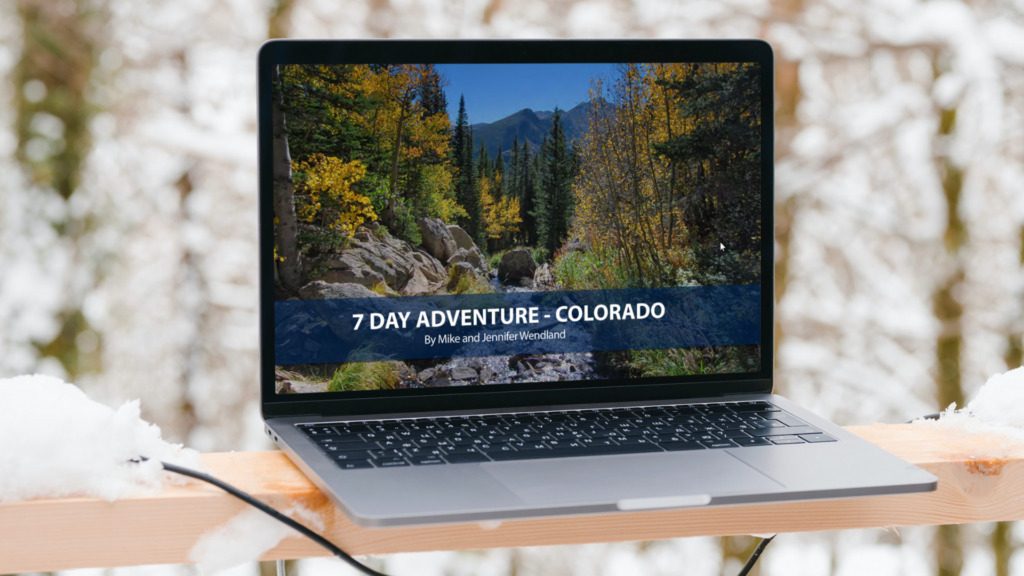 When Jennifer and I first went to Colorado, I felt like I finally understood what John Denver meant by his song: I've now been Rocky Mountain High.
And like Denver, exploring all that Colorado has to offer made me want to sing, too.
This is a fully designed and edited guide that you can download and start reading immediately on your phone, tablet, computer or e-reader.
---
---
---