RVers need to know how to find RV friendly gas stations depending on your RV's fuel type, height clearance, and length. Here's how…
Whether planning a trip or on-the-go, it's imperative that you know how to find RV friendly gas stations. After all, not all gas stations are designed to accommodate the specific needs of RVs.
To ensure a smooth refueling experience, it's important to know how to locate gas stations that cater to your RV's fuel type, height clearance, and length.
In this guide, we'll share resources that will help you find RV friendly gas stations, and some additional tips along the way.
We use affiliate links and may receive a small commission on purchases at no added cost to you. Thank you for your support. You can read our full affiliate disclosure here.
5 Apps for Finding RV Friendly Gas Stations
Google maps and other mainstream GPS platforms can help you find gas stations that can accommodate your RV. However, we have more reliable resources that are easier for RVers to use.
The following websites and apps cater better to RVers.
1. RV LIFE Pro
RV LIFE Pro is our GO-TO trip planning resource. It's a suite of four RVer resources packaged into one.
RV LIFE Pro comes with:
RV LIFE Trip Wizard
RV LIFE Campground Reviews
RV LIFE App (RV-Safe GPS)
RV LIFE Maintenance Tracker
RV LIFE Trip Wizard is especially helpful as an RV trip planner tool. It can create unique routes based on your rig's height and weight, helping you avoid dangerous low clearances, steep grades, propane restrictions, and weight limits. And that includes routing you to RV friendly gas stations!
We're such long-time fans of RV LIFE Pro that we partnered with them in order to save our followers money. You can save 25% with our discount code RVLIFESTYLE.
2. RV Safe GPS
RV LIFE Pro includes the RV LIFE App, which is an RV-safe GPS. Unlike mainstream GPS apps, an RV-safe GPS routes you based on your RV's specifications.
It can better direct you to an RV friendly gas station than your standard GPS app. Just be aware that no app is foolproof!
Never trust a GPS completely, and always self-verify that the gas station clearance height, etc. is safe for your RV.
3. TSD Open Roads App
If your RV runs on a diesel, you can win-win with the TSD Open Roads App. Open Roads is a fuel discount card that can save you $0.30 – $0.40 per gallon.
PLUS, it can help you locate RV friendly gas stations in your vicinity. Since the app is designed for truckers, it'll direct you to easily maneuverable gas stations.
BY THE WAY, we have an entire article on RV Fuel Discount Cards & Programs to check out.
4. Mudflap
Like Open Roads, Mudflap is an app designed for truckers and is thus useful for diesel RV owners, too. Also similarly, Mudflap can save you about $0.40 per gallon!
Mudflap's network is relatively small, with only about 1,500 partnering truck stops nationwide, but it's a free resource! So, why not give it a try?
It can save you money and direct you to diesel stations that can easily accommodate your RV.
5. Gas Buddy
Gas Buddy is another fuel discount resource that RVers can use to find RV friendly gas stations. However, Gas Buddy is designed for all types of vehicles, not just large vehicles.
So, you will need to use its search filters to find an appropriate gas station for your RV.
This app is limited in its ability to help you find places based on your RV size. But it can help you find diesel, truck stops, propane, and more.
Gas Guru and IExit Interstate Exit Guide are similar apps that can help you plan refueling stops by using their search filters. IEXIT is great for finding clean public restrooms, too.
RV Friendly Gas Station Chains
Instead of looking for individual gas stations that can accommodate your RV, you can search for RV-friendly gas station chains along your route.
Any truck stop can accommodate RVs (although some only offer diesel), but there are also travel chains you can use, too.
Some go-to travel chains are (links take you to their Locations page):
*Love's also has Loves RV Stops with RV hookups for a safe, clean place to stop on your journey.
All of the above travel stops are also known for their clean public restrooms. It's nice to know how to find those, too…
How to Find Clean Public Restrooms
RVers can't always use their RV's bathroom, nor do they always want to. Sometimes slide-outs prevent you from easily using it. Sometimes you're trying to minimize using your black water tank until you reach camp. Sometimes you just like to use a big, clean bathroom.
Whatever the reason, it's helpful for every RVer to know how to find clean public restrooms near your current location.
In another article, we share the best places for clean bathrooms and the best resources to find them. Keep reading…
Plus, there's a new trend in RV toilets! A no water, no odor solution…
Like what you see in these videos? We'd appreciate it if you would Subscribe to our YouTube Channel (easy to do right here) and consider "ringing the bell icon" to be notified of any new video from us. 🙂 Thanks!
7 Unwritten Rules for Parking Overnight at Truck Stops
Speaking of truck stops, There are often heated debates between truckers and RVers on whether it's okay to park RVs overnight at truck stops. Technically, yes, it is okay, but only if you follow these unwritten rules.
Many of these rules apply to using truck stops, even if you're not staying overnight.
RULE #1: DON'T LEAVE YOUR RV WHEN FILLING UP
Do not pull up to the gas pump, start pumping, and then go inside for a snack. Wait for your pump to finish filling your tank, then pull through to a parking spot. Only then should you leave your RV to go into the store or restroom.
Breaking this rule is a sure way to tick off a trucker. After all, they're on the clock! They shouldn't have to wait on you to get back out on the road.
RULE #2: DON'T PARK IN TRUCK SPOTS
Never park in a truck parking spot at truck stops, even if many are available. Truckers come in and out at all hours, and they may need that spot.
Only park in designated RV spots. You'll thank me for two reasons for this advice. Keep reading…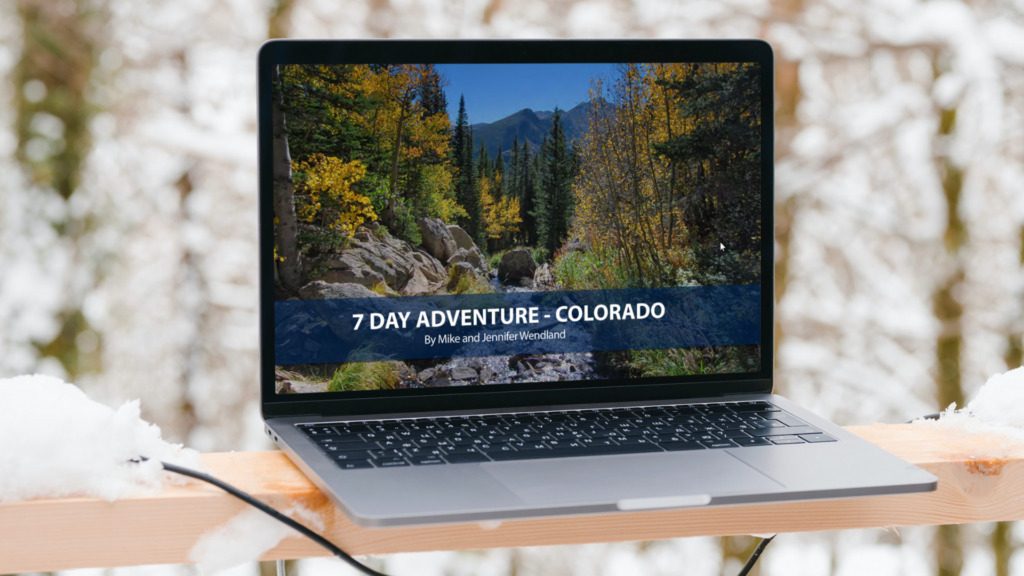 When Jennifer and I first went to Colorado, I felt like I finally understood what John Denver meant by his song: I've now been Rocky Mountain High.
And like Denver, exploring all that Colorado has to offer made me want to sing, too.
This is a fully designed and edited guide that you can download and start reading immediately on your phone, tablet, computer or e-reader.
---
Official RV Lifestyle QUICK Links to ALL our eBooks
You can see ALL our eBooks here, or use the following Quick Links to go straight to what you need!
● Arizona
●    Colorado 
And MANY of these are BUNDLED together:
New England Bundle
Coastal Maine, Adirondacks
Ultimate Michigan and Great Lakes Bundle – 3 ebooks –
Upper Peninsula, Lower Peninsula, and the Great Lakes Tour
Michigan Bundle
Upper Peninsula, Lower Peninsula
The Great Lakes Adventure Guide Bundle
The Great Lake Shoreline Tour & JUST the Upper Peninsula Guide
Florida Adventure Guide Bundle
Gulf Coast, Atlantic Coast, Keys
Southwest Adventure Guide Bundle
Arizona, Colorado, Southern Utah)
Ultimate 7-Day RV Adventure Guide Bundle
Collection 1- our first 10 ebooks (does NOT contain Great Lakes Shoreline or Natchez Trace)
We also have a nice collection of ebooks that will help you navigate the RV Lifestyle.
Like these:
The Beginner's Guide to Boondocking
The Ultimate Guide to Cheap or FREE RV Camping Sites
Boondocking and Free RV Camping EBOOK Bundle
The Beginner's Guide to Boondocking ebook and Ultimate Guide to Free Camping Sites
And ONE PRINT book 🙂 and yes, before you ask, we have plans for MANY more print books.
The Complete Guide to Boondocking – PRINT VERSION
This is the same as the ebook titled The Beginner's Guide to Boondocking but in print.
And while you are exploring all our ebooks – check out the hoodies, T-shirts, Stickers, and mugs in our MERCH Store! You can get to it directly by just going here – SHOP!