Parking overnight at Cracker Barrel is a great convenience for RVers looking for a free place to park for the night. However, there are unwritten rules every RVers should follow…
Most RVers have heard of Wallydocking, which is parking overnight in a Walmart parking lot. It's a form of "lot docking" that extends to another popular location: Cracker Barrel.
There aren't nearly as many Cracker Barrels as Walmarts, but with 663 locations in the United States, there's often one nearby. And the company has always been welcoming to RVers, allowing people to park overnight for free.
Of course, their hospitality should only be expected to extend so far. There are unwritten rules that RVers should abide by to ensure Cracker Barrel's courtesy continues to be extended to us.
I will outline those rules for you so you can enjoy what I like to call "Barreldocking" as much as Jennifer and I do.
Hey, if you buy something through my links, I might get a little something-something as a thank you. No extra cost to you, promise! Read our full affiliate disclosure here.
Not All Cracker Barrels Allow Overnight RV Parking
Before we get into the rules, it's important to note that not all Cracker Barrels allow free overnight parking. It is at the discretion of the manager, whom you can call ahead and ask.
In most cases, the managers are more than happy to oblige.
However, some state and city regulations do not allow overnight parking. Cracker Barrel, of course, has to abide by these regulations, so in some locales, they can't permit you to stay in such cases.
How to Find Cracker Barrel Locations
The easiest way to find Cracker Barrel locations is to visit their website's location finder. You can enter a city, state or zip code, and the map will display nearby locations. Or, you can browse by state.
There are only 5 states that do not have Cracker Barrel:
Alaska
Hawaii
Vermont
Washington
Wyoming
The states with the most Cracker Barrels are:
Florida
Texas
Tennessee
Georgia
North Carolina
7 Unwritten Rules of Parking Overnight at Cracker Barrel
Parking overnight at Cracker Barrel is meant to be an overnight convenience, not a full-on campground stay. It's perfect if you just need a place to sleep for the night on the way to your next destination.
Out of respect and gratitude for the company, it's highly recommended you follow these unwritten rules…
1. Eat Something
Ideally, RVers should enjoy a meal at any Cracker Barrel where they park overnight. Whether you have dinner when you pull up or breakfast when you wake up, it's a great way to thank them for their hospitality.
After all, they're not really offering their parking lot altruistically. They're hoping (and perhaps expecting) you'll eat at their restaurant.
It's a win-win for RVers, too. They get a place to stay for only the price of a good meal. And thankfully, Cracker Barrel is reasonably priced.
If you have a tight budget, you don't have to have an entire meal. You can enjoy a slice of their delicious pies, cobblers, or biscuit beignets.
If you're not hungry, though, you have another option to be a patron…
2. Buy Something
In addition to its all-day breakfast and homemade cornbread, Cracker Barrel is known for its Old Country Store. This little shop is packed with fun little souvenirs, toys, clothes, and treats.
So, if you don't wish to eat in the restaurant, you can opt to purchase something from their store instead.
The jump-one-peg games and giant checkerboards are favorites. There's always the Ye Old Candy Section, too!
3. Don't Take Prime Parking
It's considered proper boondocking etiquette not to take prime parking if you're parking overnight at Cracker Barrel. Park off to the side or nearer the back of the lot.
You don't want to park right up front where dinner or breakfast patrons are most likely to park.
In truth, you want to do this for your own privacy as much as you do it out of respect for the patrons. You don't want people peering through your windows as they walk into the restaurant.
4. Park Safely
You don't want to take prime parking; however, always keep your safety in mind. It's not, for instance, a good idea to park in dark areas that butt up against a back alley or something like that.
Find a happy compromise between safety and not taking parking away from patrons that are coming just for a meal.
Cracker Barrel is, of course, not responsible for your safety. So, you need to rely on your own street smarts when choosing a parking space.
Here's another parking hint: Don't park next to the dumpsters. You don't want to block the access for employees or their garbage truck service. And those trucks come VERY early in the morning. Often way before sunup. If you are next to a dumpster, I guarantee you will be awakened by the noise.
5. Only Stay One Night
Parking overnight at Cracker Barrel is meant to be a one-night courtesy. You are not meant to stay more than one night.
More so, you're not meant to hang around all morning, either. Once you wake up and have your breakfast, you should clear out.
This brings me to the next unwritten rule…
6. Don't Set Up Camp
You cannot treat a Cracker Barrel lot like a campground. You should not extend your awning, set out camping chairs or portable grill, or even extend your slides if you can help it.
If your RV requires you to extend a slide to reach the sleeping quarters, try to find an end spot where you won't overlap into the next parking space and/or only extend it the minimum amount to get through.
7. No Bathing in their Bathroom Sinks
As boondockers, Jennifer and I know that some people use public restrooms to sponge bathe or wash their hair in sinks.
While this behavior can be considered acceptable at some locations (like some rest stops), you shouldn't do it in a Cracker Barrel. Cracker Barrels are restaurants serving food to patrons who trust that they uphold the highest health standards.
Customers don't want to enter a restroom in between their entree and dessert course to find someone sponge bathing. Cracker Barrel management doesn't want that either.
It's best to tap into your own water supply if you're in dire need of a cleaning.
On that same note, don't take your pets potty near the restaurant! Take them away from the restaurant (especially away from eh entrace) to do their business, and don't forget your biodegradable doggy poo bags!
(PSST! If you travel with a pet, check out these 7 UNWRITTEN Rules of Camping with a Dog)
Where Else Can You Stay Overnight?
We all know about parking overnight at Cracker Barrel or Walmart…or Harvest Hosts, but there are lots of other places where RVers can stop… places right along the highway where pets are welcome and you can find just about anything you need for an overnight stay.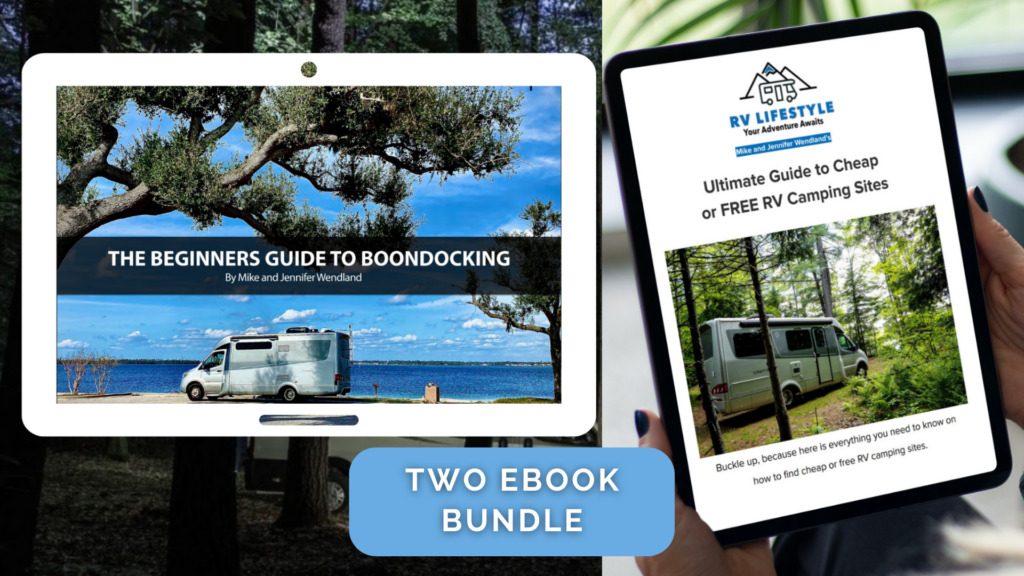 Beginners Guide to Boondocking (one of our most popular ebooks) and one of our newest ebooks, The Ultimate Guide to Free and Cheap RV Camping!
ebook #1: Beginners Guide to Boondocking
We created a 65+-page downloadable digital guide to help you understand the nuances that come with boondocking, the most common boondocking problems, and what you need to do to get your rig "boondocking-ready."
ebook #2: The Ultimate Guide to Free and Cheap RV Camping
Buckle up because here is everything you need to know on how to find cheap or free RV camping sites in the 33-page EBOOK.
---