At some point or another, you will find yourself stuck on the side of the road. It's a given when it comes to RVing. That's why we recommend getting the best RV roadside assistance…
A blown tire, a smoky engine, a dead battery. Something is bound to go wrong with your RV at some point.
That's when RV roadside assistance comes in handy.
There are many roadside assistance options to choose from, but we do recommend one over all the others. So, let's jump into your top options and our recommendation.
The following recommendations are based simply on our own experience, as well as countless fellow RVers who recommend the same. We are now affiliates of the Good Sam Club and Roadside Assistance and are happy to recommend them.
The Best RV Roadside Assistance Memberships
I'm going to start with two quality options, and end with the option that we recommend the most. Any of the following can work well for you, especially if the alternative is no roadside assistance at all! So, I'd be sure to read all four before making a decision.
AAA Premier RV
When you think of roadside assistance, you probably think of AAA. It is called the American Automobile Association for a reason and is the most recognized name in the industry in America.
Along with roadside assistance, you can enjoy a wide range of discounts with their massive network of partners. Some common discounts are for hotel stays, automotive, dining, and amusement parks.
Their various plans, however, have quite a few limitations. For instance, all of their plans limit you to 4 service calls a year and a limited allowance toward lockout service.
They do offer AAA Plus RV & Premier RV, but it seems like it's only available in select states. You'd need to check with your local AAA to determine RV coverage options. From what I could gather, AAA Premier RV is $175 for one driver. That price alone tells me you should keep reading this list for better options.
You can compare standard AAA plans here.
Your Insurance Company
Some RV owners don't realize that their RV insurance may come with roadside assistance. Insurance companies don't tend to advertise this but many do include it.
So, it's worth checking with your insurance company to see what, if any, roadside assistance they offer. If you're already paying for it, you might as well use it!
(Speaking of insurance, you may want to check out 5 Professional Tips for Buying RV Insurance.)
However, it may not be the best coverage. In a lot of cases, it's the bare minimum, like tire and lockout service. The towing coverage is usually very limited, and that's where roadside assistance earns its value.
After all, RVing and boondocking can take us to very remote locations. If we break down and have to be towed, then the towing costs can quickly become exorbitant.
That's the biggest reason we recommend the next RV roadside assistance membership…
---
Mike and Jennifer's RV Lifestyle hat collection
Who needs a hat? You do! Dad hats aren't just for dads. This comfy one's got a low profile with an adjustable strap and curved visor. Just the thing to wear on your next RV Lifestyle adventure.
---
Good Sam (Our Recommendation)
You're probably already familiar with the Good Sam name. Like AAA, a Good Sam membership gets you a whole slew of discounts. But, better than AAA, Good Sam caters specifically to RVers.
So, the Good Sam membership includes discounts for campgrounds, camping retail stores, fuel, propane, dump services, and more.
Become a Good Sam Member Today! The world's largest RV and Outdoor Community Club.
10% off 2,000+ Good Sam Parks and campgrounds
Savings at Camping World and Gander RV
Save 5 cents off gas and 8 cents off diesel at select Pilot Flying J
15% off propane at Camping World & Gander RV
Free dump stations at select Camping World & Gander RV
And more!
You get all of these savings for only $29 for one year or $79 for 3 years. You can recoup that cost in fuel savings alone.
Now, that's just the Good Sam Club you've probably heard lots about. Have you heard about Good Sam Roadside Assistance?
If you're already a happy member of the Good Sam Club, you'll likely be very happy with their RV roadside assistance membership.
First, with even the Standard Plan, you are protected while driving any of your owned household vehicles and while towing your owned travel trailer. Everyone in your family, including children up to 25, is automatically included in your plan at no extra cost.
Second, and perhaps most significant, is their amazing towing coverage.
Good Sam RV Roadside Assistance pays 100% of the towing fees to the nearest service center-no matter if it's 5 or 500 miles away. And that's included in the Standard Plan! There are no pre-set mileage restrictions or dollar limits.
Third, is their RV Mobile Mechanic service. When possible, they'll send a mobile mechanic to help with minor RV roadside repairs. You only have to pay for parts and labor, saving you time and unnecessary travel.
And did I mention that's all just under the Standard Plan? And that's at $64.95 per year.
All Good Sam Roadside Assistance Plans Are 50% Off! Buy Now!
Good Sam Platinum & Platinum Complete Plans
The Standard Plan is enough for many RVers, but the Platinum and Platinum Complete Plans are worth considering, too.
The Platinum Plan covers owned, leased, rented, and even borrowed vehicles. This includes autos, motorcycles, multiple travel trailers and 5th wheels, and multiple RVs. And, of course, covers everything the Standard Plan covers, as well.
The Platinum Complete Plan includes everything the Platinum Plan offers plus two significant additions. The first is Tire and Wheel Road Hazard, which covers wheel replacement and repair and tire replacement for up to $750 per incident (up to 2 incidents per year).
The second valuable addition is Emergency Travel & Medical Assistance Services. If you become ill or injured while traveling away from home, this service helps with costs typically not covered by insurance.
Emergency Medical Evacuation
Transportation Home after a Medical Emergency
RV/Vehicle Return after a Medical Emergency
Repatriation Services
Emergency Travel & Medical Assistance Services benefit up to $25,000 per qualifying medical event
Please do your own due diligence and review everything before making a decision.
Good Sam earns my top recommendation because of its massive network for discounts and related RV offerings. Plus, Good Sam's is cheaper for essentially the same value.
But FMCA still deserves a mention, because its roadside assistance membership is competitive with Good Sam's. Like Good Sam, they provide towing to the nearest qualified repair center and trip interruption coverage.
One added benefit FMCA offers that Good Sam doesn't is "Trip Planning Services", though I'm not sure what that entails beyond what the name implies.
Becoming an FMCA RV Club member also automatically enrolls you in FMCAssist. FMCAssist is emergency medical evacuation and repatriation coverage available to members worldwide as long as you are more than 75 miles from home. If you are a full-time RVer, you are always considered 75 miles from home.
FMCAssist is certainly a big perk, but don't forget Good Sam's Platinum Complete (currently $119.95) also includes emergency medical assistance.
FMCA RV Roadside Assistance currently costs $129 for towable RVs and $159 for motorized RVs. So, while this is a very good option, Good Sam is still better in my opinion.
In Summary
So, while there are some great roadside assistance programs out there, we recommend Good Sam RV Road Assistance more than any other. We appreciate how they cater their services specifically to RV owners.
Be sure to check with your RV insurance carrier first since you might already be paying for sufficient roadside assistance. But, if their coverage is lacking (& it probably is), save time and effort by referring to Good Sam.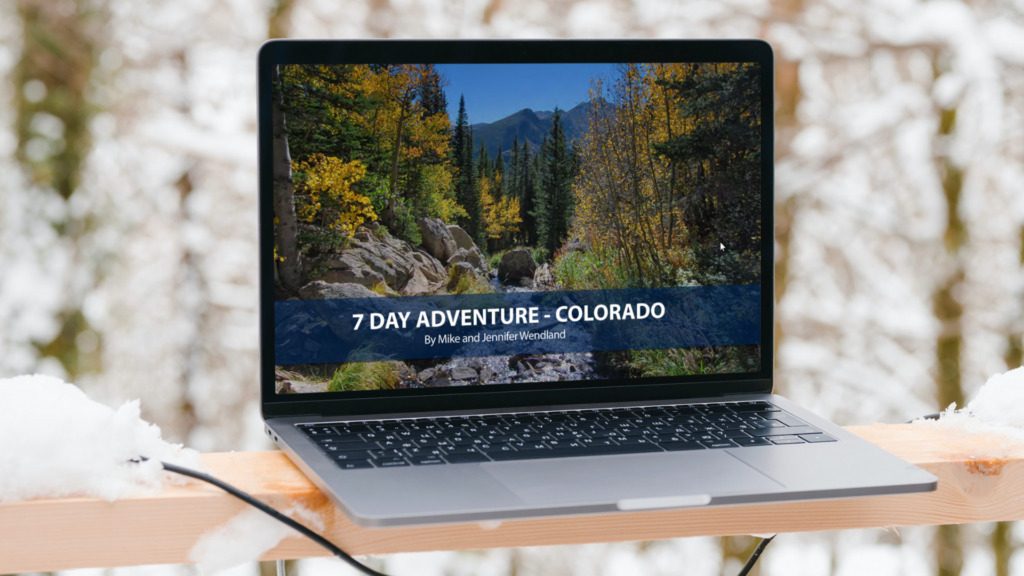 When Jennifer and I first went to Colorado, I felt like I finally understood what John Denver meant by his song: I've now been Rocky Mountain High.
And like Denver, exploring all that Colorado has to offer made me want to sing, too.
This is a fully designed and edited guide that you can download and start reading immediately on your phone, tablet, computer or e-reader.
---
---
---
---
Mike and Jennifer's Summer T-Shirts for your next adventure

---