Every RVer NEEDS TO KNOW these rules and proper etiquette for parking overnight at truck stops. Otherwise, angry truckers will tell you (or show you!)…
There are often heated debates between truckers and RVers on whether it's okay to park RVs overnight at truck stops. Technically, yes, it is okay, but only if you follow these unwritten rules.
Because let me tell you, these rules may be unwritten but an angry truck driver will be more than willing to shout them at you. Or worse, show you.
I've heard how truckers have taken out RV slides or parked scarily close to RVs to prove their point. I've also heard about plenty of angry threats, too.
So, as a longtime boondocker who has stayed overnight at truck stops, I will share my advice with you. The key is respect!
Parking Overnight at Truck Stops (What You NEED to Know)
First and foremost, you must remember that truckers are working! They are trying to earn a living for their families and they need truck stops to do so.
It's understandable when they get upset if your RV is interfering with their livelihood. After hours on the road, they want and need somewhere to park, rest, shower, and eat.
So, the all-encompassing rule to remember as you read the following rules is: TRUCKERS GET PRIORITY.
Rule #1: Don't Leave Your RV When Filling Up
Do not pull up to the gas pump, start pumping, and then go inside for a snack. Wait for your pump to finish filling your tank, then pull through to a parking spot. Only then should you leave your RV to go into the store or restroom.
Breaking this rule is a sure way to tick off a trucker. After all, they're on the clock! They shouldn't have to wait on you to get back out on the road.
Rule #2: Don't Park in Truck Spots
Never park in a truck parking spot at truck stops, even if there are lots available. Truckers come in and out at all hours and they may need that spot.
Only park in designated RV spots. You'll thank me for two reasons for this advice.
For one, trucks are loud, even when they're idling or running off generators at night. You won't get a good night's sleep even if truckers leave you be.
For two, you won't have to deal with a tired, irritated trucker. Put yourself in his or her shoes and imagine what it'd be like to pull in for a much needed rest only to find a vacationer in your spot. I'm sure you'd be disgruntled, too.
Rule #3: Don't Park Too Close to Trucks
This is clearly a pet peeve of truckers. After all, they are navigating BIG trucks into small spaces.
So, even if your designated RV spot is next to a truck spot, give them as much space as possible! More so, park in a spot as far away as possible.
It's highly recommended that you keep your slides pulled in, as they can accidentally (or, unfortunately, intentionally) get swiped.
Remember that overnight parking at a truck stop is only meant as a pit stop to rest or sleep at most. You certainly should not set up camp for the night by putting out chairs and slides!
Rule #4: Don't Be a Shower Hog
As an RVer or boondocker, you can and should use showers at truck stops. It's a great way to refresh in a clean shower for a small fee.
However, don't be a shower hog! If there are several showers available and no crowd in sight, feel free to enjoy a good long shower.
But, if there's a line (especially consisting of truckers), don't dawdle! Remember, you should always behave as if truckers have priority.
So, shower quickly if truckers are waiting or, better yet, shower later if that's a convenient-enough option for you.
Rule #5: Beware of Hustlers
There was a discussion in our RV Lifestyle Facebook group on this very thing. The RVer who posted the warning explained it quite well:
"If ANYONE tries to involve you in anything regarding money at a truck stop, meaning if money is the conversation except maybe just asking for a dollar or so I would stay clear of.
If anyone tries to chat you up about something you know nothing of, just say sorry I gotta get doing stuff and move on.
People work in weird ways. Thieves will approach and chat you up while they eyeball your stuff or see if you're an easy mark. By deflecting, you show them preemptive position."
Rule #6: Buy Something From the Truck Stop
Yes, truck stops are a great "free" place to park overnight. However, out of respect for the truck stop owners, it shouldn't be completely free.
It's proper etiquette to make a purchase, whether it's a snack, shower, or fuel. This consideration encourages truck stop owners to cater to RVers as well as truckers.
Rule #7: Be Nice to Truckers!
By treating truckers with respect and kindness, you will likely get it in return. Remember this even if an irritated trucker approaches you!
I've seen truckers quickly calm down if they realize that the RVer will happily right any wrong they might be doing.
I've also seen truckers be incredibly grateful if you give them priority over showers, fuel, etc.
Just think of it this way: how would you want someone to behave if a visitor came into your home? Behave that way! Because truck stops are home away from home for truckers!
Easily Accessible Spots to RV Overnight
Like what you see in these videos? We'd appreciate it if you would Subscribe to our YouTube Channel (easy to do right here) and consider "ringing the bell icon" to be notified of any new video from us. 🙂 Thanks!
We all know about overnight places to stop like Walmart and Cracker Barrel…or Harvest Hosts but there are lots of other places where RVers can stop… places right along the highway where pets are welcome and you can find just about anything you need for an overnight stay.
Camping can be expensive.
Especially if you are spending more travel time in outdoor spaces. Or, perhaps you're living and working from your RV.
Traditional campgrounds can also be crowded and noisy. It can sometimes feel like the opposite experience you are seeking by getting away from civilization and into nature.
That may be why you are looking for cheap or free RV camping sites and that's why I'm here to help. I'm going to introduce you to boondocking in off-the-beaten-path campsites and then teach you how to find them.
This ebook (not a print book – but you could print this one out on your own if you wish) is available right now.
Here's your Ultimate Guide to Cheap or FREE RV Camping Sites
---
---
---
Mike and Jennifer's Favorite Places in Florida – all 3 ebooks!
We RVers may wander far and wide but it's true for most of us that we end up with some favorite "Go-To" places – places that draw us back again and again.
Florida is one of those places for us. And we know it is for many RVers looking to get away and explore during the winter.
That's why we've created three guides, covering Florida's Atlantic Coast, the Gulf Coast, and the Keys.
Each of these guides is a seven-day guided exploration of one of the coasts. And each stop is a curated view of the best things that we've enjoyed on this trip and want you to experience.
Altogether these guides are over 300 pages of content!
---
FAQ's about Florida Gulf Coast beaches of interest to RVers
What is the weather like along Florida's Gulf Coast?
The weather along Florida's Gulf Coast can vary depending on the time of year and the specific location. In general, the area experiences hot, humid summers and mild, pleasant winters.
The Panhandle region can be quite cool in January. It is seldom below freezing, but daytime highs are typically in the 50s. It warms up about 10 degrees each month.
You can also generally add about 10 degrees for every 150 miles you travel south down the Florida peninsula.
By the time you hit Naples, daytime highs in January are in the comfortable 70s.
Did Hurricane Ian destroy many beach campgrounds on the Gulf Coast?
While it severely damaged almost two dozen RV parks and campgrounds, about 8-10 campgrounds in the Naples-Ft. Myers area were completely destroyed. Most of the damaged campgrounds have been repaired and reopened.
Check with the Florida Association of RV Parks and Campgrounds if you have questions or concerns.
Are there any websites that can help me get a reservation for a Florida beach campground?
One of the best resources we can recommend is called Campnab. This service monitors parks for cancelations and sends you an alert when an opening matches your criteria. That said, it isn't magic. The app doesn't create availabilities. 
The service works – but it is not free.
Campnab offers two ways to use the service. The first is individual pay-per-use scans. These watch for vacancies at a specific park for a specific date. These work well if you know exactly when and where you intend to camp. Pay-per-use scans cost $10 – $20, depending on how frequently you want them to check availability.
The second way to use the service is through a membership. These typically run monthly and are tailored to those who camp more frequently or are looking to maximize their chance of finding a site. Membership allows you to scan multiple parks and/or dates simultaneously. With memberships, you pay a monthly recurring fee ($10, $20, $30, or $50), depending on your needs.
Are there places in Florida where you can literally camp on the beach for free?
Not many. And they are very pricey. If you want to sleep directly on the sand in an RV, you'll have to stay at a developed commercial campground like Camp Gulf on the Emerald Coast or an RV resort like Big Pine Key Resort in the keys. Some state parks like the Gamble Rogers State Memorial Recreation Area in the Atlantic Coast or  Bahia Honda State Park in the keys or Fort Desto State Park near St. Petersburg have beachside sites, too.
But are there free, unrestricted RV beach camping spots in Florida?
Sorry, none that I know of that would work for RVs.
There is unrestricted camping on wild beaches on a couple of islands, but you need a boat to get there, and it is for tent camping only. If you want to sleep directly on the sand, there is Anclote Key offshore Tarpon Springs, and Shell Key in Pinellas County. Another favorite is Keewaydin Island between Naples and Marco Island but that area remains pretty devasted from Hurricane Ian.
---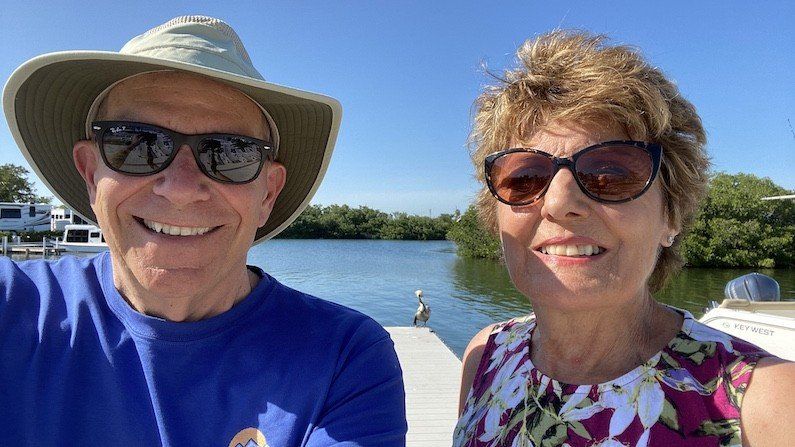 Curious about the gear, gadgets, accessories, and RV products Mike & Jennifer use and recommend?
On this RV Lifestyle Travel blog, our RV Podcast and our RV Lifestyle YouTube Channel, we mention all sorts of RV-related products and gear that we use, So we created a special page that links to them. We update this all the time.  CLICK HERE to go to it directly.
---