Need a quality freshwater hose for your RV? What is the best drinking water hose for your RV? Here are important factors and different options to consider.
Having access to fresh, clean water when using your RV is important. After all, you use it to drink, cook and bathe with.
When it comes to purchasing the best drinking water hose for your RV that you can find, I have done the leg work for you!
I have outlined important things to look for when it comes to choosing the best drinking water hose. Then peek at my top choices for the best drinking water hose for RV!
We use affiliate links and may receive a small commission on purchases. Thank you for your support.
What to Look for in a Water Hose for Your RV? 6 things.
Your drinking water hose is a lifeline between you and accessing the fresh water in your water tanks. There are several things to consider when making that important purchase. I have highlighted a few of the most important.
1. Durability
When searching for the best drinking water hose for RV, you want it to last a long time. After all, you are taking this hose on the road with you and will be moving it around when you set up and break down your campsite.
In addition, the freshwater hose will be the link between the outside of your RV to your freshwater tap. Not only do you want to keep that water clean and fresh. But, you won't want it to rip or tear open when exposed to the elements outside.
2. Safety & Consumption Rating
Not all RV hoses are made for drinking. A safe RV hose for drinking, bathing, and cooking is known as "potable." Potable water hoses are made with safe materials that do not contain any toxic chemicals.
The best water hoses are also BPA-, lead- and phthalate-free.
3. Length & Diameter
Another thing to consider before purchasing your hose is its length and diameter.
Consider that you are hooking up your RV to an outside faucet, which might be located in a hard-to-reach spot. You need to find a happy medium among the different lengths. A shorter hose is easier to store; however, hooking to the water source tends to be easier when using longer hoses.
There are a few different lengths, but most standard hoses come in 25- or 50-foot options.
The two most common diameters for RV water hoses are 1/2″ and 5/8″. Most water pipes in RVs have a 1/2 inch diameter, so either 1/2″ or 5/8″ water hoses should provide sufficient water flow.
4. Storage Space
Storage space in your RV is coveted. That is why you want to consider how much room you have to store a hose before purchasing one.
If you don't have much space, a smaller or more flexible hose may be the best option for you.
5. Kink-Free Design and Flexibility
The last thing you want to do while camping is worry about untangling a hose. Look for hoses that offer a kink-free design. Spend less time untangling a hose, and more time enjoying the beautiful outdoors.
If you have a smaller RV, you can maneuver a flexible hose more easily in tight spaces. Many hose manufacturers provide information on their flexibility.
6. Cost
The price range of RV water hoses runs from $30-$100, but cost doesn't necessarily equal quality.
There are many great budget brands on the market that can still earn the title of "best drinking hose for RV."
Mike and Jennifer's RV Lifestyle Mugs
Best Drinking Water Hose for Your RV
Here are the best RV water hose reviews to help you determine which is the best hose for you.
The Camco Premium drinking water hose is a favorite among RV owners. That is because it is reliable, and has many features.
Its durability and high quality are why many rank it as the best drinking water hose for RV.
This water hose is thicker than most other hoses by about 20%. That means it will not develop pinholes or leaks. Adding to its durability are the fortified materials it's made of since they provide the hose a longer lifespan.
It is also UV-resistant, which adds to its durability. With UV- protection, the sun's rays won't be able to penetrate and break down the materials as quickly.
This Camco hose is also designed to avoid kinks. That is not only less frustrating for an RV owner, but it will allow for better water pressure as well.
The Camco Premium hose is lead, BPA, and phthalate-free. Your family can drink safely and worry-free from this hose.
One downside to this hose is its size. It is long and thick, which makes storing this bulky hose a bit of a challenge. Its thickness can also make it a little more difficult than other hoses to uncoil.
Teknor Apex NeverKink is the top choice for a kink-resistant hose. When it comes to staying untangled, this is the best drinking water hose for RV on the market!
It features a Non-Torsion System that resists twists, tangles, and kinks without compromising flexibility. Despite its non-kink system, this hose is simple to maneuver.
This hose is lead-free, and complies with regulations to be safe for human consumption. It also features Grip-Tite coupling to keep your faucet attachment leak-free.
This is perhaps the best drinking water hose for RVs when traveling to cold places… IF it performs as advertised.
We haven't been able to personally test this and a lot of one-star reviews seem to raise a red flag about reliability. But it is so unique, we had to include it!
It comes with a regulating heat source. The manufacturer says it offers continuous water flow and does not require a thermostat.
This hose is supposed to be good for sub-zero temperatures and a claimed water line freeze protection for temperatures as low as -20 degrees F.
This hose comes with a durable external jacket that protects the hose and electrical components from exposure and damage. Its heavy-duty heat shrink relieves the strain placed on the hose.
The nickel-plated fitting resists corrosion and extends the life of the hose. It also comes with matching female hose fittings. They allow you to connect to RV power without issue.
Made with NSF61, the Camco model is safe for your family to use.
Another high-quality option for you is the Aqua Joe.
This durable hose is kink-free and resistant to abrasions. That is an important feature since it may be dragged around during the camping setup process.
Of course, it is also made with lead-, phthalate-, and bpa-free materials. Your family will always be safe drinking from this hose.
It also has a high water pressure water rating at 450 psi. You can rinse off the dirt from the day in a snap.
So, what is the best drinking water hose for your RV? We'd love to hear in the comments your experience with these or others you've found.
Want more info on RV Lifestyle equipment?
See all our RV equipment and tips right here.
Looking for exciting RV trip ideas and travel suggestions?
We've written a library of RV Travel books that lay out guided RV explorations of scenic areas of the US that we''ve explored and think would make an excellent RV trip for you.
In each location, we provide a suggested route and itinerary (7 stops in each guide, one for each day of a week trip!) as well as links to multiple campgrounds and boondocking spots, local tips, and interesting things to do at each location.
You can hit everything in seven days, do a whirlwind weekend tour, or you can take your time and explore the area over a 2+ week period.
Planning an RV trip can be very time-consuming so that's why we've done the research for you! Just take our guides and use them. We're sure you'll have an RV trip for the ages! Instant download. CLICK HERE for information on our RV Travel Guides
---
---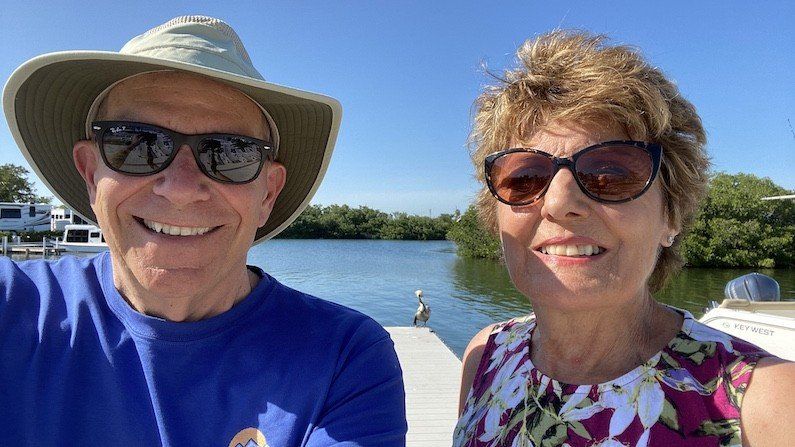 Curious about the gear, gadgets, accessories, and RV products Mike & Jennifer use and recommend?
On this RV Lifestyle Travel blog, our RV Podcast and our RV Lifestyle YouTube Channel, we mention all sorts of RV-related products and gear that we use, So we created a special page that links to them. We update this all the time.  CLICK HERE to go to it directly.
---