We address the biggest fears of RV Travel and provide resources to help you overcome them!
Recently, one of our RV Lifestyle members posed a question in our Facebook group. Zoe asked:
"What are your biggest concerns when traveling in an RV?"
The post received nearly 500 comments! From weather and mechanical failures to how to make money, real RVers answer with their biggest fears while RVing.
The following is a list of RVer's biggest fears when traveling by RV. PLUS resources to help you overcome those fears.
We use affiliate links and may receive a small commission on purchases at no added cost to you. Thank you for your support. You can read our full affiliate disclosure here.
Top 10 Biggest Fears of RV Travel
We are big believers that fear should be used as a warning bell, but never keep you from your dreams. As a warning bell, you can assess the problem and figure out a solution.
So, we are going to share the biggest fears of RV travel, and provide resources to help you find the best solutions for you.
NOTE: We have a comprehensive Emergency Preparedness Resource Guide. It's a free article that links to dozens of helpful resources.
1. Bad Weather
Weather can be highly anxiety-provoking for RVers because it's out of your control.
While you cannot control the weather, you can be as prepared for it as possible. There are many things you can do to help keep you and your family safe during a weather event.
From high wind safety to hurricane preparedness, we cover how to stay safe in any weather:
Another good thing to do as an RVer is to prepare for emergency weather. Ensure you prepare your camping adventure with supplies to help you during an emergency.
Consider a handheld ham radio for emergencies. Check out our top five in our related post, 5 Best Survival Radios for Emergencies.
2. Driving or Towing an RV
Like what you see in these videos? We'd appreciate it if you would Subscribe to our YouTube Channel (easy to do right here) and consider "ringing the bell icon" to be notified of any new video from us. 🙂 Thanks!
Many comments mentioned tire blow outs, towing trailers, or driving a big RV. Essentially, RVers feared getting in an accident, getting stranded on the side of the road, or feeling overwhelmed while driving.
We have lots of articles to help in this area! First and foremost, you need to understand the importance of RV tire care and safety.
And here are some resources to help with your driving and towing fears:
3. Mechanical Failure
RVs and their components fail. It's a reality of RVing that every RVer has to accept. No matter how new or nice your RV is, there are repairs in your future.
Mechanical failure is scary for a few main reasons. First, it can leave you stranded or in a dangerous predicament. Second, it can cost a lot of money to repair. And third, it can cost a lot of time.
But you do not have to let that fear prevent you from traveling. The best course of action is to be prepared.
For starters, you will want to do maintenance checks every year. That way, you can catch potential engine failures or other issues before you hit the road. Be proactive with preventative maintenance to keep your rig running smoothly during the camping season.
Once you are on the road, you should have the tools every RVer needs to be prepared for any travel mishaps. It's also a good, reliable roadside assistance coverage. There's also a great home-study course that we recommend…
Get the Home Study Course today and worry about the road, not the repairs!
Every time you move your RV it's like driving through a hurricane during an earthquake. Parts break and many items need to be maintained, this program will show you how you can save time and money by gaining the confidence to take on the majority of the issues you'll come across. Don't get caught with your RV in the shop! Learn how you can maintain and repair your RV at your own pace and at the most convenient time for you! This course is produced by the National RV Training Academy.
4. Regretting Their Decision
Many people fear that they will regret their RV purchase or joining the RV Lifestyle altogether. It's a valid fear, especially since mainstream media portrays the RV lifestyle as easy and affordable.
Purchasing an RV is a huge investment, often a financial decision that is second only to purchasing a home. Plus, the lifestyle itself can be expensive and challenging. The dream could turn out to be a nightmare you feel you're not cut out for.
But before that doom and gloom paragraph turns you off of RVing for good, read the following articles to help you make an informed decision:
5. Financing Their Travels or Full-Time RV Lifestyle
Unsurprisingly, many of the comments in the Facebook post mentioned money. People shared their fears of being able to afford the lifestyle or earn income to support it.
How can you afford the RV lifestyle, whether part-time or full-time? How can you make money on the road? How can you work remotely? Is social security enough to support the RV lifestyle?
These are all common questions potential RVers face. From articles about workcamping and remote work to boost your cell phone and Internet coverage, we have some great reads that can help:
Having stable internet and receiving mail is a big concern for RVers working from the road. Starlink is still a work in progress, but we still hold out hope. We recommend you also read:
6. Unwelcome Guests
We all fear having annoying camping neighbors, but this section refers to a different type of unwelcome guest. An infestation can put a damper on your vacation from ants, insects, mice, or rats.
How can you keep out unwanted critters, rodents, and insects?
The following can help:
7. Realizing the RV Lifestyle Isn't For Them
A lot of people fear that they'll commit to the RV lifestyle only to realize that they don't enjoy it. Some fear that they'll miss their home and family too much. Others fear that they won't fit in with the community.
Others fear that'll simply be too hard.
Before committing to the lifestyle, we always recommend testing it out. Rent RVs, go on short and long trips, try out different classes of RV, etc. This will help you figure out if RVing is really for you.
Here are some resources that will help:
8. Their Relationships Will Suffer
Many people worry their relationships will suffer if they join the RV lifestyle. This is true for people who are leaving friends and family behind, as well as people traveling with their spouse or others.
Here are some helpful resources to calm or overcome those fears:
9. It'll Be Uncomfortable
Living in an RV certainly comes with its challenges, especially where comfort is involved. RV beds have a bad reputation for discomfort, campgrounds can be noisy, and driving long distances can be exhausting.
Many people fear that they'll be giving up a lot of privacy as well. Here are some resources that address those concerns:
10. Their Health
Sometimes the only thing keeping people from RVing is their health, or not knowing how to manage it while on the road. It's a valid concern that does require careful thought and planning.
Here are some resources to help: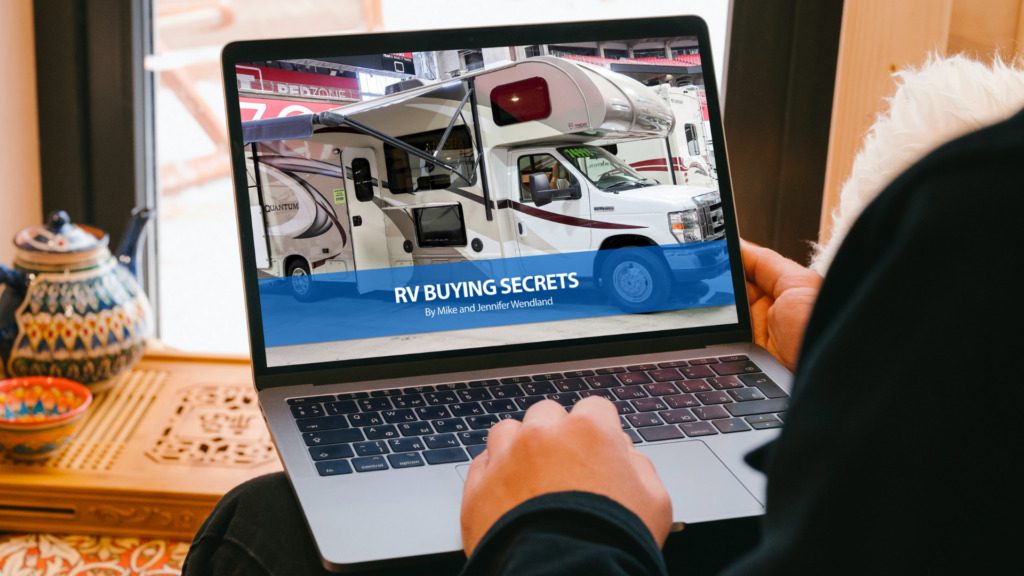 Next to your home, an RV is most likely the 2nd most expensive thing you'll ever purchase.
We get questions every day of other RVers wondering. "How do you buy a new or used RV?"
So we created a 75+-page downloadable digital guide to help you understand the nuances that come with purchasing an RV, where you can save thousands of dollars in the buying process, what the right questions are to ask dealers, what things to look out for, how to select the right unit, amenities, warranties, and so much more!
We created this guide to help you understand the nuances that come with purchasing an RV including:
Where to save thousands of dollars in the buying process
What questions to ask dealers
How to select the right unit
How to narrow down RV amenities
Understanding your warranty and what it covers
This ebook is designed to help make your purchase process as smooth as possible. And to teach you step-by-step exactly what to do so you can start your RV Lifestyle today!
---
---
---
Official RV Lifestyle QUICK Links to ALL our eBooks
You can see ALL our eBooks here, or use the following Quick Links to go straight to what you need!
● Arizona
●    Colorado 
And MANY of these are BUNDLED together:
New England Bundle
Coastal Maine, Adirondacks
Ultimate Michigan and Great Lakes Bundle – 3 ebooks –
Upper Peninsula, Lower Peninsula, and the Great Lakes Tour
Michigan Bundle
Upper Peninsula, Lower Peninsula
The Great Lakes Adventure Guide Bundle
The Great Lake Shoreline Tour & JUST the Upper Peninsula Guide
Florida Adventure Guide Bundle
Gulf Coast, Atlantic Coast, Keys
Southwest Adventure Guide Bundle
Arizona, Colorado, Southern Utah)
Ultimate 7-Day RV Adventure Guide Bundle
Collection 1- our first 10 ebooks (does NOT contain Great Lakes Shoreline or Natchez Trace)
We also have a nice collection of ebooks that will help you navigate the RV Lifestyle.
Like these:
The Beginner's Guide to Boondocking
The Ultimate Guide to Cheap or FREE RV Camping Sites
Boondocking and Free RV Camping EBOOK Bundle
The Beginner's Guide to Boondocking ebook and Ultimate Guide to Free Camping Sites
And ONE PRINT book 🙂 and yes, before you ask, we have plans for MANY more print books.
The Complete Guide to Boondocking – PRINT VERSION
This is the same as the ebook titled The Beginner's Guide to Boondocking but in print.
And while you are exploring all our ebooks – check out the hoodies, T-shirts, Stickers, and mugs in our MERCH Store! You can get to it directly by just going here – SHOP!
---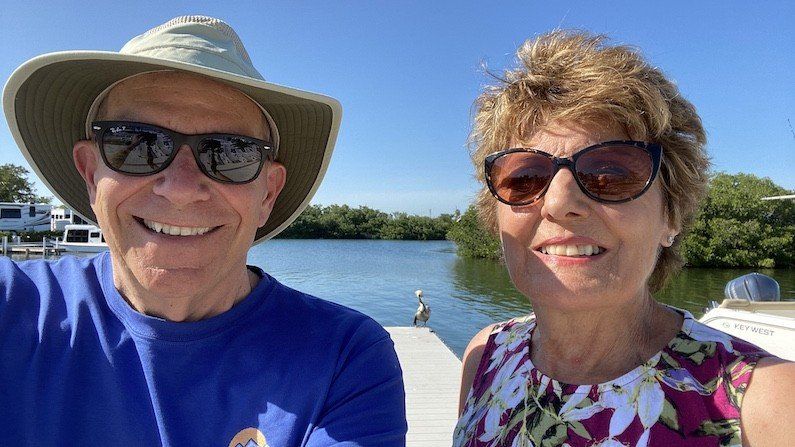 Curious about the gear, gadgets, accessories, and RV products Mike & Jennifer use and recommend?
On this RV Lifestyle Travel blog, our RV Podcast and our RV Lifestyle YouTube Channel, we mention all sorts of RV-related products and gear that we use, So we created a special page that links to them. We update this all the time.  CLICK HERE to go to it directly.
---