Do you want to make your RV feel like home? The following are our top tips for a cozy, homey RV…
We travel 3/4 of the year in our RV. So, it's important to us that it feels like home, just as much as our sticks-and-bricks home.
When you travel for a long time (or even just a weekend), it's surprising how easy it is to feel homesick. This is especially true if you're transitioning to a full-time RV lifestyle.
For those folks, making your rig feel more like home is essential! That way, you can live or travel as much as you want in your RV but still feel safe and comfortable.
We've broken our top tips for making your RV feel like home into 4 categories: Decorating, Extending to Outdoors, Organizing, and Remodeling.
Hey, if you buy something through my links, I might get a little something-something as a thank you. No extra cost to you, promise! Read our full affiliate disclosure here.
Decorating Tips
Decorating your RV to feel like home is the most obvious way to make your travels more comfortable and enjoyable. However, it's not easy with limited wall space and shelf space. Not to mention weight limits!
Personalization is key while making sure it's functional and space-efficient to accommodate your on-the-road lifestyle.
Here are some tips and ideas to help you achieve a cozy and personalized RV interior.
1. Choose a Color Scheme
Start by selecting a color scheme that you love and that reflects your style. Depending on your preferences, earthy tones, soft pastels, or bright, vibrant colors can all work well.
2. Maximize Storage
RVs often have limited storage space, so invest in storage solutions like under-bed bins, hanging organizers, and collapsible containers to keep your belongings organized and out of sight.
We'll go into this tip in more depth later. But, by maximizing storage, you free up space for personalized decorations.
We have lots of articles on RV storage to help.
3. Cozy Seating Areas
One of the biggest reasons an RV doesn't feel like home is it's not as comfortable. So, add RV throw pillows and blankets to create a cozy atmosphere.
You can also reupholster, restuff, or cover cushions to make them more comfy and more to your taste. Not only are many RV sofas uncomfortable, but many start to peel! If you are experiencing this, check out Help! My RV Couch is Peeling! (10 Solutions).
4. Window Treatments
Install curtains, blinds, or shades to add privacy and control the amount of natural light that enters your RV. This also adds a touch of home decor to the space.
By adding privacy products to your RV, you won't feel like you're camping neighbors are encroaching on your personal space.
5. Add Photos and Art
Hang family photos, artwork, or other personal items on the walls to give your RV a more homey feel. Adhesive hooks or strips can help you avoid damaging the walls.
Even sticking family photos and grandkid drawings on your RV goes a long way. We have used Mixtiles and can recommend them.
6. Flooring
If you prefer something else to the RV's existing flooring, consider adding rugs or removable floor tiles to make it more comfortable and visually appealing.
As an added bonus, it'll help protect your RV flooring. We also recommend using RV outdoor rugs and patio mats to further protect your RV flooring from excess dirt coming in.
7. Lighting
Replace harsh overhead lights with softer, warmer LED lights, or add table and floor lamps to create a cozy ambiance. String lights or fairy lights can also add a touch of magic to your RV.
Check out our lists of The 3 Best RV Awning Lights and The Best Camping Lights & Lanterns.
8. Decorate the Kitchen
Enhance your RV kitchen with practical and stylish accessories. Replace cabinet hardware, add a backsplash, and include attractive kitchen utensils and RV-safe dishes.
9. Add Plants
Incorporate small indoor plants or succulents to bring a bit of nature inside and improve air quality. This may seem difficult to do in an RV, but it's not!
Click here to learn how to keep plants in an RV.
10. Cozy Bedding
Like what you see in these videos? We'd appreciate it if you would Subscribe to our YouTube Channel (easy to do right here) and consider "ringing the bell icon" to be notified of any new video from us. 🙂 Thanks!
The above video shows our top 3 choices for RV bedding. They really are game-changers!
Invest in comfortable, attractive bedding, including sheets, duvets, and pillows. Layering your bedding can create a more inviting sleeping area.
Here's an article on 7 Practical Bedding Storage Ideas for Your RV.
11. Wall Decals or Wallpaper
Temporary wall decals or removable wallpaper can add patterns or designs to your RV's walls, giving it a more homey and personalized look.
You can easily swap them out for different holidays or seasons. Or, find RV-specific decals, like this Welcome to our Home with a camper as the "O" in home.
12. Curtains or Room Dividers
Use curtains or room dividers to separate different areas of your RV, such as the bedroom from the living area, to create distinct spaces and added privacy.
These curtains can also dampen noise if one traveler prefers to stay awake longer than others.
13. Take Along Your Favorite Items
Do you have a favorite tchotchke or sweatshirt or slippers? Take it along!
Bringing them with you is just like taking a piece from home along for your travels. You can also bring your favorite activities that you like to do at home.
14. Decorate Your Campsite for Holidays
From the 4th of July to Christmas, you can decorate your RV and your campsite just like you do at home!
Granted, the decorations will be smaller but even a few small decorations can transform the small spaces.
Extend Your Indoor Living Space to the Outdoors
Extending your indoor living space outdoors while RVing can significantly enhance your overall camping experience. You won't feel as cramped, which will make your less homesick.
Here are some ideas to help you create a comfortable and functional outdoor living area:
15. Utilize Awnings and Canopies
An awning or canopy on your RV does more than provide shade and protection from the elements. It creates a designated outdoor space that feels like an extension of your RV.
Here are some helpful articles to keep your awning in great shape:
16. Outdoor Dining Area
Invest in making a nice outdoor dining area, whether using a campsite picnic table or bringing your own. Look for lightweight pieces that are easy to store when not in use.
Here are some articles to help:
17. Outdoor Rug
Place an outdoor rug or mat under your furniture to define the space and make it feel like a living area. This will also keep the dust down while cooking and eating outside.
18. Outdoor Kitchen
Set up an outdoor cooking area with a portable grill, a camp stove, and a folding table. This lets you prepare meals outside and enjoy the fresh air while cooking.
Here are a few great articles to help you do just that:
19. Outdoor Entertainment
Bring along outdoor entertainment options, such as a portable projector for outdoor movies or yard games to enjoy.
NOTE: Be sure to follow proper camping etiquette if playing an outdoor movie! Click on the portable projector link to learn more.
20. Outdoor Lighting
Hang string lights, lanterns, or LED lights to create a cozy and inviting atmosphere in the evening. Task lighting can also be helpful for cooking and reading.
NOTE: Be sure to practice proper camping etiquette and not overwhelm the night sky with light pollution.
21. Outdoor Decor
Add decorative elements to personalize your outdoor space, such as potted plants, outdoor pillows, and outdoor-friendly artwork.
Just be careful if decorating with pineapples or flamingoes. Why? Is there a secret pineapple meaning and what about flamingos at campsites?
22. Screened Room or Mosquito Deterrents
If you're in an area with lots of bugs, consider setting up a screened room or using mosquito netting to create a bug-free zone where you can relax comfortably.
23. Campfire and Fire Pit
Check local regulations and campground rules, but if allowed, set up a fire pit or campfire area for evening gatherings and marshmallow roasting.
24. Shade Sails
Shade sails or fabric canopies can provide additional shade and a stylish look to your outdoor space. They look more relaxed than a pop-up and make it feel more like your patio at home.
25. Storage Solutions
Use storage bins or outdoor cabinets to keep your outdoor space organized. This is especially useful for storing outdoor cooking utensils, games, and other items.
26. Outdoor Accessories
Consider adding outdoor accessories like a hammock, a camping shower, or a folding screen for privacy.
27. Comfortable Seating
Invest in outdoor seating with comfortable cushions and pillows to make your outdoor space inviting and cozy. If you have a comfortable sitting spot, you are more likely to sit and enjoy the outdoors.
We have written many pieces on comfortable camping seating. If you need ideas, check out:
Organize Your Space
Another way to make your rig feel like home is to keep it organized. Not only does that allow you to move freely in your rig, but it keeps clutter to a minimum, allowing you to enjoy your space truly.
Do you need ideas on keeping your space organized? We have SO MANY ARTICLES ON ORGANIZING your RV.
Remodel Your Rig
Many folks remodel their rigs when they purchase them. That helps to match your RV's interior to something that feels more like what you are used to at your home.
Consider switching out your RV's sofa or table set-up for something that will suit your needs better. This is especially helpful for tall RVers.
Opt for multi-functional furniture pieces, such as a sofa bed or a dining table, that can be folded away when unused. This will maximize space and make your RV feel less cramped.
How to Make Your RV Feel Bigger
"Help! I'm starting to feel claustrophobic! What have you done to make your RV feel bigger?"
This is what one RVer in our RV Lifestyle Facebook group, feeling particularly cramped, asked.
If you can relate, try these 10 tips and tricks to make your RV feel bigger… keep reading…
By popular demand, we announce the publication of the latest in our library of RV travel guides – a 7-Day Adventure Guide to Coastal Maine.
With its dramatic rocky coastline, enchanting fishing towns, and windswept sandy beaches, Coastal Maine is a destination that should be on every RVers' bucket list.
We call these guides "7 days," but they really are seven stops. They're meant to be experienced at your own pace, a couple of days at one stop, a week at another, however long you want.
We have carefully curated this 66-page digital guide (not a printed book) so you can take in all Coastal Maine has to offer. We give you the routes to drive, the spot to stop, the places to eat, and the museums, excursions, hikes and adventures we think you will enjoy the most.
For an RVer, Coastal Maine has it all: stunning landscapes, short drives between stops, spacious campsites, that perfect small city and nature mixed with a seemingly endless variety of things to see and explore.
---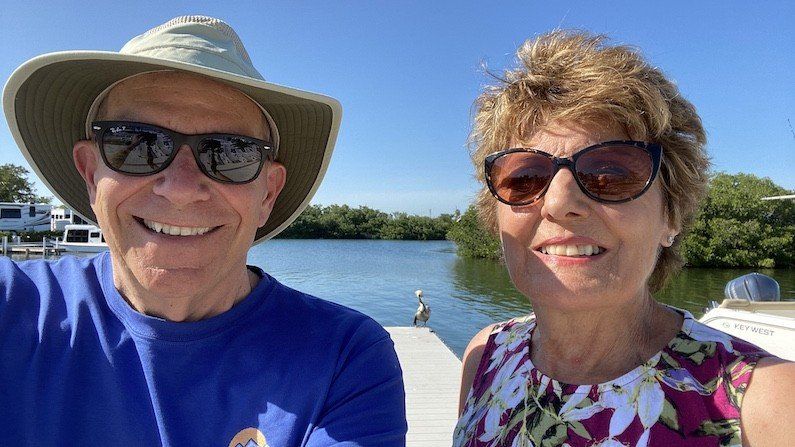 Curious about the gear, gadgets, accessories, and RV products Mike & Jennifer use and recommend?
On this RV Lifestyle Travel blog, our RV Podcast and our RV Lifestyle YouTube Channel, we mention all sorts of RV-related products and gear that we use, So we created a special page that links to them. We update this all the time.  CLICK HERE to go to it directly. Have you caught one of our Amazon LIVE events yet? Just go here and Follow us – to be notified every time we go live.
---
Last update on 2023-12-01 / Affiliate links / Images from Amazon Product Advertising API