Yes! You can do puzzles while RVing without having to worry about all of the pieces. I'll tell you how and give you a list of the best camping puzzles to enjoy on the road…
I am calling all puzzle enthusiasts! What can be more relaxing than working on a puzzle out in nature? It is a creative and relaxing pastime and can be even more relaxing when you are RVing.
If you think it's not practical to do puzzles in a bumpy RV that you move from campground to campground, you'd be (happily) wrong!
With the help of a nifty roll-up puzzle mat, you can puzzle on the go! I'm going to tell you more about that mat below.
I have also tracked down some of the best camping puzzles that you will want to take on your next trip. From lakeside landscapes to troublesome bears, there is a puzzle for everyone on my list.
If you buy something through our links, we may get a small commission at no extra cost to you. It helps keep our lights on so we can continue to provide helpful resources for RVers. Read our full affiliate disclosure here.
What is a Jigsaw Puzzle Mat?
Before listing the best camping puzzles, I want to discuss a jigsaw puzzle mat.
Many of you are probably hesitant about doing puzzles when traveling because you are moving to different locations. You might be thinking, "Yeah, Mike, why would I start a complicated puzzle when I have to tear it down in two days?" Not to mention taking up valuable table space during your stay.
Well, the good news is that a jigsaw puzzle mat solves that problem!
A jigsaw puzzle mat is a rubberized mat that you use underneath a puzzle you are putting together. Then, when you need to move the puzzle (or your RV), you simply roll it up, place it in the convenient carry bag, and open it later in a new location.
You can move it from inside your RV to the picnic table with little effort. Enjoy the outdoors during the day, then bring it to work at night!
The puzzle mat that I recommend is by a company called Newverest. It can accommodate puzzle that is up to 1,500 pieces.
The black mat features a smooth polyester top and a rubberized bottom. Believe me when I say that it will not be shifting unless you roll it up and move it!
It also comes complete with foam rolling tubes that help keep the puzzle in place while rolled and en route. And the drawstring carrying bag allows you to hang it out of the way when on the go.
When I find excellent traveling "must-haves," I love to pass them on. This is definitely a "must-have" for any traveling puzzle enthusiast!
The Best Camping Puzzles
The following are some of the best camping puzzles I could find! They feature many camping and nature-inspired images that any outdoor enthusiasts will enjoy!
(Are you looking for more activities to do while camping? I also have a great list of board games, crafts, journals, books, movies, and more at the end of this article!)
The Cool Campers puzzle features a vintage trailer and lake scape in the background, with a campsite and picnic table, bears, butterflies, and sunflowers in the foreground.
The puzzle is vibrant and colorful. It is also made from recycled cardboard, which most outdoor enthusiasts appreciate.
The completed puzzle measures 18" x 24".
Ravenburger is a well-known brand in the puzzle world. They're known for beautiful images and quality puzzle pieces.
This Rig View puzzle shows the interior of a camper van and the outside view of a lake and campsite. It is an interesting perspective, and many puzzle enthusiasts will like the challenge of creating this exciting image.
The puzzle measures 20" x 27" when complete.
This puzzle features a gorgeous picture of a lake at sunset. In the background is a cozy cabin, and the foreground shows what looks like a crackling fire and a canoe tied to a tree.
I have a hard time believing that anyone that likes the outdoors would not enjoy this puzzle.
The finished puzzle size is 26.75 " x 19.75".
This puzzle is trouble! The picture shows camping crashers raiding a campsite! A bear, raccoon, and deer have all raided a beautiful forested camp.
The puzzle is an entertaining picture since it is equal parts whimsical and pretty.
This company also does an excellent job with its puzzles because they make them with a matte finish to reduce glare. (Which is a significant plus for us old folks!) That means it will be easier to see what you are putting together.
The puzzle also consists of random cut pieces to ensure that each piece has a tight, interlocking match.
Finally, it is made from recycled cardboard. Not only is this puzzle entertaining, but it is good for the environment.
Calling all beach lovers! This is the puzzle for you!
It features a vintage airstream trailer parked alongside the ocean. The foreground shows a campsite all set up for fun. The background has a lighthouse and sailboat.
The entire picture is light and brightly colored.
Enjoy the recycled puzzle piece's tight, interlocking design.
This giant puzzle is full of fun and adventure. The picture shows an extensive campground with campers, trailers, and motorhomes alongside a river.
The puzzle reminds me of a "Where's Waldo" book as there are hundreds of people, places and things to see.
The nice thing is that the large pieces are thicker than other puzzle pieces, making them easy to handle. When complete, the puzzle measures 30" x 24".
Do you love National Parks? If so, you will love this pizzle. It features a retro photo montage of several different parks, including Yellowstone, Yosemite, the Grand Canyon and Zion.
I think this one is really one of the best camping puzzles I've seen.
The completed size is 20″ x 28″ and it comes in a compact tube instead of a box.
The final puzzle I found features a cozy cabin tucked into some trees alongside a rushing river. It also has snow-capped mountains in the background.
Anyone that loves camping will love the peaceful riverscape.
The fun thing is that eight hidden images can be found once you complete them. Kids and adults alike will enjoy the challenge of finding the hidden images! You can find a dog, turtle, deer, three butterflies, a woodpecker, an elk silhouette, nine eagles and hawks and seven ducks.
The puzzle is made from 100% recycled cardboard and measures 26.75" x 19.75" when complete.
Remember when I promised a great list of board games, crafts, journals, books, movies, and more at the beginning of this article? Here is it — check it out!
If You Love the Best Camping Puzzles…
Then you'll probably love these other fun activities to do while you're traveling:
New ebook from Mike and Jennifer Wendland – the Natchez Trace
The Natchez Trace Parkway will capture your imagination, soothe your jangled travel nerves, open your mind and inspire you with the history that unfolded along its 444 miles.
Each of the 7 Days of the ebook has:
Suggested Mileposts to explore
Places to Eat in each area of the 7 sections
Campground descriptions and links
Links to all the special places and information
Links to videos that show more in detail
and a lot of highlighted information for each section
PLEASE NOTE: This is NOT a printed, hard copy guide.
Whether you want to follow the footsteps of explorers, discover natural beauty, or visit historic sites, the Trace has something to grab your attention and leave you eager to see what's at the next milepost.
You can see why this is one of our favorite US routes to explore. We've traveled it a half dozen times!
---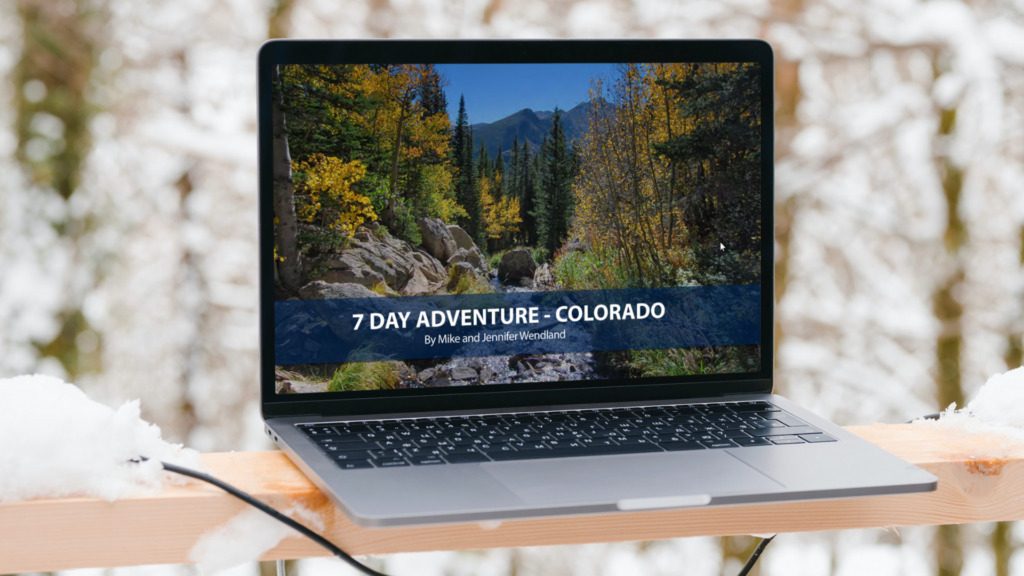 When Jennifer and I first went to Colorado, I felt like I finally understood what John Denver meant by his song: I've now been Rocky Mountain High.
And like Denver, exploring all that Colorado has to offer made me want to sing, too.
This is a fully designed and edited guide that you can download and start reading immediately on your phone, tablet, computer or e-reader.
---