Independence Day is just around the corner (just 22 days at this publish date), which means it's time to stand tall, puff up our chests with pride, and deck out our RVs in red, white, and blue!
We've compiled a list of some of the best 4th of July RV decorations for your RV and campsite. We've broken them into categories: hanging, lighting, interior, and outdoor.
For funsies, we've also written an RV parody sung to The Star Spangled Banner that represents the RV communities' freedom and fellowship. We hope it makes you proud to be an American RVer…
Hey, if you buy something through my links, I might get a little something-something as a thank you. No extra cost to you, promise! Read our full affiliate disclosure here.
The RVer Anthem (sung to the Star Spangled Banner)
We even made you THREE renditions to try out — and if you really want to sing along, pull up a karaoke version on Youtube and sing along… or just click the video below and use our new lyrics!
Rendition 1:
Oh say, can you see by the campfire's light,
A row of RVs, all shiny and bright,
Whose Class As and Class Cs proudly do soar,
As we celebrate freedom, with s'mores galore!
The sun's golden rays, on this great Fourth of July,
Illumine the motorhomes parked side by side,
Their fiberglass gleaming, their decals aglow,
As we gather 'round grills for a barbeque show.
Rendition 2:
From coast to coast, these homes on wheels roam,
Through mountains, deserts, and cities they comb,
With slide-outs extending, providing more space,
To honor this nation, this wonderful place.
And as dusk settles in and stars start to gleam,
We light up the sky with a grand fireworks scheme,
Red, white, and blue explosions fill the air,
While families rejoice, in RV parks everywhere.
Rendition 3:
Oh, RVs on wheels, the symbol we love,
Representing the freedom we're all part of,
As we join in chorus, with pride in our voice,
Saluting this land, where RVers rejoice!
So raise up your glass, let's make a toast,
To RVs and freedom, the things we love most,
On this Independence Day, united we stand,
In our homes on wheels, traveling this great land!
We hope you enjoyed that – now back to our post about 4th of July RV decoration!
4th of July RV Decorations
One way to show your patriotism is to hang fun, colorful decorations. You can hang them from your RV awning or canopy. If the campsite has a permanent sun shelter over the picnic table, which also makes a great hanging location for fun decor.
This pair of 30" spinning patriotic butterfly wind twisters can spruce up your campsite. Hang one from each side of your RV awning for an instant holiday touch.
This American windsock design is made to look like the American flag. Purchase a pair and hang them on both sides of your awning for a fun 4th of July effect.
This design has several options, including a 40" windsock, a set of two 40" windsocks, or a larger 60" windsock design.
Classic American bunting is the perfect way to make your RV look patriotic. Hang one from the front of your RV, or put up a few on your awning. There are many possibilities to include these in your decor!
4th of July RV Lighting
Lighting is also a great way to show your patriotic spirit. Not only does it display our country's colors proudly. It creates the perfect ambiance when the sun sets.
**NOTE: Just be sure to turn off all lights during quiet hours, as you do not want them to interfere with your camping neighbors' sleep. That's one of the 15 Unwritten Rules of Being a Good Camping Neighbor.
This hanging lantern strand of lights features circular American flag-inspired mini lanterns. They are made to be outdoors and waterproof, so you can take them anywhere you camp. Please NOTE: you do have to put them together (see the image for all the steps).
5. Red, White, and Blue Rope Lights
I love rope lights because they give off a lot of light and look nice and uniform. This red, white, and blue rope light set can make your campsite stand out.
Consider wrapping your RV, table, awning, or a nearby tree (if it is permitted where you are camping).
These star lights are entertaining. Each string features stars over 2" long and red, white, or blue. The 17' strand comes complete with 50-star LED lights and is waterproof, making them perfect for use outdoors.
Light the night sky with a waterproof red, white, and blue hanging star. It is made from a durable metal frame and has eight lighting modes.
RV 4th of July Interior Decor
After you have the outside of your campsite nicely decorated, you should consider making the inside just as festive. The following are fun, patriotic decorations for inside your rig.
These battery-operated hanging window star lights are a great way to decorate without wasting precious space in your rig. The neat thing is that the hanging light can also be seen outside your rig.
These hanging window lights are also a great space-saving way to decorate for the 4th of July—the set of three spells out the USA in red, white, and blue.
This set of glitter star window clings is another way to decorate your RV without taking up space. The cool thing is that they decorate your RVs inside and outside. It is like a 2-in-1 decoration.
This is the perfect set of pillow covers to transform the interior of your rig to celebrate Independence Day.
The four covers feature a flag, a star with a patriotic saying, and two blue pillows featuring the words "America" and "Freedom."
This set of wooden stars, all decorated in different patterns, is perfect for your RV table. Or you can display them on your cab's dashboard while parked.
13. 4th of July Throw Pillow Cover
Consider using this throw pillow cover to change up your couch or bed. It features red and white stripes with a blue star on the front. Inside the star are the words, "Sweet land of liberty, faith, America, freedom."
14. Faith, Family, Freedom Wooden Decoration
This wooden sign can be used on your table, a shelf, and even outdoors on the picnic table. It says "Faith, Family, and Freedom" and features an American flag at the top.
Why only light up the outside of your rig? This adorable tabletop tree features red, white, and blue star lights and is perfect for the center of your table.
Add this stars and stripes table runner to your rig for a lovely holiday touch. If it's too long for your RV table, you can run it across your cab's dashboard.
Another way to express your patriotism is to cover your table with this Eucaplytus 4th of July tablecloth. You can fold it to fit your RV table if need be or, since it's polyester, use it on your picnic table.
This festive welcome mat has a background of stars in different patterns. Plus, a 'welcome' message that directly lives up to the mat's purpose.
If you like farmhouse decor, you will like this block sign. It spells out the 4th of July in true red, white, and blue fashion.
This set of wooden signs is small and can be used to decorate cramped RV spaces. The set comes with three firework signs in different patriotic patterns.
If you do not have space for tabletop decorations, try hanging up some festive signs. This set of four hanging signs comes complete with a different patriotic saying.
Outdoor Patriotic Campsite Decor
The following items can be used outside to spruce up your campsite for the 4th of July.
Light the way to your RV with these solar American flag garden stakes. They come in a set of 4.
23. Patriotic Garden Flag
Garden flags make incredible campsite decorations. In fact, we have an entire article on RV garden flags!
Consider adding this patriotic garden flag to your campsite to bring a little 4th of July fun and flare to your trip.
This large plastic table cover is perfect for covering your campsite picnic table. It comes as a pack of 2, so you can fold one to use on your indoor table as well.
Bonus
Want to add a little fun around the campground? Buy these patriotic headbands for your groups or to give out to other campers. This set comes with 12 fun headbands for America's big day!
RV Lifestyle 4th of July Special
This is a recording of a live RV Q&A, Independence Day edition we did about a year ago!! We answer your RV lifestyle questions and share our tips to help on your next adventure! Take care out on the roads and have a great Independence Day!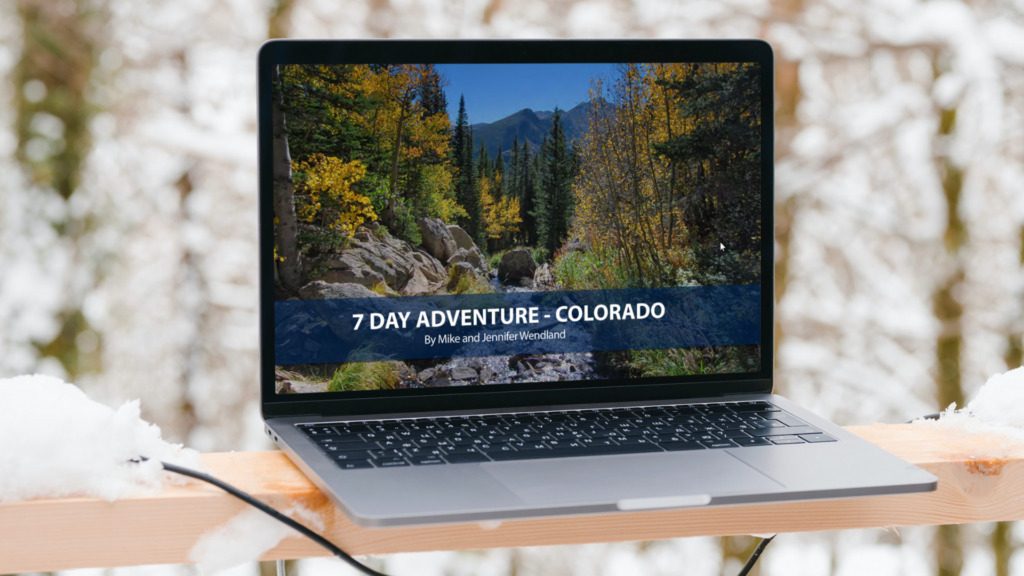 When Jennifer and I first went to Colorado, I felt like I finally understood what John Denver meant by his song: I've now been Rocky Mountain High.
And like Denver, exploring all that Colorado has to offer made me want to sing, too.
This is a fully designed and edited guide that you can download and start reading immediately on your phone, tablet, computer or e-reader.
---
---
Curious about the gear, gadgets, accessories, and RV products Mike & Jennifer use and recommend?
On this RV Lifestyle Travel blog, our RV Podcast and our RV Lifestyle YouTube Channel, we mention all sorts of RV-related products and gear that we use, So we created a special page that links to them. We update this all the time.  CLICK HERE to go to it directly. Have you caught one of our Amazon LIVE events yet? Just go here and Follow us – to be notified every time we go live.
---