Make sure you have the right tools for the job this summer! Here's a list of nifty BBQ tools for camping, plus some great accessories…
Whether you are new to BBQing or need an upgrade, this post is for you. The following is a comprehensive list of every BBQ tool and accessory you need! (And perhaps some you don't, but they're great to have anyway 🙂
We give a few options in each category, including grilling tool sets, tables, aprons, caddies, and accessories.
PLUS! We have a list of the best campfire accessories at the end. So, you'll be 100% ready for grilling, roasting, and cooking in the great outdoors.
We use affiliate links and may receive a small commission on purchases at no added cost to you. Thank you for your support. You can read our full affiliate disclosure here.
Grilling Tool Sets
One thing every BBQer needs is an excellent set of grilling tools. You must grill with at least a few tools, from spatulas to tongs and everything in between.
We start this list off with the big kahuna of BBQ tool sets, then work our way down for the casual BBQer.
(By the way, RV Lifestyle has a complete Outdoor Camping Essentials List on Amazon that is always worth perusing. We add great gear to it often. If you camp with a portable smoker, check out the 35 Best Smoker Accessories.)
This Complete BBQ Tool Set has it all! It comes with knives, spatulas, a grill scraper, a basting brush, corn holders, meat claws, and BBQ skewers, just to name a few.
It is the perfect set for someone who loves grilling every meal or a newbie BBQer that wants to go all in.
The best thing about it is the convenient carrying bag. It makes it simple to pack up and bring along. Each piece is also dishwasher safe, making cleaning a breeze in your rig or when you return home.
Talk about the right tools for the job! This heavy-duty BBQ set comes with 20 different tools to help make grilling easy. It has a spatula, fork, tongs, basting brush, grill brush, salt & pepper shaker, 8 corn holders, and 4 skewers.
The set is made from stainless steel, which is both heat-resistant and very durable. It also comes in a convenient, hard travel case to make it easy to transport.
But if you don't need a BBQ tool set this big…
Here is a small BBQ set for those folks that want something casual. This 3-piece set has a meat fork, spatula, tongs, and a carrying case to make life easy!
It's all the essentials to get the job done without being weighed down by tools you might hardly use.
If you love to cook on a griddle, this Blackstone griddle accessory kit is for you. Its nice, soft carrying case is packed with spatulas, sauce bottles, egg rings, chopping scraper, brush, tongs, and more. It even comes with an apron.
If you don't have a camging griddle and wish you did, check out this list of the best portable camping griddles.
Grilling Tables
We have a complete list of the best foldable tables for camping, but here, we focus specifically on tables for tabletop grills and griddles.
This Camco Deluxe foldable table is great for grilling and serving. Its dimensions are 19″D x 57.75″W x 32″H.
This table has 3 separate aluminum table tops with a high-strength yet lightweight steel frame. It also has nifty little hooks for grilling tools or trash bags and a paper towel holder!
Best of all, it folds down to only 6" thick and comes with a durable carrying case.
The Coleman Pack-Away Portable Kitchen is the perfect addition to your outdoor camping gear. This portable camp kitchen offers a stable cooking surface and extra storage space.
The large prep area is ideal for chopping ingredients, while the 27.8 x 20.5-inch side table accommodates most Coleman stoves and coolers. The nifty utensil hooks and mesh shelf provide additional storage space to keep you organized while cooking.
It collapses down into a compact case for easy carrying and storage.
Official mugs, tumblers, glassware – celebrating the RV Lifestyle!
Camping Aprons
Camping is messy enough. Protect your clothes with an apron made for the occasion!
We include a few great options, from uber-functional to cute…
This functional BBQ apron is made with high-quality material with multiple tool pockets. It's a great option for men and women with multiple colors and designs to choose from.
pockets comes with a chest pocket to access your phone or pens easily, a kangaroo-style pocket to keep your tools within reach, and a right hip loop to hang your towel
This happy camper apron set has an apron, oven mitt, and a heat-resistant pad. Each piece has a camping-related picture and saying, including:
Happy Camper
Let's get toasted
Life is better around the campfire
Who doesn't love a Star Wars pun? This apron says "May the Forks Be With You" and features criss-crossing light saber forks.
It has two deep pockets with plenty of room for your barbecue utensils. It's a great gift for RV dads or any Star Wars fan.
(For other gift ideas, check out 21 Best Gifts Under $100 for RVers and 25+ Best Gifts for RV Owners)
Camco Life has a few apron designs with a kitschy Retro RV pattern. It features various styles of trucks, trailers, and RVs in different colors.
Two of the aprons say "My Happy Place", another says, "Life is Better at the Campsite," and the last just lets the retro RV pattern speak for itself.
If you're new to grilling or are adventurous in trying new recipes, this apron is for you. It says, "Whatever Happens, We Are Eating It."
This 100% cotton apron has an adjustable neck closure and 3 versatile pockets for your barbecue tools. Its generous fit makes it one size fits all.
Grilling Caddies
Having a grilling caddy can make your RV BBQing life much easier! Not only does it hold everything you need at the grill, but it keeps you organized and efficient while cooking outdoors!
"Collapsible" is always a go-to feature for RVers, and this Collapsible BBQ Caddy fits the bill. It comes with 3 plastic inserts to stay organized when in use.
The fold-down carrying handles are a nice touch. Plus, the entire thing folds flat for convenient storage.
Many RV owners have easy access to what they need to grill. But what if you need a convenient way to carry out all the condiments accompanying your meal?
This stainless steel grill caddy carries all of the accompaniments, like silverware, ketchup, seasonings, and serving tongs. Plus, it doubles as a paper towel holder!
Other Grilling Accessories
Here are a few more items that can improve your grilling experience! These items really come in handy whenever you grill.
You know how dirty your grill or campground grills can get. Clean them up by using the bristle-free grill brush.
Bristles can allow small metal pieces to get into your food when BBQing. If you have an older grill brush, it may be time to update it.
When cooking outdoors, you want to ensure your food is cooked through and safe to it. The best way to ensure it is by using a food probe.
This instant read digital thermometer is one of the most popular on the market. It's reliable, and it's fast, so you don't let all the heat escape from your grill when checking the temp.
A cast iron grill press releases excessive fat and oils from meat while adding those appetizing grill marks. It's a simple tool for healthier eating.
Plus, it's great for making grilled sandwiches while camping. Who doesn't love a panini on the go?
Kabobs are a camping favorite, and these kabob skewers make it easy. This set comes with 6 skewers, a 2 piece BBQ rack, and a storage bag.
Or, you may prefer this Kebab Grilling Basket Set.
We recommend trying this delicious Hawaiian Pineapple Chicken Kabob recipe on your next camping trip. It's so good yet so easy to make!
To round of your BBQ accessories, you'll need this fish and veggie grilling basket. This SHIZZO Set includes a grill basket, basting brush, Stainless Steel Skewers, and even a portable case for a BBQ away from home.
Its large and deep grilling tray enables you to grill different kinds of food at the same time. You can grill thick steaks alongside your vegetables. It's also great for shrimp and other seafood.
Speaking of surf and turf, check out this easy shrimp & asparagus recipe.
Don't let flies and meat bees get to your food before you do! We consider these pop-up food covers a must-have whenever enjoying food outdoors.
This set comes with 5 pop-up tents, that collapse down for easy storage in your RV. They're easy to rinse off and clean, and be ready to go for your next BBQ.
Easily keep your raw and cooked food separate on the color-coordinated trays. Use the red tray for prepping and transporting raw meat, and the black tray for cooked meat.
The trays nest together for slimline storage. Plus, they are lightweight and dishwasher-safe. They're made of durable melamine material, which is a popular material for RV dishes.
Our sister site, Camping Food Recipes, has easy delicious camping recipes ready to go for your next camping trip. We add more recipes every week that you can grill, roast, or cook in your RV kitchen.
If you love to grill or smoke meat, you'll love these recipes:
Plus, you can SUBMIT YOUR FAVORITE CAMPING RECIPE for all your fellow RVers to enjoy. It's a great community of RVers like you, sharing the food that takes their camping trips to the next level.
10 Best Campfire Accessories
Now that you're grill-ready, it's time to check out the best campfire accessories!
This list focuses on smaller campfire accessories directly related to the fire itself. We have other articles on bigger RV camping accessories, including the best portable camping fire pits and best camping chairs.
But if you already have your camp setup, here are accessories to take your campfire evening to the next level.
This 2-piece fire pit poker is one of the more versatile options on the market. For one, it breaks down into 2 pieces, so it's easier to store. And two, it's also a blow poke.
What's a blow poke? It's a hollow poker that you can safely use to breathe oxygen into the fire. It makes it easier to start a fire and keep it going.
I know many of us just use a big stick as a poker whenever we're camping, but this is a safer option. It gives us more control over lighting and maintaining the fire.
The blow poke helps you start a fire, but you don't have to rely on your lungs if you have this fire starter pack. These small yet mighty cubes get your flame going safely, easily, and quickly.
These water-resistant cubes are a blend of wood and wax. So, you don't get any dangerous flare-ups or unwanted flavors in your food as you do with fluid fire starters.
You don't need any kindling with these starters since they burn up to 10 minutes on their own.
If you love paninis, this is one of the best campfire accessories for you. It's great for making grilled sandwiches, but it works for all kinds of food.
You can use it to make campfire sandwiches, mini pizzas, homemade hot pockets, or even cinnamon rolls. (Try these 3 Delicious Campfire Sandwich Recipes!!)
It's really easy to clean by just wiping it and rinsing it with warm water.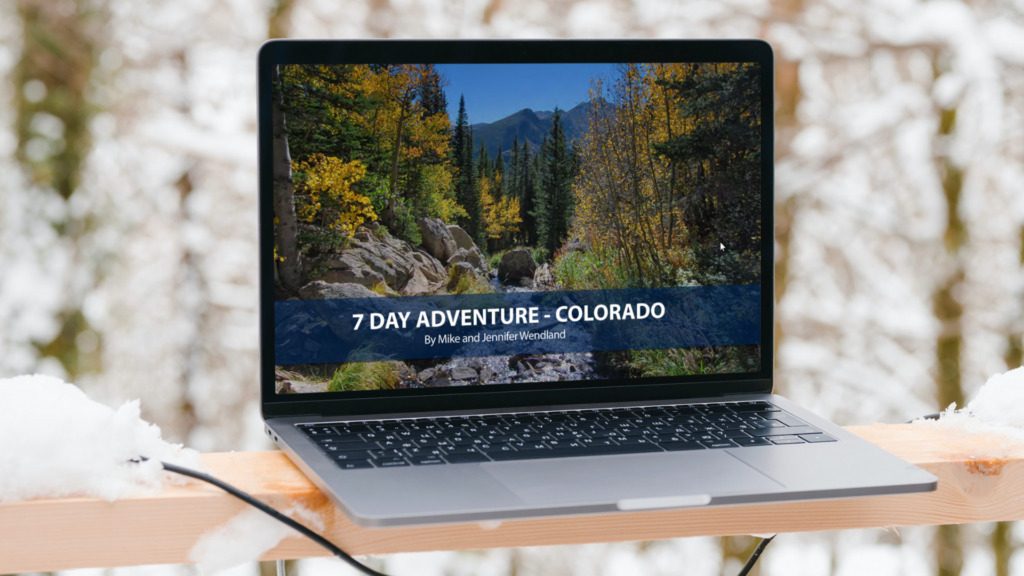 When Jennifer and I first went to Colorado, I felt like I finally understood what John Denver meant by his song: I've now been Rocky Mountain High.
And like Denver, exploring all that Colorado has to offer made me want to sing, too.
This is a fully designed and edited guide that you can download and start reading immediately on your phone, tablet, computer or e-reader.
---
---
---
Official RV Lifestyle QUICK Links to ALL our eBooks
You can see ALL our eBooks here, or use the following Quick Links to go straight to what you need!
● Arizona
●    Colorado 
And MANY of these are BUNDLED together:
New England Bundle
Coastal Maine, Adirondacks
Ultimate Michigan and Great Lakes Bundle – 3 ebooks –
Upper Peninsula, Lower Peninsula, and the Great Lakes Tour
Michigan Bundle
Upper Peninsula, Lower Peninsula
The Great Lakes Adventure Guide Bundle
The Great Lake Shoreline Tour & JUST the Upper Peninsula Guide
Florida Adventure Guide Bundle
Gulf Coast, Atlantic Coast, Keys
Southwest Adventure Guide Bundle
Arizona, Colorado, Southern Utah)
Ultimate 7-Day RV Adventure Guide Bundle
Collection 1- our first 10 ebooks (does NOT contain Great Lakes Shoreline or Natchez Trace)
We also have a nice collection of ebooks that will help you navigate the RV Lifestyle.
Like these:
The Beginner's Guide to Boondocking
The Ultimate Guide to Cheap or FREE RV Camping Sites
Boondocking and Free RV Camping EBOOK Bundle
The Beginner's Guide to Boondocking ebook and Ultimate Guide to Free Camping Sites
And ONE PRINT book 🙂 and yes, before you ask, we have plans for MANY more print books.
The Complete Guide to Boondocking – PRINT VERSION
This is the same as the ebook titled The Beginner's Guide to Boondocking but in print.
And while you are exploring all our ebooks – check out the hoodies, T-shirts, Stickers, and mugs in our MERCH Store! You can get to it directly by just going here – SHOP!
---
Curious about the gear, gadgets, accessories, and RV products Mike & Jennifer use and recommend?
On this RV Lifestyle Travel blog, our RV Podcast and our RV Lifestyle YouTube Channel, we mention all sorts of RV-related products and gear that we use, So we created a special page that links to them. We update this all the time.  CLICK HERE to go to it directly.
---