We hear from many RVers how their RV couch is peeling. It's a common problem that we have some preventative tips and solutions for…
The topic of peeling couches has come up quite a few times in our RV Lifestyle Facebook group. It's a common problem in our community and a costly one to fix.
Unfortunately, even far-sighted RVers who cover their couches still face this problem! It seems like no matter what we RVers do, our factory couches are determined to peel and wear down far faster than they should.
We've dug in to learn more about the problem and find solutions to help our fellow RVers. In this article, we offer tips on how to prevent it, restore it, or replace it as necessary.
We use affiliate links and may receive a small commission on purchases at no added cost to you. Thank you for your support. You can read our full affiliate disclosure here.
What Types of Sofas Peel?
Peeling RV sofas is not a new issue. Many RVers have experienced this over the years. Even on sofas that no one ever sat on!
The problem lies with the fabric itself. Most couches that peel are made from cheap, imitation leather.
"Pleather" couches (fake leather) are cheap leather alternatives even high-end RVs sometimes have. The manufacturer uses this artificial leather to provide the look of high-end furniture in your coach, even though they risk peeling.
Whenever you buy a new RV, ask what types of material the couch is made from. Try to work a better sofa into the deal or pay for an upgrade, as it will likely save you money in the long run.
If you already have a pleather RV couch, we're here to help. We'll take a look at what you can do in three different categories: Prevention, Restoration, and Replacement.
How to Prevent Your RV Couch From Peeling
There is no way to completely prevent the fake stuff from peeling, although you can extend its lifespan. The following tips will help protect your sofa and prevent feeling for as long as possible.
1. Clean it Regularly
The best way to prevent your RV couch from peeling is to clean it regularly. Lotions, sunscreens, and natural oils from your skin can quickly build up on the material.
Once these oils seep in, they cling to dirt, pet dander, and the like, and it wears down much quicker. Not to mention the chemicals in these oils that can break down the material.
By rubbing down your sofa regularly, you'll greatly reduce the wear and tear on the material. We highly recommend Leather Honey Cleaner Spray with UV Protectant. It's made by a family company that has specialized in making leather care products for over 50 years.
2. Cover with a Lightweight Quilted Sofa Cover
Another way to prevent damage on your sofa, or to deal with it is already damaged, is to cover it. Many RV folks purchase lightweight coverlets or quilts to cover their couches.
This is a reasonably inexpensive way to protect your furniture and add your style to the inside of your rig.
However, we will warn you that these covers often slide around, and can be very frustrating to keep in place. The straps on the coverlet we linked to above certainly help, but if yours keeps slipping, you can try these SureFit Tuck Tight Strips.
3. Purchase Cushion Covers
Seat cushions are often the first to peel. So, a good option is to cover them individually. This also enables you to keep some of the leather aesthetic of your couch since you're not covering the entire thing.
You can purchase stretchy cushion covers that easily wrap around regular square cushions, T-cushions and also L-cushions. You can even use them on back cushions if they are not attached to the couch.
4. Minimize Direct Sunlight
In a recent post in our RV Lifestyle Facebook group, one of our members said he and his wife keep their blinds drawn whenever possible. It keeps the sun and heat from blasting the couch and causing UV damage, especially in hot regions.
This is a simple way to prevent damage to your faux leather and is easy to do when you leave for the day.
If you don't want to sacrifice your natural sunlight (we don't blame you), we have another great alternative. You can install UV Heat Control Tinting in your RV windows.
This DIY window tint will protect your pleather from both heat and sun damage. As an added plus, it'll give you more privacy while camping.
How to Restore Your Peeling RV Couch
Unfortunately, if your RV couch is peeling already, you will be fighting an uphill battle. We do have one potential fix for the material itself and two options to save the couch overall.
5. Use Your RV Warranty
If your manufacturer's warranty is still good, contact them first. Ask the manufacturer to trade the sofa cushions for fabric. Or replace a sofa that is already damaged.
Chances are, they will blame it on "normal wear and tear" and not cover it, but it's worth a shot. It's also possible your extended RV warranty, but not as likely.
6. Use a Leather Repair Patch
If your RV is peeling in one section, you may be able to patch it with this self-adhesive leather patch tape. It comes in over two dozen colors, so you have a good shot at matching your couch's color.
This repair option is particularly helpful for armrests and the base and side parts of your couch. But it can work on cushions as well.
You can easily cut this tape into various shapes and its strong adhesive works well. It's scratch resistant, which is another big plus.
7. Reupholster Your Sofa
Many folks that have incurred sofa damage have reupholstered it. Depending on the type of fabric you choose, this can be an expensive route. But if you choose a durable material or covering, you can maintain it carefully for a lasting couch.
Certain fabrics, like microfiber or canvas, can be a good choice for RV sofas. Or, consider REAL leather.
Contact a local upholsterer to get a quote. But let us warn you, re-upholstering a couch is often more expensive than buying a new one especially if your RV couch is oddly shaped or sized.
However, if you love your RV couch and it would be difficult to replace the piece as a whole, reupholstering it may be worth the investment. Or worth trying yourself…
8. DIY It
Another option is to reupholster them yourself, at a fraction of the cost you would pay a professional. It isn't the easiest DIY project to take on, but it is very doable. Especially if you're just doing the cushions.
Go to a fabric store, like Joann Fabric, and talk to a sales associate about fabrics they recommend. Purchase enough to cover the size of your cushions and all sides, plus some extra.
Then, hit YouTube! There are LOTS of videos that teach you how to reupholster an RV couch, including this helpful video by a couple renovating their RV.
Start Fresh
If your RV couch isn't worth saving, then you can pull it out and replace it with a new couch. Or, you can replace it with recliners, make a reading nook, office space, or more.
It's the perfect opportunity to rethink your current setup and determine what replacement options best fit your lifestyle and personal style.
Let's consider those options…
9. Replace with New Furniture
Most RV sofas are called "Jackknife Sofas." They have a simple design, have little bulk, and can easily be turned into a sofa bed. You can replace it with this same type of sofa or consider something different.
Many RV Lifestyle members replace their sofas with RV-specific options, but many others simply find a standard piece of furniture that fits the space. In fact, we just saw a Facebook post from a member asking where RVers buy a couch small enough for their RV.
Several commentators recommended RecPro.com and Shop4Seats.com.
You can also replace it with commercial furniture. You do not necessarily have to purchase RV furniture to go in your rig. Just be sure to consider the following if looking at residential furniture for your coach:
Secure It: You want to ensure that residential furniture can be secured in the rig. That way, it will not be dangerous if you have to slam on your brakes.
Space in the RV: Commercial furniture is not necessarily made with a space-saving design. You will want to ensure you have enough room for regular furniture replacements in your rig.
10. Repurpose the Space
Another option when replacing your sofa is to repurpose the space to better suit your RV lifestyle. If you and your family do not use the couch often, you can put the valuable square footage to better use.
Some folks replace their sofa area with a low-profile bar for additional eating space for a larger group. Others have used that area for office space, which is a fantastic idea for folks that work while traveling!
We've seen people do a bit of a compromise, too, where they create a comfy reading nook with one chair. They then use the remaining space for a portable heater, side table, shelving for their favorite camping books, or whatever else you'd love.
How to Make Your Dinette Bed Comfy
Since we're talking about seating, it's a good opportunity to bring up another article we've written on dinette beds. Just like RV couches are known for peeling, dinette beds are known for discomfort!
In that article, we share some practical and effective ways to make your RV dinette bed more comfortable, so you can wake up feeling refreshed and ready to hit the trail or road again.
Click here for 5 tips to turn your dinette bed from lumpy to comfy…
How to Renovate & Flip an RV
Like what you see in these videos? We'd appreciate it if you would Subscribe to our YouTube Channel (easy to do right here) and consider "ringing the bell icon" to be notified of any new video from us. 🙂 Thanks!
Mike and Jennifer's Southern Utah RV Adventure Guide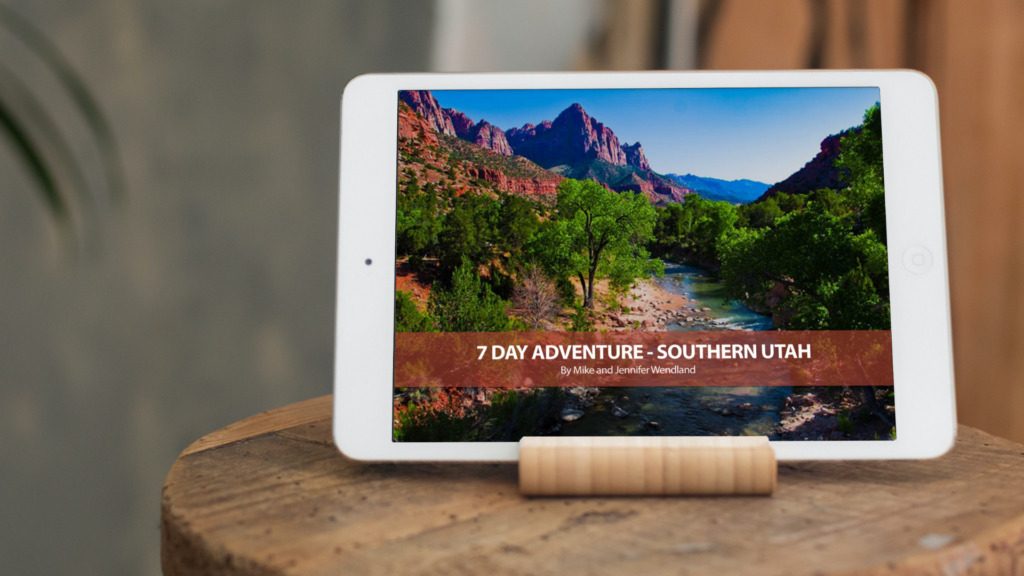 Utah, Utah, Utah. What more is there to be said? In very few places across the United States is there such a tremendous area with breathtaking vistas and diversity of terrain.
The sheer size of the National Parks, the canyons, the desert. Combined with the amount of history written in the red rocks that rise like towers jutting out of the ground and the delicate hoodoos washed away by erosion.
It is a place that, if you've never been, you need to go, at least once in your life.
This ebook is a seven day guided exploration of the State and National Parks in Southern Utah. We provide a suggested route and itinerary, links to multiple campgrounds and boondocking spots, and the best spots to see along the way. Don't plan your trip to Southern Utah without it!
You can hit everything in seven days, do a whirlwind weekend tour, or you can take your time and explore the area over a few weeks.
---
---
---
Official RV Lifestyle QUICK Links to ALL our eBooks
You can see ALL our eBooks here, or use the following Quick Links to go straight to what you need!
● Arizona
●    Colorado 
And MANY of these are BUNDLED together:
New England Bundle
Coastal Maine, Adirondacks
Ultimate Michigan and Great Lakes Bundle – 3 ebooks –
Upper Peninsula, Lower Peninsula, and the Great Lakes Tour
Michigan Bundle
Upper Peninsula, Lower Peninsula
The Great Lakes Adventure Guide Bundle
The Great Lake Shoreline Tour & JUST the Upper Peninsula Guide
Florida Adventure Guide Bundle
Gulf Coast, Atlantic Coast, Keys
Southwest Adventure Guide Bundle
Arizona, Colorado, Southern Utah)
Ultimate 7-Day RV Adventure Guide Bundle
Collection 1- our first 10 ebooks (does NOT contain Great Lakes Shoreline or Natchez Trace)
We also have a nice collection of ebooks that will help you navigate the RV Lifestyle.
Like these:
The Beginner's Guide to Boondocking
The Ultimate Guide to Cheap or FREE RV Camping Sites
Boondocking and Free RV Camping EBOOK Bundle
The Beginner's Guide to Boondocking ebook and Ultimate Guide to Free Camping Sites
And ONE PRINT book 🙂 and yes, before you ask, we have plans for MANY more print books.
The Complete Guide to Boondocking – PRINT VERSION
This is the same as the ebook titled The Beginner's Guide to Boondocking but in print.
And while you are exploring all our ebooks – check out the hoodies, T-shirts, Stickers, and mugs in our MERCH Store! You can get to it directly by just going here – SHOP!
---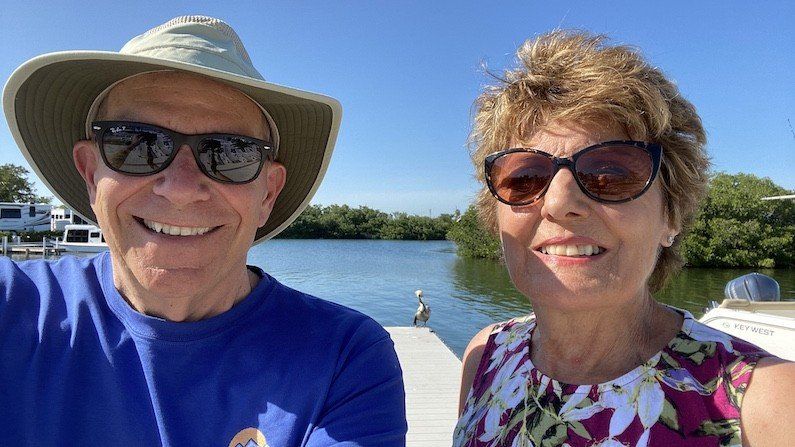 Curious about the gear, gadgets, accessories, and RV products Mike & Jennifer use and recommend?
On this RV Lifestyle Travel blog, our RV Podcast and our RV Lifestyle YouTube Channel, we mention all sorts of RV-related products and gear that we use, So we created a special page that links to them. We update this all the time.  CLICK HERE to go to it directly.
---