Do you hear that sizzling and smell that delicious flavor? You can be with one of the best RV griddles for camping…
A standard camping grill with grates is, well, great. But sometimes, it's really nice to have a camping griddle with you to use in your RV, on the grill, or even over the campfire.
That's why we've compiled a list of the best RV griddles for camping. So, you and your travel companions can drool like Pavlov's dogs every time you hear the sizzle coming from a versatile griddle.
Whether you're cooking up eggs, pancakes, bacon, shrimp, fish, veggies, and more, the following griddles will make it easy. We include a great option for everyone from a simple camping griddle top to full portable griddles with foldable legs.
We use affiliate links and may receive a small commission on purchases at no added cost to you. Thank you for your support. You can read our full affiliate disclosure here.
5 Best RV Griddles
The following list is specifically for the best camping griddles with a solid cooking surface. If you're looking for the best RV grills in general, you may want to jump over to our other article, The Best Portable Grill for Camping.
Alright, just jump right in so you can find the best option for you. These aren't in any particular order as they fit different needs.
The Coleman Roadtrip is the best all-in-one option for those looking for a complete grill setup. It's a portable propane grill with a compact design, including foldable legs on wheels for ultimate ease of use.
This grill is also on our Best Portable Grill list, but we also included it here because you can opt for the Grill + Grill Griddle version or cast iron griddle option. You simply put the griddle on top, and you now have 285 square inches of cooking space for food you don't want to slip through grates.
The swappable cooktops make it the best choice for any camping trip, and the side tables are really helpful, too. It collapses down to a compact size that will easily fit in most RVs' exterior storage space. All in all, you can't go wrong with this portable stand-up propane grill.
But, what if you don't want a full-on portable camping grill? What if you only need a good griddle for your RV stove or to use on the campground's grill? Don't worry, we have you covered…
If all you need is a simple griddle to use on your RV stove, then this is the better option for you. This camp griddle is a no-frills, durable heavy gauge aluminum griddle with a non-stick surface.
It can also be used on any grill. So, it's a good option if you already have a small grill or plan to use the campground's grill when you go RV camping.
Our sister website, Camping Food Recipes, recommends this same griddle for the sweet cream pancakes recipe. Why settle for just-add-water pancakes when you can toss homemade pancake batter on this griddle?
---
Mike and Jennifer's Official Summer T-Shirts for you to explore

---
The Blackstone griddle is another highly-rated choice. It's a portable gas grill, like the Coleman Roadtrip, but it does not have legs. Instead, you place it on a tabletop, like your campsite's picnic table. Or, one of best foldable tables for camping.
It uses those small portable propane bottles as a fuel source. You can get them at any camping store or stock up on a 12 pack of Coleman propane cylinders.
The best thing about this grill is its large cooking surface. The 22″ griddle offers 339 square inches of cooking surface. It also has two adjustable burners so you can cook at two different temperatures.
So, it's certainly an excellent choice for RV owners, especially for its easy portability.
If you own (or want) a Weber Q1200 propane grill, you'll also want a Weber Q griddle. It's a must-have accessory to make the most of your Weber grill. You can easily swap out a grill grate for the griddle, or order two griddles to swap out both grill grates.
The compact grill is arguably one of the best portable RV grills for those looking for a compact grill. It's a tabletop design with two small side tables, but you can also order a portable cart with wheels.
It has a 189 sq ft cooking area and an easy-start electronic ignition. Like the others on this list, the Weber grill and griddle are highly rated for RV use.
To cover all our bases, we must include the Presto 22-inch Electric Griddle. As far as electric grills go, this is the perfect choice. It has a premium nonstick surface with a slide-out drip tray for easy clean-up.
It also has easy setup and storage with detachable handles (no tools needed). Plus, 231 square inches of cooking surface!
At 18 inches, you can feed a family without lighting a grill and use it inside your RV or out. The only downside, of course, is it requires an electrical connection.
What Are You Going to Cook?
In this video, Jennifer prepares our favorite salsa with chicken. Eating on the road never has to be fast food and stations. Learn to eat healthy and keep the meals interesting.
Plus! Don't forget to check out our new sister website, CampingFoodRecipes.com. We're adding more great recipes every day, but here are a few to get you started…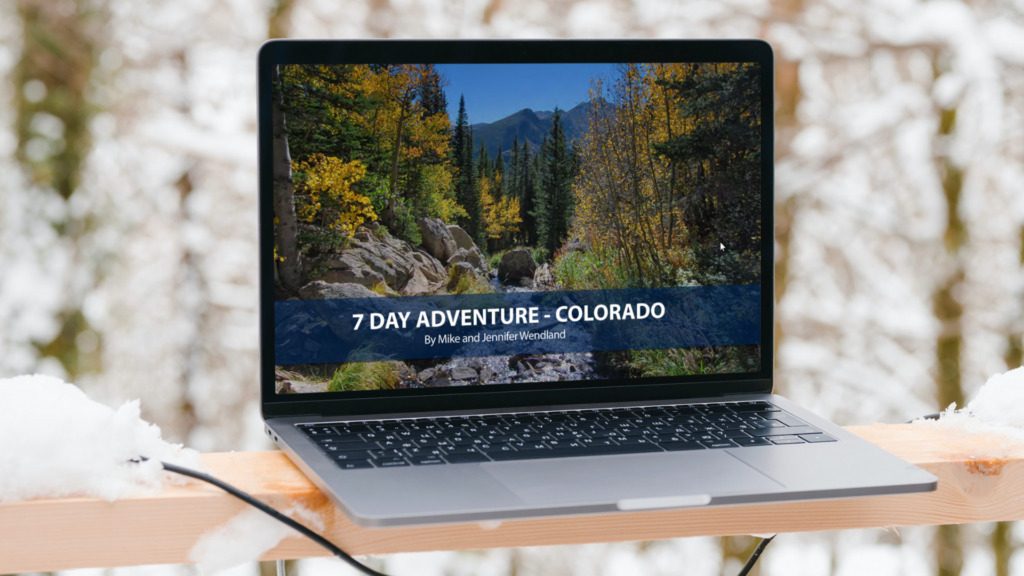 When Jennifer and I first went to Colorado, I felt like I finally understood what John Denver meant by his song: I've now been Rocky Mountain High.
And like Denver, exploring all that Colorado has to offer made me want to sing, too.
This is a fully designed and edited guide that you can download and start reading immediately on your phone, tablet, computer or e-reader.
---
---
---
Official RV Lifestyle QUICK Links to ALL our eBooks
You can see ALL our eBooks here, or use the following Quick Links to go straight to what you need!
● Arizona
●    Colorado 
And MANY of these are BUNDLED together:
New England Bundle
Coastal Maine, Adirondacks
Ultimate Michigan and Great Lakes Bundle – 3 ebooks –
Upper Peninsula, Lower Peninsula, and the Great Lakes Tour
Michigan Bundle
Upper Peninsula, Lower Peninsula
The Great Lakes Adventure Guide Bundle
The Great Lake Shoreline Tour & JUST the Upper Peninsula Guide
Florida Adventure Guide Bundle
Gulf Coast, Atlantic Coast, Keys
Southwest Adventure Guide Bundle
Arizona, Colorado, Southern Utah)
Ultimate 7-Day RV Adventure Guide Bundle
Collection 1- our first 10 ebooks (does NOT contain Great Lakes Shoreline or Natchez Trace)
We also have a nice collection of ebooks that will help you navigate the RV Lifestyle.
Like these:
The Beginner's Guide to Boondocking
The Ultimate Guide to Cheap or FREE RV Camping Sites
Boondocking and Free RV Camping EBOOK Bundle
The Beginner's Guide to Boondocking ebook and Ultimate Guide to Free Camping Sites
And ONE PRINT book 🙂 and yes, before you ask, we have plans for MANY more print books.
The Complete Guide to Boondocking – PRINT VERSION
This is the same as the ebook titled The Beginner's Guide to Boondocking but in print.
And while you are exploring all our ebooks – check out the hoodies, T-shirts, Stickers, and mugs in our MERCH Store! You can get to it directly by just going here – SHOP!