A high-quality cleaner can make cleaning easier and extend the lifespan of your awning, so here's a guide to the best RV awning cleaning products.
Jennifer and I rarely use our awning if we are staying only one night at a place. But when we stay longer, our awning becomes an extension of our living space. As we like to say, we have a small house, BIG yard!
Proper care is essential and can extend the life of your awning. A big part of proper maintenance of your RV's awning is cleaning it.
5 Best Awning Cleaners for RVs
We've narrowed it down to the top 5 so you can decide which is the best RV awning cleaner for you!
This cleaner got its name for a reason– it's consistently listed as the best RV awning cleaner.
It's known for its ease of use. For regular cleaning, all you have to do is spray it on your awning and rinse it off. No need for a scrub brush and elbow grease!
BEST Awning Cleaner removes mold, mildew, and other stains or adherents quickly. It also has UV protective coating against powerful UV rays that would otherwise cause sun damage and fade your awning.
This product is also extremely affordable and works on any awning fabric.
As great a cleaner as this is, there are a couple of drawbacks. It might not be as effective as other products at removing extreme cases of black streaks. To treat highly soiled awnings, you might look at some of my other recommendations.
This Camco awning cleaner is a popular choice among RV owners due to its reasonable price and high cleaning efficacy. That makes it a strong candidate for the best RV awning cleaner in my book!
To use the product, you mix four ounces of the concentrated formula into one gallon of water. Or, you may choose to use the concentrate directly on stubborn stains. This is a great product for general awning maintenance and for eliminating built-up grime.
This product is okay to use on acrylic fabric, nylon, and vinyl awnings. It will be gentle on your awning material but is an effective cleaner for removing bugs, tree sap, dirt, bird droppings, and road grime.
You can also use this to remove mildew, mold, and black streaks, depending on their intensity. Apply the product with a soft brush or sponge. If stains are deep, you will want to apply it with pressure (and maybe a couple of times).
One slight drawback of this Camco product is that it does not provide UV protection for your awning.
While it does not have a strong chemical odor, it does contain chemicals that may irritate your skin. Be sure to wear gloves while using the product.
Overall, some consider this the best RV awning cleaner. It will clean your awning well and help keep it in great condition on a budget.
Thetford Premium RV Awning Cleaner is my third choice for the best RV awning cleaner. It is biodegradable and very effective at removing dirt and grime from your awning.
It is simple to use. Just pour the product into a spray bottle, spray onto the awning and wipe with a cloth.
It can be used on any type of awning material, including fabric, vinyl, and plastic.
Another great benefit of this cleaner is the added protection it provides for your awning. There is UV ray protection included in the product. This helps prevent your awning from discoloring and deteriorating.
In addition, the product has a nice odor. Many current cleaners on the market can have a noxious odor. This Thetford cleaner provides a nice odor that won't linger.
One drawback of this cleaner is that it might need more than one application to remove heavy stains or particularly dirty RV awnings.
---
---
The fourth best RV awning cleaner on my list is Star Brite Mold and Mildew Stain Remover. This product was designed to remove mildew. It was specially developed to remove up to a year's worth of mildew.
It is safe for most awning materials, including fiberglass, vinyl, and plastic. However, it may not be safe for all, since it uses a buffered-bleach formula. When used on the right material, that formula provides excellent cleaning power.
Star Brite's special formula is easy to use and does not require heavy scrubbing. Spray it on and leave it for a while, only giving tough stains a light brushing. Then rinse it off.
For a "like new" clean, provide a few applications of the product to the heavily soiled areas.
This product does smell strongly like bleach. It is also recommended to use gloves when applying it since it contains sodium hypochlorite. In addition, be mindful of the product run-off and avoid plants and other water sources.
While this product is a leading pick to treat mildew, be sure to test it on an inconspicuous area the first time you use it. That way you can see if it will discolor your awning material.
Overall, this is one of the best products out there for mold or mildew removal.
303 Multi-Surface Cleaner is one of the most user-friendly products on the market. It has excellent multi-purpose abilities, while offered at an affordable price.
This product is solvent and dye-free, making it a suitable choice for even the most delicate and synthetic fabric awnings.
Easy-to-use, simply spray the product on your awning, give it a scrub with a stiff brush, and rinse off. Once sprayed, the cleaning solution loosens grime well.
For hard stains, you may need more than one application. Or, leave the product on longer and scrub a little more.
While this is an excellent general use product, it is not designed to treat mildew growth or mold stains. It may not work effectively to do so.
Overall, is not the most cost-effective brand on the market.
It does a great job cleaning general dirt and grime, easily. Plus, it can also be used on delicate materials. For that, we listed it in the number five spot for the best RV awning cleaner.
Be sure to check out our other article on RV Awning Tips and Tricks!
What Do You Recommend?
We'd love to hear if you've discovered any other RV awning cleaner that works like a charm. Please share in the comments!
---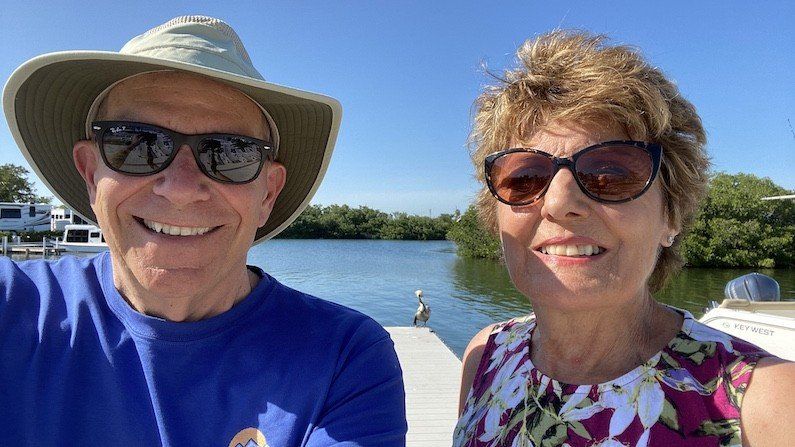 Curious about the gear, gadgets, accessories, and RV products Mike & Jennifer use and recommend?
On this RV Lifestyle Travel blog, our RV Podcast and our RV Lifestyle YouTube Channel, we mention all sorts of RV-related products and gear that we use, So we created a special page that links to them. We update this all the time.  CLICK HERE to go to it directly. Have you caught one of our Amazon LIVE events yet? Just go here and Follow us – to be notified every time we go live.
---