More and more RVers are loading portable smokers into their RVs. Here are the best portable smokers for camping…
More and more RVers are packing portable smokers along with the rest of their cooking gear.
In our RV Lifestyle Facebook group, a member recently posted, "Hey RVers! I'm curious how many of you take BBQ smokers with you when you camp."
Turns out, a LOT of RVers responded that they do in nearly 300 comments. Many of them shared their favorite portable smoker to use.
In this guide, we'll explore those top contenders for the best portable smokers for camping, covering electric smokers, pellet smokers, and charcoal smokers. Plus, we'll share our favorite smoked hot dog recipes at the end!
We use affiliate links and may receive a small commission on purchases at no added cost to you. Thank you for your support. You can read our full affiliate disclosure here.
Types of Smokers
Let's quickly cover the different types of smokers.
Electric Smokers
Electric smokers are a popular choice for their convenience and ease of use. These smokers utilize electricity as their fuel source and offer precise temperature control, allowing for consistent cooking results.
With features like built-in thermometers and digital control panels, electric smokers make it easy to monitor and adjust cooking temperatures. They are often designed with stainless steel construction for durability and easy cleaning.
Pellet Smokers
Pellet smokers, also known as wood pellet smokers, utilize wood pellets as their fuel source. This popular type of smoker offers the convenience of set-it-and-forget-it cooking, as they automatically feed the wood pellets into the fire pot for a consistent and controlled burn.
Pellet smokers provide a wood-fired flavor to your dishes. They come with features such as temperature controls, built-in thermometers, ample cooking space, foldable legs, and digital temperature control systems. Overall, pellet smokers are a versatile and excellent choice for outdoor cooking.
Charcoal Smokers
Charcoal smokers use charcoal as their primary fuel source, providing that classic smoky flavor to your dishes. These smokers are known for their high heat capabilities, making them suitable for achieving perfect char and tender meats.
Charcoal smokers generally come in portable sizes, making them ideal for camping or smaller gatherings. They offer a cooking process that allows for low and slow smoking, creating tender and flavorful results.
Charcoal smokers can use different types of wood chips and can have features like built-in temperature gauges and air vents for precise temperature control.
Propane Smokers
Propane smokers, also known as gas smokers, utilize propane gas as their fuel source. These smokers are valued for their convenience and portability, as they can be easily transported and set up wherever you go.
Propane smokers provide consistent heat and temperature control, allowing for a hassle-free cooking experience. They often feature multiple air vents for more precise temperature adjustments and offer ample cooking space.
Propane smokers are a good choice for outdoor cooking, especially for those looking for ease of use and quick cooking times.
Official mugs, tumblers, glassware – celebrating the RV Lifestyle!
10 Best Portable Smokers for Camping
Here are the top 10 best portable smokers for camping based on the responses to the Facebook post as well as our own input. We've included a range of sizes and types to meet every camper's needs.
The first 4 options were the most mentioned in the Facebook post. But overall, this list is not organized in any particular order. The best smoker for you could be anywhere on this list, depending on your needs and preferences.
(BTW, we have an Ultimate List & Gift Guide of the Best Smoker Accessories & Grilling Tools on our sister site, CampingFoodRecipes.com!)
1. Traeger Tailgater
The Traeger Tailgater is the epitome of portable convenience, allowing you to bring wood-fired flavor anywhere you go. It was one of the most-mentioned smokers in the Facebook comments.
With a compact design and foldable legs, this portable wood pellet grill and smoker is perfect for camping trips, tailgating, or even balconies.
The Tailgater features a grill capacity of 300 square inches, which allows you to cook up to 12 burgers, 3 racks of ribs, or 2 whole chickens at once. It offers precise temperature control with its Digital Arc Controller, ensuring consistent temperatures between 180 and 450 degrees Fahrenheit.
2. Traeger Ranger
The Traeger Ranger is another great option for camping enthusiasts. With a compact size and weighing just over 50 pounds, this portable wood pellet grill delivers versatility and superior taste no matter where you are.
The Ranger provides 176 square inches of cooking area, making it suitable for small groups. It features an 8-pound hopper capacity and a temperature range of 180 to 450 degrees Fahrenheit.
Whether you're grilling, smoking, roasting, baking, braising, or BBQing, the Traeger Ranger has got you covered.
3. Big Green Egg Mini
Just like the Traegers, the Big Green Egg smokers are so popular that we have two on our list, starting with the Mini. The Big Green Egg Mini is a compact and portable ceramic grill that brings versatility and convenience to your outdoor cooking adventures.
With its small footprint and lightweight design (39 lbs.), it is perfect for camping trips and tailgating. The Mini offers a cooking area of 78.5 square inches, allowing you to grill, bake, smoke, or roast your favorite meals with ease.
The Big Green Egg Mini can cook 2 chicken breasts, 2 pork chops, or 1 steak. So, it's ideal for solo RVers or couples. If that's a little too small…
4. Big Green Egg MiniMax
The Big Green Egg MiniMax is a step up from the Mini and offers enhanced capabilities for your portable grilling needs. With a slightly larger cooking area of 133 square inches, the MiniMax provides more space to cook delicious meals while maintaining portability.
The MiniMax features all the benefits of the Mini, but with the added advantage of a larger cooking surface. It can cook a 12-pound turkey, 4 burgers, 1 whole chicken, 2 steaks, or 1 rack of rib. So, it's great for families.
Whether you're grilling burgers, smoking hot dogs, or baking pizzas, the Big Green Egg MiniMax is a versatile companion for your outdoor cooking adventures.
5. Green Mountain Davy Crockett
The Green Mountain Davy Crockett is a compact and portable pellet grill that packs a punch. With advanced features like Wi-Fi connectivity and a digital temperature control system, this portable smoker uses smart technology for best results.
The Davy Crockett provides a cooking area of 219 square inches and can reach temperatures up to 550 degrees Fahrenheit. Its foldable legs and lightweight design make it an ideal choice for camping and outdoor adventures.
6. Camp Chef Pursuit
The Camp Chef Pursuit is a great pellet grill combo. With its slide and grill technology, you can easily switch between direct and indirect heat.
This smoker offers a cooking area of 501 square inches, providing ample space for all your grilling needs. The Pursuit also features a built-in ash cleanout system, making cleanup a breeze.
Best of all, the legs fold down to easily roll it around like a wheelbarrow.
7. Weber Smokey Mountain Cooker
The Weber Smokey Mountain Cooker is a trusted and reliable charcoal smoker. The 14.5″ model is the lightest on this list at only 23 pounds. They have an 18″ and 22″ model, as well.
It offers a cooking area of 286 square inches, allowing you to smoke a variety of meats. With its durable build and precise temperature control, this portable smoker will elevate your camping cooking game.
8. Kamado Joe Jr.
The Kamado Joe Jr. is a high-quality ceramic charcoal grill that' brings versatility and portability to your camping that's similar to the Big Green Eggs. With a cooking area of 148.5 square inches, this compact charcoal grill allows you to grill, smoke, roast, and bake your favorite meals.
The Kamado Joe Jr. features a built-in thermometer and cast iron air vent. Plus, it comes with a cast iron stand with handles for easy carrying.
9. Pit Barrel Cooker Junior
The Pit Barrel Cooker Junior is a 33″ tall x 21″ wide barrel cooker with a lid, stand, and carrying handles. You can fit a LOT into this small package.
It easily fits 6 racks of ribs, 1 pork butt/shoulder, 1 full packer brisket, 6 chicken halves, or 1 17 lb turkey using their turkey hanger.
It's perhaps the best option for balancing size and cooking capacity.
10. Pit Boss Portable Wood Pellet Grill
The Pit Boss Portable Wood Pellet Grill combines portability and versatility in one package. It has a meat probe, folding legs with rolling wheels, and auto start-up and cool-down.
With a cooking area of 387 square inches, this portable smoker offers plenty of space to grill and smoke your favorite foods while camping.
Overall, you can't really go wrong with any of the smokers on your list. What it really comes down to is cooking capacity vs. available space in your RV. Find the perfect balance of those two for your needs, and you'll have found the perfect camping smoker.
On our sister website, CampingFoodRecipes.com, we created the ultimate list of the best smoker accessories and grilling tools for camping. It's an excellent gift guide or beginner's guide to get everything you need for your portable smoker.
It covers:
During-the-Cook Accessories
Prep-Work Accessories
Keep-It-Clean Accessories
Food-Specific Accessories
Random-But-Nifty Accessories
Keep-You-Cool Accessories
See the full list of the 35 best smoker accessories…
Hot dogs are a staple camping food that is cheap, easy to cook, and SO VERSATILE! Sure, grilling or boiling them are go-to's, but have you ever had a smoked hot dog? Mmm-Mmm, they're good!
At our sister site, Camping Food Recipes, We tell you how to make great smoked hot dogs in a portable smoker or on your camping grill. Then we share some great hot dog recipes with various toppings to try with your smoked dogs.
8 Best Portable Camping Fire Pits
Like what you see in these videos? We'd appreciate it if you would Subscribe to our YouTube Channel (easy to do right here) and consider "ringing the bell icon" to be notified of any new video from us. 🙂 Thanks!
Here are eight of the best portable fire pits for any outdoor space while telling ghost stories. As big believers in the Leave No Trace movement, portable firepits make it so much easier to uphold that promise. Instead of building and breaking down your own, you simply pop out yours and pack it up when you leave.
As fans of smokeless fire pits, we're going to start our list with them. Then we'll venture into portable propane fire pits and other options. Keep reading to see the 8 best fire pits…
At the top of every RVers bucket list, it is a place so majestic, so wild, and so big that it calls us to return, to explore, to get to know the diversity of its land and animals over and over again.
Everywhere you look are waterfalls, fast-moving rivers, geysers, sheer rock faces, towering lodgepole pines, all framed by mountains under the bright blue cloudless sky.
It's spectacular for those who love the wilderness and getting up close and personal with it. Enjoy Yellowstone for RV travel.
---
---
---
Official RV Lifestyle QUICK Links to ALL our eBooks
You can see ALL our eBooks here, or use the following Quick Links to go straight to what you need!
● Arizona
●    Colorado 
And MANY of these are BUNDLED together:
New England Bundle
Coastal Maine, Adirondacks
Ultimate Michigan and Great Lakes Bundle – 3 ebooks –
Upper Peninsula, Lower Peninsula, and the Great Lakes Tour
Michigan Bundle
Upper Peninsula, Lower Peninsula
The Great Lakes Adventure Guide Bundle
The Great Lake Shoreline Tour & JUST the Upper Peninsula Guide
Florida Adventure Guide Bundle
Gulf Coast, Atlantic Coast, Keys
Southwest Adventure Guide Bundle
Arizona, Colorado, Southern Utah)
Ultimate 7-Day RV Adventure Guide Bundle
Collection 1- our first 10 ebooks (does NOT contain Great Lakes Shoreline or Natchez Trace)
We also have a nice collection of ebooks that will help you navigate the RV Lifestyle.
Like these:
The Beginner's Guide to Boondocking
The Ultimate Guide to Cheap or FREE RV Camping Sites
Boondocking and Free RV Camping EBOOK Bundle
The Beginner's Guide to Boondocking ebook and Ultimate Guide to Free Camping Sites
And ONE PRINT book 🙂 and yes, before you ask, we have plans for MANY more print books.
The Complete Guide to Boondocking – PRINT VERSION
This is the same as the ebook titled The Beginner's Guide to Boondocking but in print.
And while you are exploring all our ebooks – check out the hoodies, T-shirts, Stickers, and mugs in our MERCH Store! You can get to it directly by just going here – SHOP!
---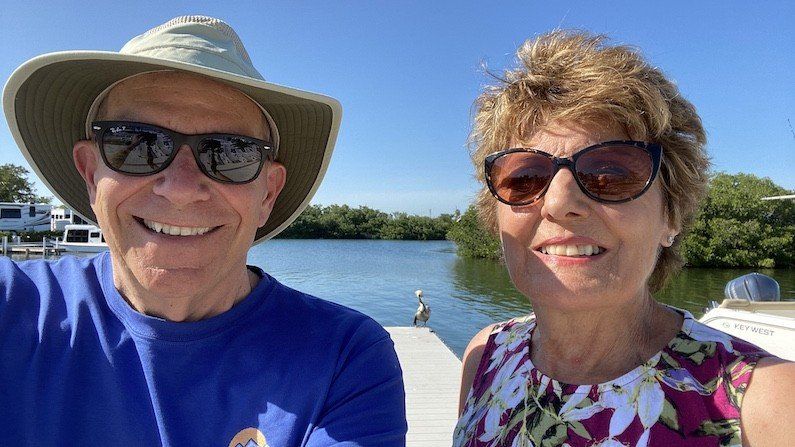 Curious about the gear, gadgets, accessories, and RV products Mike & Jennifer use and recommend?
On this RV Lifestyle Travel blog, our RV Podcast and our RV Lifestyle YouTube Channel, we mention all sorts of RV-related products and gear that we use, So we created a special page that links to them. We update this all the time.  CLICK HERE to go to it directly.
---