From solar-powered to the reliable hand crank, I have put together a list of the best survival radios on the market today good for RVers and everyone!
Did you know that the federal government recommends having an emergency radio in your emergency kit?
That's because they offer a way to keep in touch with what is happening around us. It can alert you to severe weather alerts, listen to air traffic, and even monitor ham radio conversations.
An emergency radio is extremely useful since it stays running even when another electronic device does not. Whether dealing with extreme weather or another unforeseen event, your radio will keep you connected to the outside world.
I have narrowed down several of the best emergency radios that run on batteries, solar energy, and ones charged by a hand crank.
Read about what to look for in an emergency radio. Then keep reading for my list of the best survival radios for emergencies.
Hey, if you buy something through my links, I might get a little something-something as a thank you. No extra cost to you, promise! Read our full affiliate disclosure here.
How to Choose the Best Emergency Radio
When looking into purchasing the best survival radio you can, you will come across different types. Most can charge by using batteries, a hand crank, or a solar panel. You will also want to include other important features that I mention in my buying guide.
Buying Guide for Finding the Best Survival Radio – 6 Items to check
Be sure that your hand radio includes these important features!
1. Hand Crank
A hand crank emergency radio utilizes an internal generator to create power. An external crank arm is turned to move a metal coil around a magnet inside the radio. This creates a current, charging the battery.
A hand crank can be a great option for an emergency radio since. A radio that only offers a solar panel cannot charge properly when it's cloudy. Other radios, requiring batteries or electricity, won't be an option if you have no power or batteries.
Having a hand crank radio means that you will have access to information as long as you can physically turn the hand crank.
2. Reception & Receipt of NOAA Broadcasts
The main function of an emergency radio is to stay informed. You want to be sure that yours comes with the ability to pick up AM/FM radio stations as well as the seven NOAA weather bands.
You will also want your radio to have solid reception. Look for a radio with a telescoping antenna to better bring receive the radio waves.
3. Charging Methods
In severe weather or other emergency situation, there is no guarantee that power will stay on. That is why you will want to be sure that your radio has several charging options. Most radios offer more than one option, including batteries, solar panel, and a hand crank.
4. Durability & Waterproofness
If you find yourself in an emergency situation, chances are you are experiencing extreme weather or have no power. Or, you might be out in the wilderness, exposed to the elements.
Either way, you will want your emergency radio to be both durable and waterproof! That way, your source of information is as protected as it can be.
5. Battery Life
The larger the battery, the longer battery life you will have. Batteries that offer a longer range for emergency radios fall between 2,000 to 2,600 mAh. They can give you about a full day of use when fully charged.
Smaller batteries will have approximately 850 to 1,000 mAh. That can provide for shorter emergencies when used sparingly.
6. Extra Features
Many survival radios offer extra features. Look for USB chargers, emergency alerts, SOS signaling, and table lamps, to name a few.
---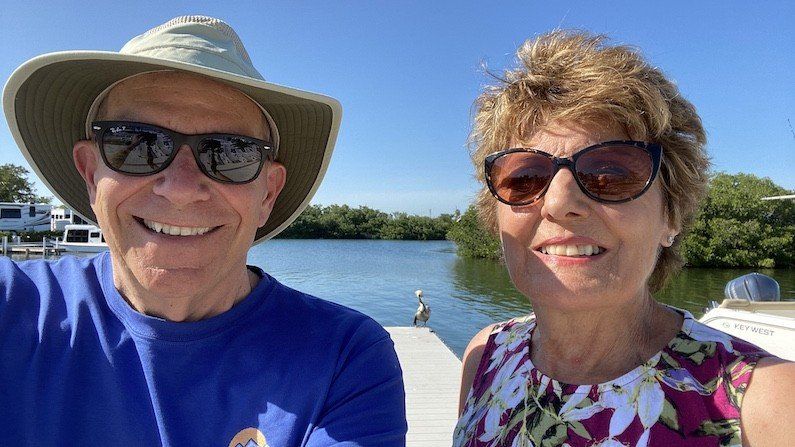 Curious about the gear, gadgets, accessories, and RV products Mike & Jennifer use and recommend?
On this RV Lifestyle Travel blog, our RV Podcast and our RV Lifestyle YouTube Channel, we mention all sorts of RV-related products and gear that we use, So we created a special page that links to them. We update this all the time.  CLICK HERE to go to it directly. Have you caught one of our Amazon LIVE events yet? Just go here and Follow us – to be notified every time we go live.
---
5 Best Survival Radios for Emergencies
Here are my top five picks for the best survival radios for emergencies.
The lightweight, ergonomic Midland ER210 radio is first on my list for best survival radio. It includes a 2,200mAh battery, which offers 25 hours of continuous use. When it needs to be charged again, you can choose between using the hand crank or charging the solar panel.
Never miss out on weather alerts or emergency updates with this lightweight, ergonomic radio. The Midland ER210 receives standard AM/FM signals, along with the National Oceanic and Atmospheric Association (NOAA) weather bands.
It also offers an auto-scan option that will locate the best weather signal for your specific location. This is the unit Jennifer and I have. Since we bought ours, a model 310 has come out (see #5 below) with some beefier specs. I put this as #1 because, if you can still find it, it is the best bargain.
Second on my list for the best survival radio is an excellent budget option that provides a lot of bang for your buck!
This solar crank radio provides many emergency features, including alerts for severe weather, tornados, and hurricanes in your area. You will always be sure to find NOAA weather channels with this RunningSnail radio.
When emergency weather or natural disaster hits your location, an SOS alarm with flashing red lights lets rescuers know that you need assistance. The LED flashlight can light dark areas, while a USB cable allows for the charging of digital devices. There is even a table lamp feature, brightening dark rooms when the power goes out.
The 2,000mAh battery can be replaced by three AAA batteries, a charged solar panel, or via the hand crank.
Often touted as the best lightweight emergency radio option, this less than one-half-pound radio is not lightweight on power. Charging the solar panel for eight hours in the sun will power the radio for 4-6 hours. Using the hand crank for 90 seconds will provide up to 30 minutes of listening time!
If the hand crank and solar power sources are not for you, the radio will run for up to 60 hours using three AAA batteries. Talk about power!
The radio can access AM, FM, and weather bands by using a backlit analog tuner. A flashlight can light up dark spaces, while a USB port can charge digital devices.
This made my list for best survival radio because of its incredible durability. When faced with an emergency situation, like extreme weather, durability is an important feature to have!
The Kaito Ka500 Voyage offers a wide range of band reception, including AM, FM, and shortwave. You can also be sure to stay informed by accessing one of the seven pre-programmed NOAA weather stations!
You can also utilize its "alert" mode to access alerts from the NOAA weather stations.
My final pick for best survival radio is the Midland ER310. It offers a wide range of charging options, including solar power, hand crank, and batteries.
This is an update to the model 210 at the top of the list and has a slightly beefed up battery – 2,6000mAh battery, lasting for up to 32 hours before needing a recharge. The 210 has a 2,200Ah battery good for 25 hours.
This radio allows you access to AM and FM radio, as well as all seven NOAA weather bands. It also features a strobe beacon to help rescuers find you in an emergency. Finally, an on board LED flashlight can lighten dark spaces, while a USB charges other devices.
[mc4wp_form id="63338″]