Don't make the mistake of getting out there in the camping world, only to hide away in your RV. Here's how to make friends while camping with some practical icebreakers…
Going to a new campground can feel like going to summer camp as a kid. You're excited about all of the things to do, but might be really nervous about the social aspect.
Are the other kids going to like you? Are you going to make friends? Or are you going to write home to mama to pick you up asap?!
Hopefully, your summer camp experience is a happy memory, but no matter what, your next camping experience can be!
Here are some great tips on how to make friends while camping…
Why You Need to Put Yourself Out There
One of the main reasons people join the RV lifestyle is to see the world. They want to visit all kinds of places and see new things. But don't forget that people can truly take your experience to the next level.
What's so great about RVing is you get to visit one place but can learn about so many places through the people you meet. Best of all, you can see how people from all over the country and even the world share a lot in common with you.
Getting to know some locals will give you more insight than any travel guide could give you, too. A quick chat with your waitress or grocery bagger can teach you things about the area you'd never know otherwise. Just gaining a glimpse into local life is interesting in its own right.
And that's the mindset you need to adopt. A "friendship" when camping is probably fleeting. In most cases, you'll never see or hear from them again.
Now, don't get me wrong. You may, in fact, meet lifelong friends but even small friendly interactions can make a huge difference! Getting to share stories, relate to strangers, and lowering your guard can teach you a lot about the world and even yourself.
Not to mention, many studies have shown that social interaction improves your mental and physical health.
It's Easier to Make Friends While Camping
Making new friends can be nerve-wracking, but you actually have two big advantages when camping. Embracing these two advantages can make the whole idea of meeting new people easier for you.
Advantage #1
The first advantage is you never have to see these people again. Ha! I bet you didn't expect that! But that thought is actually very freeing.
You don't have to worry so much about whether they like you or you like them because, if not, well, you move on.
A friend shared with me once that she used to be very nervous about meeting her neighbors at her brick-and-mortar house because she'd be stuck with them if she didn't like them. But, she said, she doesn't have that fear with her campground neighbors. The worst that could happen is an awkward conversation.
The opposite is true, too. You may be more nervous that they won't like you. Guess what?! Even if they don't, they're not stuck with you either! So, embrace the short-term stakes.
---
Mike and Jennifer's Summer T-Shirts for your next adventure

---
Advantage #2
The second advantage is you're among your people! There's a very good chance they like doing the same thing as you because they are doing the same thing as you.
Plus, campers tend to be friendly people. They know how to sit back and relax and enjoy the moment. They're curious about new places and things, and that usually includes you!
Many will even take the first step and strike up a conversation with you. So, you just need to be prepared to not shy away from it. Return their greeting or question, and see where it goes from there.
How to Make Friends While Camping: 14 Tips & Icebreakers
Saying you want to make friends and knowing how to make friends are two very different things. So, here are some tips and icebreakers to help you along your way.
Look for long-term campers that have been there or are staying more than a few days. Weekenders and bigger groups tend to just want to focus on their fun and their families since they're limited on time.
Smile and wave at everyone. Some will take it from there for you! They'll strike up a conversation and you just have to participate.
Let your dog be your wingman. Take your dog for a walk around the campground or park him beside you in your outdoor area. People will come to your dog, and then to you. 
Let your kids be your wingman. Kids usually don't have the same reserves we do about meeting new people so let them loose! Let them play with other kids and then you can meet their parents.
Let your travel companion be your wingman. Chances are, one of you is more sociable than the other. Don't hold them back! Don't go, "you shouldn't bother them or maybe they don't want you to…" Let them do their thing and if it works out, great! If it doesn't, that's on them!
Limit your first conversation to 5-10 minutes. Campers are very friendly people and often over-polite. They may be in the middle of something or on the way somewhere but they don't want to interrupt you. So, try to keep the first conversation short and then swing back by or invite them over another time.
Set up extra chairs around your fire pit. You can invite people over, offer s'mores to passers-by, or even put a sign up that says "free campfire stories" or "campfire songs".
Participate in campground activities. A lot of campgrounds host group activities, like card games, sports matches, or meet-and-greets. Join in!
Place your chairs at the front of your campsite facing passers-by. Smile and say hi to everyone and see where that goes.
Set up a snack station. Have a portable table for coffee or snacks and invite people to stop by. 
Ask them about their RV. RVers love to talk about their rigs! 
Offer help. If you see them lugging gear or setting up, offer to help. Some may decline but others will appreciate it.
Ask for help. Whether you need to borrow a tool or need help backing up, asking for help is a great way to break the ice.
Host a game night. Walk around the campground and let people know you're having a game night and anyone's welcome to join. Camping games are a great way to interact without having to rely on conversation.
We'd love to hear your tips and advice on how to make friends while camping. Please share your advice and experiences in the comments below.
New ebook from Mike and Jennifer Wendland – the Natchez Trace
The Natchez Trace Parkway will capture your imagination, soothe your jangled travel nerves, open your mind and inspire you with the history that unfolded along its 444 miles.
Each of the 7 Days of the ebook has:
Suggested Mileposts to explore
Places to Eat in each area of the 7 sections
Campground descriptions and links
Links to all the special places and information
Links to videos that show more in detail
and a lot of highlighted information for each section
PLEASE NOTE: This is NOT a printed, hard copy guide.
Whether you want to follow the footsteps of explorers, discover natural beauty, or visit historic sites, the Trace has something to grab your attention and leave you eager to see what's at the next milepost.
You can see why this is one of our favorite US routes to explore. We've traveled it a half dozen times!
---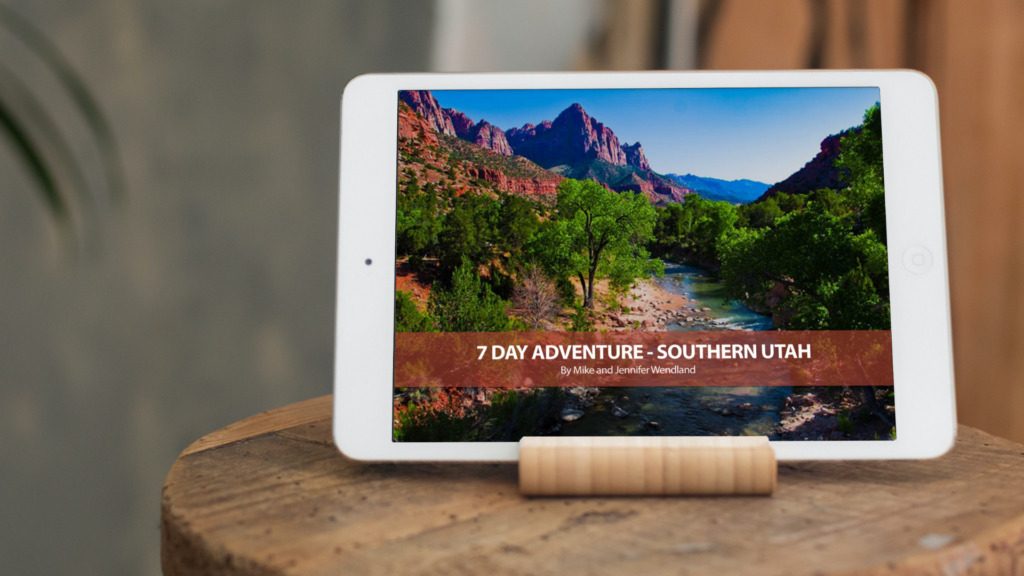 Our RV Adventure Guide outlines seven-day guided explorations of scenic areas of Southern Utah that we've explored. It would make an excellent RV trip for you!
In each location, we provide a suggested route and itinerary (7 stops in each guide, one for each day of a week trip!) as well as links to multiple campgrounds and boondocking spots, local tips, and interesting things to do at each location.
You can hit everything in seven days, do a whirlwind weekend tour, or you can take your time and explore the area over a 2+ week period.
Planning an RV trip can be very time-consuming so that's why we've done the research for you! Just take our guides and use them, we're sure you'll have an RV trip for the ages! Instant download. CLICK HERE for information on ALL our RV Travel Guides
---
---
---