I want an RV but where do I start? Out of all the choices, how do I know what is the right RV for me?
Have you ever heard of choice overload? It's when there are so many options that it basically overloads our mental and emotional circuits, and we shut down. We slam our laptops shut and say forget it! I'll look again tomorrow.
Well, if you wait until tomorrow to decide on which RV to buy that's one less day you have on the road. So, let's help you overcome this choice overload by carefully explaining your options. We'll start with the broad categories and then work our way down.
By the end of this article, you'll have narrowed your options down to a manageable and far less overwhelming point.
Motorized vs. Towable RVs
The best place to start is the two broad types of recreational vehicles. The first are motorized RVs and the second is towables. Their names are pretty self-explanatory but let me quickly break down the main differences and why you would want one over the other. 
A motorized RV is an all-in-one vehicle, meaning it has its own engine, driver's cab, and living area. As such, motorized RVs are more expensive than travel trailers with equivalent living spaces. They are also called motorhomes and come in Class A, Class B, and Class C (which I'll get into more soon).
People who choose a motorized RV usually:
Plan to go on longer trips (longer distance and/or longer duration)
Don't feel comfortable nor want to learn how to tow a trailer
Want easier set-up and tear-downs (want to just buckle up and drive away)
Possibly want a very small "toad" that their motorized RV can handle (not all motorized RVs can do this)
A towable RV, also known as a travel trailer, is towed behind a vehicle (usually a truck but I've even seen cars pulling small pop-ups). Since you're not paying for the 'vehicle part' like a motorized RV, comparable towables are more affordable. The main types of towables are fifth wheels, travel trailer, toy hauler, and pop-up.
People who choose a towable RV usually:
Already own a towing vehicle (or want to buy one to use when not RVing)
Are comfortable with or don't mind learning how to tow a trailer
Don't mind unhooking, leveling, and hooking up their trailer every trip
Want to use their towing vehicle to explore while leaving the trailer at the campground
Want to use their towing vehicle for more everyday use
To learn more about the pros and cons of each, read Towable vs. Motorized RV: What is the Right RV for Me?
Now that you've decided between motorized and towable — you can narrow it down even more. If you have decided on motorized read the next section called "Types of Motorized RVs" and if you've decided on a towable scroll down to the section called "Types of Towable RVs" —
---
---
Types of Motorized RVs
There are 3 types of motorized RVs: Class A, Class B, and Class C. It's usually fairly easy for people to cross out either Class A or Class B, depending on their travel plans. It gets a bit trickier deciding between each of those and Class C. You'll see why, since Class Cs are basically designed as a compromise between Class A and B.
Class A
The "king of the motorhomes," a Class A is known for its luxury and in a lot of cases, its larger size. Class A ranges from 25-feet to a whopping 45-feet in length! Luxury amenities often come standard, such as a washer and dryer, fireplace, outside entertainment center, king-size bed, etc.
In addition to being longer, they often have big pop-outs to enlarge them even further. In many ways, they are the epitome of a house on wheels. So, they are a great option for full-timers or families.
However, their large size can sometimes limit campground choices and make running out for groceries a challenge. So, ironically, these long vehicles end up even longer since many pull a "toad" vehicle behind them as an errand or exploring car.
There are now, much shorter Class A RVs. If you go about 1 minute in you'll see one of the shortest Class As available.
Class B
A Class B RV is also known as a conversion van or campervan. They are smaller than Class A, ranging from 16-feet to 22-feet. As such, they drive much more like a regular car and are easier to park. Campgrounds are much more likely to accommodate its size, too (though not all at the 22-foot side of the range).
Though small, their floorplans are highly efficient. You still get the modern convenience of home with a kitchen bed, bathroom, and storage space.
However, though they are smaller, they are not necessarily cheaper! Class Bs can come with a high price tag to match their added convenience and improved efficiency.
If you want to see a few more affordable ones – watch this.
Class C
I like to think the C stands for Compromise. A Class C is a mid-size RV that's more affordable than both Class A and Class B. They range from 21-feet to 25-feet.
Unlike Class Bs but like Class As, Class Cs often have a slide-out. They're also widely known for having an over-the-cab bunk.
If you want to learn more, check out Class A vs. Class B vs. Class C: What is the Right RV for Me? 
Types of Towable RVs
The 4 types of towables are fifth wheels, travel trailer, toy hauler, and pop-up. The fifth wheels and travel trailers are the most popular, although the toy haulers and pop-ups are a great niche market.
Fifth Wheel
The fifth wheel gets its name from a similar coupling used on four-wheel horse-drawn carriages and wagons. It hitches to in the bed of the truck to where a portion of the trailer sits above the truck. This gives extra living space plus a smoother ride than tow-behind trailers. 
Fifth wheels are usually larger and more expensive than travel trailers. But it's typically agreed that 5th wheels are easier to tow than the tow-behind trailer, especially once it's 28' or longer.
5th wheels usually have taller ceiling heights compared to other towables and stairs to the upper level that sits above the truck bed. The latter of which is not ideal if you're looking for accessibility.
Take a look at one we saw at the Florida RV Supershow!
Travel Trailer
The term 'travel trailer' is often used synonymously with towable, but travel trailers are more specifically an RV that hooks the back of a vehicle near the bumper. Travel trailers are more affordable than 5th wheels and come in a wider variety of styles.
Since the weight of the trailer sits at the rear of the vehicle instead of over the axle, it can mean a bumpier ride and more wandering in your lane. Unlike a 5th wheel, though, you don't have to have a truck to pull a travel trailer. A van, SUV or even car with the ride tow load capability can manage.
To learn more of the pros and cons of these two most popular towables, read 5th Wheel vs. Travel Trailer: What is the Right RV for Me?
Toy Haulers
Toy haulers come in both 5th wheel or trailer models. In fact, there are motorized toy haulers, too, though they're not as common (but maybe growing in popularity). 
What makes them a toy hauler is they essentially have a full garage at the back. RVers who are into motorsports, like dune buggying, motorcycle riding, or snowmobiling, often opt for a toy hauler so they can take these toys with them. These RVers usually plan their travels around their sport.
Pop-Up Trailer
We started this article with the King of Motorhomes and now we end it with the baby of the bunch. Pop-up trailers are some of the lightest RVs available. They have fold-up walls and ceilings that often expand beyond their box frame when set up. 
They're certainly the most fuel-efficient on the list since they are the lightest and have the smallest profile when "popped down." When closed, they're normally only about 4' thick. They are also usually the most affordable.
Perhaps the biggest perk is almost any automobile can pull them (depending on their size and the car's towing capacity, of course). But, it's not unusual for cars to pull these guys, right along with SUVs, vans, and of course trucks.
So, What is the Right RV for Me?
You started this article asking, "What is the Right RV for Me?" I hope now that you have narrowed down that list to at least the type of RV that will best fit your travel lifestyle. Be sure to check out the added links for each category to help you narrow it down even more.
And enjoy even more videos on this YouTube playlist all from the 2022 Florida RV SuperShow! There are ten videos on this list.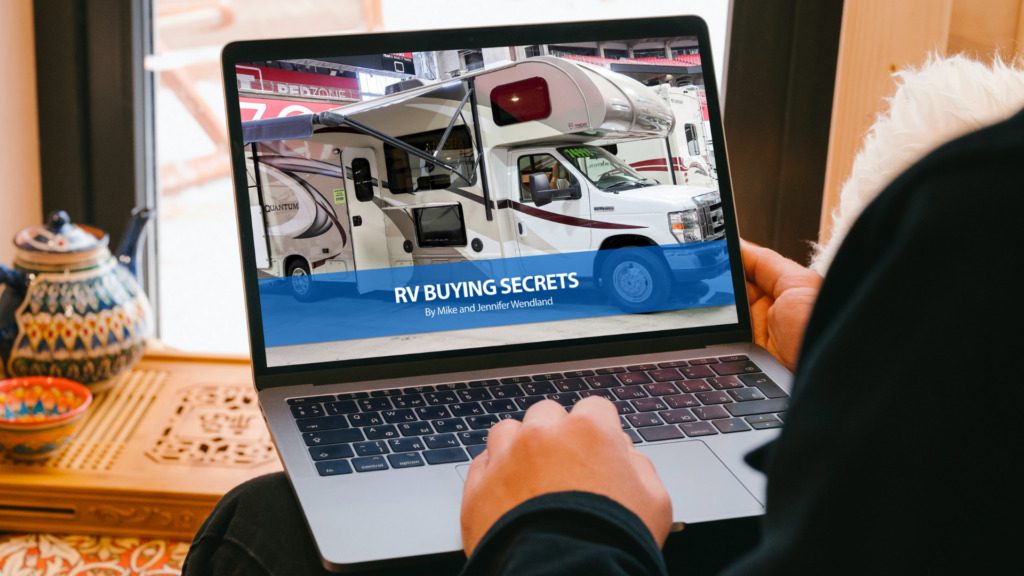 Next to your home, an RV is most likely the 2nd most expensive thing you'll ever purchase.
We get questions every day of other RVers wondering. "How do you buy a new or used RV?"
So we created a 75+-page downloadable digital guide to help you understand the nuances that come with purchasing an RV, where you can save thousands of dollars in the buying process, what the right questions are to ask dealers, what things to look out for, how to select the right unit, amenities, warranties, and so much more!
We created this guide to help you understand the nuances that come with purchasing an RV including:
Where to save thousands of dollars in the buying process
What questions to ask dealers
How to select the right unit
How to narrow down RV amenities
Understanding your warranty and what it covers
This ebook is designed to help make your purchase process as smooth as possible. And to teach you step-by-step exactly what to do so you can start your RV Lifestyle today!
---
---
---