Here are 5 steps outlining how to budget for full-time RV life PLUS MANY RESOURCES to help you supplement your income, cut costs, and more…
If you're considering hitting the road and living in your RV full-time, it's important to make sure you have a solid budget in place. A budget can help you make the most of your money and ensure that you have the resources you need to enjoy your travels.
In this blog post, I'll be sharing some tips and strategies for budgeting for the full-time RV lifestyle. We'll talk about how to determine your monthly expenses, estimate your income, and create a budget plan that works for you.
So if you're ready to hit the road and live the RV life to the fullest, keep reading!
We use affiliate links and may receive a small commission on purchases at no added cost to you. Thank you for your support. You can read our full affiliate disclosure here.
How to Budget for Full-Time RV Life
The first two sections may seem obvious at first glance, but stick with me. We need to lay the groundwork before we build upon it. Plus, there are tips and tidbits in each section you may not have considered.
I'm also going to provide helpful resources and point out things you should consider before diving into full-time RV life. Let's get started…
1. Determine Your Monthly Expenses
Determining your monthly expenses is important in budgeting for the full-time RV lifestyle. This includes fixed costs, which remain constant each month, and variable costs, which can fluctuate from month to month.
To get a good understanding of your monthly expenses, start by making a list of all the costs you expect to incur each month. This can include things like:
Be sure to include both fixed and variable costs, and try to be as thorough as possible. You may also want to use a budgeting app, like Dave Ramsey's EveryDollar, or a spreadsheet to help track your expenses and see where your money is going.
Once you have a complete list of your monthly expenses and estimated income, consider ways to cut costs. For example, you might be able to negotiate lower rates for insurance or storage fees, or you could find free or low-cost activities to do instead of paying for entertainment.
Trimming your expenses can free up more money to put toward your other financial or lifestyle goals. The way we see it, the more you save on basic expenses, the more you can travel! So, it's worth trimming down wherever you can.
2. Estimate Your Income
While budgeting for the full-time RV lifestyle, it's important to have a reliable source of income. Depending on your situation, you may already have a steady income, either from retirement or a remote job.
Many people embrace the RV Lifestyle at retirement. In this case, you may be able to afford full-time RV life on social security and retirement income. In this case, I also recommend reading 11 Insightful Ways to Embrace Being a Senior RVer.
With the widespread availability of the internet and mobile devices, many people are able to work remotely from anywhere. This is becoming even more realistic as Starlink becomes more available and reliable. You still might need to figure out exactly which type of Starlink service you need.
If you have a job that allows you to work remotely, this can be a great way to generate income while living in an RV. If you want to transition to a job like this, you can take a look at what jobs real RVers do from the road.
To determine if your income is sufficient for the RV lifestyle you want, you need to create a budget plan…
3. Create a Budget Plan
Once you understand your monthly expenses and income, it's time to create a budget plan. To create a budget plan, start by comparing your estimated income and expenses.
If your expenses are higher than your income, you'll need to find ways to cut costs or increase your income. (I'm going to talk about ways to supplement your income & cut costs in the next sections!)
If your income is higher than your expenses, you can use the extra money to save for the future or invest in your RV lifestyle (e.g., by upgrading your RV, taking a longer trip, or paying for the inevitable repairs).
Here are some tips for sticking to your budget:
Set specific financial goals: Whether it's saving for a down payment on a new RV or paying off debt, having specific goals can help you stay motivated and focused on your budget.
Use a budgeting app or spreadsheet: There are many tools available to help you track your expenses and stick to your budget. Consider using a budgeting app or spreadsheet to help you stay organized and on track.
Make a savings plan: It's important to have a savings plan to help you weather any unexpected expenses or emergencies. Consider setting aside a certain amount of money each month for savings, and consider investing in a high-yield savings account or other financial product to help your money grow.
As you live the full-time RV lifestyle, it's important to be flexible and adjust your budget as needed. If your expenses or income do not match your budget plan, don't be afraid to make changes.
You may need to cut costs or find new income sources to stay on track…
4. Consider Ways to Supplement Your Income on the Road
Is your social security, retirement, or current job income not enough to support the RV lifestyle you want? Or maybe you just want to earn extra money for a "fun fund"?
Here are some great ways to supplement your income while RVing:
Workamping
Like what you see in these videos? We'd appreciate it if you would Subscribe to our YouTube Channel (easy to do right here) and consider "ringing the bell icon" to be notified of any new video from us. 🙂 Thanks!
Work camping is an excellent way to supplement your income. To learn more, read Work Camping Jobs: 10 Best Resources for Workamper Jobs.
Freelancing
If you have a particular skill or expertise, you may be able to find work as a freelancer. There are many websites and job boards that connect freelancers with clients, like Fiverr and Upwork.
So, it's worth exploring this option if you have a marketable skill. You can market yourself whether or not you have degrees, certifications, or professional background in the jobs. You can just be good at it and succeed.
Some profitable freelancing jobs include proofreading and editing, illustrations and design, virtual assistant, blog writing, website testing, and much more.
You can also consider making money while RVing as a pet sitter!
Starting a Small Business
If you have a particular hobby or passion, you may be able to turn it into a small business. For example, you could sell handmade crafts on Etsy or provide services such as photography.
Don't Forget…
When estimating your income, it's important to be realistic and consider any expenses you may incur to generate that income. For example, if you're starting a small business, you'll need to factor in the cost of materials or supplies.
To find and negotiate income sources, consider networking with other RVers or using job boards and websites that connect freelancers with clients. It can also be helpful to create a portfolio or resume that showcases your skills and experience. With a little effort, you can find and negotiate income sources that will help support your full-time RV lifestyle.
5. Tips for Saving Money on the Road
If you're living the full-time RV lifestyle on a budget, you may be looking for ways to save money on the road. Here are a few tips to help you stretch your budget further:
Find discounts on campsites: Many campgrounds offer discounts for RV campground memberships and clubs, such as the Good Sam Club or Passport America. Consider joining one of these organizations to take advantage of discounted campsites.
Minimize expenses: Another way to save money on the road is to minimize your expenses. Consider cooking at home instead of eating out, and look for free or low-cost activities to do instead of paying for expensive entertainment.
You can save BIG with reciprocal memberships for museums, zoos, and more. You can also save a lot by learning how to do basic RV maintenance and repairs.
Get the Home Study Course today and worry about the road, not the repairs!
Every time you move your RV it's like driving through a hurricane during an earthquake. Parts break and many items need to be maintained, this program will show you how you can save time and money by gaining the confidence to take on the majority of the issues you'll come across. Don't get caught with your RV in the shop! Learn how you can maintain and repair your RV at your own pace and at the most convenient time for you! This course is produced by the National RV Training Academy.
More on How to Budget for Full-Time RV Life
Save on fuel costs: Fuel can be a significant expense when traveling in an RV. To save money on fuel, consider using a rewards credit card or EFS fuel card that offers discounts on gas.
Or look for apps that can help you find the cheapest fuel prices in your area. You can also learn how to get better gas mileage.
Camp for free: While camping in a campground can be convenient, it can also be expensive. Consider camping for free on public land, or look for free or low-cost campsites through resources such as Harvest Hosts or Boondockers Welcome.
Boondocking is Jennifer and my favorite way to RV. It saves us a lot of money and gives us more freedom to travel. To learn more, check out our guides…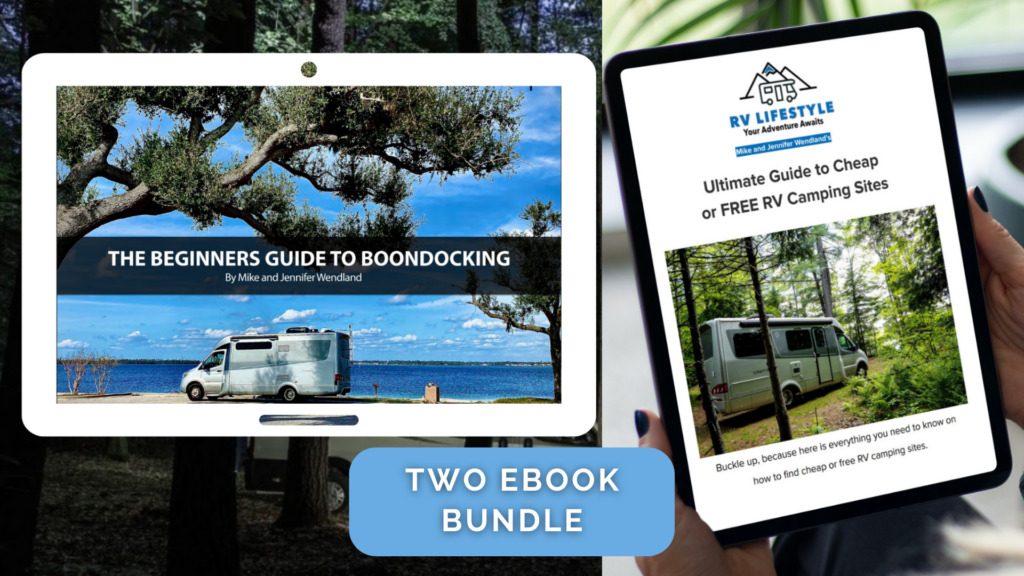 Beginners Guide to Boondocking (one of our most popular ebooks) and one of our newest ebooks, The Ultimate Guide to Free and Cheap RV Camping!
ebook #1: Beginners Guide to Boondocking
We created a 65+-page downloadable digital guide to help you understand the nuances that come with boondocking, the most common boondocking problems, and what you need to do to get your rig "boondocking-ready."
ebook #2: The Ultimate Guide to Free and Cheap RV Camping
Buckle up because here is everything you need to know on how to find cheap or free RV camping sites in the 33-page EBOOK.
---
---
---
Check out this Southwest Adventure Guide Bundle (Arizona, Utah, & Colorado)
When Jennifer and I travel to the southwest, we are continually amazed at the majesty and beauty this country has to offer. And it's really hard to stay in just one state! So we created this Bundle for you in case you like to travel as we do.
We put together our Southern Utah Guide, Colorado Guide, and our NEW Arizona Guide into this 3-State Bundle at a very reduced price!
Each of these RV travel guides is a seven-day guided exploration of some amazing places to explore in these states. And each stop is a curated view of the best things that we've enjoyed on these trips and want you to experience.
All together these guides are over 300 pages of content!
---