Real RVers weigh in with their tips and tricks on how to drive a Class A motorhome…
Even though RV Lifestyle has been sharing advice for over a decade, we didn't have an article on how to drive Class A motorhomes until now. And that's thanks to Judy, who reached out to our RV Lifestyle Facebook group for advice.
She has recently lost her husband but wants to continue living their travel dreams in their Class A. This is what she wrote:
"My husband died suddenly one month ago. We have a class A RV and have enjoyed camping in it for the past year and a half. My husband had booked a camping trip not too far away in march and I would really like to drive there myself. I know how to hook up everything but a little nervous about driving it. I am only 5 ft, any tips would be so appreciated."
Our community jumped to her aid, offering advice and encouragement with over 550 comments.
We're going to share their tips and give you some helpful resources to go along with them.
So, whether you are new to RVing or simply new to driving a Class A motorhome, this article's for you!
We use affiliate links and may receive a small commission on purchases at no added cost to you. Thank you for your support. You can read our full affiliate disclosure here.
10 Top Tips for Learning How to Drive a Class A Motorhome
Driving a Class A RV can be intimidating. You must worry about blind spots, sharp turns, high winds, parking in tight spots, and more. But… anyone can do it!
With the following tips and some practice, you can build your confidence and hit the open road in your large RV. Many of the tips even apply to travel Class B motorhomes or trailer and fifth-wheel RVs, so it's worth any RV driver scrolling through.
(By the way, what Judy is experiencing is one of The Biggest Pitfalls of Splitting RV Duties Down the Middle.)
1. Go to RV Driving School
Like what you see in these videos? We'd appreciate it if you would Subscribe to our YouTube Channel (easy to do right here) and consider "ringing the bell icon" to be notified of any new video from us. 🙂 Thanks!
Before hitting the road, consider taking an RV driving class. That's exactly what Jennifer and I did when we bought our Arcadia 5th wheel.
These classes are designed specifically for RV drivers and can help you build the confidence and knowledge needed to maneuver your Class A motorhome.
You'll learn how to handle different road conditions, how to back up and park in tight spaces, and how to deal with high winds and other challenges that come with driving an RV. Many RV dealerships and camping organizations offer driving classes, and some even offer one-on-one coaching.
2. Know Your Dimensions
One of the biggest challenges of driving a Class A motorhome is knowing your vehicle's dimensions. Before you hit the road, know the height, width, and length of your RV, including any overhangs.
Be sure to account for any accessories, like e-bike racks, that may extend beyond the body of the vehicle. This will help you avoid low-hanging branches, narrow bridges, and other obstacles that can damage your RV.
And always remember to look up! When you are pulling up to a gas pump, going under a bridge, or parking at the campsite, always look up. Check for clearance before you go under anything.
We recommend using an RV-specific GPS, like RV Life Pro, to help you plan routes and find gas stations that are RV-friendly. RV Life Pro takes into account the type of RV you're driving and routes you accordingly.
If you want to enjoy using all the RV Life Pro tools just add this coupon code: RVLIFESTYLE which gives you 25% off the price!
3. Start Close to Home
When starting out, take your Class A motorhome for a test drive close to home. This way, if you run into any problems, you can get back home and seek assistance more easily.
Also, consider going to a large empty parking lot outside store hours to practice your turns and backing up. You can even take orange cones to make a course.
As you become more confident and comfortable behind the wheel, you can gradually venture further from home.
4. Set Your Mirrors Properly
Proper mirror placement is crucial when driving an RV. Make sure that your side mirrors are positioned to where you can see a sliver of the side of your RV and the adjacent lane. If your RV has a rear view mirror, check and adjust it whenever you jump in the driver's seat for your next trip.
Keep in mind that your RV will have blind spots, so know where these are! If your mirrors aren't cutting it, you can add a blind spot mirror to give you more visibility. They'll make lane changes that much easier.
5. Check Your Tires Every Travel Day
Tires are the most important safety feature on your Class A motorhome. So it's crucial to check them every day before you hit the road.
Check the tire pressure, inspect the treads for any signs of wear or damage, and look for any bulges or cracks in the sidewalls. Keeping your tires in good condition will help ensure a safe and comfortable ride.
Here are related tire articles you should check out:
Get the Home Study Course today and worry about the road, not the repairs!
Every time you move your RV it's like driving through a hurricane during an earthquake. Parts break and many items need to be maintained, this program will show you how you can save time and money by gaining the confidence to take on the majority of the issues you'll come across. Don't get caught with your RV in the shop! Learn how you can maintain and repair your RV at your own pace and at the most convenient time for you! This course is produced by the National RV Training Academy.
6. Understand Tail Swing
Class A motorhomes can have a significant amount of tail swing, which refers to the movement of the back end of the vehicle when making turns. Be aware of your tail swing and try to avoid tight turns in congested areas where other vehicles may be present.
Understand that your rear axle serves as your pivot point, and the overall length between your rear wheels and the back of your rig affects your tail swing size. Plus, right turns and left turns have different tail swings.
One of the better tail swing YouTube videos we found is for school buses, but the concepts are the same. It's worth a watch.
Just remember, when making a turn, take it slow and be prepared to make adjustments as needed to avoid hitting other vehicles or objects.
7. Don't Let Other Drivers Rush You
When driving an RV, it's important to take your time and not let other drivers rush you. Remember that your vehicle is much larger than passenger cars and requires more time and space to maneuver.
If another driver is honking at you, ignore them. Do what you need to do to be safe, even if it inconveniences other drivers.
If another driver is tailgating you, try to pull over and let them pass when it's safe.
8. Walk Before You Park
Before parking your Class A motorhome in a campsite, take a walk around the RV and inspect the area to ensure there are no obstacles. Look for low-hanging branches, overhead wires, tree stumps, children playing nearby, etc. Also, look for any signs of uneven ground or other potential hazards.
This will help you avoid damage to your RV and ensure a safe and stress-free experience when parking. We wrote a "Backing Up an RV" Learner's Kit that goes over everything you need when it comes to reversing an RV.
Which brings us to our next tip…
9. Use a Backup Guide (Person or Camera):
Backing up a Class A motorhome can be a challenge, especially for first time drivers. Use a backup guide to make the process easier and safer. This guide can be a responsible travel companion, a camping neighbor, or a back-up camera.
If you're using a human backup buddy to back you into a tight spot, walkie-talkies really come in handy. If your recreational vehicle didn't come with a back-up camera, check out these 5 Best RV Backup Cameras.
Or try to only reserve pull-through camping sites!
10. Just Do It!
We think it's a good idea to end on Jennifer M.'s advice. She encouraged Judy to, "Just do it!! You will be comfortable in about an hour of driving it…"
Jennifer M. is right! At some point, you just gotta do it! Get set up and learn as much as you can, and then get going. You can only build your confidence so much before you get behind the wheel.
Thankfully, your confidence will build faster than you think once you're actually driving down the road, even on your first drive. A few trips under your belt, and you'll feel like a pro!
Do You Need a Commercial License to Drive Class A Motorhomes?
Whether you need a commercial license or a special license to drive a Class A motorhome depends on the laws of the state in which you reside. In some states, a regular driver's license is sufficient for operating a Class A motorhome. However, in other states, there may be restrictions based on the weight of the vehicle, the length of the vehicle, or the combination of the vehicle and any attached trailers.
In general, if the combined weight of your Class A motorhome and any attached trailers exceeds 26,000 pounds, you may be required to obtain a commercial driver's license (CDL) in some states. Additionally, if you plan to operate your Class A motorhome for commercial purposes, such as transporting goods or providing tour services, you may be required to obtain a CDL.
It's important to check the specific laws of your state and to obtain any necessary licenses before operating a Class A motorhome. If you're unsure whether you need a commercial license or a special license, you can check with your state's Department of Motor Vehicles (DMV) or consult a local RV dealership.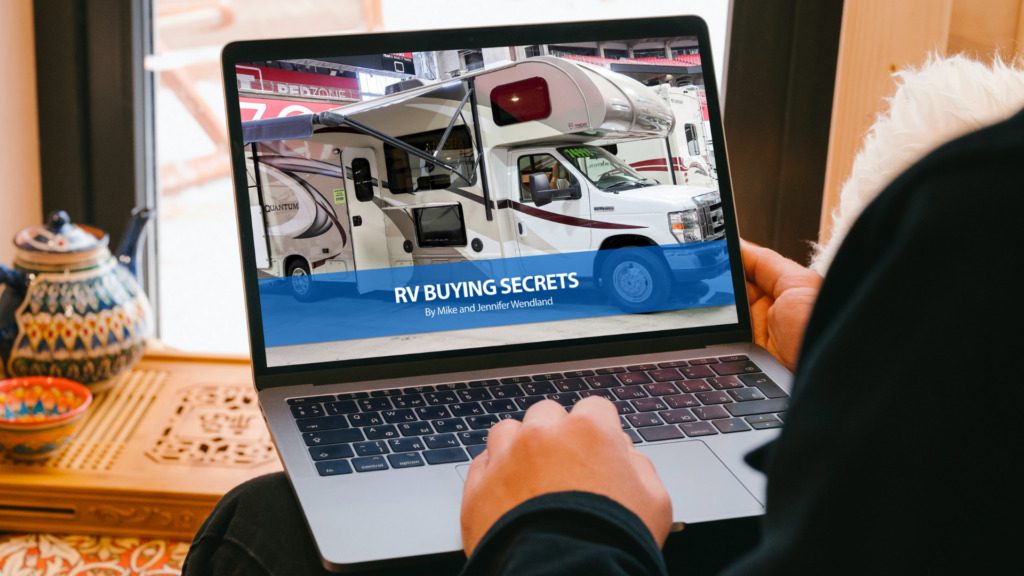 Next to your home, an RV is most likely the 2nd most expensive thing you'll ever purchase.
We get questions every day of other RVers wondering. "How do you buy a new or used RV?"
So we created a 75+-page downloadable digital guide to help you understand the nuances that come with purchasing an RV, where you can save thousands of dollars in the buying process, what the right questions are to ask dealers, what things to look out for, how to select the right unit, amenities, warranties, and so much more!
We created this guide to help you understand the nuances that come with purchasing an RV including:
Where to save thousands of dollars in the buying process
What questions to ask dealers
How to select the right unit
How to narrow down RV amenities
Understanding your warranty and what it covers
This ebook is designed to help make your purchase process as smooth as possible. And to teach you step-by-step exactly what to do so you can start your RV Lifestyle today!
---
---
---
We recommend Hollywood Racks for your RV Lifestyle…
The RV Rider bike rack for RV's, motorhomes, and fifth wheels carries 2 E-Bikes (up to 80 lbs. each) on the back of an RV Motorhome, a 5th wheel, or a flat towed vehicle. A 2″ hitch is required for this rack. Special features include universal heavy-duty wheel holders for heavy load carrying capacity. These wheel holders can fit any tire up to 5″ wide and include a ratchet wheel strap. Locking frame grabbers secure the bikes in place. This bike rack is not compatible with bumper pull, travel trailers or bumper mounted hitch receivers. Enter the promo code RVLIFESTYLE to save 10%
If you want to look at everything they offer, not just the RV Rider rack — go here and explore all the options!