Are you not outdoorsy? Or do you have a non-outdoorsy partner? Here's how you can still go camping and enjoy the RV lifestyle…
In a recent post in our RV Lifestyle Facebook group, a member named Gayle asked, "Do you think a person who is not outdoorsy could live the RV lifestyle?"
Some RVers responded that she would have a hard time in this lifestyle. However, many RVers responded that they can relate, either as being not outdoorsy themselves or having a non-outdoorsy partner.
Both sides made some valid points, sharing the difficulties Gayle might face and how to enjoy RV camping despite not being outdoorsy.
In this article, we're going to summarize the challenges, as well as delve into how non-outdoorsy people CAN enjoy the RV Lifestyle. Then, hopefully, you can better decide if the RV lifestyle is right for you and your partner.
We use affiliate links and may receive a small commission on purchases at no added cost to you. Thank you for your support. You can read our full affiliate disclosure here.
3 Big Challenges Non-Outdoorsy People Will Face
We will delve into the positive comments and how non-outdoorsy people CAN enjoy the RV lifestyle. But first, we want to point out three valid points nay-sayers shared in the comments.
Because the truth is RVing isn't for everyone and non-outdoorsy people will face more challenges than your stereotypical camper. So, it's important that we share the bad along with the good, so you can make an informed decision.
(PSST! Be sure to check out the video at the end of this article. It shares the FUNNY reasons RVers choose their RVs.)
1. RVers Utilize Outdoor Space to Not Feel Cramped
Depending on how non-outdoorsy you are, an RV may be too confining for you. Most RVers greatly expand their living space with their outdoor setups.
They often cook, eat, and lounge outside their RV in a patio-like setting they create. It essentially doubles their living space.
So, you need to consider how non-outdoorsy you are.
Could you enjoy eating at a picnic table?
Could you enjoy grilling meals or cooking over a campfire?
Could you enjoy reading or doing other hobbies in a comfy camping chair or at a picnic table?
Granted, you can do all of those things inside your RV. But at what point will you begin to feel claustrophobic? You need to know where that balance lies and if it's sustainable for you.
2. The RV Lifestyle Isn't Cheap
A few commentators pointed out that the RV lifestyle isn't as cheap as mainstream media likes to make it appear. So, if a non-outdoorsy person is interested in the RV lifestyle because they think it's cheaper than housing and travel alternatives, they need to dig deeper.
The RV Lifestyle can be cheaper than other forms of travel and housing. However, it takes a lot of smart planning to live more affordably in an RV.
Here are some resources to give more insight into the cost of RVing:
As you'll see, if you're considering RVing ONLY to save money, then you should probably reconsider another path.
Furthermore, whether or not you're convinced the RV lifestyle is right for you, you should ALWAYS give the RV lifestyle a test run before you commit to it! Rent an RV and go on multiple trips. Try out different classes of RV and different types of campgrounds. Try it before you buy it!
3. RVers Need to Do Basic Maintenance & Repairs
Unless you have plenty of money and time on your hands, you'll need to be okay doing basic RV maintenance and repairs yourself. Or, at least the maintenance.
The RV repair industry is so overloaded that it costs a lot of time and money to hire someone to do regular maintenance and repairs. Depending on where you live and travel, you also need to winterize and winterize your RV every hot/cold season.
Much of these To-Do items are done outside. So, if you and your partner are not willing to get a bit dirty and sweaty before and after every trip and every season, then the RV Lifestyle may be too much for you.
Get the Home Study Course today and worry about the road, not the repairs!
Every time you move your RV it's like driving through a hurricane during an earthquake. Parts break and many items need to be maintained, this program will show you how you can save time and money by gaining the confidence to take on the majority of the issues you'll come across. Don't get caught with your RV in the shop! Learn how you can maintain and repair your RV at your own pace and at the most convenient time for you! This course is produced by the National RV Training Academy.
How Non-Outdoorsy People CAN Enjoy the RV Lifestyle
When people think of camping, they usually think of hiking, biking, fishing, and more outdoor hobbies. They also think about being surrounded by nature and "getting away" from crowds and busy cities.
So, if that doesn't sound appealing to you, you might think RVing isn't for you. However, while all of the above is a very popular camping lifestyle, it is certainly not the only camping lifestyle.
We're going to share the type of camping lifestyle that can be right for you.
1. Stay at RV Resorts Instead of Campgrounds
There are a few key differences between an RV resort and campground. You can click on that link to learn more, but the biggest difference is the types of amenities.
RV resorts usually have more amenities and nicer facilities than traditional campgrounds (even more than traditional RV campgrounds). You can learn more about the RV resort amenities non-outdoorsy campers like to have.
Some RV resorts have concrete pads and manicured campsites. Not to mention landscaping throughout the park, along with resort-style pools, golf courses, playgrounds, and more.
2. Plan Trips Around Cultural Activities Instead of Nature Activities
The stereotypical camper plans their trip around nature activities. They're the ones who love to stay at state and national parks to go hiking, biking, and stargazing.
But if you don't like the outdoorsy "nature" stuff, that's okay! There are LOTS of RVers who plan their travels around cultural activities, like visiting museums, aquariums, historical sites, big cities, and more.
For instance, a non-outdoorsy RVer can take a California Animal Tour of the best zoos, aquariums, and gardens instead of going birdwatching or wildlife viewing in nature.
Non-outdoorsy RVers can really put reciprocal memberships to good use, and save a lot of money along the way! Reciprocal memberships give RVers access to networks of museums, zoos, botanical gardens, and more with a single, one-cost membership.
3. Upgrade RV Amenities
Let us tell you, there are some LUXURY RVs out there! There are lots of modern, amenity-rich RVs that outshine standard apartments and houses. Shoot, there are some RVs that outshine luxury homes!
Of course, luxury amenities come at a higher price, but they may be well worth the investment for non-outdoorsy people. Keep in mind, you may only need to upgrade the amenities that matter to you.
For instance, a dishwasher or clothes washer/dryer combo may be a must for you. Or you may need more room with a Class A motorhome or 5th wheel trailer.
However, BIGGER ISN'T ALWAYS BETTER for non-outdoorsy people. Let me explain why…
4. Make Your RV Lifestyle More Mobile & Affordable
Many non-outdoorsy RVers make the mistake of getting an RV that is too big and too expensive for the travel lifestyle they really want. Having a big motorhome or 5th wheel gives you more comforts while you're in the RV, but it does limit the places you can go.
Furthermore, too many amenities can make you "RV poor" where you can't afford to do anything outside of your super nice RV.
Don't make that mistake!! Carefully consider if a smaller, simpler RV can be "nice enough" for you and give you more access and flexibility to do more things.
For instance, you can easily park a small RV or campervan at museums, amusement parks, casinos, or even in your relatives' driveways. You can maneuver cities more easily.
PLUS! Instead of having to tow a "get around" vehicle, you can simply drive your small RV wherever you want to go.
Furthermore, if you aren't cash-strapped from your RV purchase, you can enjoy more luxuries on the go. For instance, you can visit spas or even stay in a nice hotel whenever you need a break from "roughing it" in your RV.
5. Live the RV Lifestyle YOUR Way
Enjoying the RV Lifestyle really comes down to one thing: living it YOUR way. There is no right or wrong way to RV.
Whether people tow a pop-up trailer behind their SUV or drive a multi-million dollar motorhome with a garage, they're enjoying the RV Lifestyle THEIR way. And you can do the same.
Just be sure to carefully consider the LIFESTYLE you want, not just the RV you want. Plan your RV LIFESTYLE first, and then choose the RV that best fits that style.
The Funny Reasons Why People Buy RVs
Like what you see in these videos? We'd appreciate it if you would Subscribe to our YouTube Channel (easy to do right here) and consider "ringing the bell icon" to be notified of any new video from us. 🙂 Thanks!
There are so many reasons people buy RVs. But many of those reasons are not as complicated as you might think… and are quite funny.
Check out the responses we got when we asked our RV Lifestyle community. Did you enjoy this video? If so, please SUBSCRIBE to our Channel.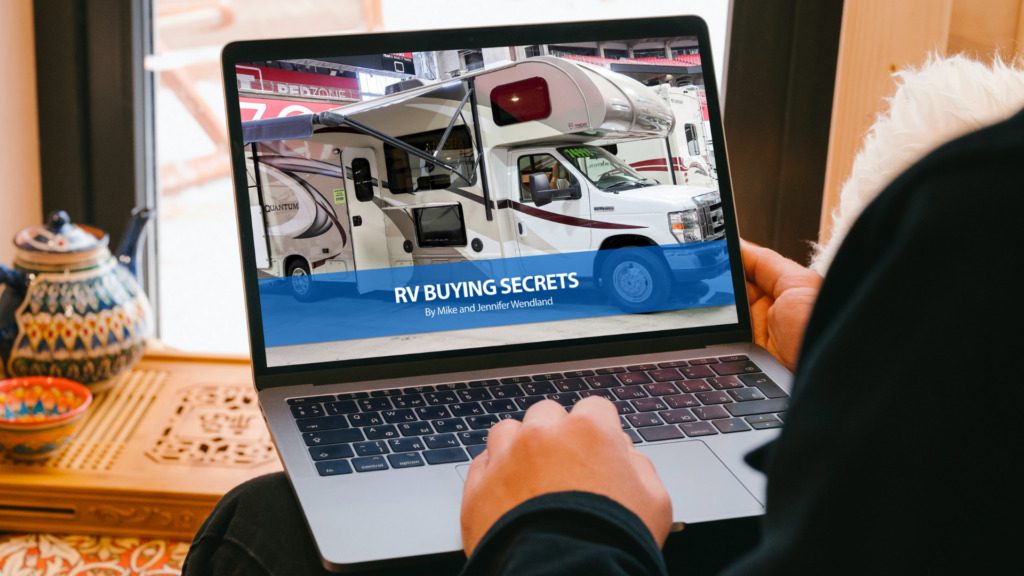 Next to your home, an RV is most likely the 2nd most expensive thing you'll ever purchase.
We get questions every day of other RVers wondering. "How do you buy a new or used RV?"
So we created a 75+-page downloadable digital guide to help you understand the nuances that come with purchasing an RV, where you can save thousands of dollars in the buying process, what the right questions are to ask dealers, what things to look out for, how to select the right unit, amenities, warranties, and so much more!
We created this guide to help you understand the nuances that come with purchasing an RV including:
Where to save thousands of dollars in the buying process
What questions to ask dealers
How to select the right unit
How to narrow down RV amenities
Understanding your warranty and what it covers
This ebook is designed to help make your purchase process as smooth as possible. And to teach you step-by-step exactly what to do so you can start your RV Lifestyle today!
---
---
---
Official RV Lifestyle QUICK Links to ALL our eBooks
You can see ALL our eBooks here, or use the following Quick Links to go straight to what you need!
● Arizona
●    Colorado 
And MANY of these are BUNDLED together:
New England Bundle
Coastal Maine, Adirondacks
Ultimate Michigan and Great Lakes Bundle – 3 ebooks –
Upper Peninsula, Lower Peninsula, and the Great Lakes Tour
Michigan Bundle
Upper Peninsula, Lower Peninsula
The Great Lakes Adventure Guide Bundle
The Great Lake Shoreline Tour & JUST the Upper Peninsula Guide
Florida Adventure Guide Bundle
Gulf Coast, Atlantic Coast, Keys
Southwest Adventure Guide Bundle
Arizona, Colorado, Southern Utah)
Ultimate 7-Day RV Adventure Guide Bundle
Collection 1- our first 10 ebooks (does NOT contain Great Lakes Shoreline or Natchez Trace)
We also have a nice collection of ebooks that will help you navigate the RV Lifestyle.
Like these:
The Beginner's Guide to Boondocking
The Ultimate Guide to Cheap or FREE RV Camping Sites
Boondocking and Free RV Camping EBOOK Bundle
The Beginner's Guide to Boondocking ebook and Ultimate Guide to Free Camping Sites
And ONE PRINT book 🙂 and yes, before you ask, we have plans for MANY more print books.
The Complete Guide to Boondocking – PRINT VERSION
This is the same as the ebook titled The Beginner's Guide to Boondocking but in print.
And while you are exploring all our ebooks – check out the hoodies, T-shirts, Stickers, and mugs in our MERCH Store! You can get to it directly by just going here – SHOP!